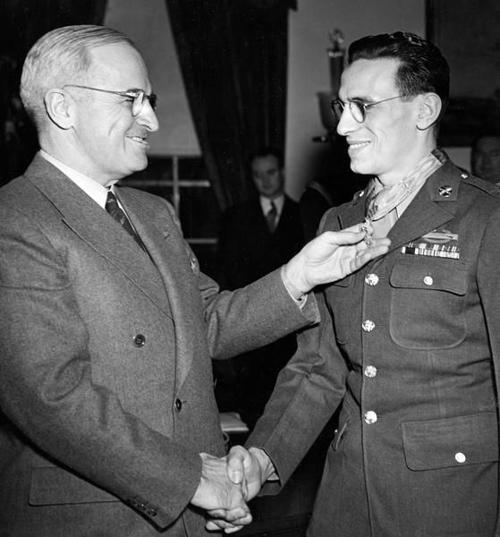 DECATUR — On Jan. 9, 1945, Vito Bertoldo laid in plain view on a street in Hatten, France, gun in hand, awaiting the arrival of Nazis who would be heavily armed with guns and tanks.
Bertoldo and two other U.S. 42nd Division infantrymen were defending the line at Hatten to delay German forces from advancing into the city, where the rest of the unit had been trying to clear out. A group of German soldiers arrived, faked a surrender and killed two of the U.S. infantrymen, leaving Bertoldo outnumbered and outgunned. He went head-to-head with them and killed what would be just the first group of Nazis he would encounter in the hours ahead. 
Bertoldo defended the line for over 45 hours, stopping more than 40 Nazi soldiers from entering the city. His acts as a Private First Class during World War II earned him a Congressional Medal of Honor, the nation's highest award for courage. His was presented by President Harry Truman.
Bertoldo's heroic actions were reported by newspapers at the time and later documented in an episode of the Netflix series "Medal of Honor," which also included details from his life.  
Unlikely path
Bertoldo was born in December 1916 and grew up on South Franklin Street with his parents and eight siblings. His father was a coal miner and his mother, Mary Bertoldo, died when he was a child. At one point, he and his siblings lived in an orphanage. He attended Decatur public schools and worked as a coal miner and truck driver. 
Bertoldo was a skinny 25-year-old when he enlisted in the Army in August 1942.  Army doctors told him he could not serve due to weak eyesight and that he would be listed as a "4-F." The classification is for service members who are deemed not fit to fight in combat, but who can serve a limited duty position. Bertoldo still wanted to serve, so he worked as a military cook.
When the undermanned army decided to reevaluate some 4-F cases, Bertoldo was one of the first to volunteer and was placed in the 42nd Infantry Division.  
He and two infantrymen were given the mission nobody wanted: to defend a line in Hatten, France, so the rest of the battalion could safely exit. Instead of exiting after his comrades were killed, he held the defense for over two days.
He waited for groups of Nazis to arrive. Each time the enemy appeared, he would wait in plain sight for them to close in, and only then he would open fire. This happened several times over the course of several hours.
His strong defense at Hatten earned him a promotion to Master Sergeant on October 12, 1945. Bertoldo later served at Dachau, the first Nazi concentration camp, where his unit liberated over 30,000 prisoners.  
Several generations of the Bertoldo family have served in the Navy, Army and Air Force. His son, David Bertoldo, was awarded the Bronze Star for bravery in Vietnam, according to news reports at the time.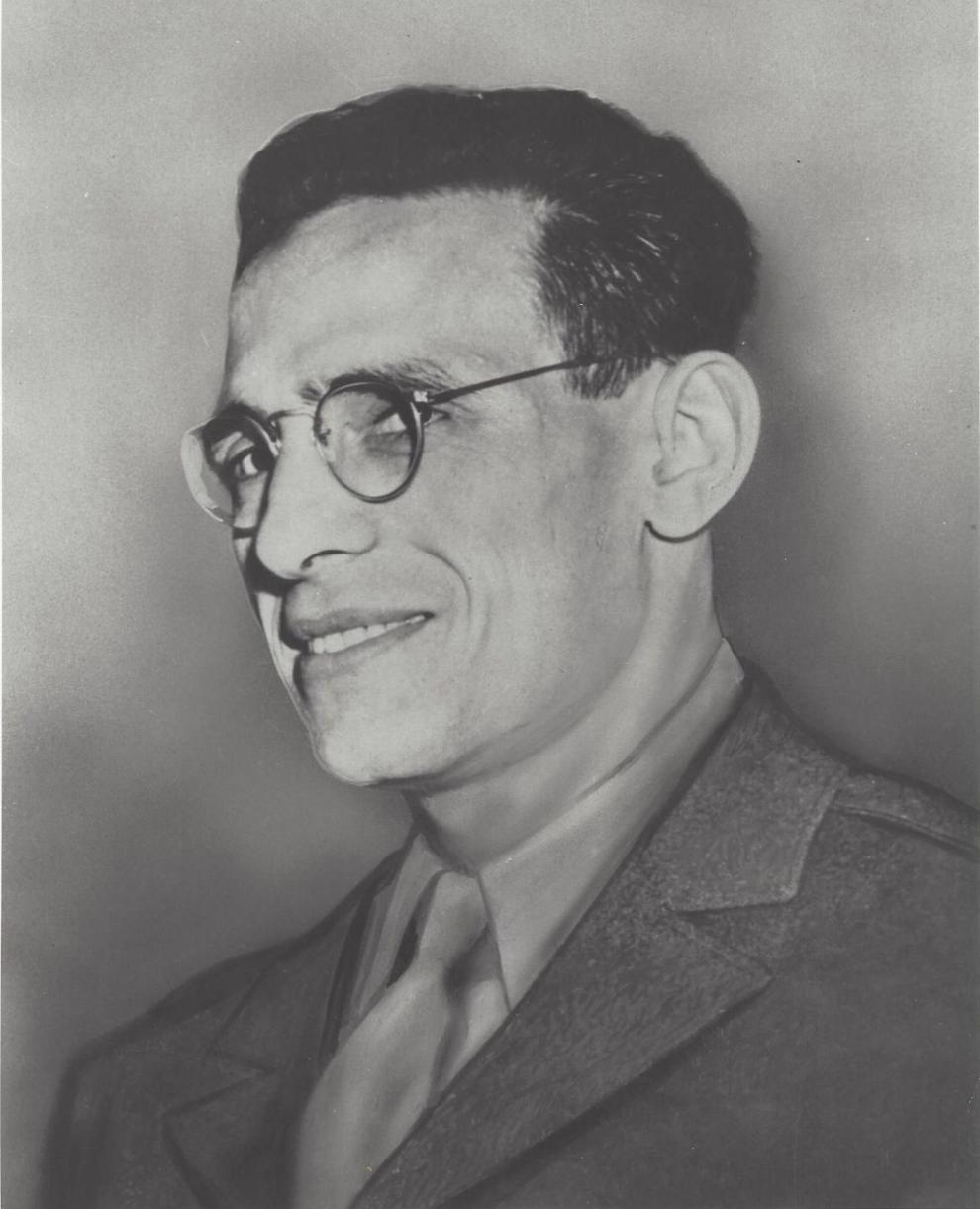 Dennis Reinhardt, Vito Bertoldo's nephew, said his uncle's accomplishments are a source of pride for the family.
"I don't know how he stayed so calm in the situation he was in," Reinhardt said. "I guess you never know until you're in that situation, but his actions were incredible."
Legacy
Bertoldo was given a presidential appointment as a Veterans Administration representative after receiving the Medal of Honor. He served in Chicago for a year, then moved to the San Francisco Veterans Administration office in 1947, according to a 1982 Herald & Review article. He worked there until 1958, then started a landscaping business in Marin County, California.
Bertoldo was honored by the Decatur community upon his return from the war, and his legacy has continued long after his death from lung cancer on July 23, 1966.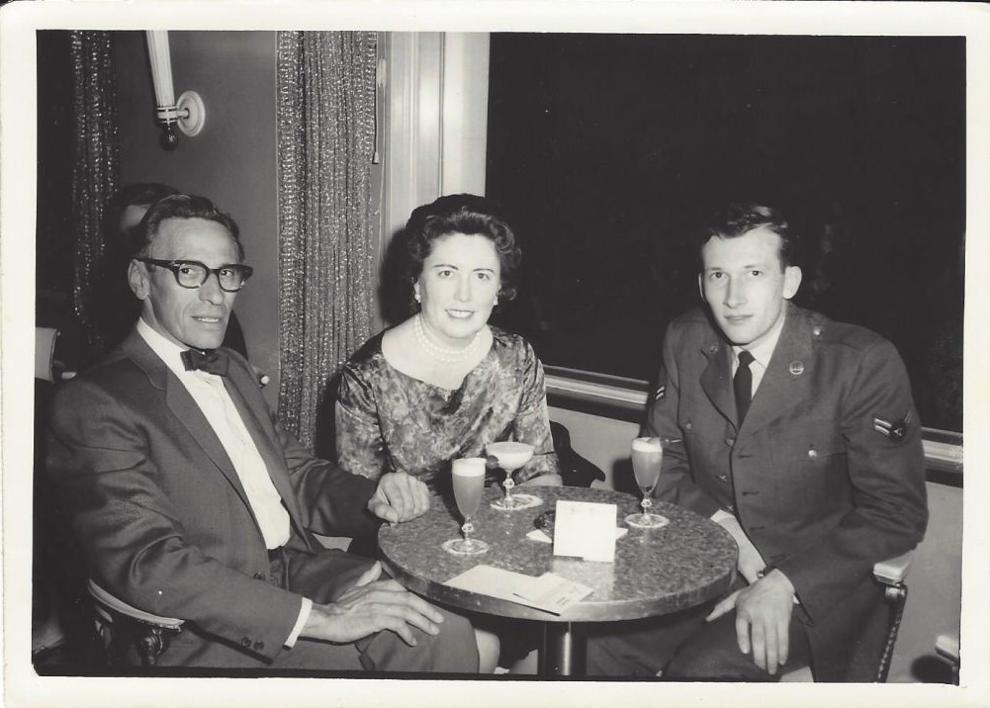 Decatur residents had designated a holiday, "Bertoldo Day," and marched in a parade through Central Park and downtown Decatur upon his return. He was also awarded $750 donated by local businesses and political leaders.
In the Chicago suburb of Forest Park, there is a Bertoldo Road in his honor — one of a number of streets there named after Illinois Medal of Honor recipients. 
During the December 1945 ceremony conducted in Decatur to honor Bertoldo, he said he was happy to have brought the award home and grateful to the community for its recognition. 
"The best way to honor the dead is to try and make it up to the living," he told the crowd, "who have given some of the best years of their lives in the interest of peace."
---
 From the Archives: Honoring our veterans
From the Archives: Honoring our veterans
Saluting Service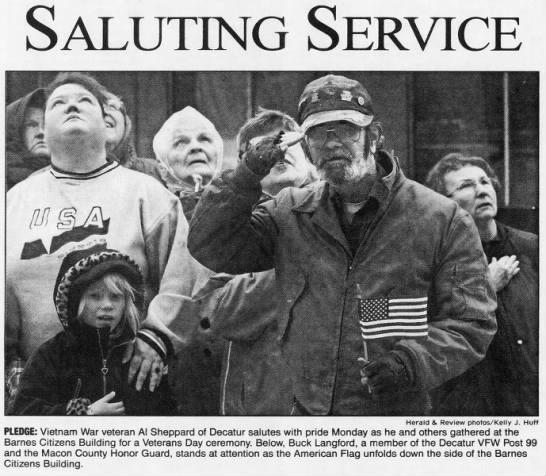 Veterans Day observance at Lutheran School Association
Second-grader Zachary Smith with his grandfather, U.S. Marine Corps veteran Phillip Niebrugge
Mounter Marine color guard takes part in Veterans Day parade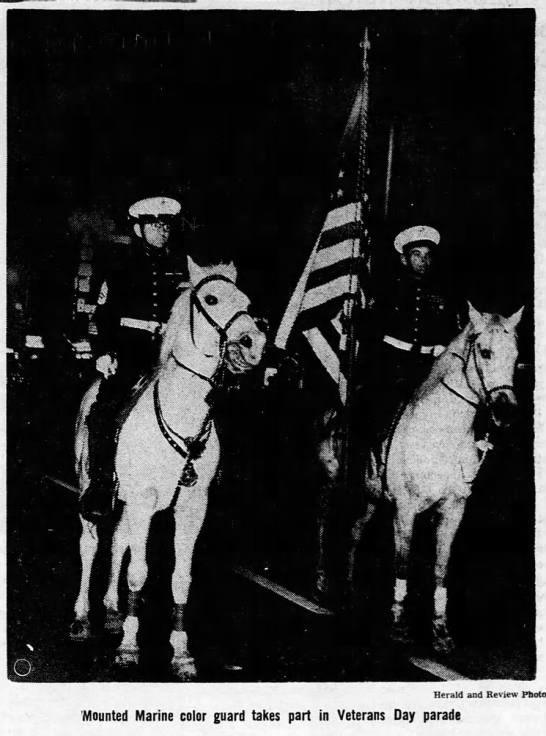 Paying Tribute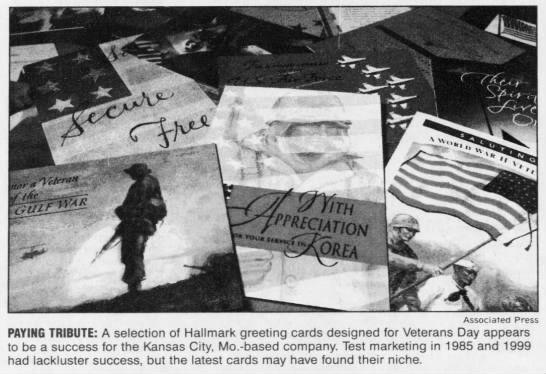 Thank You Veterans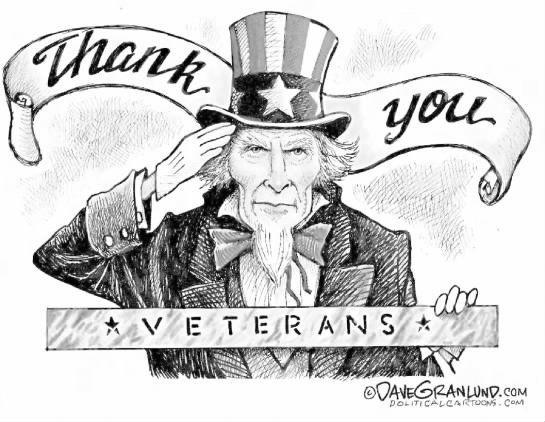 American Legion Post 370 veterans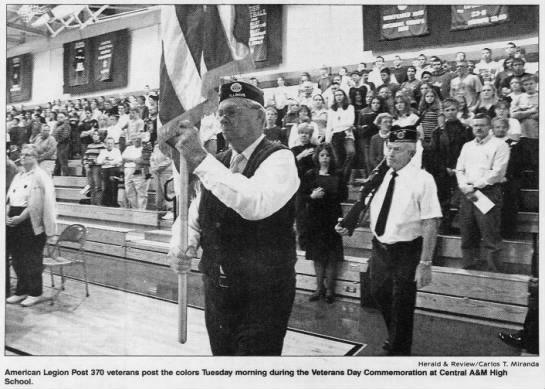 Honoring Veterans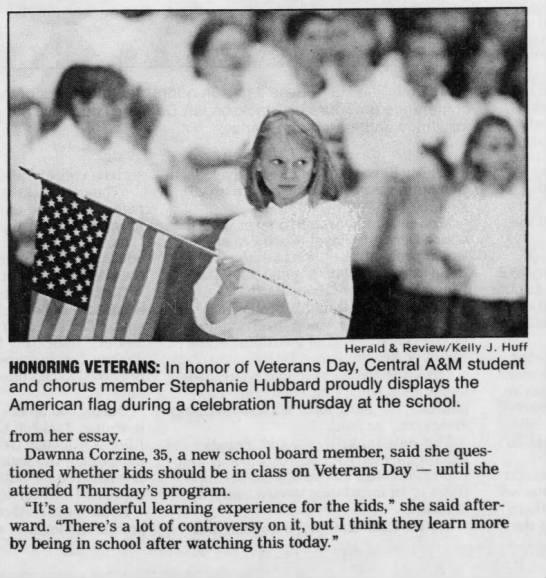 Memories, honor to fill Avenue of Flags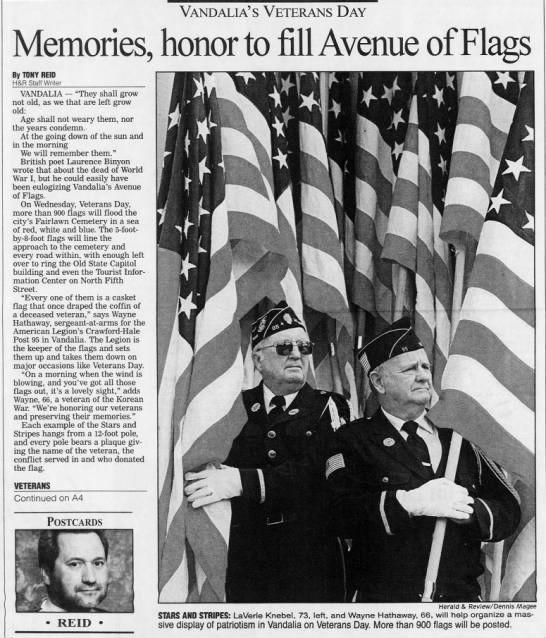 Veterans of various branches of the U.S Armed Forces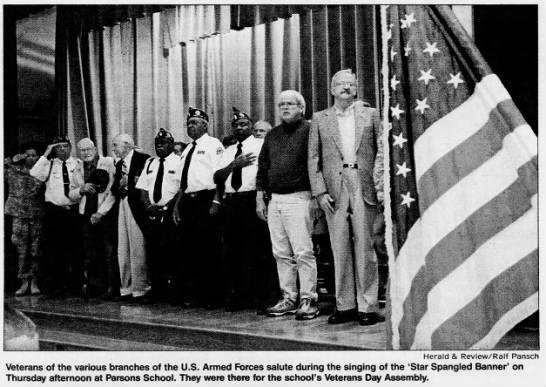 Paying tribute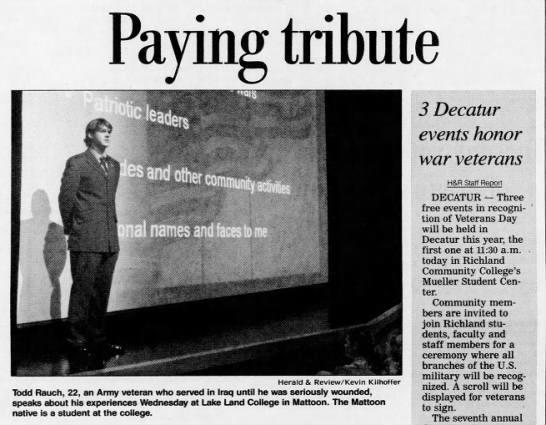 Vet kept military spirit alive through final day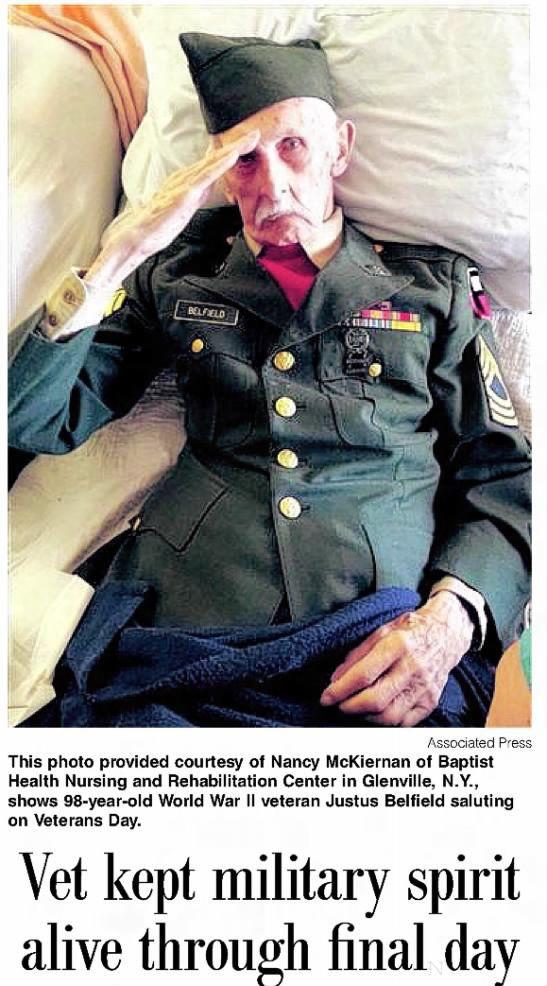 Leon Bryant in Vietnam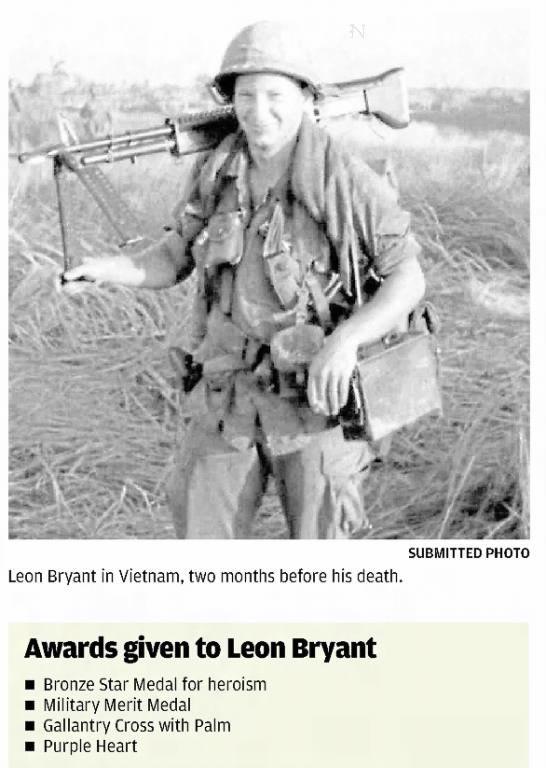 Veterans Day ceremony at Weldon Springs State Recreation Area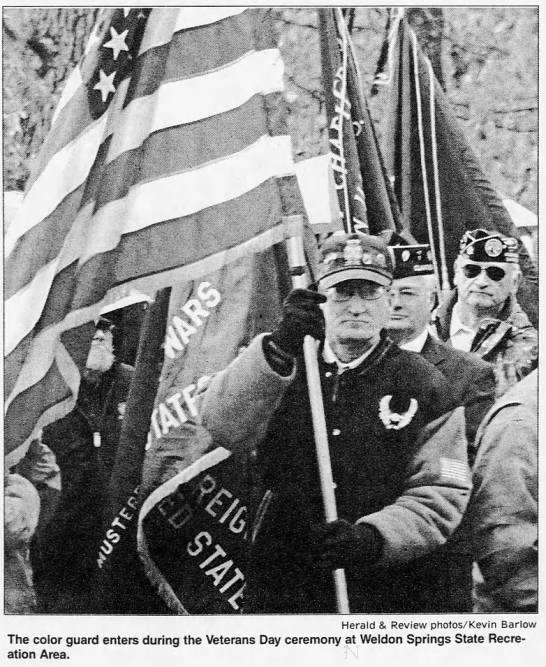 Veteran Jim Hopkins greeted by Michael Hart and Dennis Reinhart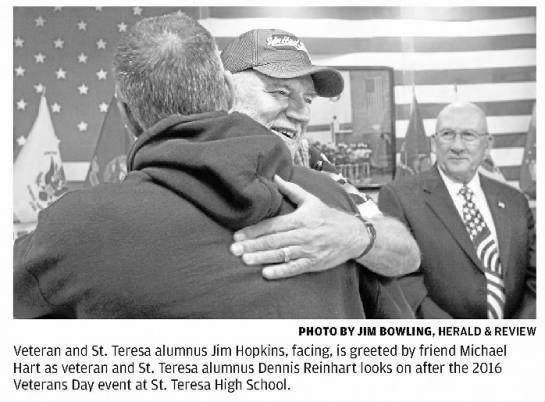 "You veterans answered the call and lived up to the duty"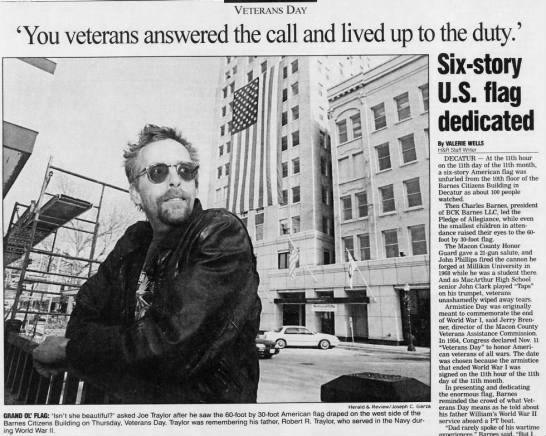 Mount Zion Grade School Second Grade Veteran's Day Assembly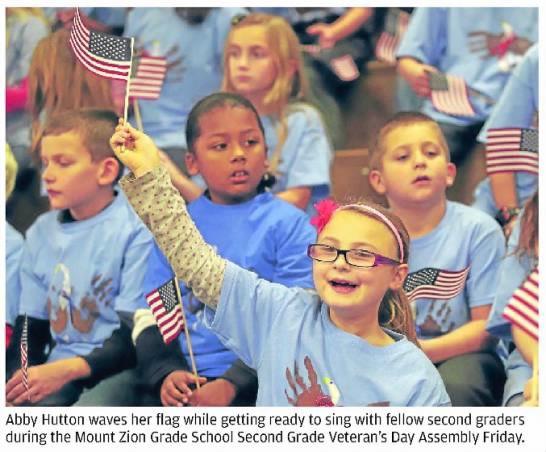 Veterans applaud second graders after students sang "God Bless the USA"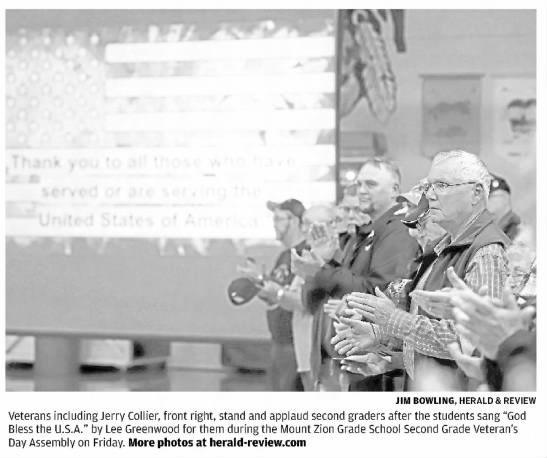 This group of flag bearers and color guards marches during the Veterans Day parade
Veterans Day

Macon County Honor Guard presents service flags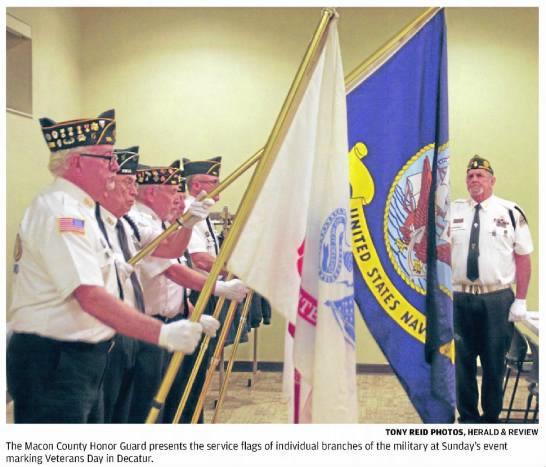 Americans honor veterans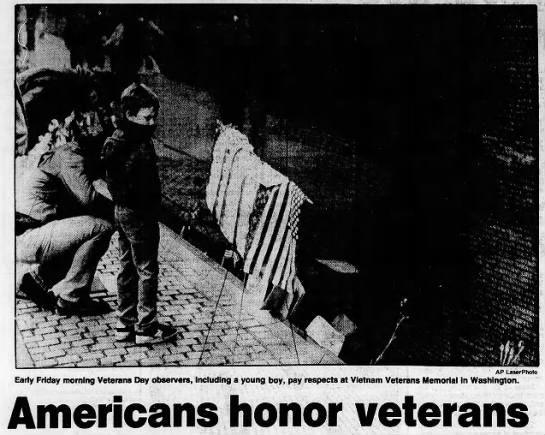 Honor in Attendance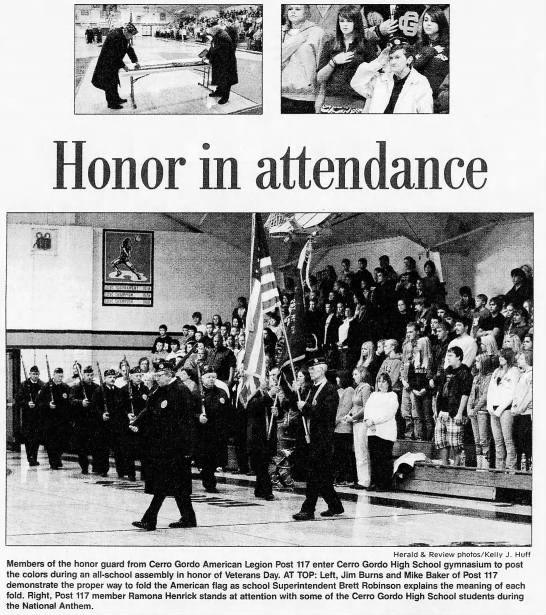 Service and Honor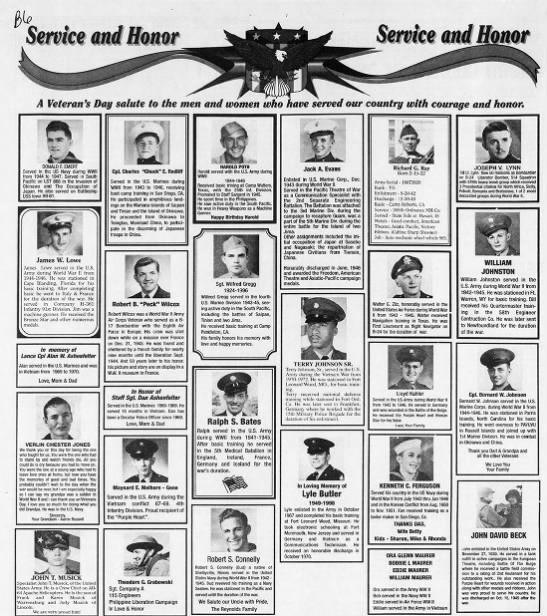 Contact Analisa Trofimuk at (217) 421-7985. Follow her on Twitter: @AnalisaTro