DECATUR — Kids in kindergarten, first and second grade might know who John Travolta is, but they probably don't know about his "Saturday Night Fever" signature dance move. In fact, they probably never heard of the movie.
At Summer Sings camp at Millikin University on Monday, camp director Christine Smith taught her group how to dance The Hustle. When it came to the part where the dancer points at the ceiling and then the floor, as Travolta did in the film, Smith said, "Have you ever seen — no, of course you haven't. We'll call this move 'the John Travolta.'"
Little kids aren't quite coordinated enough to flawlessly follow a disco dance, but that move was the one everybody could do.
The theme for Millikin's annual music camp for students in kindergarten through eighth grade this year is "peace," with a focus on the 1960s and '70s.
Peace, said Estella Miller, 12, is "the absence of conflict."
Those years were marked with the war in Vietnam, and many musical legends wrote songs about peace, Smith said. Those songs are the focus of the camp, along with students learning how to use Garage Band software and learning the basics of drumbeats. Older students in third through eighth grade had the option to choose from those two electives.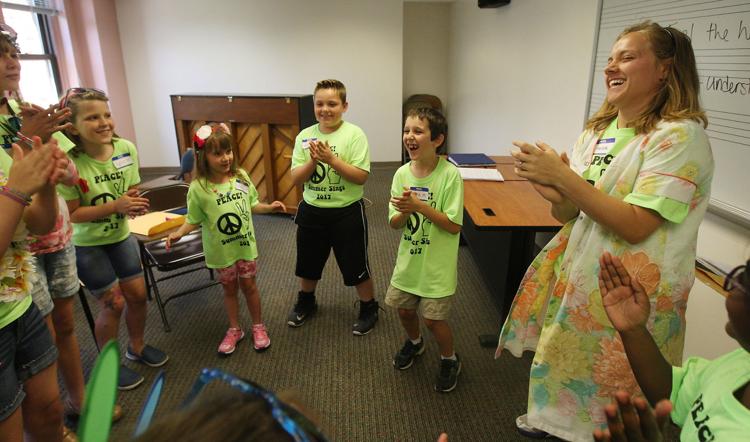 "We want to get them used to singing and to performing," she said.
At 11 a.m. Friday, the kids will give a concert in Kaeuper Hall theater inside Perkinson Music Center at Millikin to show what they've learned. The drumming skills the kids are learning are accompaniment to the songs they're learning.
You have free articles remaining.
"They're learning to use their beautiful voices," Smith said.
Singing properly is one of the things they're learning, said Cora Herek, who is working with older students.
"This whole camp is about singing," Herek said. "Learning how to sing healthily and with the whole group, blending and balancing while we're doing that."
Rachel Miller, 9, said one of the things they're learning about singing is how to shape sounds with their mouths so they all sound the same and the sounds will blend together, demonstrating by singing an "O" sound.
Her 8-year-old brother, Luke, said he enjoys the drumming. "We worked on beats, whole notes, quarter notes, eighth notes," he said. "My dad is a music teacher."
One of the songs they learned is "Turn, Turn, Turn," made famous by The Byrds in 1965, with lyrics adapted from the book of Ecclesiastes in the Bible. The kids are beginning with learning to sing together in unison, but will learn to sing in harmony as the camp goes on.
With Garage Band, which the technology students are learning to use, the user can layer instruments and create a recording.
"You can make your own song," said Jack Brown,11. "It was fun, and tomorrow we're going to learn how to get a keyboard hooked up to the computer and we can use that."