DECATUR — Confronting stereotypes and working to find common ground within a diverse community were key focuses of Thursday's Conversation on Race at Eisenhower High School.
More than 50 people of all ages gathered in the high school's cafeteria to participate in the 11th annual event, which is a joint effort between the Decatur group Caring Black Men, the Decatur School District, Richland Community College and Millikin University.
"I think it's a conversation that we're going to have to always have," said Jeffrey Perkins, founder of Caring Black Men. '"We're not going to solve everything tonight ... but it's just an ongoing, honest dialogue that we need to have so people can start understanding one another."
The event is part of Millikin's Civic Discourse Week, which engages the Decatur community in discussions that aim to promote a better understanding of different societal topics. The theme of this year's Civic Discourse Week is "How Trauma Affects Our Community: A Thoughtful Examination," which the conversation tackled by focusing on "How Race and Trauma Collide."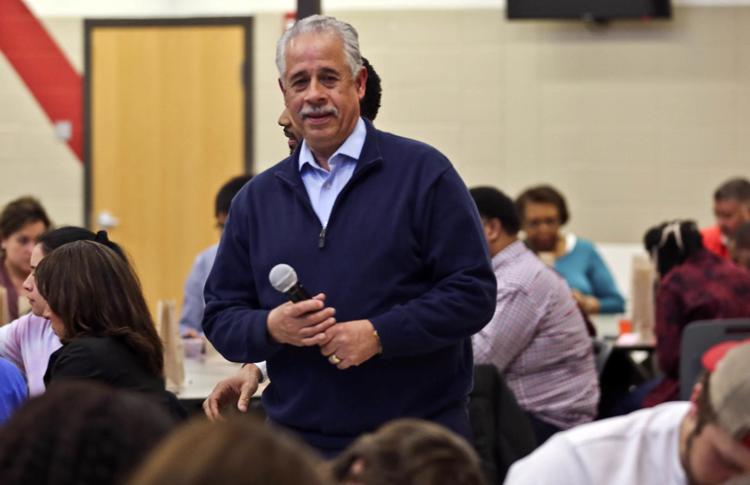 The attendees were asked to split up and form small groups with people that they may not know very well. Perkins has said this is done to allow people an opportunity to step outside of their comfort zone as a way to better foster the individual discussions.
Instead of being given conversation cards to discuss like in previous years of the event, those who attended were asked to participate in an activity that tasked them with addressing stereotypes that are projected onto people of various races, religions and other backgrounds in today's society.
Each person was given a paper bag that described them as black, transgender, Muslim or another identifying characteristic and was asked to write down a stereotype they might have heard associated with their respective groups.
After discussing the activity within their tables, attendees were later asked to share their thoughts with the entire group. 
"I'm not going to be upset if someone walks away uncomfortable," Perkins said. "But I'd like for them to walk away constructively uncomfortable."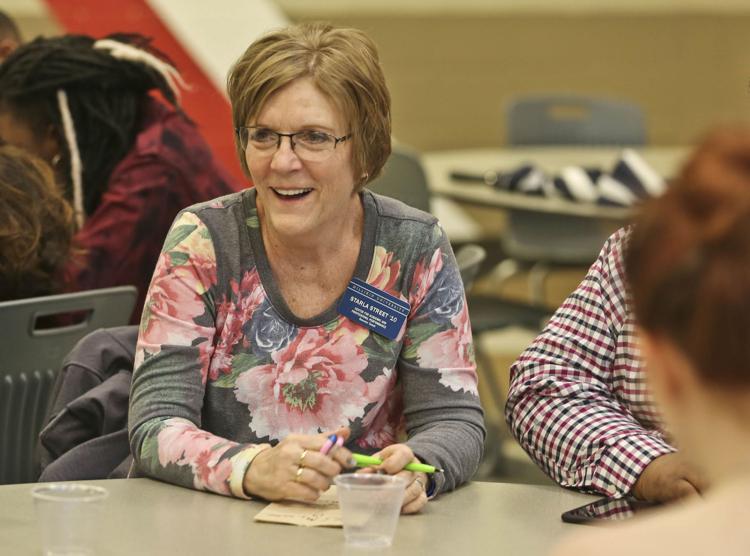 Millikin students Hailey Wimberly, Cecilia Antonelle and Madelynn Wood acknowledged that discussing the various stereotypes was uncomfortable, but said it pushed them to see things from perspectives they might not always consider. 
"People go through that, and you don't always think 'Oh, well this person's getting labeled this all the time,' but they are," said Wood, 18, a psychology major. 'You don't even know half the things that they've lived through."
Antonelle, a 19-year-old vocal performance major, added that "we all know people that are labeled as things written on these bags, and we know that they're people — not just what's written on a little slip of paper."
Civic Discourse Week will continue today (Friday) at Millikin with a conversation on social media bullying and cyber stalking featuring attorney Ruth Schneider and another with author Tiffany D. Jackson — whose next novel, "Let Me Hear a Rhyme," will be released May 21. The week ends with a leadership conference at the University Commons on Saturday. 
Wimberly, an 18-year-old studying criminal justice and psychology at Millikin, said one of the main things that she took away from the Conversation on Race is that people are more than how they may be portrayed on TV or in other areas. To understand that, she said, it just takes a little time to get to know them better.
"That's one way that we can carry this back to campus," she said.