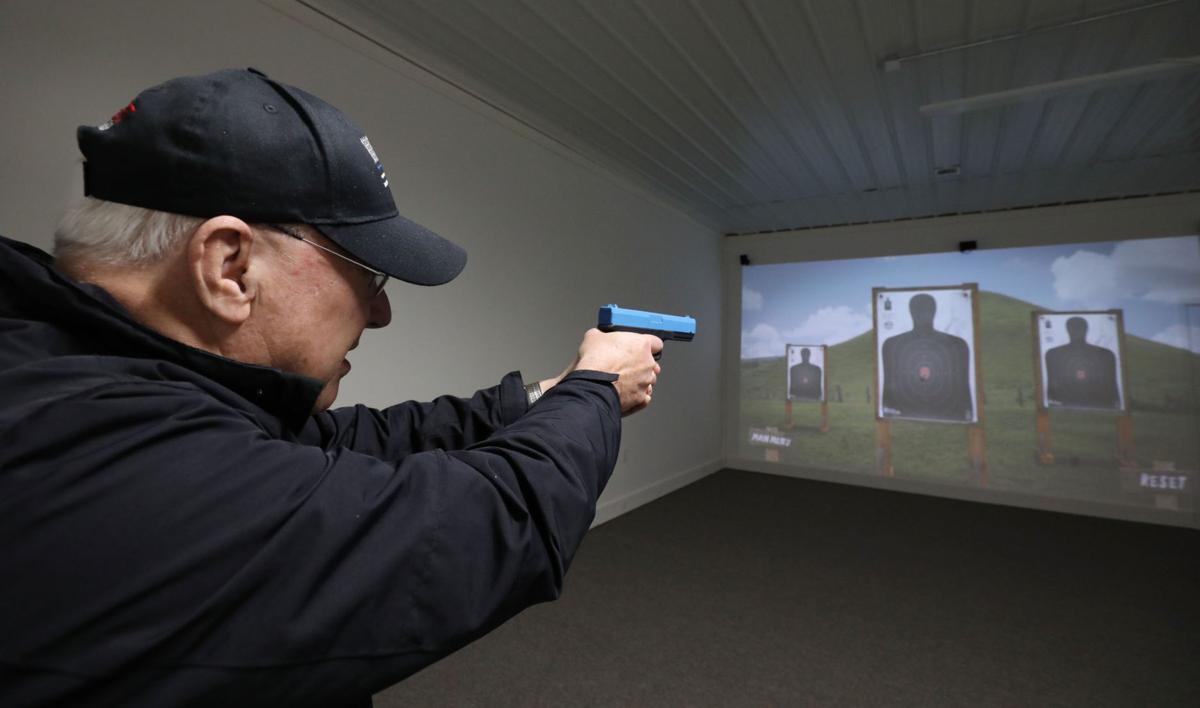 DECATUR — New legislation signed by Gov. J.B. Pritzker to require state licensing of gun dealers is the latest in a series of gun control measures taking effect this year in Illinois — and more could be coming.
Under the new law, which takes effect in six months, firearm stores must have a state license certified by the Illinois State Police. A five-year permit costs $1,500 for retail shops and $300 for independent dealers.
Licensed dealers must provide annual training for employees, have video surveillance in their stores and be open to inspection by state police and local law enforcement. Opponents have characterized it as unnecessary bureaucracy and a financial burden for smaller gun dealers, specifically because the federal government already licenses gun dealers.
"This bill does nothing to curb gun violence at all," said Stacey Hagan, office manager and certified instructor at The Bullet Trap, an indoor shooting range and gun seller in Macon. "The criminals are out there. They're not purchasing guns from gun stores. They're getting them on the streets. Our shops have nothing to do with what's going on in the streets, and we're being penalized with more fees." 
The law also requires state police to publish key information related to crime-related firearms, and there are penalties for individuals who fail to maintain records of private sales. It passed the General Assembly last year, but Democrats used procedural rules to prevent it from being vetoed by outgoing Republican Gov. Bruce Rauner. It was sent to Pritzker's office on Wednesday.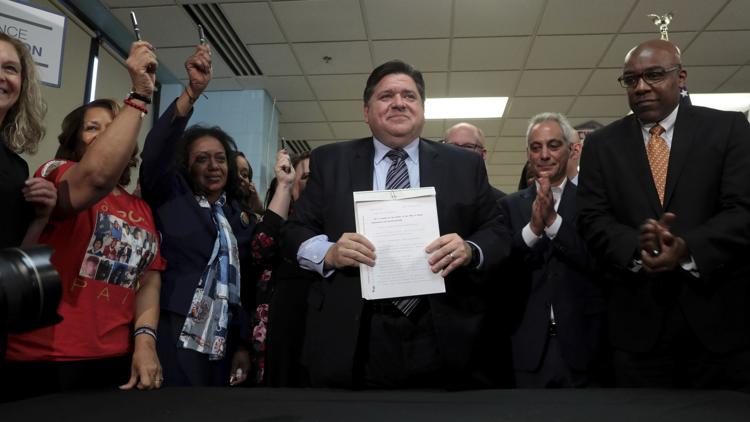 "We can prevent someone from buying a gun for someone else who is not legally allowed to own a gun," Pritzker said, speaking at a Chicago elementary school where he held the bill signing Thursday. "Many of the incidents of gun violence that occur in our city and all across our state occur with illegal guns."
Opposition arises
Opponents moved swiftly after Pritzker signed the legislation, with the Illinois State Rifle Association immediately promising to pursue a legal challenge. 
"The action taken today is another assault on our Second Amendment rights," executive director Richard Pearson said in a statement. "Nothing in this bill is going to enhance public safety in Illinois. The only thing that is being accomplished here is the creation of a bureaucratic nightmare for gun dealers."
Pritzker said gun-rights organizations were wrong in their criticism of the legislation, and signaled that more fights may be ahead: "I'm going to continue to make sure that we're standing up to the voices like the Illinois State Rifle Association and the National Rifle Association to protect our families and our children," he said. 
Decatur-area gun dealers said the move will hurt their businesses without making people any safer.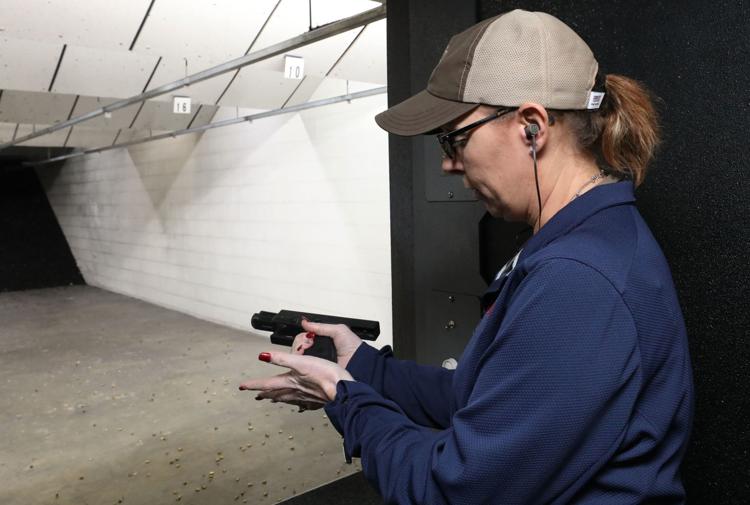 "People that buy guns from stores like ours, they are not the ones getting illegal guns," said Rick Drew, firearms department manager at Decatur Jewelry and Pawn. "You're talking people who steal guns, whether through UPS or breaking into homes, things like that. That's where the illegal guns come from." 
At The Bullet Trap, employees are all trained to look for "red flags" with any gun purchase, and they won't go through with a sale if they find any, Hagan said. That's in addition to safeguards from a state police background check, a three-day waiting period and presentation of two forms of identification.
"This has nothing to do with gun violence. This is all political," she said. "All of it is infringing on more Second Amendment rights. Nothing about it is going to stop gun violence on the streets. They are focusing again on the law-abiding citizens, not the criminals."
Drew said the additional expense of a state license would wind up being passed on to customers. Smaller gun shops and individual dealers, who already follow federal guidelines, would be especially hurt, he said. 
"All it is is to tax us to get more revenue for a state that is broke,"Drew said. "I mean, what more can they do to us? The state is taxing us to death, all it is is tax more of us and run us out of business."
Other gun legislation
You have free articles remaining.
The legislation follows two other gun-related measures that began Jan. 1. One requires a 72-hour waiting period before all gun purchases, an expansion from the previous waiting period for handguns only. Another new law creates a process that allows law enforcement to take firearms from a person deemed dangerous to themselves or others.
Supporters have said such laws allowed for a "cooling-off period" that could prevent someone from making a rash decision and being able to purchase a gun and have it in hand within a day.
George Mocsary, co-author of "Firearms Law and the Second Amendment: Regulation, Rights, and Policy," said he saw little value in the expanded waiting period legislation. In addition to the existing wait to buy a handgun, Illinois also requires a background check and 30-day waiting period as part of the application for a firearm owner's identification, or FOID, card required to possess a firearm in Illinois.
"I find it pointless," said Mocsary, an associate professor of law and director of faculty development at Southern Illinois University at Carbondale. "It doesn't seem to be much of a deterrence value."
He added there is little to no evidence that so-called "cool down" periods have any effect. If someone plans to commit a violent act, an extra day or two of waiting for their firearm is unlikely to change their mind, he said.
The second piece of gun legislation signed last year by Rauner is the so-called "red flag" law, which authorizes judges to take weapons from people who show warning signs of being a danger, such as making threats on social media. The law is meant to prevent domestic violence, suicide and mass shooting incidents.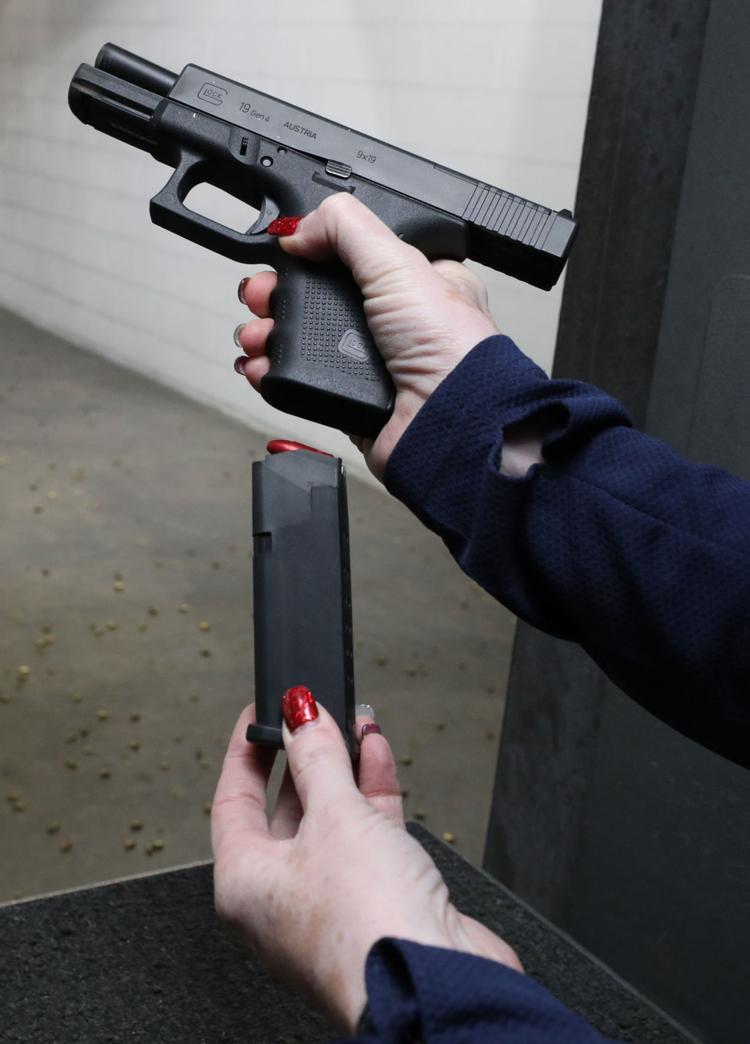 Police and family members can petition the courts for an emergency order, and the judge must find probable cause that someone is an immediate threat to themselves or others. Local law enforcement officers are responsible for executing a search warrant and seizing a person's firearms. A person who has an order against them will also have their FOID card suspended.
The law comes, in part, as a response to last year's shooting at a Tennessee Waffle House, where four people were killed by a Morton, Illinois, resident with a history of having his firearms taken away for erratic behavior.
While the state rifle association generally opposes gun restrictions, Pearson said he supports the idea of taking away firearms from someone who is clearly a threat. It is in how the law will be carried out that gives him pause.
"It's one we will be watching very closely," Pearson said. "If anyone uses it for harassment, we will go after them."
What concerns Mocsary about the law is due process, especially when it concerns a constitutional right like firearm ownership.
If a judge issues an emergency restraining order, a person's firearms can be taken away without certainty he or she has been notified or have had the chance to defend themselves. It could take up to four weeks for the person to be able to appear in court and offer a defense.
"Nobody wants someone with a mental health problem or is acting erratically to have a firearm. ... The problem is, we do not want to sweep the net so wide that the law-abiding person loses their rights," Mocsary said. "If they had a chance to appear in court in two days or so, I don't think anyone would have a problem with that. ... But 28 days is too long, that's a problem."
Neither of the two laws that went into effect on Jan. 1 will have much of any effect on his business, but Dan Cooley, owner of the Bullet Trap in Macon, said it's the precedent that concerns him. He said in an interview last week that it seems like it's just additional regulations being placed on an industry that state lawmakers have long looked down on. 
"They keep nibbling away at (the industry). What will it be next time?" he said. "The gun-grabbers are never happy, they will want something else down the road."
Those laws, as well as Thursday's signing, are sure to set off what Pearson says will be tough years for gun supporters with Pritzker in office and a Democratic supermajority in the General Assembly. He said he expects "every bad gun law imaginable" to come up for discussion in the next few years, from extended waiting periods to purchase guns to taxes on ammunition sales.
"Expecting the worst would be optimistic," Pearson said. "It could be worse than that."
The Associated Press and Tom Lisi of the Herald & Review contributed to this story. 
Contact Ryan Voyles at (217) 421-7985. Follow him on Twitter: @RVVoyles
Get local news delivered to your inbox!
Subscribe to our Daily Headlines newsletter.