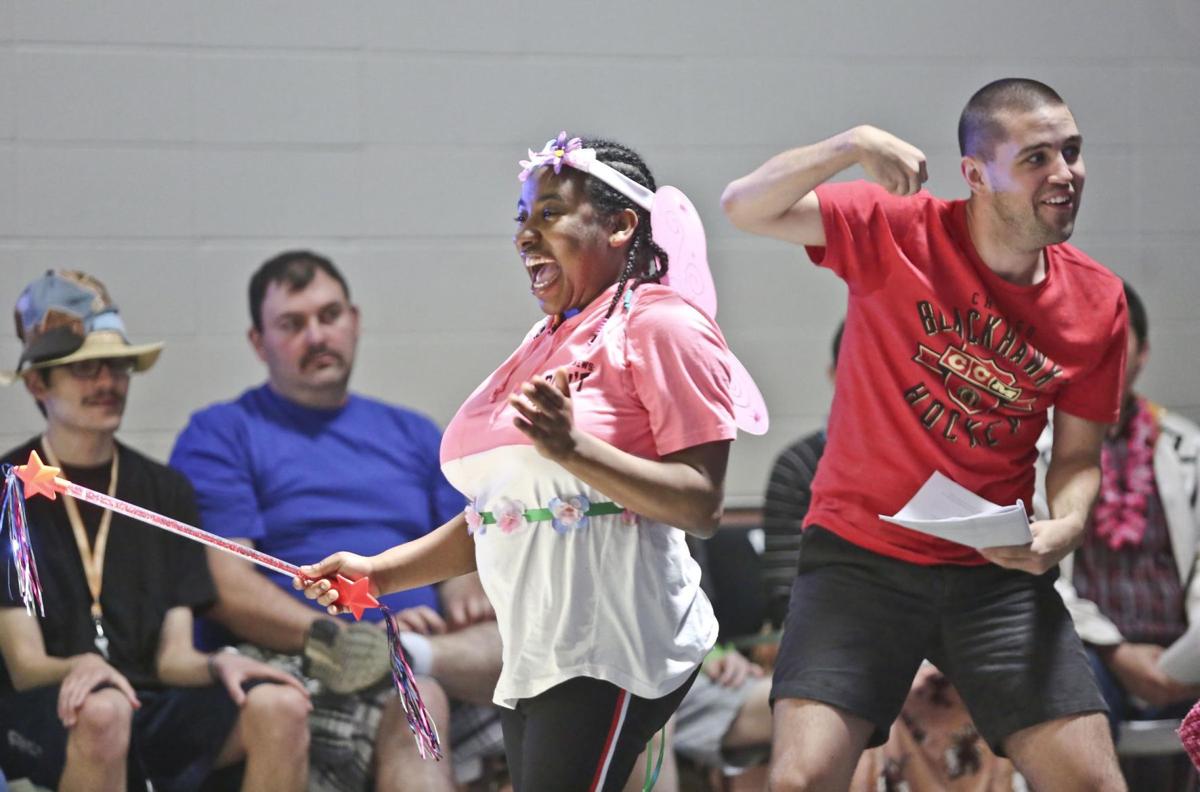 DECATUR — Nicole Riggs, 37, performed onstage, dancing as a fairy, complete with wings and sparkling accessories, in the Shakespeare play "A Midsummer Night's Dream." 
A client at MRI since she was 20 years old, performing onstage is one of Riggs' favorite activities. MRI, formerly known as Macon Resources Inc., is a nonprofit organization that provides services that promote independence in children and adults who have disabilities.
The play's directors suggested the fairies do kung fu moves along with dancing. "But I had to sit down, too," Riggs said.
Riggs and other actors from MRI were directed by Millikin University's Shakespeare Corrected. Mike Riggs noticed his daughter's anticipation as the day of the play grew closer. "She was so excited about it," he said.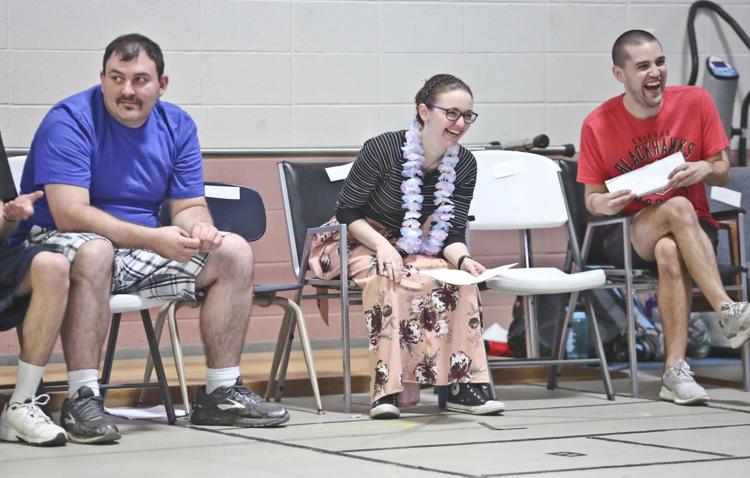 Shakespeare Corrected is a Millikin University class designed to assist aspiring directors while bringing the others to the stage. The Millikin students take their class to other facilities and venues in Decatur, including the Decatur Correctional Center, Boys and Girls Club, Phoenix Academy and Webster-Cantrell Hall.
Alex Miller is the Shakespeare Corrected artistic director. He has 16 students in the class and divides them up to direct each venue.
"This is all their work," he said. "They own it."
According to Miller, one of the misnomers is that the class is just about helping an underserved population.
"It is about the people who are volunteering," Miller said. "It is training people to think beyond themselves. It breaks down stereotypes and biases that we unknowingly hold in our heads."
MRI client Robert "Stretch" Garrett was familiar with the Shakespeare play presented to him and the other actors. "I knew it was one of his best plays ever," Garrett said.
---
Want to see more local news like this?
Our Daily Headlines email is for you! Delivered daily at 10:30 a.m., you'll get the local stories you need to see directly in your inbox.
I understand and agree that registration on or use of this site constitutes agreement to its user agreement and privacy policy.
---
"He is funny," Jason Rosborough said about Shakespeare. "And it is fun to learn new stuff."
The Millikin directors are theater majors. For each cast, the directors learn to approach the play in a different way. For example, the women at the correctional facility performed the play with full Shakespearean dialogue. For the MRI cast, the script was modified with modern-day language, and the directors approached the MRI cast by giving them theater games.
Each play is like any other production: Directors bring together sets, costumes, lighting and publicity for each show. Like many Millikin classes, Shakespeare Corrected is a performance learning opportunity.
Director Annie Magan said learns from each project: "You need patience no matter what you are going to direct or who you are going to direct."
The idea of Shakespeare Corrected began seven years ago when Miller brought the program to the Decatur Correctional Center, a minimum security women's prison. It was added as a class last year, allowing the Millikin students to expand the program to other locations.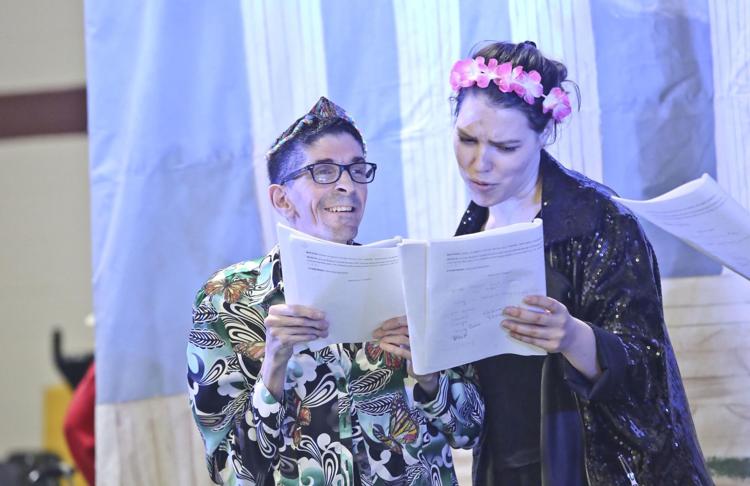 The MRI cast was one of the more excited groups the Shakespeare Corrected students get to work with. Matthew Gregory was looking forward to being on stage again next year. "Because it was so much fun," he said. "And I did so much work."
You have free articles remaining.
Gregory invited many family members to the MRI venue. "He invited probably 30 people," Magan said.
The directors rarely have a problem with attendance or enthusiasm from the actors.
"With this group, you need lots of repetition," said Marielle Tepe, a Millikin student and director.
The directors noted the actors have a positive outlook, making their job easier. "It was so easy with them, because I knew how much they cared," Magan said.
"We adapt to the situation," Tepe said. "We try to encourage them that it is exciting. If they are excited about it, then they are ready to work."
The directors saw the same enthusiasm in the correctional facility actresses. Tepe directed the fight scenes for the women.
"They were excited to learn," she said. "They knew that they were there for the show. There wasn't any issues with violence or anger. They were learning how to be safe and make it look real."
Although Shakespeare Corrected is a directing opportunity for the Millikin students, the directors say they learn far more than how to instruct actors.
"It is a very humbling and cool experience," Magan said.
Tepe plans to take her experience into her career, not having directed special-needs actors in the past. "But I know it is something that I love doing now," she said. "I loved this whole process."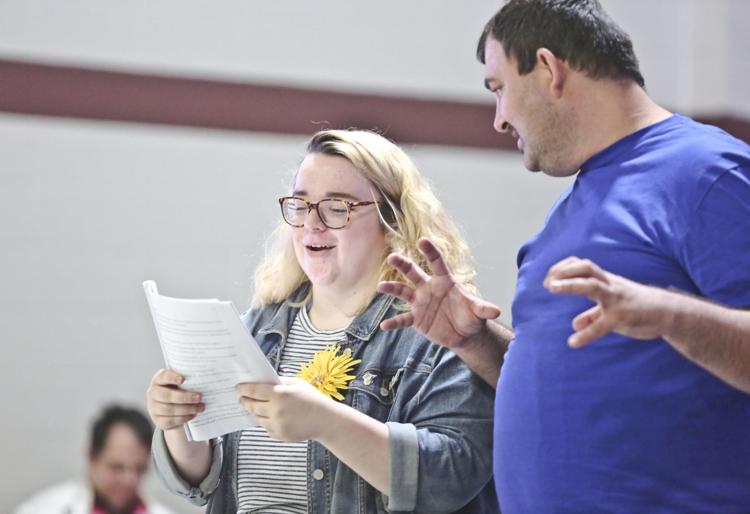 Magan, a junior, has contemplated changing her major.
"I think I want to do drama therapy," she said. "I love theater and the creative aspect, but I have always loved helping people. This experience has made me completely rethink my career."
Before rehearsals, the directors would discuss the upcoming projects and what needed to be done before the play was ready for an audience. "We would get frazzled," Magan said about rehearsals. "But it turned out to be the best part of our day."
Carl Nave was on stage as Demetrius in the MRI play. "I had a good time even if I had to be fed the lines," he said.
The experience helped give Nave a sense of purpose, and he learned how to project and alter his voice. "I made it sound more funny," he said.
Kathy Ferris, direct support person for MRI, teaches clients about money management and other life skills. The Millikin students contacted Ferris to bring Shakespeare Corrected to MRI.
According to Ferris, some clients are not invited to join other activities, because they need special attention. She said she chose particular clients as actors because it was an opportunity like no other.
"We need to give students who are never chosen a chance," she said.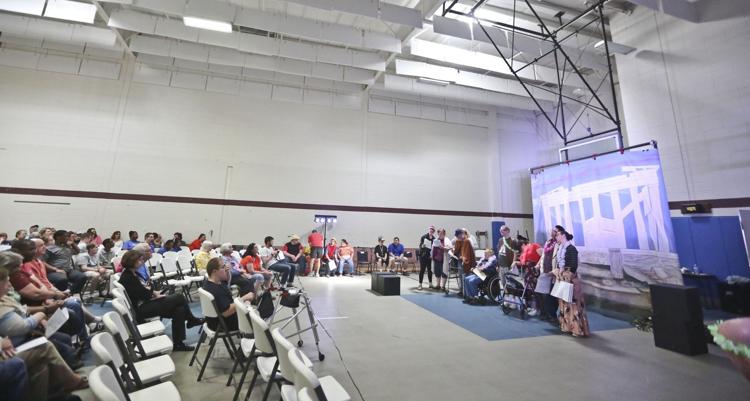 Contact Donnette Beckett at (217) 421-6983. Follow her on Twitter: @donnettebHR