DECATUR — The third Toys for Tats drew people from across the area, with a line of people outside Oakwood Tattoo eager to donate a child's toy in exchange for a tattoo.
Participants were asked to bring a new, unwrapped child's toy with a value of $25 to receive a free tattoo from one of 14 volunteer artists. The toys will be donated to the WAND Spirit of Giving Toy Drive on Friday, Dec. 1.
"We just want to make sure everyone gets the best Christmas," said Holly Harrison, shop manager of Oakwood Tattoo.
Less than halfway into the event, which lasted from 10 a.m. to 10 p.m., the parlor had 117 people signed up and waiting to receive their tattoo.
Last year, the group raised $6,000 worth of toys but hoped to raise between $8,000 and $10,000 at this year's event, Harrison said. Some people dropped off a few hundred dollars worth of toys, she said.
"A lot of people are so generous they just come by and donate the toy and have no intention of getting a tattoo," Harrison said.
There were 22 tattoos from which to choose, which would typically cost $150 on a regular day.
People drove from all over and were just excited to hang out with us, she said.
"We are hoping eventually we are going to have to rent out a different building to fit more tattooers in," she said.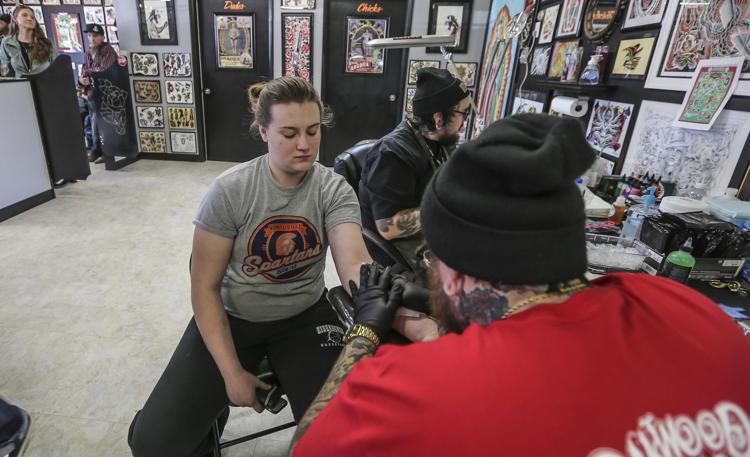 Ginger Thomas donated a toy helicopter and choose an eagle for her third tattoo. She said she came to the event because it was a good cause, and a group of her friends were getting tattoos as well.
Mark Grant choose a flowery design for his newest tattoo. He said he is a frequent customer at the shop and was happy to support the event.
"People are coming through and bringing something nice for people that really need something," said Tyler Brown a tattoo artist at Oakwood Tattoo.
Brown said people from all walks of life enjoy the idea of giving gifts to children for Christmas.
"We have regulars, people who've never been to the shop before and people from all over the Midwest who come get tattoos," he said.
The event is powerful for the people in the community and at the shop, Brown said.
"People want to give back as much as we do," he said. "Every year we make it bigger and bigger so we can give back more to our community."