TUPPER: Blue Mound coaching legend Dick McDonald to be recognized this weekend
BLUE MOUND — There's a rock in the front yard of the two-story white wood frame home just east of Illinois 48 in Blue Mound. Chiseled into the face of the rock is one word: "McDonald."
Yes, this is the "House of McDonald," home to Dick and Ellen, who celebrated their 50th wedding anniversary in 2011 and this morning will be the grand marshals in the Blue Mound Fall Festival parade.
They'll ride in a shiny convertible and throw candy to those who line the parade route and people will cheer because it's legendary what Dick McDonald, 78, did coaching the children of this quiet, close-knit community until his retirement in 1993.
In portions of the 1960s, 1970s, 1980s and 1990s, Dick McDonald coached baseball, track and field, cross country and boys basketball and it sounds almost hard to believe that his teams won 87 multi-school championships.
In McDonald's heyday, Blue Mound High School won nine consecutive Meridian Conference track and field championships at a time when the league was 11 schools strong.
As an athlete at Mount Zion High School, his sport was baseball. And while he had a stellar record as a track coach, basketball is what landed him in the convertible this weekend and basketball is what earned him a coveted spot in the state's hoops Hall of Fame in 1993. You'd have to kill him to turn loose of the Illinois Basketball Coaches Association Hall of Fame ring that proudly hugs his hand.
Blue Mound High School doesn't even exist anymore, having consolidated with Macon to form Meridian High School in 1994.
The old high school is now Meridian Elementary School. It's been beautifully refurbished and above one of the baskets hangs a sign that proclaims: McDonald Gymnasium. Dedicated Feb. 19, 1993.
The 87 championships are a part of history and some of the hardware won along the way can be found in the Blue Mounders Museum in town. Sadly, some of it was cast aside in the shuffling of the high schools.
But Coach McDonald's legacy is not measured in gold trophies, award certificates or even in the book lovingly penned by his daughter, Marcy McDonald-Bialeschki. "We Call Him Coach," swept together all of the statistical accomplishments and sprinkled it with anecdotal touches to form a well-done history lesson that summarizes her father's coaching career.
No, his legacy is rooted in the success of the boys who toiled under his watch, who tried to live up to his high expectations and who have gone on to thrive as adult men because the lessons they learned — sometimes grudgingly — ended up pointing them in a positive direction.
Probably the community's most celebrated citizen is Duane Noland, Blue Mound High School Class of 1974. He served four terms in the Illinois House of Representatives and two terms in the Illinois Senate.
Noland is currently president and chief executive officer for the Association of Illinois Electric Cooperatives and helps operate a thriving family farm.
He played for Coach McDonald and helped organize this weekend's tribute, which will include an open house reception from 2 to 4 p.m., Sunday inside McDonald Gymnasium in the old high school.
In part because Blue Mound High School did not field a football team, basketball was a must-do social gathering on Friday nights. And by the time Noland made the varsity team, McDonald was a bigger-than-life local legend.
"He was a huge personality," Noland said. "He was emotional but focused and he could be a show on the sideline. He was also our guidance counselor so everyone got to know him."
Noland quickly learned there were rules to follow in order to be a member of the team that packed the small gymnasium throughout the late fall and winter.
"Practices were fiery," he said. "Coach loved to run you. He'd run you until you were out of breath, then put you at the free throw line. If you didn't make them, you ran some more.
"He used a lot of psychology on us. He'd butter you up, then pound you. Then he'd put his arm around you and talk to you."
McDonald gave nearly everyone a nickname and Noland's was "Noodle."
"He was a tough coach, and when you're 16 or 17 you don't understand why. You just want to have a girlfriend and have fun and he's working you hard.
"He kept you in shape. You wore short hair and ran. That was part of the program. You played defense, you didn't talk back to the referees and you didn't showboat. It was old school.
"Then later on you realized it was a great experience. You learned a lot. There was a lot to admire there."
McDonald coached a stream of outstanding players who began learning "Coach's way" in grade school. None were better than Dave Pistorius (Class of 1975) and Gary Jackson (Class of 1977).
Pistorius graduated as the school's all-time leading scorer, went on to star at Millikin and is now an investment banker for First Mid-State Bank based in Bloomington.
He still remembers the thrill of getting to play on the Blue Mound Knights varsity, even though he knew Coach McDonald would not make his life easy.
Now, looking back, he sees why McDonald set the bar high.
"He was bigger than life," Pistorius said. "He expected so much out of us. He wanted us to be our best. He demanded that from us and he got it.
"Coach rode us pretty hard at times. If our attitude wasn't quite there, he'd let us know about it right on the spot. But he had a great way of coming back, maybe the next day, and would seek us out individually for a great one-on-one."
Pistorius admits he didn't understand the magic McDonald was concocting at the time. That came later.
"I just know he had a very profound effect on me," he said. "He was pretty important to me during my high school days and beyond. I've always felt a special closeness to Coach.
"I think a lot of our successes as adults have been because of the things he coached us and preached at us. We were all very disciplined and dedicated. I try to have a game plan and put in the extra time. That's certainly something that has benefitted me in my career."
Gary Jackson learned the same lessons.
After moving to Blue Mound following his freshman year at Niantic-Harristown, Jackson went on to surpass Pistorius as Blue Mound's career scoring leader. Like Pistorius, he became a college star at Millikin.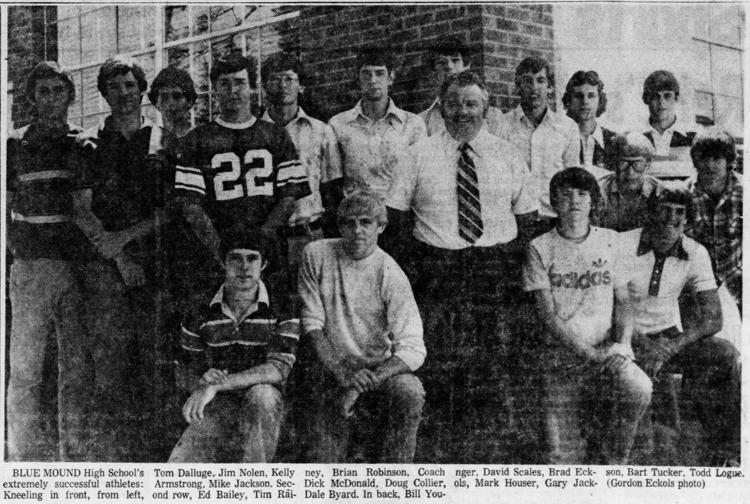 Nowadays he is the executive vice president/regional sales manager for Busey Bank's mortgage division. He lives in Peoria and knows the way McDonald demanded a player's best has paid off in his professional career.
"He taught us to be respectful of everyone — officials, fans, players, coaches — everyone. He expected a lot, no question. You had to be committed to be a Blue Mound athlete.
"I think the lesson I learned is that hard work pays off. And it doesn't matter if it's basketball or banking."
McDonald, who admits that he still misses coaching, is proud of what he accomplished at Blue Mound and he cherishes stories of the players who worked to meet his challenging standards. He remembers names, nicknames, details of specific games and many of his players still stay in touch.
He proudly displays a Christmas card he received in 2014 from former player Mark Houser.
McDonald spotted the little left-hander in gym class and was alarmed when he saw the 5-foot freshman standing across the street from the school smoking a cigarette.
McDonald marched across the street and offered Houser an alternative.
"I told him, 'If you give up cigarettes I think you can help our team.' He said he didn't want to leave his friends. I told him those were temporary friends and if he came with me I'd show him more lifetime friends than he could imagine."
Houser agreed, joined McDonald's basketball brigade and grew — spiritually and physically — into a 6-foot-5 senior who was a mainstay of the 1977 team.
Houser considers McDonald's overture to be a turning point in his life, something he expressed in the hand-written Christmas card.
"I would never have graduated if not for you," he wrote to McDonald. "Thanks for not giving up on me."
Houser also sent McDonald a copy of his college bachelor's degree.
Pistorius wonders how life would have been different playing for a coach who demanded less, who didn't have the backbone to insist on each player's best.
Today, at the Fall Festival, and on Sunday, at the open house reception, he and many others will have a chance to once again thank the man who has meant so much to this community.
Mark Tupper is the retired Executive Sports Editor of the Herald & Review. He can be reached at marktupper@barbeckbb.com.