U.S. Rep. Rodney Davis said he will think more about security after being among those who fled from a rifle-wielding gunman who shot at a congressional baseball game, wounding House GOP Whip Steve Scalise of Louisiana and several others.
"I take it for granted what I considered a safe environment, not only in Washington but back at home. I know I personally will be more cognizant and will likely make decisions based upon that after going through what I went through today," said Davis, R-Taylorville, in a call with reporters Wednesday afternoon, several hours after the shooting.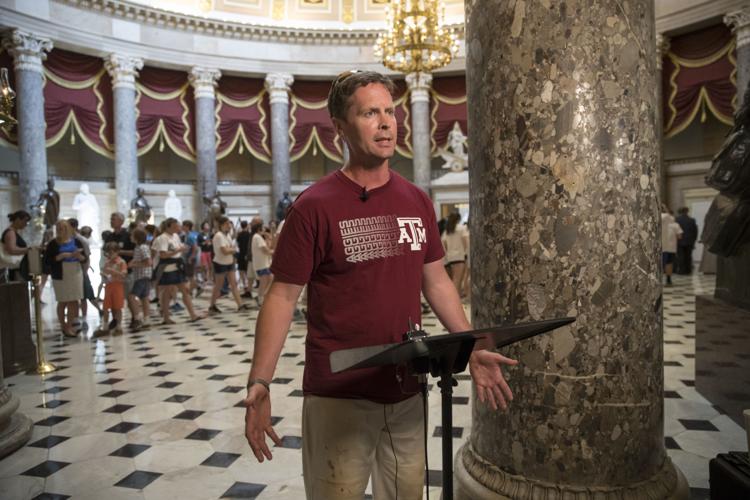 The assailant, prepared with "a lot of ammo," fought a gun battle with police before he, too, was shot and later died.
Colleagues said Scalise dragged himself away from the infield leaving a trail of blood as they rushed to his assistance. He was taken to a hospital where he underwent surgery and was listed in critical condition. His office said that before surgery for a wound in his hip he was in good spirits and spoke with his wife by telephone.
Republican Congressmen John Shimkus of Collinsville and Darin LaHood of Peoria are also on the team's roster, but spokespeople from their offices said they were not at the practice.
The shooter was identified as James T. Hodgkinson, a 66-year-old home inspector from Belleville, Ill., who had several minor run-ins with the law in recent years and belonged to a Facebook group called "Terminate the Republican Party." Police haven't stated a motive.
Shortly after the shooting, Bernie Sanders, the former candidate for the Democratic presidential nomination, said on the Senate floor that the shooter apparently was a volunteer for his campaign last year. Sanders said he denounced the violence "in the strongest possible terms."
President Donald Trump delivered a brief address from the White House Diplomatic Room in which he denounced the shooting of a top House Republican and others as a "very, very brutal assault." He said that "many lives would have been lost without the heroic action" of Capitol Police officers who took down the gunman.
"We may have our differences, but we do well in times like these to remember that everyone who serves in our nation's capital is here because, above all, they love our country," Trump said. "We can all agree that we are blessed to be Americans, that our children deserve to grow up in a nation of safety and peace and that we are strongest when we are unified and when we work together for the common good."
Davis drew a link between the vitriol he's seen on the campaign trail and Wednesday's shooting. "I've walked the streets of Springfield getting yelled at, spat on because of the policy differences we have," he said, repeatedly emphasizing the need for civility and saying he planned to be a "messenger for optimism."
"We have the ability as Americans to disagree on policies because that's what makes our country great," Davis said. "If you don't like the policies of someone who is elected, change them at the ballot box, but be respectful and kind and stop the hateful, hateful rhetoric that I see coming out of politics, of Congress. I see it out of the news media, I see it on social media."
The shooting occurred at a popular park and baseball complex in Alexandria, Virginia, where Republican lawmakers and others were gathered for a morning practice about 7 a.m. They were in good spirits despite the heat and humidity as they prepared for the congressional baseball match that pits Republicans against Democrats. The popular annual face-off, which raises money for charity, is scheduled for Thursday evening at Nationals Park across the Potomac River in Washington, and will go forward as planned.
The event began to unfold just as Davis was up to bat, he told reporters. He heard a noise, which he mistook for activity from a nearby construction site.
"The next thing I heard was one of my colleagues or somebody else on the field saying, 'Run, he's got a gun.' And I did just that," he said.
Davis said he immediately ran into the first-base dugout, then worked his way out to safer territory across the street behind cars.
"Then when I heard somebody say the shooter's coming around the corner of the field, from the third-base side I guess, to where we were on the first-base side, I and a few others ran down the street further and a Good Samaritan in an apartment building told us to come in."
Davis said he called 911 in the person's apartment, and then his family to say he was OK. He recalled seeing Scalise on the outfield grass motionless and a former Republican legislative staffer bleeding on the ground.
"You just take off. Instinct takes over," Davis said. "I don't really remember what I was thinking, other than, 'Get out of there. I can't believe this is happening.'"
Lawmakers echoed Davis' shock in the aftermath of the event, which raised questions about the security of members of Congress. While the top lawmakers, including Scalise, have security details, others do not and regularly appear in public without protection. The last time a lawmaker was shot was when Democratic Rep. Gabby Giffords of Arizona was hit in the head and grievously injured while meeting with constituents at a supermarket parking lot in 2011.
At least one member suggested lawmakers should be able to carry guns in Washington, D.C. And even as some members cautioned against moving too quickly to throw up barriers, several said security is likely to be ramped up at town halls and others called for security personnel to be posted at every congressional event that includes more than one member of Congress.
"It's a legitimate public safety issue for every member of Congress, who are husbands and wives and sons and daughters," said Rep. Ryan Costello, R-Pa., who was supposed to be at the practice but missed his ride.
You have free articles remaining.
He said lawmakers have been growing increasingly uneasy about their personal security, with many declining to hold public town halls because of fears that antagonism will turn to violence.
"People think when we talk about it that it's nonsense or an excuse not to meet with constituents," Costello said. "It's not a function of not wanting to meet with people or go places. You just want to be sure you're doing it smartly and you're not putting yourself in a position where you're giving some crazy person all the information they need to carry out something like what happened this morning."
Other lawmakers said it was too soon to evaluate whether there's a need for more security.
"I certainly hope not," said Sen. John Thune, R-S.D., a member of Senate leadership. "I think most members of Congress get back to and from their states with — other than travel complications, something we all deal with — a high level of confidence that they're going to be safe. It seemed like a senseless act of violence and hopefully an outlier and something we won't see more of."
In Macon County, Republican party Chairman Bruce Pillsbury said local party leaders would take any additional precautions requested by Davis at events, but didn't see an independent need to beef up security.
"I hope this was an isolated incident, and I just think that some people have real problems. It doesn't help that the flames have been fanned, so to speak," he said, referring to divisive political speech.
Pillsbury said he has been involved in local Republican politics since 1985, and it seems like political divisions are becoming more pronounced. Still, he said, most can resolve their differences peacefully.
"I think the majority of the people, they can be the most avid proponent of an opinion on one side and their opponent be the same way and yet they can agree to disagree or whatever," he said. "But for somebody to take the actions this person did this morning, there's some deep-lying problems there."
Scalise, 51, the No. 3 House Republican leader, was first elected to the House in 2008. The popular and gregarious lawmaker is known for his love of baseball and handed out commemorative bats when he secured the No. 3 job of House whip several years ago.
Texas Rep. Roger Williams, who coaches the GOP team, said that one of his aides, Zack Barth, was shot, but "is doing well and is expected to make a full recovery." Two Capitol Police officers were also injured but were expected to recover, along with a former congressional aide who was hospitalized.
Rep. Jeff Duncan of South Carolina said he had just left the practice and encountered the apparent gunman in the parking lot before the shooting. The man calmly asked which party's lawmakers were practicing and Duncan told him they were the Republicans. The man thanked him.
The gunman had a rifle and "a lot of ammo," said Sen. Jeff Flake of Arizona, who was at the practice.
The shocking event left the Capitol horrified and stunned. The House canceled proceedings for the day. Speaker Paul Ryan of Wisconsin and Democratic Leader Nancy Pelosi of California both spoke on the floor issuing calls for unity. "An attack on one of us is an attack on all of us," Ryan said.
Rep. Mo Brooks, an Alabama Republican, said his colleague "crawled into the outfield, leaving a trail of blood."
"We started giving him the liquids, I put pressure on his wound in his hip," Brooks said.
Texas Rep. Joe Barton, still in his baseball uniform, told reporters a shooter came out to the practice and opened fire, shooting at Rep. Trent Kelly, R-Miss., who plays third base.
Barton said the shooting lasted 5-10 minutes, and there were dozens or more of shots fired. Lawmakers took cover in the dugout. Barton said his son, Jack, got under an SUV.
Texas Rep. Mike Conaway, who was at the game, described what sounded like an explosion, then lawmakers scattering off the field as police roamed in search of the gunman and engaged him.
"The guy's down to a handgun, he dropped his rifle, they shoot him, I go over there, they put him in handcuffs," Conaway said, adding that if the shooter had "gotten inside the fence, where a bunch of guys were holed up in the dugout, it would have been like shooting fish in a barrel."
FBI special agent in charge Tim Slater said it was "too early to say" whether it was an act of terrorism, or whether Scalise was targeted.
Speaker Ryan identified the wounded Capitol Police officers as David Bailey and Crystal Griner. Also wounded was former congressional aide Matt Mika, who now works for Tyson Foods in its Washington office. Mika's family said the lobbyist was shot multiple times and was in critical condition and in surgery.
After the gunfire stopped, Sen. Flake, of Arizona, said he ran onto the field and also tried to come to Scalise's aide. After medical personnel arrived, he said he retrieved Scalise's phone and made the first call to Scalise's wife to notify her of the shooting. He said he did so to ensure that Mrs. Scalise would not find out about the shooting through the media.
Falisa Peoples was just leaving the YMCA next to the ball field when she saw the shooter open fire.
"He was just very calm. He was just walking and shooting," she said of the man, whom she described as white and wearing a T-shirt and shorts. She said he was using a long gun and exchanging fire with law enforcement officers, one of whom yelled for her to get down.
The Associated Press and Herald & Review Managing Editor of Digital Allison Petty contributed to this story. 
Rep. Steve Scalise of Louisiana, a true friend and patriot, was badly injured but will fully recover. Our thoughts and prayers are with him.

— Donald J. Trump (@realDonaldTrump) June 14, 2017