DECATUR — Citing his own experiences as a father and a victim of gun violence, U.S. Rep. Rodney Davis on Monday said the national conversation about school safety should steer clear of firearm restrictions and instead focus on identifying potential threats and providing more security resources, such as armed officers. 
The Taylorville Republican made the remarks during a roughly 30-minute interview with two Eisenhower High School students, a stop meant to encourage those interested in a career in media and to highlight the school's recently completed television studio.
During the program "Decatur Talks: Education," Davis fielded questions from seniors Seven Sassano and Makayla Plowman on topics that included the state of the Farm Bill in Congress, infrastructure and the intersection of gun policy and gun safety.
Since the Feb. 14 mass shooting that left 17 dead at a high school in Parkland, Fla., young people across the country and in Decatur have taken part in demonstrations calling for stricter gun laws, including the National School Walkout and March for Our Lives events last month.
With three children still in high school and college, Davis said he shares concerns about school security in the 13th Congressional District and throughout the nation. But he said the answer needs to come not from restricting access to firearms, but instead by focusing on mental health, one that encourages recognizing and reporting to authorities when there are warning signs that a person may be a threat to others. 
"We've got to get to the root cause of what causes someone here in America to think the solution to their problems is killing people," said Davis, a three-term congressman who is facing Democrat Betsy Dirksen Londrigan in the November election. 
As part of the solution, Davis pointed to his support of the Secure Our Schools program that passed with the omnibus funding bill last month. The program provides money for schools to hire armed resource officers, perform active shooter training and improve security, such as entry points to the school.
On the topic of guns in school, Davis said it should be up to local school districts and their state on whether teachers are allowed to keep their own firearms in the classroom. With Illinois unlikely to go in that direction politically, he hopes state lawmakers will instead focus more on providing armed resource officers at schools for protection.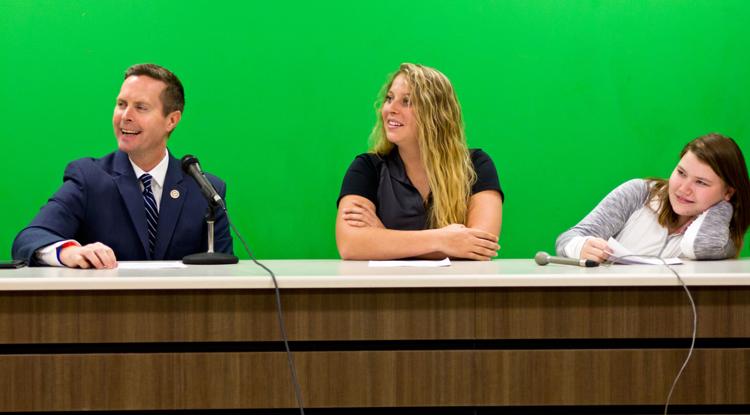 Asked about a potential ban on certain types of firearms and accessories, Davis said such laws would punish law-abiding citizens. He said his own experience with gun violence last year has further pushed him to that conclusion.
Davis was among the representatives at a GOP congressional baseball practice in Alexandria, Virginia, when a gunman opened fire June 2017, wounding House GOP Whip Steve Scalise of Louisiana and several others. Davis, who was not injured, said the thought that raced through his mind at the time was he wished he had a gun on him to shoot back at the gunman.
"That's where I'm at, and frankly my experience with gun violence solidified that viewpoint for me," he said.
Davis also discussed the current state of the Farm Bill, which passed out of the House Agriculture Committee last week on a straight party-line vote of 26-20. A new Farm Bill is generally passed every five years, with the current one set to expire at the end of this year. 
Having voted for the latest proposal in committee, Davis said he was supportive of the language that would rewrite the eligibility requirements for the Supplemental Nutrition Assistance Program, or SNAP, formerly known as food stamps. He called the current language "antiquated" and said the new law would instead encourage people back into the workforce without hurting those most in need.
His comments are in contrast to a report last week from Washington D.C.-based Center on Budget and Policy Priorities that said language in the proposed legislation would cause 1 million low-income households with more than 2 million people — particularly low-income working families with children — to lose their benefits altogether or have them reduced.
A report from the Food Research and Action Center, a Washington, D.C.-based anti-hunger group, found the proposed funding for job and employment training to be "insufficient" to have any lasting effect on low- and-middle class families.
The bill requires each state to offer a SNAP Employment and Training slot to every eligible participant, and takes funding for those programs from its current level of $90 million a year to $250 million in fiscal year 2020 and $1 billion in each subsequent fiscal year.
The interview took place at the school's TV studio, which was recently refurbished with donations by the Decatur Schools Foundation and Grace United Methodist Church.
The site is comparable to any television station, said Gayle Bowman, a business teacher at Eisenhower who set up Monday's interview with Davis. The 34 students currently in the class can take advantage of the state-of-the-art equipment, which includes cameras, green screen and an audio board, which Bowman said can prepare students for industries like videography, production and acting.
"Media touches everyone, and so everyone will grow by being part of this class," Bowman said.
Though she plans for a career as a nurse practitioner, Plowman said after Monday's interview she felt giving other students opportunities to interview people like Davis at the studio could go a long way to prepare them to enter the workforce.
"You're going to need to know how to talk to people," she said. "You'll need to know how to accept their views and be open-minded."