DECATUR — Getzner USA Inc. hopes its new Decatur facility will ship products, which include railway and construction products with materials similar to elastic, all across North America.
If the demand grows, so too will the number of employees here.
"Looking now at this great facility we have in Decatur, we can actually get into our full expertise and get a better handle on what we do globally very successfully," said Andreas Denk, president of Getzner. "Therefore, what you see today is just the start of our operations. We're looking to expand our footstep here in the U.S."
Getzner officials were joined Thursday by local business leaders, members of the Greater Decatur Chamber of Commerce and Mayor Julie Moore Wolfe to cut the ribbon at its facility at 815 E. Kenwood Ave. The facility is the first and only planned production plant in North America for the Austria-based company.
The facility opened in April and currently has two full-time employees and several temporary employees, determined by the current demand, said Stephanie Whitesides, operations manager at Getzner's U.S. headquarters in Charlotte, N.C. The hope, she said, is for the facility to have at least 15 full-time employees by the end of 2019.
Macon County building permits from January show that Getzner invested $295,000 in an office and manufacturing expansion at the site earlier this year.
The company was able to take advantage of an enterprise zone, which provided a sales tax break on construction, said Ryan McCrady, president of the Economic Development Corporation of Decatur and Macon County.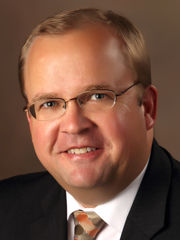 McCrady said it is another example of an outside company looking at the benefits and opportunities possible by investing in Decatur. He said that sometimes the community might overlook its strengths, such as its well-developed workforce, central location and access to railroads. When companies like Getzner notice the benefits, it can be eye-opening for others in Central Illinois.
"It's just another day that we get to display the impact Decatur has on the global economy and global trade," McCrady said.
A large part of the plant's growth will be decided by the market for the product, which includes polyurethane materials for protection against vibration and noise. A big benefit for the new Decatur plant, Whitesides said, is that it makes the company now compliant with laws that requires the U.S. government to prefer U.S.-made products in its purchases.
With products that would be of use in the construction, industrial and railway sectors, compliance opens up a new new markets and potential demand. The production facility currently takes up 36,000 square feet inside the 240,000 building, which Whitesides said will give the company flexibility for future growth.
Decatur's central location, as well as its proximity to global customers, were factors in Getzner opening its facility here, Whitesides said, allowing for easier distribution in the U.S. and Canada.
"We wanted to be American made, and now we are," Whitesides said.