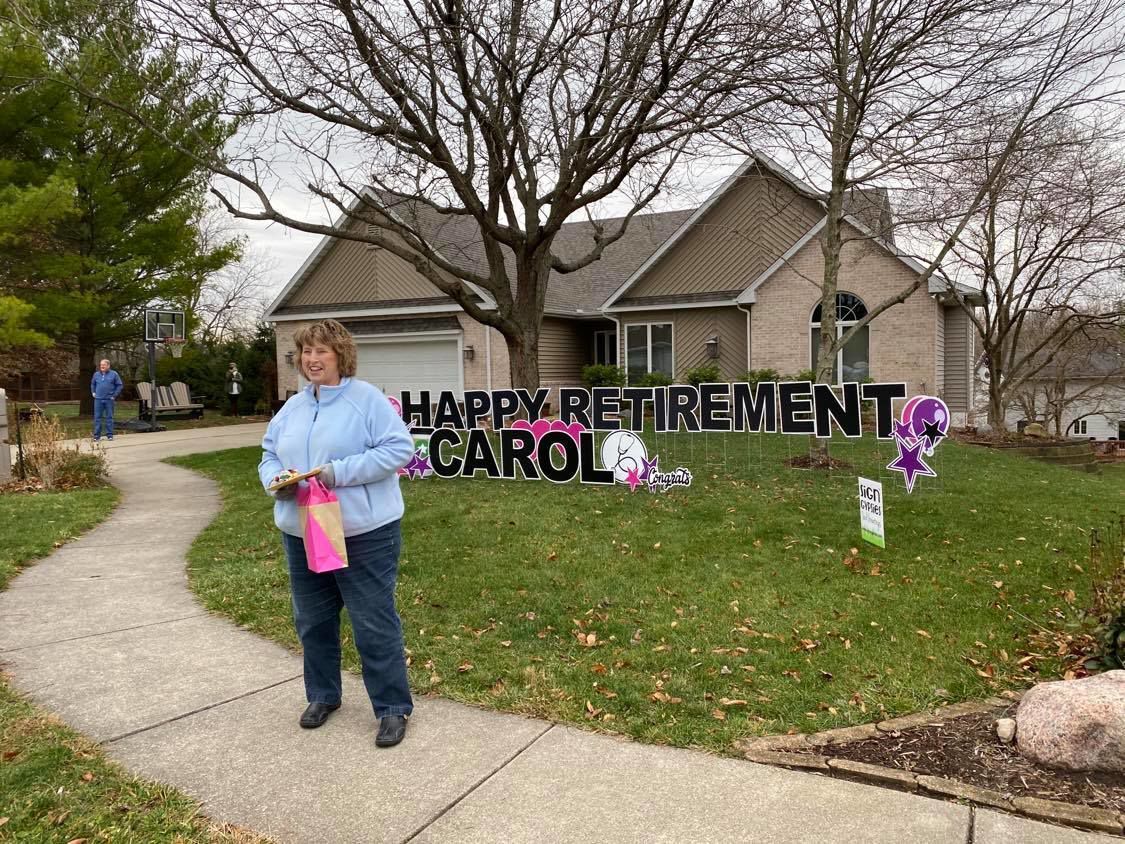 DECATUR — Carol Carlton was greeted with a drive-by parade Saturday morning in honor of her retiring after 23 years with the Macon County Health Department.
Vehicles driving past her house honked and waved, showering Carlton with gifts and words of congratulations. 
"I was just shocked," said Carlton, who first noticed that someone had put a sign in her front yard, wishing a happy retirement. 
Carlton began her career with the health department as a registered nurse  tasked with immunizations and case management, later transferring to the Women, Children and Infants where she assisted clients enrolling in the program. 
She then went on to serve in two other positions before taking the job as director of nursing services in 2011, which she'll officially retire from on December 4. Until then, she'll be in the office to help train Shannon Anderson, who's set to take over the director position. 
"I just really liked helping people and caring for people," Carlton said of her decision to pursue a career in health care.
The passion of caring for others is something Carlton says she learned from her mother growing up, as well as the final time spent by her side.
"She had cancer and was in hospice and I was her main caretaker," she said. "So I really learned a lot about compassion and taking care of people."
Reflecting on more than two decades with the health department, Carlton says significant differences between 2020 and the first several years are the ability to work remotely and conducting contact tracing. She highlighted the simplicity of using computers for a number of tasks formerly done with pen and paper.
But in those years she hadn't anticipated being on the frontlines of a pandemic that's caused many health care workers to be "overworked and overwhelmed" due to the ever-growing amount of positive cases.
Carlton said she's been working seven days a week with some shifts lasting around 12 to 14 hours. The demand has "really put a toll on staff," she said.
"Carol's certainly earned her retirement," said Brandi Binkley, public health administrator, who participated in the sendoff along with many others that personally worked with Carlton. "She's put in so much time, effort, dedication, love and passion during this pandemic."
Carlton said the retirement is a much-needed time to rest as she looks forward to spending more time with her grandchildren and diving more into her favorite hobbies of baking, decorating cookies and sewing. 
---
How we're doing in November: Decatur-area residents share pandemic stories
How we're doing in November: Decatur-area residents share pandemic stories
Every few months, Herald & Review reporters check in with the same group of community members about how they're dealing with COVID.
Contact Garrett Karsten at (217) 421-6949. Follow him on Twitter: @GarrettKarsten
Get local news delivered to your inbox!
Subscribe to our Daily Headlines newsletter.