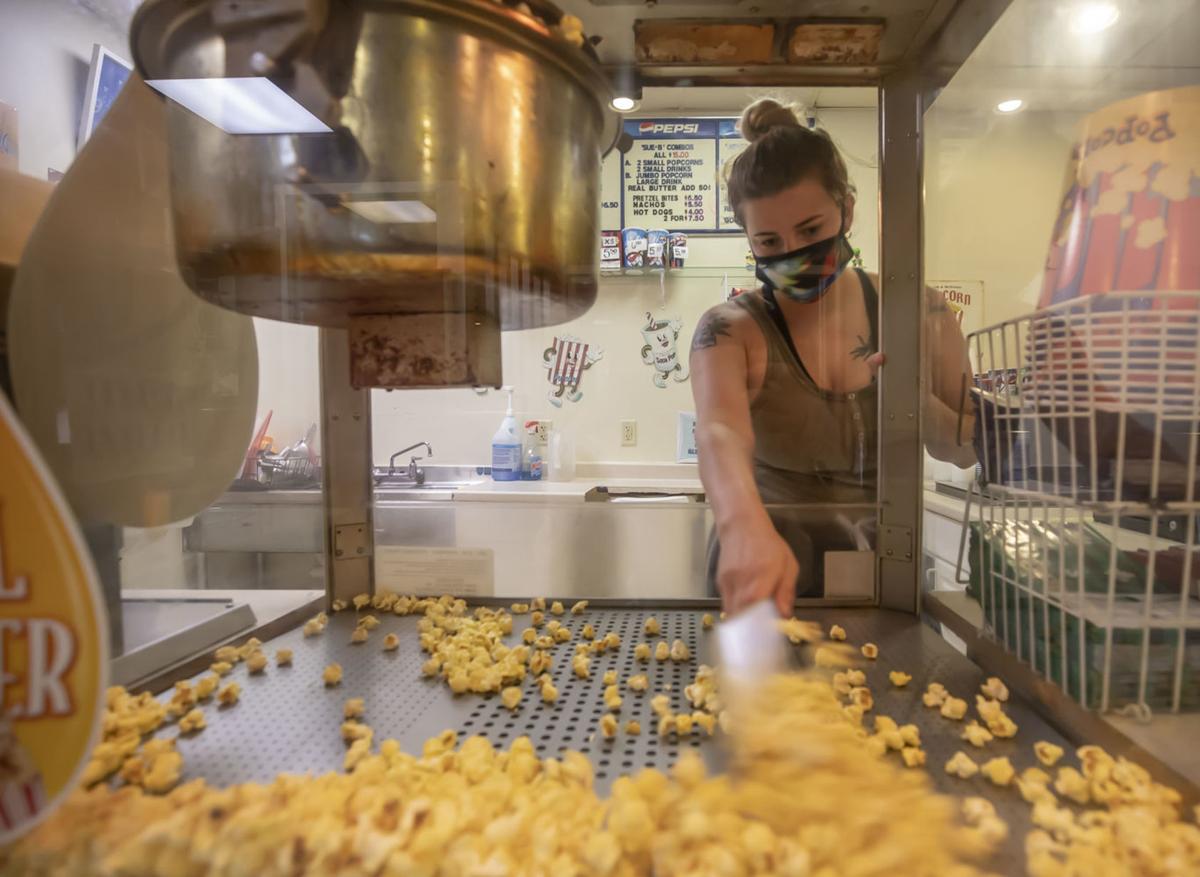 SPRINGFIELD — Gatherings of up to 50 people. Indoor dining. Meetings and conventions. Outdoor recreation.
Those activities, services and more will be allowed to resume Friday, as long as a variety of public health guidelines are followed, under phase four of the Restore Illinois plan.
It's part of the gradual process to reopen the state following a stay-at-home order to contain COVID-19. The plan is dependent on rates of infection, hospital capacity, capacity to test and systems for tracing infections.
Across the region, businesses on Thursday focused on prep work.
At the Avon Theatre in downtown Decatur, popcorn was being readied.  
"We're just really excited to everybody back," said employee Danielle Minnis.
Charles "Chip" Bone, who manages The Whit's End, a Macon bar and restaurant, said the enforced shutdown was a mixed blessing, as it allowed time for that remodeling that wouldn't have been possible without closing. Still, they're ready to get back to business and greet customers, he said.
"We miss them and can't wait to see them back," he said.
Here's a breakdown of what is allowed in phase four.
Shopping
All retail can open but limited to 50% of store capacity. Social distancing should be observed in common areas. Checkout keypads should be cleaned after each use.
Restaurants and bars
For phase four, restaurants can seat parties up to 10 people for indoor dining and drinking. For standing areas, restaurants need to limit capacity to 25%. In dining areas, tables should be separated by 6 feet and barriers installed for those not 6 feet apart. Self-service beverage fountains are allowed with additional precautions.
Haircuts and personal care
Phase four includes businesses such as hair salons, hair braiders, barbershops, nail salons, spas, massage therapy clinics, waxing centers, tattoo parlors and tanning salons. Services should be limited to those that can be performed while customer and employee are wearing a face covering. Facility may operate at 50% of capacity. All magazines and any shared items from common areas should be removed. Services are allowed by reservation only with no walk-ins permitted. Reusable customer items such as towels, blankets, capes, robes should be sterilized after use.
Health clubs
Phase four allows for gyms, fitness centers, yoga, dance, cycling, Pilates and barre studios to operate at a maximum of 50% of occupancy. Staff and the public should wear face coverings and maintain social distance of at least 6 feet. Equipment and exercising areas should be sanitized before and after each use. Saunas, hot tubs, and steam rooms will remain closed.
Museums and zoos
Museums and zoos are allowed to operate at 25% capacity. Hands-on exhibits aren't allowed. Common areas should be cleaned every two hours and facilities must be cleaned weekly. Some concessions are allowed.
Entertainment venues
Plays, musicals, orchestras, operas, comedy shows, movies and other live and recorded entertainment are allowed in phase four but with capacity limits and health guidelines. Indoor theaters are limited to 50 people or 50% of capacity. Outdoor venues are limited to 20% of capacity. Common areas like bathrooms should be cleaned every half-hour and the facility every week. Staff and the public should wear masks and practice social distancing.
Games and recreation
Phase four allows for arcades, bingo halls, bowling alleys, escape rooms, ice skating, roller skating, laser tag, driving ranges, paintball courses and outdoor adventure parks to open. However, amusement parks, trampoline parks and indoor playgrounds should stay closed. Indoor establishments are limited to 50 customers or 50% of capacity. Outside establishments should limit groups to 50. Masks and social distancing guidelines apply.
Meetings and conventions
Meetings and social events are limited to fewer than 50 people or 50% of room capacity. Face coverings should be worn during the meeting or event, and maintain social distance of at least 6 feet. No shared water on meeting tables. Tables and seats should be disinfected between uses and after each day. If an event has speakers in multiple rooms, the speakers should change rooms, not participants. Valet staff must sanitize vehicles before returning to guests.
Health care
Health care providers are allowed to be open. Masks and social distancing guidelines apply.
Child care, schools and summer camps
Child care centers can open with capacity and distancing guidelines. Summer camps and summer school programs are allowed to reopen in phase four with safety precautions. Day camps can operate at 50% of capacity with group sizes of 15 children or fewer (10 for programs with changing participants week by week). No overnight camps are allowed.
Travel
Travel isn't restricted, but there are guidelines that can reduce risk.
Offices
Offices are allowed to operate at 50% of capacity. Shared workspaces are discouraged. Common spaces like break rooms, elevators and lobbies should be suitable for social distancing. In-person meetings of up to 50 people allowed, with social distancing.
Manufacturing
Plants, factories and mills are allowed to open with precautions for social distancing.
---
The 24 most unusual town names in Illinois
Contact Valerie Wells at (217) 421-7982. Follow her on Twitter: @modgirlreporter
Get local news delivered to your inbox!
Subscribe to our Daily Headlines newsletter.