DECATUR — The two candidates for Illinois' 13th Congressional District seat found little to agree on Monday night as they laid out their goals if elected during a debate at Millikin University in Decatur. 
In a race that has grown increasingly heated, with national party attention and funding on both sides, incumbent Rep. Rodney Davis, R-Taylorville, and Democratic challenger Betsy Dirksen Londrigan of Springfield spent their third debate squaring off on health care, tax policy and even who they would support to become Speaker of the House. A standing-room-only crowd filled the Bob and Debi Johnston Banquet Rooms of the University Commons, where Herald & Review Central Illinois Editor Chris Coates moderated the hour-long event. It was co-sponsored by Millikin, the Herald & Review, NAACP Decatur Branch, WAND and WSOY. 
Davis painted the choice before voters as one of an experienced, moderate conservative versus someone with lofty liberal goals and no clear plan to enact them.
"We've got plenty of results over the last five-and-a-half years since I first asked for your vote," Davis said.
"Results, not resistance, is the way to go on election day," he added later in the debate.
Londrigan said her candidacy gives voters a chance to elect someone who will stand up and protect their health care and fend off any future cuts to Social Security, Medicare or Medicaid. Asked why she decided to make her first run for office the congressional seat, Londrigan said it was where the fight for health care is. 
"This seat chose me," she said. "Congressman Davis chose me when he stood on that White House lawn and celebrated taking health care away from millions of Americans."
Mirroring the campaign ads that have flooded district residents' televisions and mailboxes in recent weeks, the candidates sparred on their support of separate health care plans. Davis disputed any claim that he voted for a plan that would affect those with pre-existing conditions, adding he supports anything that replaces the "broken" Affordable Care Act while still helping those with pre-existing conditions.
"We had to fix the system to help families," Davis said of the Republican's health care bill, the American Health Care Act, which passed the House last year but was narrowly defeated in the Senate. "I helped lead the charge to protect pre-existing conditions in the American Health Care Act, so much so that many of the claims my opponent has made, that I wanted to gut protections, have been deemed false."
"There's no grey area there," Londrigan said. "The fact-checkers… have said his claims are false."
The two also disagreed with the handling of tax reform passed last year and its real impact on Central Illinois.
At town halls in each of the district's 14 counties, Londrigan said she is not hearing people say they see the benefits of tax reform. Instead, she said, they're telling her the extra pay is going to rising insurance and gas costs, and people are concerned that the deficit caused by tax reform will lead to cuts to Social Security, Medicaid and Medicare.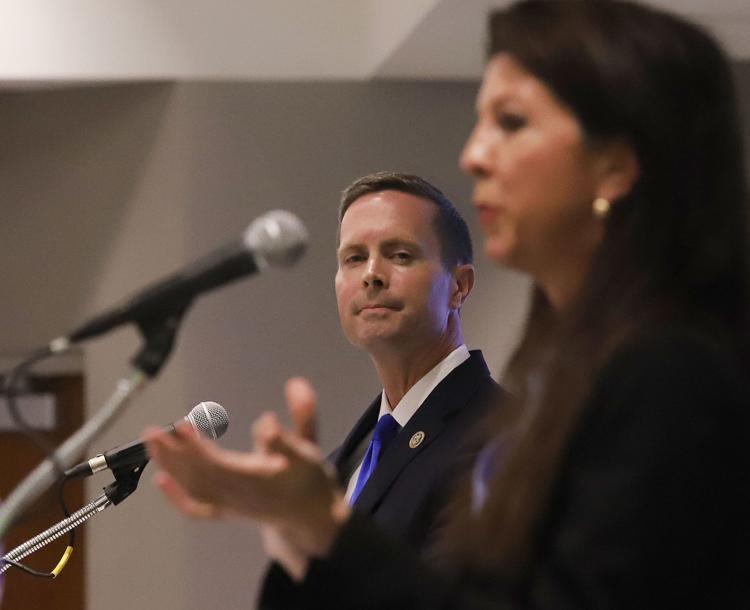 "Any tax reform that I support has to be built for the middle class out," she said. "So the tax bill that (Davis) supported, 83 percent of the benefits go to the special interests, the super wealthy and the corporations. That is really lopsided."
Davis questioned the 83 percent statement. The figure comes from a report from the Tax Policy Center that says the statement is true only in 2027 because the temporary tax cuts for middle-class incomes are set to expire before then. He highlighted the fact he has sponsored a bill to make the temporary tax cuts permanent, which recently passed the House but has not been taken up by the Senate.
"The facts are an overwhelming amount, (families making) between $20,000 and $50,000 ... those families are seeing twice the benefits than the ultra-rich," he said.
The two also spoke about what can be done to bring certainty to those farmers caught up in the escalating trade war between the U.S. and China. 
You have free articles remaining.
Both Davis and Londrigan said they have been speaking to local farmers about the situation, though they said they are hearing different sentiments. 
Davis, who has been endorsed by agriculture groups like the Illinois Farm Bureau, said farmers have put their faith in President Donald Trump's administration to get better trade agreements. He said they are seeing positive results in recent news of the preliminary United States–Mexico–Canada Agreement, or USMCA, trade deal and preliminary deals with the European Union, South Korea and Japan. 
"I believe this administration is seeing the positive results when it comes to trade, but I am very concerned if this trade issue happens to last much longer with China, and the administration clearly knows that from me," Davis said, telling reporters after the debate that he shared those concerns during a brief conversation with Trump during the latter's visit to Granite City in July.
Londrigan said she heard from those farmers who wanted to believe in the Trump administration, but said that is no longer the case, as small family farms worry about where they will be able to sell their soybeans in an uncertain market.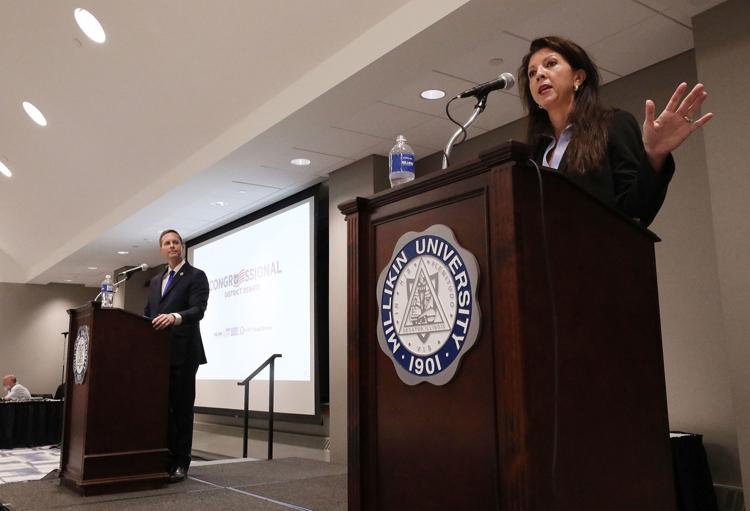 "They don't know where their markets are going to come from, and the difference between what the EU can do and what China does is night and day," she said. Last year, China purchased $12.3 billion of U.S. soybeans, compared to $1.6 billion from the EU, according to the United States Department of Agriculture.
"I want to go to Washington to represent our farmers, to stand up to this administration or whoever is there and be a real voice for the farmers in our district."
The two also scuffled on who they believe should become the next Speaker of the House. Davis, a longtime backer of outgoing Speaker Paul Ryan, said Monday that he would support House Majority Leader Kevin McCarthy, a Republican from California, to become the next speaker.
Londrigan said she would want to see who is running on the Democratic side, as well as who her constituents would want her to support if she is elected.
Davis jumped on that line to question why Londrigan would not take a position on former House Speaker Nancy Pelosi, a Democrat from California and a frequent target of national Republicans, who said earlier this year she would seek the role again if Democrats take control of the House.
Londrigan declined to say if there was anyone she would support, but said after the debate that it simply is not an issue she has heard from residents and she saw no reason to endorse a candidate without knowing who will be running.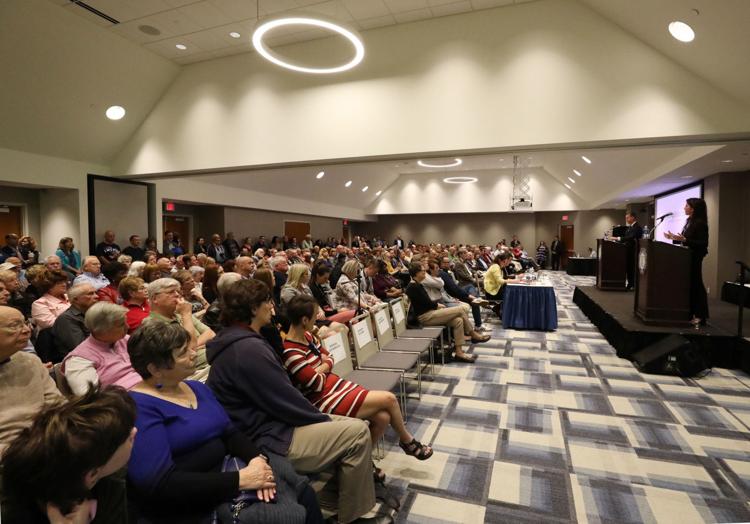 "Apparently, Davis thinks he is running against Nancy Pelosi, (Illinois House Speaker) Michael Madigan or my husband Tom," she said, referring to some negative ads that attempt to tie her to Pelosi and Madigan, as well as an ad that references her husband's previous role as chief legal counsel to former Illinois Gov. Rod Blagojevich. "I need to remind him that he is running against Betsy Dirksen Londrigan. And when we're talking about who I'm going to vote for as Speaker of the House, I'm taking my nod from the people of the 13th district. Whoever is going to benefit our neighbors and our community, that's who will get our vote."
As attendees filed out after the event, several said they were impressed by the candidates. Emmanuel Davis, a sophomore accounting student from Chicago, said he appreciated the passion showed by both but said he was leaning toward Davis after Monday's event.
"He said he enjoyed those one-on-one interactions with people, that's more productive doing it that way," Emmanuel Davis said. "Meeting with a bunch of people on issues isn't really solving those issues. All you're doing is hearing them."
Angela Bean is too young to vote in this year's election, as the 16-year-old junior from St. Teresa High School attended the debate for extra credit. If she could vote, she said, Monday's debate would have her voting Londrigan.
"I was kind of leaning toward Rodney Davis from what I've seen and heard from other people," she said. "But now, I don't like how much he's bringing down Betsy ... and constantly bringing up sob stories."
Tom Lisi of the Herald & Review contributed to this report.