DECATUR — The Decatur Park District Board of Commissioners chose not to play it safe with its $9.2 million water park slated to open at Nelson Park in 2018.
The board picked a preliminary design at Wednesday's meeting that included a water slide package with features not previously seen outside of Europe.
"I'd just as soon be first than be like everyone else," Commissioner Chris Riley said.
Both options considered by the board included a 25-yard lap pool, either six or eight lanes; a 7,800 square foot leisure pool with play structure, vortex, bench seating and lily pad walk; and a 1,600 square foot sprayground/wading pool. They were detailed during an hour-long presentation by Architectural Expressions Managing Senior Partner Lawrence Livergood and Counsilman-Hunsaker President Scott Hester. 
The differences were in the waterslide packages.
The board chose Option B, which included a freestyle stand-up slide, infinity jump slide, multi-racer slide, free fall speed slide and a high fly slide. Option B only needs one 42-foot tower with several levels.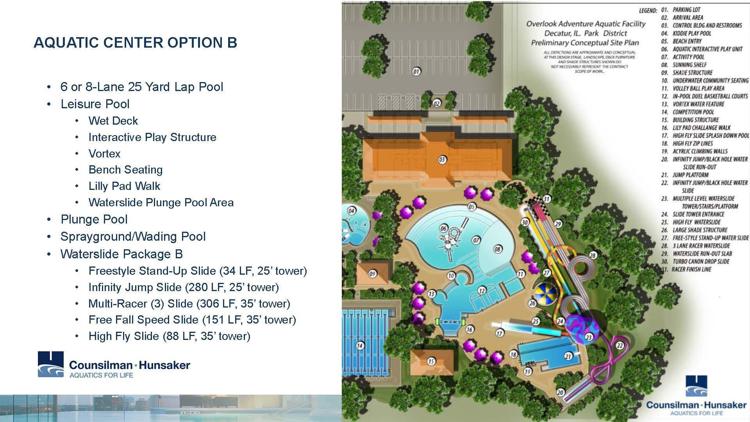 Hester said there isn't a water park in the country with the slides in Option B, though they've been in Europe for years and there are two parks in the U.S. constructing similar features — neither in Illinois.
"We've been working with an industry provider who is bringing in some technology to North America from Europe," Hester said. "The manufacturer has been producing these types of rides for 30 years.
"This gives you a chance to be more of a trendsetter in the municipal environment. This gives you a chance to have a destination facility that people will drive from 30, 40 and even 50 miles away to experience."
Park Board President Bob Brilley II said having a destination facility has been the district's goal with this project from the beginning.
"This option would bring people to Decatur," Brilley said. "This pool is for the people of Decatur, but it's also for the economy of Decatur and the economy of the park district."
Decatur Park District Chief Financial Officer Rodney Buhr said Option B would give the district a better chance to bring in money.
"The revenue generation for day-to-day operations is significantly better in Plan B," Buhr said.
Jenae Petty of Decatur said she was impressed by the preliminary design.
"This looks awesome," Petty said when shown the Option B rendering. "This will definitely draw a lot of people — it has a whole lot more than Fairview. This is something that parents are going to be willing to take their kids to, and it will keep kids off the street and give them something to do."
Brian Yowell of Decatur has two daughters, 12 and 2, who will be excited about the water park.
"You better take us," 12-year-old Brookelynn said to her dad.
"I've been waiting for a long time for them to bring water slides back to Decatur," Yowell said.
Miranda Jenkins of Decatur said she liked the multi-racer slide, on which three people can race, with the time recorded and posted on a screen at the end of the slide.
"That will be fun for a group of kids to go on together," Jenkins said.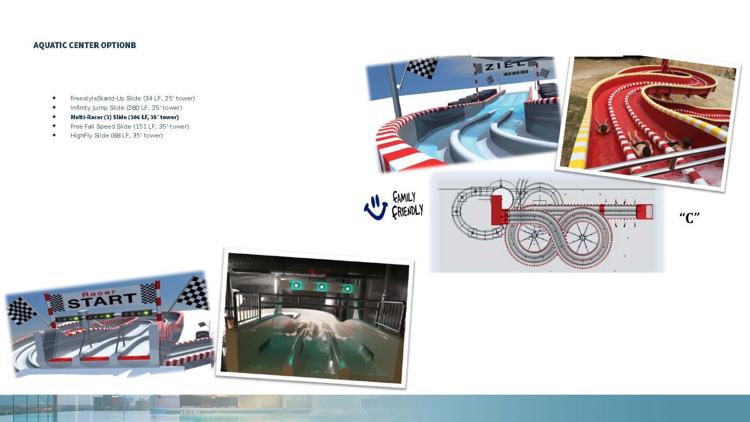 Jenkins also liked the sound of the infinity jump slide, on which it will appear to riders like they're sliding into the mouth of a shark or off the side of the slide.
Brookelynn said she'd avoid the high fly slide.
You have free articles remaining.
"The slides sounds fun, but that one sounds terrifying," she said.
Yowell said he also liked the idea of the multi-race slide, but admitted it will be difficult to judge the slides until he sees them.
"It's kind of hard to picture them since they haven't been around here before," Yowell said.
Also included in the $9.2 million construction cost is a 4,500 square foot building with locker rooms, concession stand and administrative offices.
Coming out of that building, swimmers will walk up to a 7,800 square foot leisure pool with zero beach entry. The leisure pool will contain a interactive play structure in about 12 inches of water with smaller water slides for children too young for the bigger slides, as well as other features including water spouts and an overhead water tipping mechanism.
"The larger slides will have a requirement for height that's typically 48 inches, and that's cutting out anyone under the age of 7 or 8," Hester said. "This gives an option for the 6 and under crowd."
The leisure pool will also have a 1,550 square foot wet deck, where users can sit in shallow water.
"You can put lounge chases in there and it provides a passive activity," Hester said. "People can sunbathe and we can also put shade structures in there."
Further out in the leisure pool will be deeper water (about three-and-a-half feet) for open swim, water volleyball and water basketball. In that area will also be a bench seating area and a water vortex — a play area with moving water. At the southwest part of the leisure pool will be a lily pad walk — floatables tethered to the pool floor kids can walk across.
Just to the west of the leisure pool will be a 1,600-foot sprayground/wading pool designed for babies and toddlers with a water depth of 12 to 18 inches.
South of the kiddy pool will be a 25-yard lap pool. It will either be six or eight-lanes.
"Six lanes is the minimum target, but eight lanes is where we'd like to be, depending on the bids that come in," Hester said. "The two additional lanes will be an alternate bid item."
The water park won't include a lazy river — a common complaint on social media.
"That would be nice," Petty said.
"Throw in a lazy river and we wouldn't have to go to Knight's Action Park," Yowell said of the Springfield amusement park visible from Interstate 72. "We went to Knight's Action Park this summer. But this looks pretty nice. It will be good to have something like this here."
Jenkins said she didn't think the lack of a lazy river would keep people from attending.
"Parents want the lazy river, not kids," Jenkins said. "And it's the kids who really decide where to go."
Option A had a 42-foot open body slide, a 32-foot enclosed body slide, a 32-foot drop slide, a bowl slide and two 32-foot speed slides emptying into a 1,860 square foot plunge pool. It included two towers — a 28-foot tower for the open body and enclosed body slides, and a 34-foot tower for the drop slide, bowl slide and speed slides.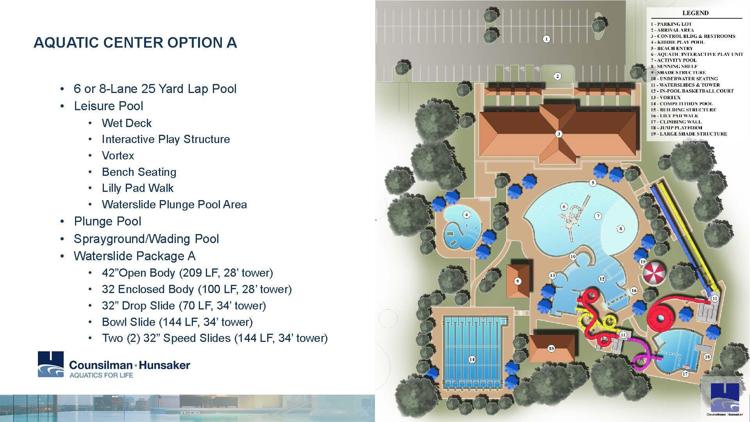 Hester said those slides were like the ones at water parks in Springfield, Champaign, Urbana and others around the state.
"Those slides are a pretty common approach in a municipal market," Hester said. "These are the types of rides and activities that you'll see at most other municipal aquatic facilities."
While Option A would have been approximately $500,000 cheaper than Option B, the plunge pool was a necessity in Option A. In Option B, the 1,950 square foot plunge pool isn't needed to accommodate the slides. If it is included, it would have options for diving boards, climbing walls and a zip line. But Hester said those options could fit in the lap pool if the board preferred to eliminate the plunge pool to save money.
The board would also have the option not to include all five slides in order to limit costs, with the option to add the slide in a later phase.
Counsilman-Hunsaker and Architectural Expressions will go forward with design and return at a later meeting for final approval, with the bidding process to follow. Livergood, Hester and Decatur Park District Executive Director Bill Clevenger said it was important to make decisions quickly because of the time it takes to get approval from the Illinois Department of Public Health.
"They could take two to three months," Clevenger said. "That's why we need to keep this process moving on our end."
Construction is expected to begin in early May, with the goal to have it ready for the 2018 summer. The Fairview Park pool will stay open in 2017, then close in 2018 when the new water park opens.
The water park will be funded by a $10.7 million alternate revenue bond, to be repaid over 20 years. Buhr has said the district's budget includes money to to repay the bond without cutting out other park improvements or, most importantly, raising the tax levy.