Sunday, Oct. 7
Millikin singers raise joyful noise for teachers
Trained voices, young and somewhat older, melded together seamlessly on Sunday in joyful tribute during the Homecoming Concert for Millikin University.
The couple also founded the Vespers program, the most popular event in Millikin's music repertoire.
Milt Scott, class of '67 and the retired choir director of Eisenhower High School, had one of the concert's few spoken parts when he rose to pay homage to Kathryne "Kay" Hoffland.
"She was a woman of great strength, intelligence and musicality," Scott told the packed church sanctuary.
Monday, Oct. 8
Wind energy firm files for DeWitt County permit
A decision on the first wind farm in DeWitt County, an investment of $300 million, could come as early as next month.
The Zoning Board of Appeals is scheduled to meet Nov. 5, and the permit could go before the county board Nov. 15. The commission and the zoning board of appeals will make recommendations to the county board that can approve the request, attach conditions or deny the application.
"Alta Farms is excited for the opportunity to develop this project in DeWitt County," said James Griffin, an attorney for the company. "We look forward to appearing before the DeWitt County Regional Planning Commission, the DeWitt County Zoning Board of Appeals and the DeWitt County Board on this application in the coming months."
Tuesday, Oct. 9
Hit-and-run victim advocates through pain
Nearly two years have passed since Chris Moore was struck by a car while working on Interstate 72 near Argenta, and his road to recovery has been anything but easy.
Despite the personal hardships, the Decatur tow truck operator has worked to become a vocal advocate for road safety. One of his most recent efforts has been clearing a path for the nationwide Spirit Ride awareness movement to make its way through Decatur, which it did on Wednesday, Oct. 10.
Moore said the movement not only aims to encourage drivers to follow "Move Over Laws" when driving, but also honors tow truck operators and first responders who have been killed in the line of duty.
Co-created by American Towman magazine and towing equipment company B/A Products, the Spirit Ride invites participating communities to relay a ceremonial red, white and blue casket as it makes its way throughout the country. This year's ride began in Winston-Salem, North Carolina on April 11, and will end in Baltimore on Nov. 13.
Wednesday, Oct. 10
Pelicans are back on Lake Decatur
Lake Decatur is now on the official aerial guide for pelicans seeking fine Midwest dining.
It didn't used to be this way. Joe Nihiser, the lake maintenance supervisor, offered this short history — a kind of "Pelican brief" — on how birds associated more with the Florida seashore wound up visiting here.
"They've been coming to our lake probably for the last eight or so years," said Nihiser, 56. "It first happened when there was a storm, and we believe they got blowed off their migratory path and suddenly arrived here and ever since they've been coming back."
Birds of a feather tend to stick together and, having suddenly found themselves crash-landed amid decent a la carte dining options, Nihiser believes the original birds passed a love of Lake Decatur on to their offspring.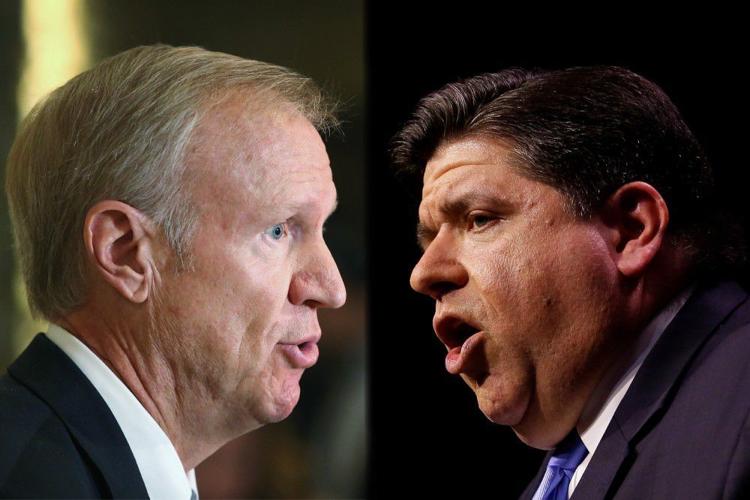 Thursday, Oct. 11
Rauner, Prtizker raise integrity questions in debate
Illinois' candidates for governor again traded accusations over leadership, taxes and alleged corruption in a debate Thursday that was their final one to be televised before the Nov. 6 election.
Republican Gov. Bruce Rauner and Democratic challenger J.B. Pritzker both tried to deflect attention from questions about their integrity.
The debate played out on a sensitive stage — Quincy, home of the state-run military veterans' home beset by a deadly Legionnaires' disease crisis. Rauner decried a criminal investigation by the Democratic attorney general into his handling of the outbreak that has led to 14 deaths since 2015, calling it a "shameful abuse of power."
Pritzker is struggling with his own problems in the form of an investigation that declared he engaged in a "scheme to defraud" property taxpayers by misrepresenting how he was renovating a Chicago mansion. The billionaire businessman accused Rauner, a wealthy former private-equity investor, of putting personal and political interests above public safety by mismanaging the Quincy crisis and other matters.
Friday, Oct. 12
Brisk harvest yielding better results for farmers
Mike Stacey, who farms in western Macon County and is president of the Macon County Farm Bureau, just finished his harvest before the rains came.
"We were pleased with the yields and we have been hearing others say the same thing," he said. "We think it's going to end up being a pretty decent year."
Dean Carter said that he is getting more than 70 bushels of beans per acre on on his farm near Decatur.
As of early this week, the U.S. Department of Agriculture said, about 63 percent of the corn had been harvested, which is well ahead of last year, when only 36 percent of the corn had been harvested as of Oct. 7. The five-year average is about 41 percent, the USDA said.