SUNDAY, JANUARY 12
Linda's Music Center to close
Brandon has served local musicians for more than 52 years with Linda's Music Center. Manager Hugh Reeves, who has worked with Brandon for almost 30 years, is ready for semi-retirement himself, and doesn't want to buy the business and carry on. If someone else wants to buy it, Brandon said, Reeves has volunteered to stay on for a while to help a new owner get started. Otherwise, the plan is to close by the end of February or early March.
Brandon entered the music store business at a time when a woman in the music business was a rarity, she said. In 2017, she received a Milestone Award from the National Association of Music Merchants to celebrate 50 years in business.
MONDAY, JANUARY 13
Scissors part of city's history
Although the organization's staff has changed throughout the decades, one thing has remained constant in 87 years of ribbon-cutting ceremonies for new businesses and developments.
"The Decatur Regional Chamber of Commerce couldn't be more excited to be here and celebrate this ribbon-cutting ceremony," said chamber President Mirinda Rothrock during one such event. "We are so proud to use the scissors for the ribbon-cutting that have been used since the 1930s. And we are so pleased to use them again."
Unlike other cities who use large, attention-grabbing scissors, the chamber continues to use the delicate shears because of the rich history they have. Throughout the years, the scissors have also been transported via an equally elaborate box.
TUESDAY, JANUARY 14
Group seeks help from the top
The battle to save the former A.E. Staley Mfg. Co pump house looks set to shift to London after Decatur-based managers for British-based Tate & Lyle, the current owners, said they plan to press full steam ahead with their demolition plans.
Leaders of the Save the Pump House group fighting to preserve the structure told a public meeting Monday night they have now written to Tate & Lyle's Chief Executive, Nick Hampton, requesting a meeting.
You have free articles remaining.
"And we'll meet him in London if they want, we'll meet him wherever," said Bret Robertson, the Save the Pump House chairman. Robertson warned that demolition of the pump house posed a "public relations disaster" for Tate & Lyle and said if local management isn't interested in talking, maybe the man at the top of the company would be.
WEDNESDAY, JANUARY 15
Donation creates leadership institute
When Howard Buffett told former Sheriff Jerry Dawson that he wanted to name a new Civic Leadership Institute after him, Dawson demurred at first.
"He hung up on me," Buffett quipped while announcing the donation of a $2.3 million grant to support the The Jerry J. Dawson Civic Leadership Institute.
The goal of the institute is to provide Decatur Public Schools students a program to raise awareness and encourage careers in public service: law enforcement, nursing, paramedic, firefighting, government service, and the law.
THURSDAY, JANUARY 16
Mixing fun with a serious message
When BMX flatland stunt rider Matt Wilhelm competed in his first X Games, he didn't crash once, he told students at Holy Family School on Wednesday.
"I crashed four times," he said, making the kids laugh, but also wince a little because most kids know what it's like to fall off a bicycle.
Wilhelm, a three-time X Games medalist, World Championship silver medalist, two-time United States National Champion, and Guinness World Record holder, gave an anti-bullying presentation to students interspersed with demonstrations of BMX trick riding and stories about his own childhood.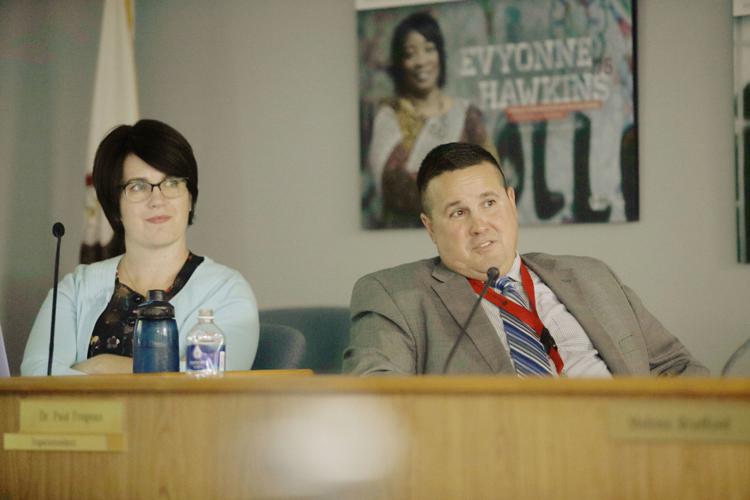 FRIDAY, JANUARY 17
Board creates administrative post
The Decatur Board of Education on Thursday created a new administrative role for research and data collection, a position that had not been in this year's budget.
The title is director of research, data and accountability. The school board approved its description at a special meeting.
"This person would be responsible for processing assessment data in a way that is better than what we are currently doing," Superintendent Paul Fregeau said.