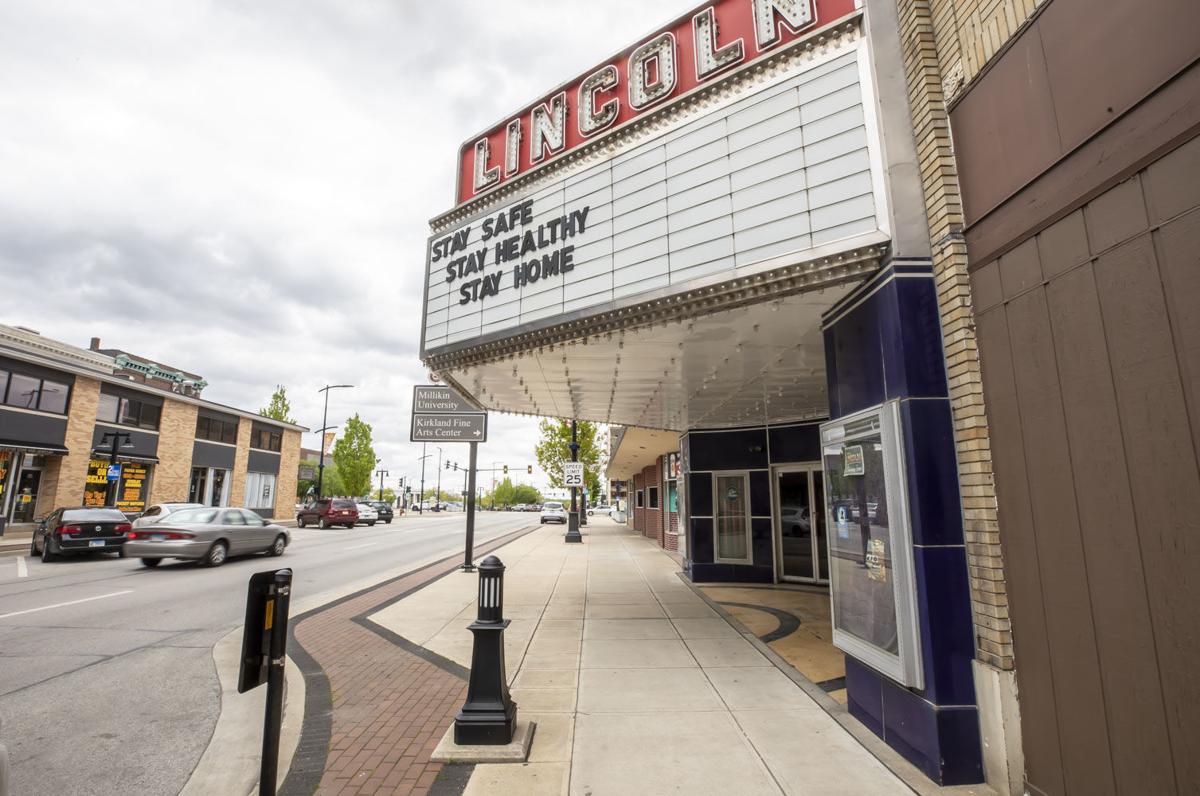 DECATUR — While advocates began rallying Monday to save a key historic landmark, one question loomed over their campaign and city officials' efforts to address safety issues with the downtown structure.
Macon County records show it belongs to Lincoln Square Theatre, Inc., a not-for-profit corporation that acquired the century-old theater at 141 N. Main St. in the mid-1990s. State records show the corporation was "involuntarily dissolved" a year ago, creating uncertainty about who can address the problems that led a city inspector to declare the building unsafe.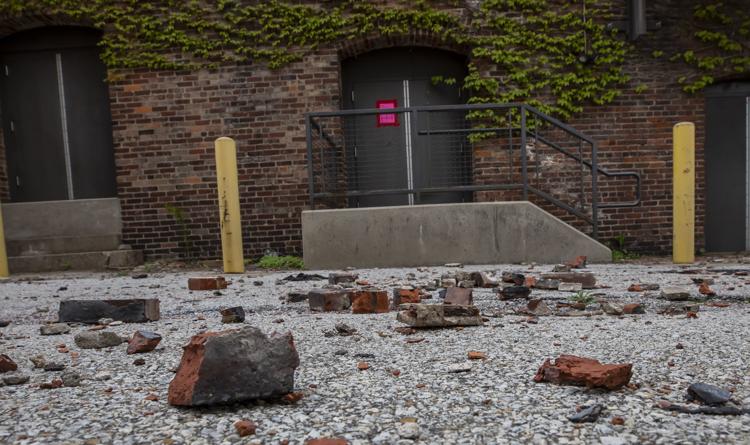 Bricks have fallen off the building and landed in the alley on its west side. A city inspection report posted on the door last week notes there is a "structural failure" and orders owners to "repair or demolish" it within 30 days.
City officials say they do not want to see the Lincoln — which in its heyday hosted acts including Bob Hope, Bing Crosby, Al Jolson, Chico Marx and Louis Armstrong — torn down. But Deputy City Manager Jon Kindseth said attempts to contact those listed as current and previous owners by mail, phone and email have not yielded any results.
"It's indisputable there's a safety issue there," Kindseth said. "Our goal is to get somebody to make the necessary investment to fix the brick, to keep the brick from continuing to fall. Then the building can sit there if they want it to or put it back into productive use."
Mayor Julie Moore Wolfe said there's no desire to demolish the building, so long as the public safety issues can be addressed, and the legal process to do so would take quite a bit of time.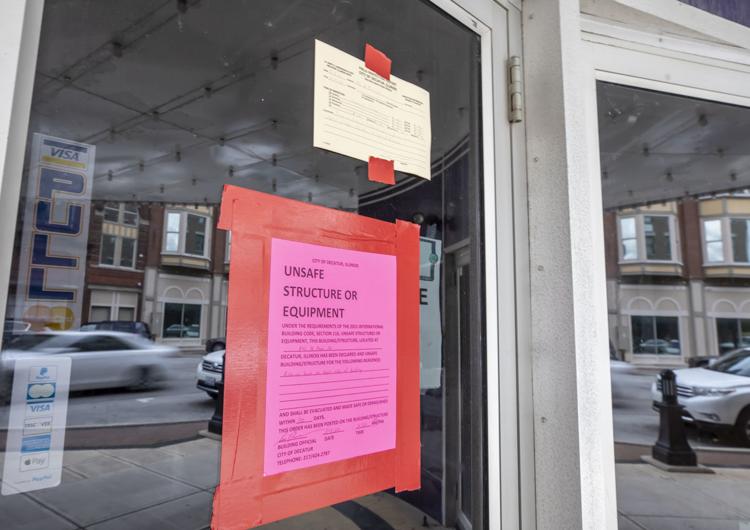 "We're not hauling out the wrecking ball next week to take down the Lincoln. That's certainly not going to happen," she said, speaking on the WSOY's Byers & Co. morning show, where she is interviewed each morning at 6:40 a.m.
Supporters have already started a campaign to save the theater. A Facebook group, SAVE THE LINCOLN THEATER, had 526 members as of Monday night. An online petition urging city officials to "work with the community fundraising to repair the west wall" had 245 signatures.
Ownership mystery
Discussions in the supporters' Facebook group included questions about what's next and who owns the building. The Herald & Review attempted to contact several people who had been associated with the theater in the past. Former board President Adam White and former board member Jerry Johnson both said Sunday that they had not been involved with its management for years. The newspaper tried a phone number that was once associated with Anne Thompson, who is still listed as the agent for the defunct corporation, but could not reach her Monday afternoon. Greg Sullivan, quoted as a board member in past stories, also could not be reached for comment.
Andrew Chiligiris, whose family owned the building before it was handed over to the now-defunct nonprofit, says his family no longer has any ties to the business, but he'd like to see it restored.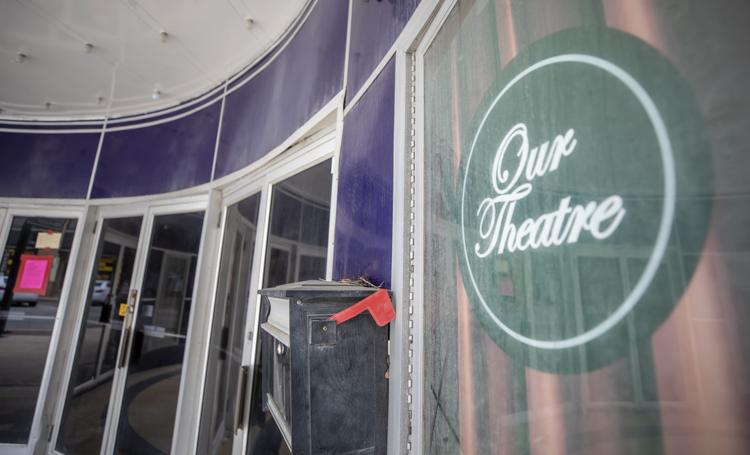 He said the building's crumbing exterior has caused damage to the Lincoln Square Lounge, his business located next door.
"It's costing me tens of thousands of dollars," Chiligiris said, referring to roof repairs he has had to undertake because of the falling bricks. "I would love to see some people take some interest in it and revive it, because it's just beautiful inside."
Troubled history
The theater, which turned 100 in October 2016, has long struggled. People associated with its management over the years have said the aging structure needs extensive work, and finding the revenue to complete those repairs has been a challenge.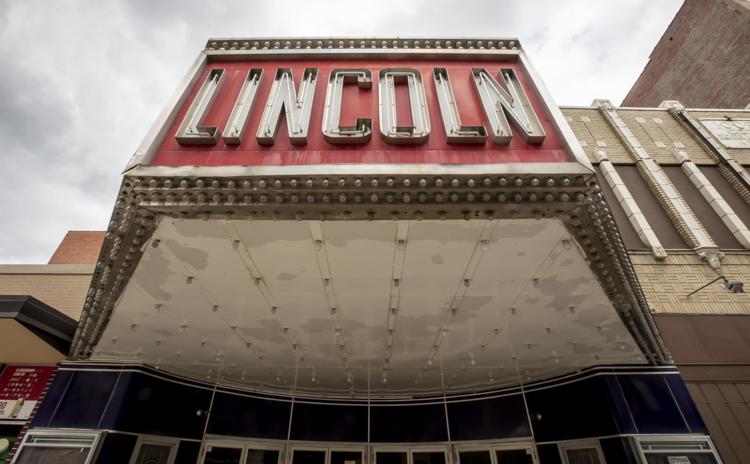 It had become too dilapidated to host shows by the 1980s. There were some renovations in the 1990s and in 2002, some hope: The state awarded the Lincoln a $3.5 million grant for further work, but the full amount wasn't delivered until 2005.
At that time, the theater had seats missing, paint and plaster falling off the wall, a damaged stage and no fire escapes. The first phase of renovations corrected these problems as well as adding air conditioning and lighting, fixing bathrooms and dressing rooms and repairing the marquee.
The theater closed in 2005 for additional work and has been open on and off ever since.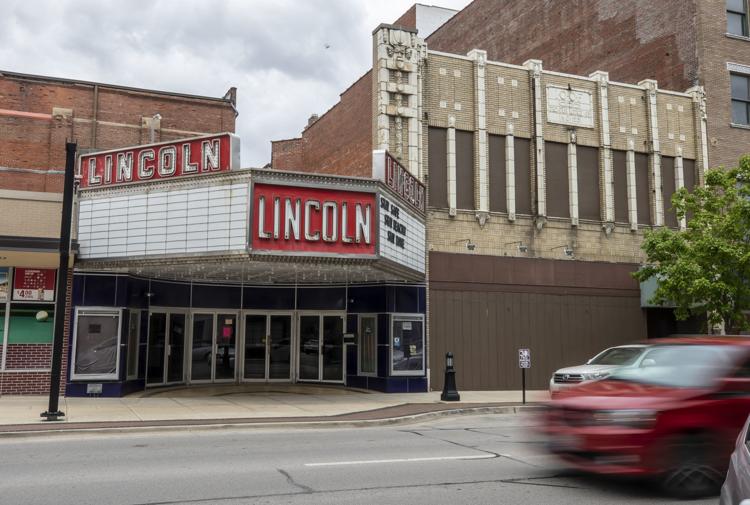 It most recently closed in 2017, around the time that several board members left. For two years before that, its 12-person board had undertaken a number of events to try to raise money, including showing movies and hosting events.
Moore Wolfe noted that someone has been changing the messages on the theater's highly visible marquee and may have been charging money to do so. "Somebody's got to be in charge of something," she said, and city officials will continue working to contact those people.
"We've got to figure out how to keep people from getting hurt by falling bricks," she said, "and we probably need a pretty good assessment of what it's going to take to make it at least safe to where it's not going to, you know, crumble."
Kindseth said city officials are hoping the responsible party will come forward. If not, the city could take action, including closing off the immediate area and potentially hiring a contractor to plaster and hold the bricks in place.
---
FROM THE ARCHIVES: Looking back at Decatur's Lincoln Square Theatre
Oct. 27, 1916: Opening Night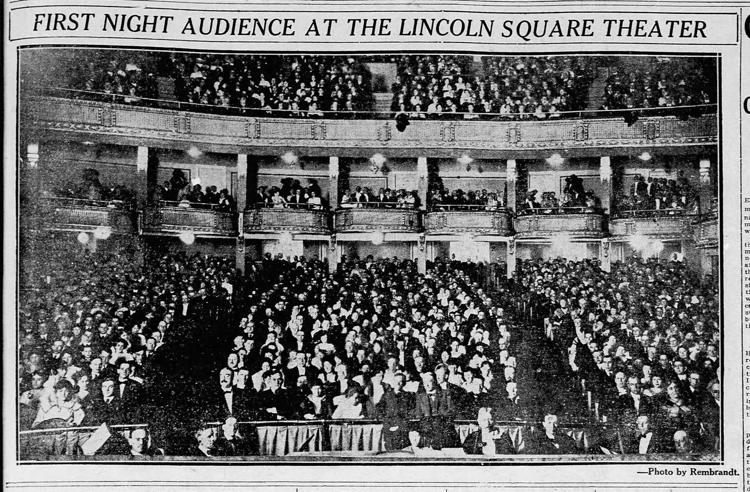 April 1929: Bob Hope emcees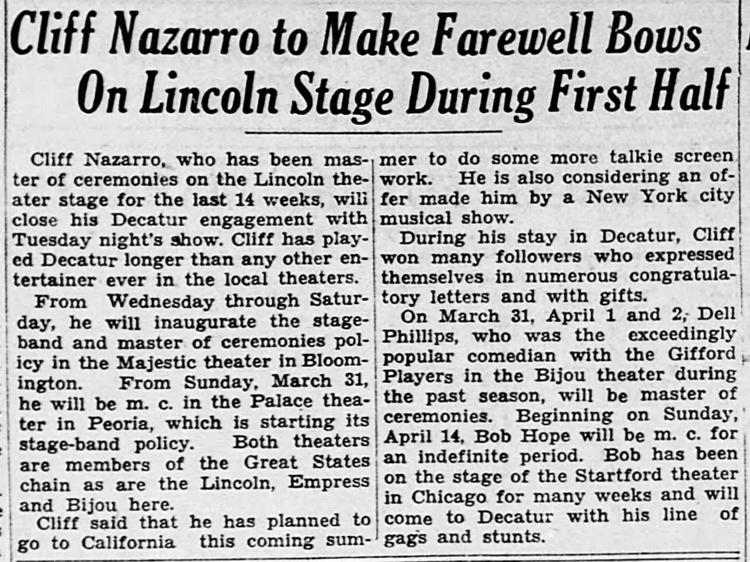 July 7, 1929: Talking pictures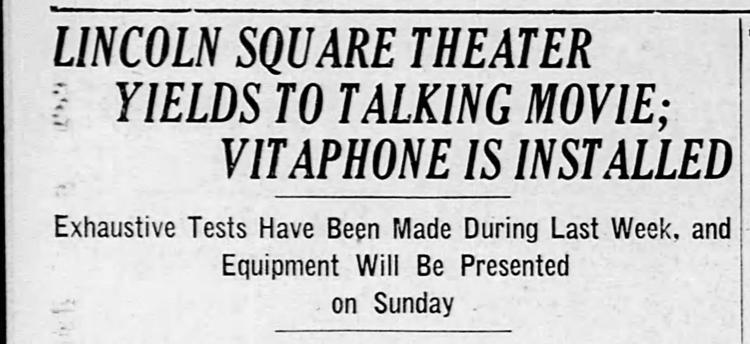 Sept. 2, 1942: Blackstone's greatest trick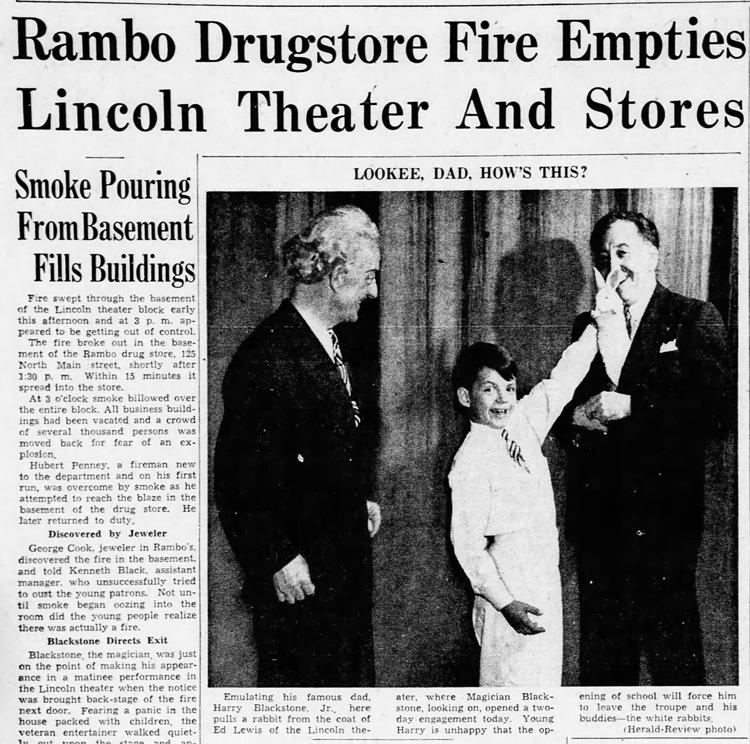 March 5, 1960: Downtown fire grazes Lincoln

Sept. 1, 1967: Barefoot couples get free 'Barefoot' admission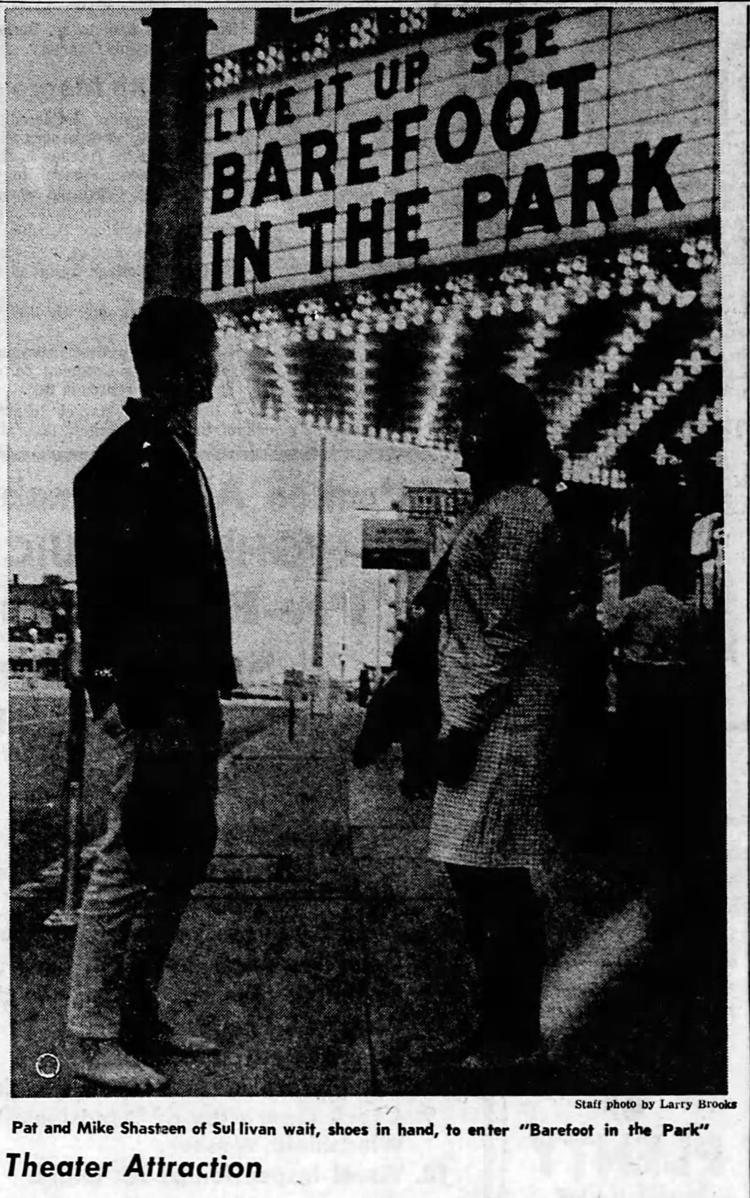 Oct. 10, 1967: Sheriff stops erotic film run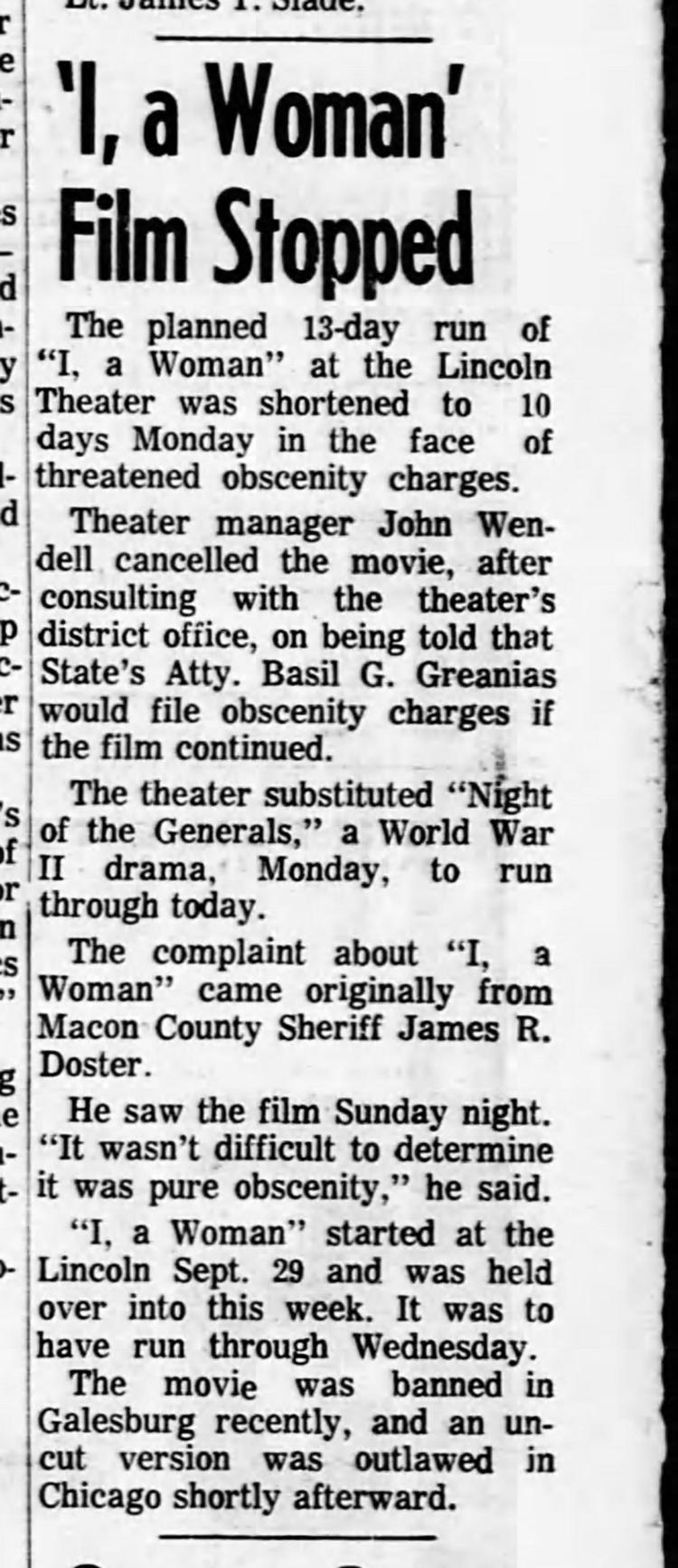 December 1980: Theater stops showing movies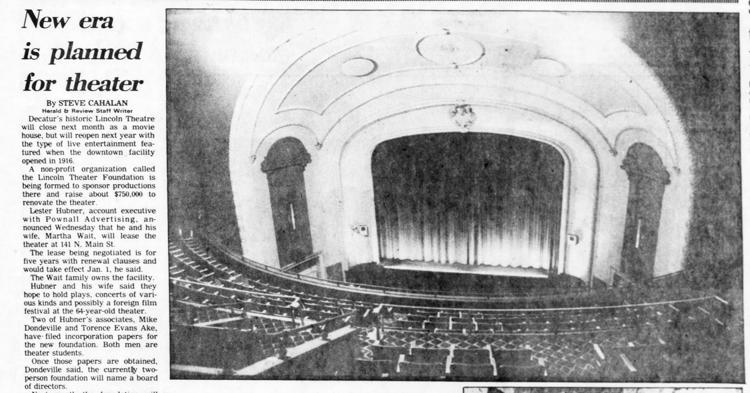 May 3, 1981: B.B. King performs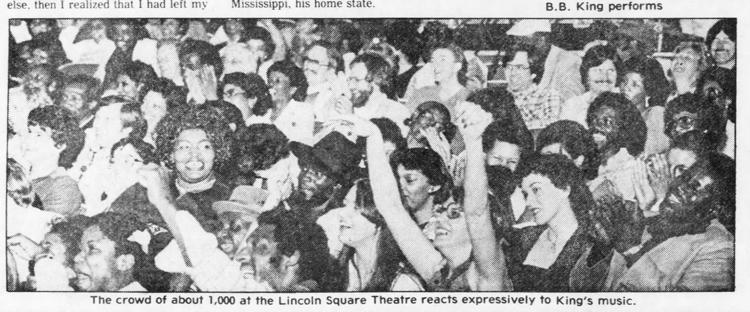 May 1986: Uncertain future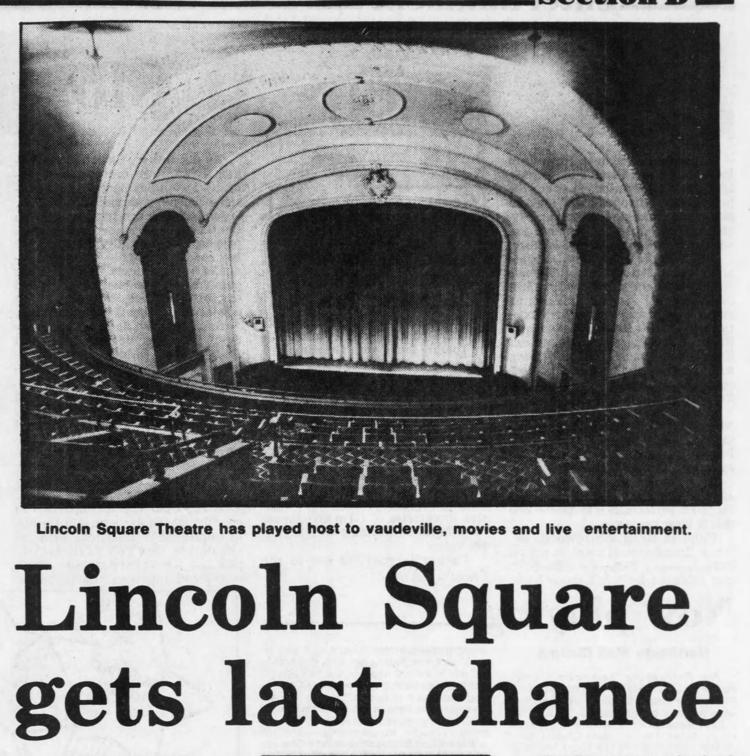 Jan. 1, 1992: Restoration group buys theater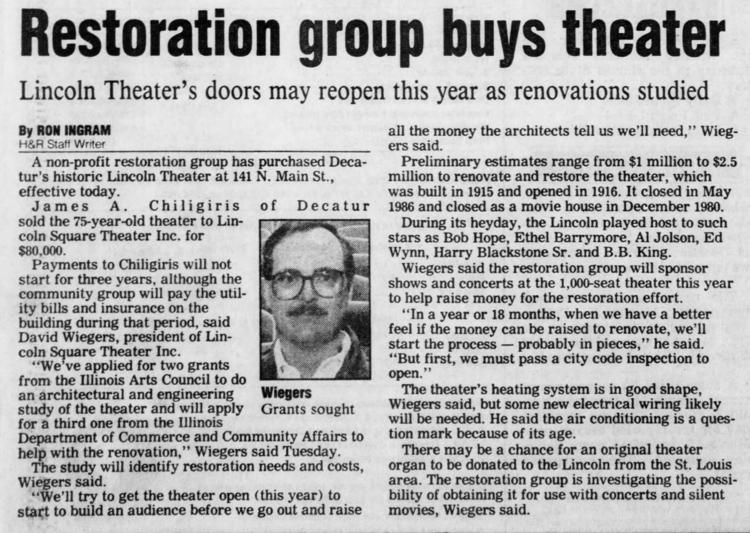 April 2015: Resurgence: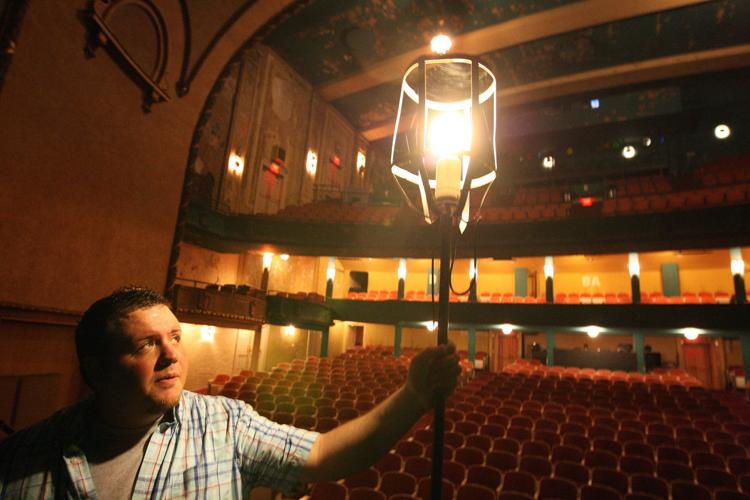 Contact Garrett Karsten at (217) 421-6949. Follow him on Twitter: @GarrettKarsten
Get local news delivered to your inbox!
Subscribe to our Daily Headlines newsletter.