Political pundits say an effort to unseat U.S. Rep. Rodney Davis may be gaining traction, but that's not what the three-term Taylorville Republican says he is seeing on the ground.
Davis faces Democratic opponent Betsy Dirsksen Londrigan of Springfield. The seat is one of 23 that Democrats nationally are looking to flip as part of a so-called "Blue Wave" of opposition to President Donald Trump and to retake control of the House of Representatives. But within the district, Davis said both economic growth and demographic shifts are working in his favor.
"This district has gotten more Republican over the past few cycles," Davis said. "A lot of blue-collar workers who used to vote Democratic, those are the ones that really turned out for President Donald Trump and the Republicans."
Trump won the congressional district by 6 percent, and defeated Democrat opponent Hillary Clinton in 13 of the 14 counties.
But that doesn't mean the election is in the bag. 
Nonpartisan forecasters at Inside Elections, which rates political races across the nation, said on Friday that it had changed its assessment of the election outcome from a "Likely Republican" district to "Lean Republican."
The announcement follows fellow forecasters Cook Political Report, a nonpartisan newsletter that analyzes election contests, which made the similar change last month. Analyst Dave Wasserman said Davis remained the favorite, though outside factors could affect his re-election chances, specifically the unpopularity of incumbent Republican Gov. Bruce Rauner.
The race made national news last week after an incident at a Londrigan event in Springfield on Wednesday led to the arrest of Davis' field director, Levi Lovell, for aggravated battery. Lovell was fired, and Davis since apologized to Londrigan.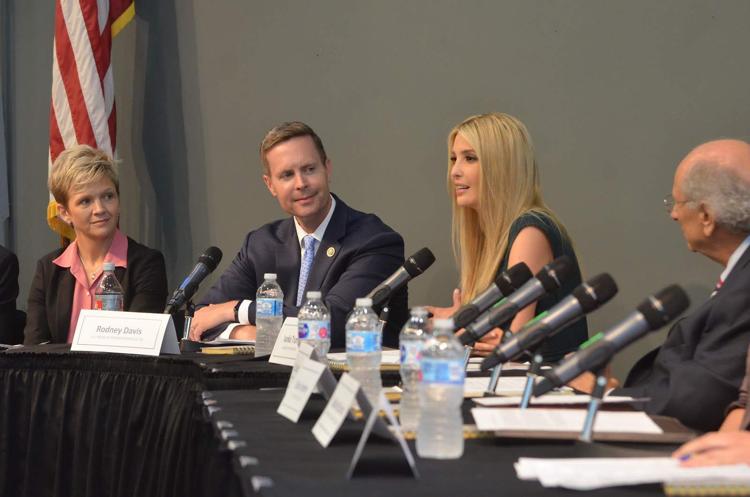 As she tours the district, Londrigan says she sees an enthusiasm among people looking for a change in their representation.
"We just have this amazing grassroots support that is, it's just a thing of joy, frankly," she said in an interview Friday morning. "This enthusiasm, this momentum, it's phenomenal."
Plenty of unknowns are at play in this election, said Kent Redfield, a professor emeritus of political science at the University of Illinois at Springfield.
"There are a lot of balls up in the air right now in this race," Redfield said. "It ultimately comes down to the campaign the candidate runs."
Along with Rauner's impact on voter turnout, there's also the Trump factor. The congressman in 2016 rescinded his support after the release of an "Access Hollywood" tape had Trump saying he would grab and kiss women.
Since then, his tone has changed, and Davis has supported Trump on many issues. He also joined the president during a rally in Granite City last month and daughter Ivanka Trump at a Godfrey community college.
"(Davis) is all in on Trump, he's all in on health care, and he's trying to at the moment to convince people with trade and tariffs to give the president some time," Redfield said.
During a recent Decatur visit, Davis said he doesn't understand why people wouldn't want him working with the White House
"I clearly support this president and his policies, and when I disagree with this president, I am not shy about putting those disagreements out there," he said. "There's been nothing but consistency from me."
Londrigan said she would work with the Trump administration on policies that benefit the district, such as an infrastructure capital bill. She also wants to provide a check and balance to the president, a constitutional duty she said Davis has failed to do during his tenure.
"Congress is supposed to be a check on any administration, it's one of the balances of power, and it's something that has been seriously lacking here in the 13th," she said.
Competitive district again?
The 13th District stretches from the eastern parts of Champaign-Urbana to Edwardsville in the Metro East area of St. Louis, with parts of the district also stretching into Bloomington-Normal, Decatur and the eastern parts of Springfield.
When the district was created ahead of the 2012 election, it was considered potentially favorable for Democrats. Davis' win by just 1,002 votes on his first attempt re-enforced the possibility that Democrats could gain a toehold.
Ann Callis, a former Metro East judge backed by the Democratic Congressional Campaign Committee, was unable to muster much of a challenge to Davis in 2014, despite raising nearly $2 million. Davis won with 58 percent of the vote.
The committee did not run a candidate against Davis in 2016, and he garnered 59 percent of the vote against Democratic challenger Mark Wicklund, a former Macon County board member.
Unlike those elections, this will be the first time Davis has run as a member of the same party as the president.
Since 1862, the president's party — Democrat or Republican — has on average lost about 32 seats in the House and more than two seats in the Senate in the midterm elections, according to Politifacts.
The amount of money flowing into the race has not yet matched the level seen in 2014, but Londrigan and Davis have shown themselves to be savvy fundraisers.
The most recently available quarterly reports from the Federal Election Commission, covering the April-June period, showed Londrigan had raised $563,054, more than the $509,012 raised by Davis over the same period.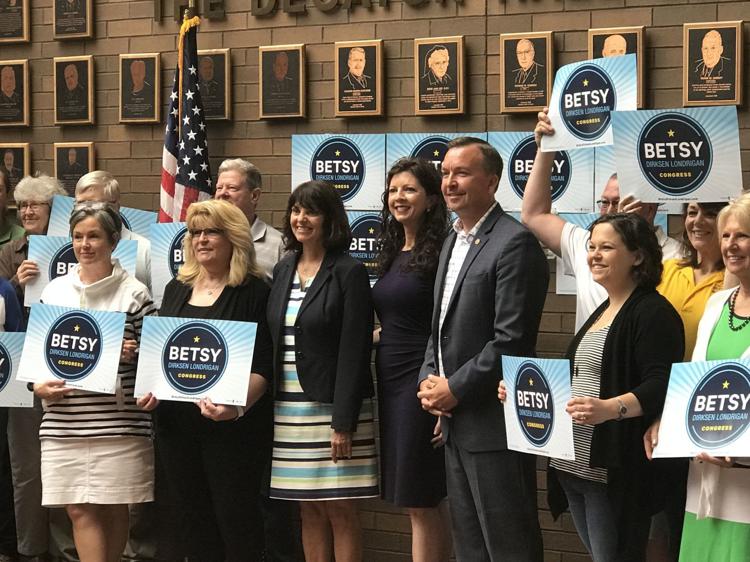 Davis still held the overall lead. His campaign reported $1.6 million in cash on hand on June 30. Londrigan reported having $658,649 on hand at the end of June.
The majority of Davis' money comes from political action committees, representing the interest of agricultural, pharmaceutical and other industries that may have legislation come before his House committees. More than four-fifths of Londrigan's cash came from individuals, with the average contribution less than $20.
Davis was the first to hit the airwaves in the race, with TV ads starting this week featuring a Springfield resident who thanks Davis for his support of their family and for increased research funding for ALS, a progressive neurodegenerative disease.
Londrigan said Friday there was no decision yet on when her campaign will start running ads.
Nothing for granted
Local party leaders on both sides say they are not taking anything for granted.
Macon County Republican Chair Bruce Pillsbury said he knows that Davis will not take Londrigan lightly, and he praised the congressman for his ability to work with constituents across the political spectrum.
"No matter your party or belief, he's going to support you," Pillsbury said. "I think that's one thing the public has seen: It doesn't matter who you are or your political beliefs, he is going to represent you."
Macon County Democratic Chair Jim Underwood said he has seen little of the moderate Republican that Davis portrays himself to be.
"I think (Davis) says one thing and does the other," Underwood said. "I don't think he's done anything for this district. I don't hear him fighting against the tariffs," he said, referring to the consequences of an escalating trade war between the U.S. and China that has affected soybean farmers.
Local enthusiasm among progressives is higher than it has been in a decade, Underwood said. He said he had not seen so many new Democrats come out to support the party locally since Barack Obama's first presidential run in 2008.
Regardless of how things are going nationally, Pillsbury said he is seeing the typical high amount of enthusiasm among local Republicans and those more conservative-leaning independents.
While he had nothing negative to say about Londrigan, Pillsbury said Macon County residents can tell that Davis is a committed elected official.
"Overall, the majority of the people I talk to want to bring Congressman Davis back to Congress," Pillsbury said. "From my standpoint, it's really a blessing to have a candidate as good as Rodney."
In the northernmost part of the district, party leaders say, both candidates have been a constant presence.
McLean County Democratic Party Chair Erik Rankin said his organization has worked with Londrigan to drive up enthusiasm, especially as Rankin says Davis has gone further to the right to support Trump.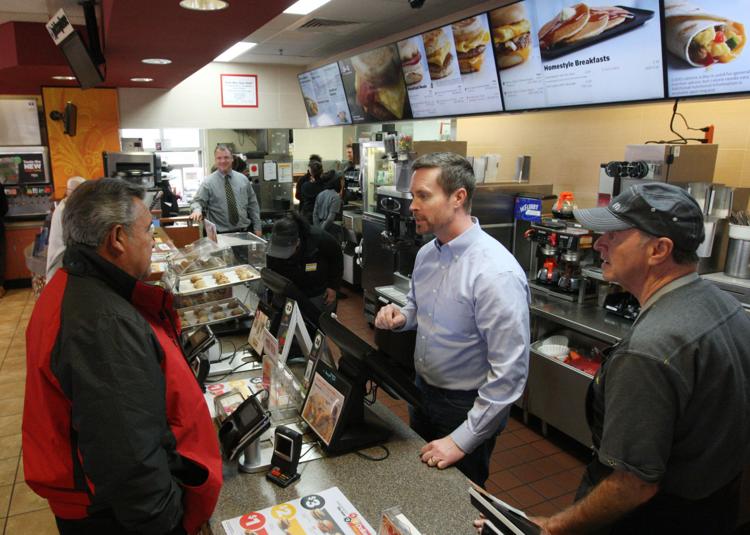 "Rodney has clearly placed himself in the Donald Trump wing of the Republican Party," Rankin said. "He hasn't played the more (Illinois' 16th Congressional District Rep.) Adam Kinzinger role where he challenges in certain places. It's clear Rodney has embraced Trump and the Trump agenda."
McLean County Republican Party Chair Connie Beard said Davis has the support of statewide and district Republicans, and his work in Washington has done nothing to change that.
Though the 13th only contains part of McLean County, Beard said they will do everything they can to get Davis to his fourth term.
"Competition breeds better quality, so I think it's healthy to have competition. I think it is going to show the contrast between the candidates," Beard said. "I do think Congressman Davis can show his ability and services and work has been above and beyond what his opponent his offering."
Derek Beigh contributed to this report.