DECATUR — The physical traces are all cleaned away and the fatalities long-buried, but the shock waves of recollection rolling back from a devastating Decatur rail yard explosion 45 years ago still pack a powerful emotional punch.
"It's like any other major national disaster or event — people remember where they were, what they were doing, when it happened," recalls former Decatur Mayor Paul Osborne. "People were in shock."
Forty-five years to the day, around 5 a.m. on July 19, 1974, tanker cars were being shunted around what was then the Norfolk & Western (now Norfolk Southern Corp.) yard.
One huge car, loaded with isobutane gas, got free rolling too fast during switching operations and rammed an empty boxcar. The force of the collision made the coupler mechanism ride upwards and punched it through the tanker's metal skin. A vast cloud of isobutane gas flooded the rail yard and kept spreading until it was ignited and exploded. The flame source was never identified. 
The blast was so big and so loud it was felt and heard 40 miles away in Pesotum. Seven railroad workers were killed and 140 workers and civilians were injured, according to news reports. The blast and subsequent fireball destroyed 80 houses and the explosion, fires and raining metal shrapnel damaged some 600 buildings in a one square mile area. More than 300 rail cars were destroyed or damaged.
Osborne, editor of the Decatur Tribune and also putting out a cable news program back then, rushed to the scene after being jolted out of bed by the blast at his home on Mound Road.
He got there before the police were able to throw up roadblocks and surveyed and recorded a scene of smoking, burning desolation in and around the rail yard. Only afterward did he worry about the risk of secondary explosions. 
"The strangest part was I saw houses where you could see the table had set for breakfast," recalled Osborne. "And yet that whole house, except for that part of the floor, was blown away, leaving the table still there with stuff set out on it; it was surreal, it was shocking. I remember looking at it and thinking 'This can't be real.'"
It took months to clean up the mess and conduct repairs, although the rail yard was operating again at close to normal capacity within a week. Police officers and Illinois State Troopers worked 12-hour shifts in the wake of the explosion and some Decatur firefighters stayed on duty for an amazing 36 hours. National Guard troops were deployed to patrol surrounding ravaged neighborhoods and made anyone thinking of looting think again.
News reports from the then-Decatur Herald and Decatur Daily Review, predecessors of the Herald & Review, said the total bill for all the property damages worked out at around $14 million. Allowing for today's inflated prices that have rolled on by 419 percent, that equals more than $72 million in 2019 dollars.
You have free articles remaining.
The railroad company was found liable for the blast and paid out $5 million ($25.9 million in 2019 inflation-adjusted dollars) to compensate for the deaths and injuries caused by the explosion. 
Osborne said it was a nightmare in the city's history but could have been even worse. Lakeview High School, close by and damaged by debris from the explosion, was largely empty because the blast occurred in the summer and the disaster struck too early in the day for many people to be up and about on the streets.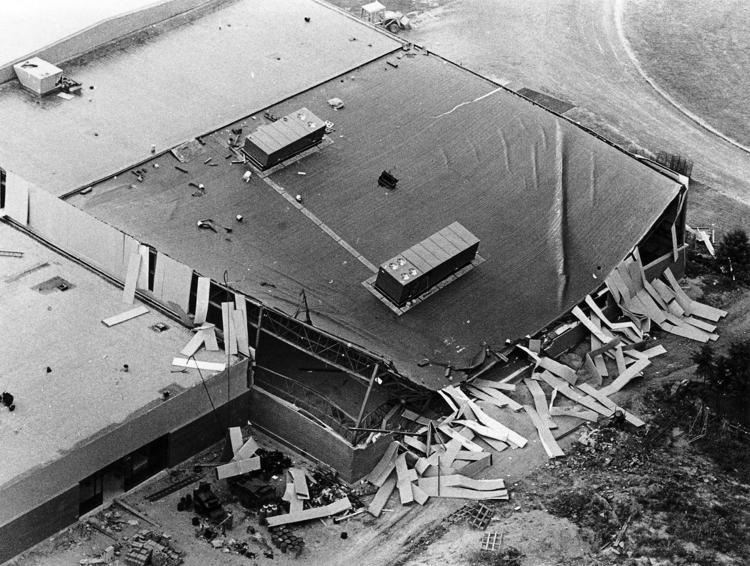 "The timing probably saved a lot of lives," said Osborne.
There were other good things to come out of it, too. Retired railroad conductor Pat Riley, a keen historian and volunteer at the Decatur Public Library history room, said there were major changes to safety procedures in the wake of the Decatur blast.
This is borne out by newspaper reports which said safety upgrades were also propelled by several other major disasters: East St. Louis suffered a major rail yard explosion in January 1972, and on Sept. 21, 1974, several workers were killed in a rail yard detonation in Houston.
Riley said two of the big changes were safeguards built into the train coupling mechanisms that prevented one riding up over the over and hitting the tank structure, the cause of the Decatur blast. "And they strengthened the tank cars themselves, putting on protective plates that acted like a shield," said Riley, 71.
And newspaper reports described Norfolk & Western issuing an order after the Decatur disaster that dangerous tank cars must be coupled under the control of a locomotive, and not allowed to roll freely. Coupling cars under powered control allows for connections to be made at much slower, and safer, speeds.
Responding to a question from the Herald & Review, Norfolk Southern outlined the safety changes mentioned by Riley. It also said, in an emailed statement, that the federal government had implemented new rail car design standards for volatile cargoes like ethanol following a series of incidents with that dangerous fuel. Crude oil tank standards and handling procedures for designated trains have been implemented as well.
Riley said it's been good stuff and it's worked. The retired railroader, who had a near 40-year career, was happily riding the rails far away when he got news of the big Decatur explosion. He said he only got to see devastation's aftermath several days later but the intensity of the mental images — automobiles with the tires melted clean off their wheels — is something that stays with you.
"You know, when I hired on at the railroad, they had a rule book and a safety book and that safety book was like a burgundy color," recalled Riley. "They told us, 'These safety rules are made from blood.'
"So you have to learn from disasters because, at the end of the day, everybody just wants to go home safe."
Contact Tony Reid at (217) 421-7977. Follow him on Twitter: @TonyJReid