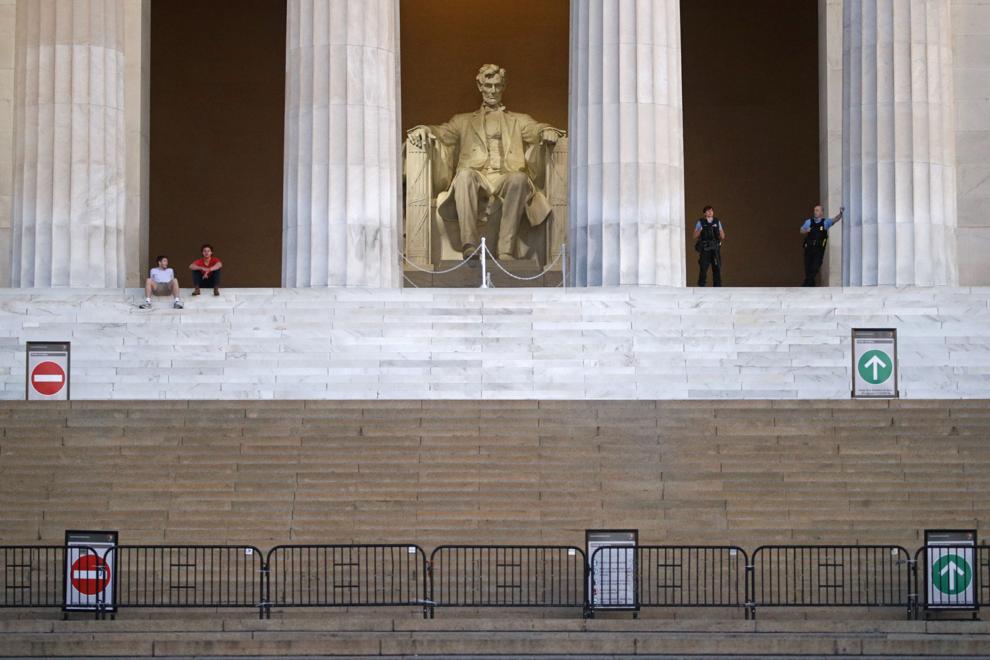 CLAIM: Photo shows the Lincoln Memorial in Washington, D.C., vandalized, the statue of Abraham Lincoln covered in graffiti and "BLACK + BROWN LIVES MATTER" written on the wall.
THE FACTS: The Lincoln statue and surrounding monument were not vandalized during recent protests, according to a spokesman for the National Mall and Memorial Parks, although some graffiti was left at the steps leading up to the monument.
Altered photos showing the monument honoring former President Abraham Lincoln damaged and covered in spray paint began circulating following protests for George Floyd, who died after a Minneapolis police officer pressed his knee into his neck for several minutes as he begged for air. "The media is trying to hide this picture from you," an Instagram post sharing one manipulated photo said. "Democrats are saying riots and lawlessness is necessary for change."
Mike Litterst, chief of communications for the National Mall and Memorial Parks, said in an email that the photo circulating online was a hoax. "The only vandalism at the Lincoln Memorial was graffiti at the bottom of the steps at street level, far away from the statue," he said, adding it had been removed already. The National Mall National Park Service tweeted numerous instances of vandalism to its sites on May 31. One of the photos in the tweet featured showed the steps near the Lincoln Memorial spray painted with the words "y'all not tired yet?" "For generations the Mall has been our nation's premier civic gathering space for non-violent demonstrations, and we ask individuals to carry on that tradition," the tweet said.
The Associated Press has taken several photos showing both National Park Service police officers and National Guard members watching over the Lincoln statue as protesters demonstrate on the National Mall in front of the memorial. In the photos taken on June 6 and June 7, the Lincoln statue shows no signs of vandalism.