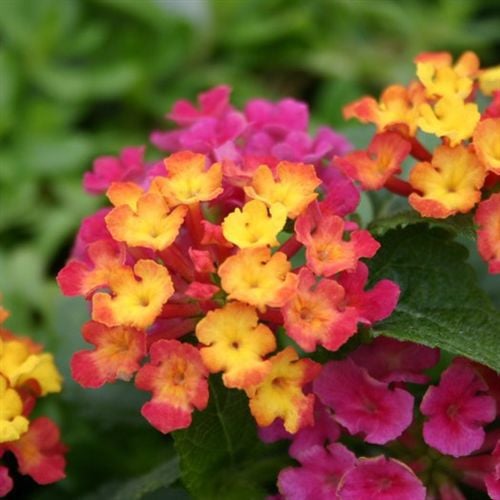 I've run into a few serious gardeners over the years who have insisted "friends don't let friends buy annuals," as if doing so somehow negates any gardening efforts and brings puts your gardening reputation in question.
I guess I will never run with the serious gardeners because I plant annuals every year. Lots of them.
You may not want to be associated with me for fear of damaging your reputation.
My garden has spent much of the last five years in a state of transition – survival mode really.
With two small children in tow, I haven't been able to do as much gardening as I'd like. As a result, I lost more than a few fussy high maintenance plants along the way.
It was a blessing in disguise though. What I needed was easier maintenance plants, including annuals. An annual that is hard to beat when it comes to beauty and easy maintenance is a lantana.
There are about 150 different species in the genus lantana, and all are native to tropical regions of the Americas and Africa. This makes it well-suited to the typically hot and humid summers of Central Illinois.
Lantanas can tolerate not only hot conditions, but drought conditions exceptionally well. Back in the drought of 2012 when everything in my garden limped along even with regular watering, the lantanas thrived.
They are also very fast growing, making them excellent choices for a quick fill-in around the landscape.
Depending on the look you desire, there are various sizes of the upright and trailing cultivars of lantana. It's easy to get absorbed in the rainbow of flower colors available among lantana cultivars, but take some time to read the label to see if the overall size and growth habit is appropriate for where you wish to plant them.
If you are looking for a gardening challenge, it's possible to prune an upright lantana cultivar into a tree form. Select one central stem to be the "trunk" and remove side branches, allowing the plant to grow to the desired height. The trunk will probably need extra support from a stake to avoid breakage. When it is as tall as you'd like, remove the growing tip of the trunk which will encourage branching, creating the top of the lantana "tree." Remove any side branches that don't contribute to the overall tree form.
This process can take a year or more, meaning you will need to overwinter your lantana tree. The additional time and labor it takes to produce a lantana tree are why these specimens are typically much more expensive than the average lantana when they are available at garden centers.
I've seen large lantana trees used as eye-catching focal points in containers, and I've seen much smaller specimens grown as bonsai. Both were beautiful in their own right.
Without a doubt, lantana's flowers are the big reason anyone grows them in their landscape. The flowers are small and borne in clusters. Typical flower colors are reds, oranges, yellows, purples, pinks, and white. Flower color typically changes as the individual flowers mature, resulting in two or even three different flower colors on the same plant at one time. Some cultivars will form berries following the flowers. Remove the berries to encourage more flowering.
Lantana has relatively few problems in the landscape unless they are grown in improper conditions. They are susceptible to root rot if grown in excessively wet conditions, and can also develop powdery mildew and flower poorly if grown in too much shade. A few pests, such as whitefly and mites, can cause damage to the plants, especially if they are under stress due to its growing conditions.
All parts of the plant are poisonous, causing symptoms ranging from gastrointestinal upset to death. Hairs on the leaves can cause contact dermatitis in some people. 
On the plus side, this makes it highly unlikely that deer and rabbits will make a meal of lantana. But this also means you should keep an eye on small children to be sure they're not dining on a feast of lantana. And you should probably wear gloves when trimming. Rest assured it does take more than just touching or tasting the plant to create a fatal outcome.
Lantana will grow and bloom well into the fall season and be one of the last annuals to finally succumb to cold temperatures.
Lantana is one of those annuals that never disappoints in my garden and always leaves me feeling like it was worth every penny, even though it's "only an annual."
Jennifer Schultz Nelson shares practical ideas and information to bring out the gardener in everyone in her blog at www.groundedandgrowing.co.
Catch the latest in Opinion
Get opinion pieces, letters and editorials sent directly to your inbox weekly!