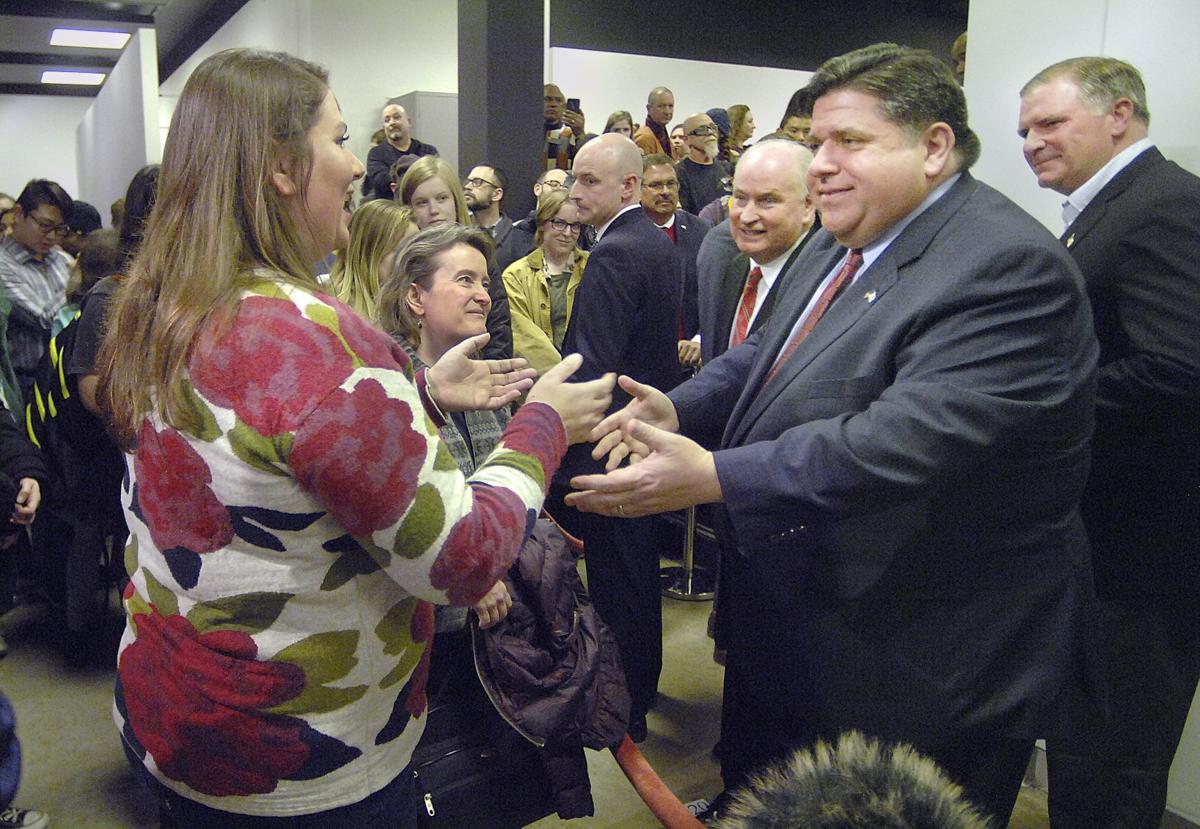 SPRINGFIELD – Former state Sen. Martin Sandoval entered a plea deal Tuesday, Jan. 28, in which he admitted to receiving more than $250,000 in bribes over a three-year period and filing a false tax return.
In exchange for his plea, Sandoval agreed to cooperate with federal investigators in other ongoing investigations and he will not face sentencing until he is finished cooperating. That cooperation includes the possibility of testifying against other defendants who may be charged.
The plea deal was announced jointly Tuesday by John R. Lausch Jr., U.S. attorney for the Northern District of Illinois, along with officials from the Chicago office of the FBI, the IRS Criminal Investigation Division and the U.S. Department of Transportation's Office of Inspector General.
The bribery charge stems largely from Sandoval's relationship with a company that installs and operates red light cameras for local governments in the Chicago area. Those are devices that automatically photograph and issue citations to people who fail to come to a full stop at red lights. Revenue collected from those citations typically is split between the municipality and the camera company.
The plea agreement spells out a list of facts to which Sandoval has admitted. It includes an admission that, beginning in 2016, Sandoval solicited and received $20,000 in annual campaign contributions from an entity prosecutors referred to as "Company A," but which is widely believed to be SafeSpeed LLC, a company identified in a search warrant that federal agents executed on Sandoval's Statehouse office in September.
The Chicago Tribune and Chicago Sun-Times each reported that during Tuesday's hearing in federal court, Sandoval inadvertently identified the company when he said, "I used my office as state senator to help SafeSpeed — er, company A ... (and) be its protector in the Illinois senate and influence other officials to roll out the red-light camera program in Illinois."
In 2017, according to the agreement, Sandoval asked a company official to break up those annual payments into smaller amounts that would show up in different reporting periods.
"Kind of, just kind of not make it obvious," Sandoval said to the company official, according to the agreement, not knowing that the person was cooperating with investigators.
In March 2018, according to the agreement, Sandoval accepted $10,000 in cash from the company, "to be used for campaign-related expenses," in exchange for Sandoval's promise to block legislation that would have banned red light cameras in Illinois.
And beginning in July 2018, according to the document, he solicited $5,000 per month in "protection money" for using his position in the General Assembly to protect the company's interests.
STATE OF THE STATE ADDRESS: Gov. JB Pritzker struck a tone of optimism and accomplishment in his annual State of the State Address on Wednesday, Jan. 29, declaring "the old patronage system needs to die" as he outlined his policy goals for 2020.
"Those who would shout doom and gloom might be loud – using social media bots and paid hacks to advance their false notions – but they are not many," Pritzker said in his speech to members of the House and Senate on the floor of the House. "You see, we're wresting the public conversation in Illinois back from people concerned with one thing and one thing only — predicting total disaster, spending hundreds of millions of dollars promoting it, and then doing everything in their power to make it happen."
The governor laid out broad policy goals in the speech, emphasizing a need for ethics reform in the wake of an ongoing federal investigation which resulted in a guilty plea on bribery and tax fraud charges from former Democratic state Sen. Martin Sandoval on Tuesday, Jan. 28.
"And now we have to work together to confront a scourge that has been plaguing our political system for far too long. We must root out the purveyors of greed and corruption — in both parties — whose presence infects the bloodstream of government," he said.
Pritzker spoke of revolving-door prohibitions and lobbying bans for sitting lawmakers. He also emphasized pension reform and reforming the criminal justice system by phasing out cash bail among other legislative action.
He urged clean energy reforms, but said, "the old ways of negotiating energy legislation are over. It's time to put consumers and climate first. I'm not going to sign an energy bill written by the utility companies."
Pritzker said it's time to empower local governments to consolidate some of the 7,000 government units in the state, and he emphasized "job creation, education and job training programs, child care and pre-school, and a focus on building essential tools of success such as high-speed Internet in all corners of our state."
But for Republicans watching the speech there was a major omission: a commitment to a proposal they call "fair maps," which would take the power of drawing legislative districts out of the hands of lawmakers and give it to an independent commission.
"I've never seen this state so divided against Chicago as what I see it now and I, as I talk to people, the biggest reason for that is the Democrats have given themselves so much power and such a supermajority by gerrymandering maps," Senate Minority Leader Bill Brady, a Republican from Bloomington, said. "The rest of the people in the state feel neglected."
While the policy agenda that Pritzker laid out focused mainly on positive-sounding initiatives, the issue of ethics reform was foremost on the minds of most lawmakers, Republicans and Democrats.
Their concerns were heightened this week after Sandoval's guilty plea. And they are sure to be a focus of attention next Tuesday, Feb. 4, when former Rep. Luis Arroyo, a Chicago Democrat, is scheduled to be arraigned on federal bribery charges.
"On Jan. 9, I was sworn in as a state representative and that afternoon I was called a corrupt politician," freshman Rep. Maurice West, a Rockford Democrat, said during the black caucus news conference. "And though I could get mad about that, I couldn't because of the history of how things have been operating in our state."
Veteran state Sen. Dale Righter, a Mattoon Republican who has announced he won't seek re-election this year, said he was disappointed in how little Pritzker spoke about the need for ethics reform.
"The governor who is the leader of a party that is drowning in corruption devoted four paragraphs of an 80-paragraph speech to corruption," Righter said in an interview. "He spent twice as much time talking about the flags outside the Thompson Center than he did about corruption within his own party. He missed a huge opportunity here."
House Republican Leader Jim Durkin, of Western Springs, said in a separate news conference that there is broad bipartisan support for ethics reform. But he argued that the roadblock to passing such reforms is House Speaker Michael Madigan.
FISCAL STATE OF THE STATE: Illinois' top fiscal and investment officers touted some of the economic policy initiatives laid out by Gov. JB Pritzker in his State of the State speech Wednesday, Jan. 29, and stressed the importance of continuing to balance the budget.
The credit ratings agencies' view that Illinois has better financial stability than it did a year ago means "more dollars are going into our roads and bridges and our schools than into Wall Street bankers' pockets," Treasurer Michael Frerichs said.
Ethics reforms will ensure state officials are "always looking for the opportunity to stand up for taxpayers and to be an advocate for them," Comptroller Susana Mendoza said. Her office is backing measures to address the current "corrupt" red light camera system and eliminate the "exit bonus" some lawmakers get when they leave office.
And while it is "good to see a governor talking about positive aspects of our state," Frerichs said, "it's clear we have financial issues that will need to be addressed."
He said his office is "doing what we can to help out." It increased the amount of interest money Illinois' investment accounts generated from $49 million when he took office to $340 million last year. It also instituted programs designed to help residents save for college and retirement.
Mendoza said the implementation of the Debt Transparency Act, which the General Assembly approved in 2017 on a bipartisan basis, "helped open up the books" and "tackle the financial crisis" caused when Illinois ran more than two years without a budget. With the information state agencies were mandated to send her office, it was able to address outstanding bills.
Frerichs said the next step is hearing whether Pritzker has "a plan to make sure we continue to have a balanced budget and we're able to pay down our backlog of bills."
ETHICS PANEL: Government reform advocates told a panel of state lawmakers Thursday, Jan. 30, that Illinois has some of the weakest governmental ethics rules in the country and that lawmakers should put more teeth into them if they hope to regain the trust of the public.
"For me, the disheartening part of all of it is not that so many lawmakers at all levels of government have strayed so far from the rules and have overshadowed the good work of ethical lawmakers, but that so many across our state kind of react to this news with a shrug," said Georgia Logothetis, assistant director of the watchdog group Common Cause Illinois. "It's a kind of disheartened acceptance that, well, this is just the way things work in Illinois."
Logothetis was part of a panel of reform advocates who testified before the Joint Commission on Ethics and Lobbying Reform. The commission was formed last year in the wake of federal investigations that led to indictments against three sitting state lawmakers, two of whom have since resigned.
Thursday's hearing, the third since the panel was formed, focused on the state's Governmental Ethics Act, and specifically its provisions dealing with conflicts of interest and financial disclosure requirements.
While some states specifically prohibit lawmakers and other public officials from acting on issues in which they have a direct financial interest, Illinois has no such provision.
In fact, the only thing the Illinois law says about conflicts of interest is that when they arise, lawmakers "should consider the possibility of eliminating the interest causing the conflict."
Many of those testifying Thursday also called for updating and expanding the Statement of Economic Interests forms that public officials in Illinois are required to fill out.
"The interesting thing about this document to me is, I'm not sure it adequately assesses what the interests are," said Brad Cole, executive director of the Illinois Municipal League.
Former Illinois Lt. Gov. Sheila Simon, who served from 2011 to 2015 under then-Gov. Pat Quinn, said reporters often refer to the current document as a "none sheet" because people can write the word "none" on virtually all of the questions, even though they might still have significant outside interests.
She argued that the form should be designed in a way that is useful to the public rather than in a way that protects the privacy of public officials.
The joint commission so far has not made any recommendations for new ethics laws. Its final report to the General Assembly is due March 31.
VOTER REGISTRATION POLICY CHANGE: While the information for approximately 4,700 16-year-olds was forwarded from the Illinois Secretary of State's Office to the Illinois State Board of Elections as part of an automatic voter registration program, no underage people were registered to vote, nor did they receive information about registering to vote, according to representatives of those two agencies.
"To be clear, no 16-year-olds were registered to vote," Henry Haupt, deputy press secretary for the secretary of state's office said in a phone call Thursday, Jan. 30. "In fact, the election authorities throughout the state have long had a system in place preventing them from registering anyone under age to vote."
Automatic voter registration became law in 2017, providing that Illinois citizens are automatically registered to vote whenever they apply for or renew a driver's license unless they opt out. Under that system, the secretary of state's office shares a database with the state elections board.
The transmission of 16-year-olds' information through that system was an issue of policy and not related to a previous glitch in the voter registration system which allowed 545 self-identified non-citizens to register to vote, according to officials.
Haupt said even though the secretary of state shared the information of 16-year-olds, they did so knowing they would not be allowed to vote if they did not reach the necessary age by the date of the next election.
In Illinois, a person who is 17 years old is allowed to vote in primary elections as long as they will turn 18 by the date of the general election.
Haupt said after recent discussions with ISBE, the secretary of state will change its current policy.
"We went ahead and met with ISBE and we will no longer be sending 16-year-old registration information," Haupt said. "Now we're just not even going to send them that information. We're going to cut that out. We'll just start sending it when they're 17 years or older."
Matt Dietrich, the ISBE public information officer, said in a phone call the agency noticed a large number of applications for 16-year-olds coming through the automatic registration system even though they were clearly not of age to vote. But Dietrich said no 16-year-old got any further in the registration process than applying for a driver's license at the secretary of state's office.
"They were never registered to vote, they were never even forwarded to the local election authorities," he said.
CORONAVIRUS UPDATE: The spouse of the first Illinoisan confirmed to have novel coronavirus has also tested positive for the illness and is being monitored, health officials said Thursday, Jan. 30.
The case is the first confirmed person-to-person transmission of the virus in the U.S. and the sixth confirmed case in the country.
Illinois Department of Public Health Director Dr. Ngozi Ezike hosted a news conference with county and city health officials in Chicago and said "the risk to the general public remains low."
"The second case is a Chicago man and is the husband of the first confirmed case in Illinois," she said.
The woman, in her 60s, returned from Wuhan, China – the city at the center of the outbreak – in mid-January. Her husband did not travel to China.
All those who had close contact with the woman were being monitored, and her husband began displaying symptoms in recent days. When he did, he was admitted to the hospital and placed in isolation.
Dr. Ezike said there are 21 individuals in Illinois who are considered "persons under investigation" for the virus, which is considered "novel" because not much is known about the new strain.
She said health officials are taking other actions to guard against the spread of the virus and they continue to work with the federal Centers for Disease Control and Prevention.
"The virus is not spreading widely across the community at this time," Ezike said.
Chicago Department of Public Health Commissioner Dr. Allison Arwady said the news was a "continuation" of last week's news conference in which the first case in the state was reported.
She also said there is "not a significant risk of spread before people develop symptoms."
Arwady said the first patient "is doing well," and the transmission from wife to husband, who had close contact with each other, "is not totally unexpected."
"She remains hospitalized and in isolation, primarily for infection control," Arwady said, adding the woman's husband is hospitalized and in stable condition as well.
EQUAL RIGHTS AMENDMENT: Illinois Attorney General Kwame Raoul and two other state attorneys general filed a lawsuit in federal court Thursday, Jan. 30, to ensure the Equal Rights Amendment officially becomes the 28th Amendment to the U.S. Constitution.
"Americans have long agreed that discrimination based on sex is unacceptable," Raoul said. "But by enshrining that shared value in our Constitution, we have made a commitment never to go back."
The states filing suit – Illinois, Virginia and Nevada – were the final three states to ratify the ERA. Nevada signed on in 2017, Illinois in 2018 and Virginia two weeks ago, allowing the amendment to meet the 38-state threshold to be added to the Constitution.
However, making the ERA binding is not as simple.
In the complaint, the attorneys general are asking a court to direct U.S. National Archivist David Ferriero to officially write the ERA into the Constitution, as per his duty. The U.S. Department of Justice, however, effectively ordered Ferriero not to do so because the ratification deadline imposed by Congress expired in 1979.
Additionally, five states want their ratifications rescinded: Idaho, Kentucky, Nebraska, Tennessee and South Dakota. The latter joined Alabama and Louisiana in a federal lawsuit last month that aims to block Ferriero from adding the ERA to the Constitution.
Experts have said it is likely the final decision will have to be made by a court.
HOUSE GOP PRIORITIES: Remodeling how Illinois' political districts are drawn is the key to addressing the "dark cloud" of ethical violations hovering over state government, House Republican leaders said Tuesday, Jan. 28
Communities are grouped "primarily for political advantage," Dixon Republican Rep. Tom Demmer said, restricting residents' ability to hold their legislators accountable.
"These political entrenchments — these situations in which politicians pick their voters instead of voters picking their politicians — had a chilling impact on our ability to debate the important issues of the day here in Springfield," he added.
One of those is redistricting reform, an issue the House Republican caucus is prioritizing this session and has supported for years. It will "stop" the culture that enabled unscrupulous behavior by some lawmakers over the past year and "devastated the state," Minority Leader Jim Durkin, from Western Springs, said.
Changing the method by which political maps are drawn "is probably the most important way we can clean up corruption and the culture that has created this horrible situation in Illinois," Durkin said.
All 44 House GOP members support a constitutional amendment that would remove politicians from deciding the boundaries of districts in favor of an 11-member commission tasked with drawing maps in a "fair, above-board way," Demmer said. It would affect boundaries of districts drawn after the 2020 census.
House Republicans are also pushing for legislation reforming lawmaker behavior. Rep. Grant Wehlri, from Naperville, said those "common sense measures" include prohibiting representatives and senators from being lobbyists while in office, preventing them from immediately becoming lobbyists after leaving their post and increasing the economic interest information legislators have to disclose.
The caucus is also planning to combat the "skyrocketing cost of property taxes" in Illinois, Rep. Dan Brady, R-Bloomington, said.
BUSINESS POACHING: Two Democratic lawmakers unveiled legislation Tuesday, Jan. 28, to form a multi-state compact in which each member state would vow not to use company-specific tax incentives to lure businesses away from another member state.
Rep. Bob Morgan, of Deerfield, and Sen. Ram Villivalam, of Chicago, introduced identical legislation that would establish the "Phase Out Corporate Giveaways Interstate Compact."
"These kinds of tax breaks have historically been justified as a necessary evil," Morgan said during a Statehouse news conference Tuesday. "A necessary expense to bring jobs and business to our state, but in many ways to keep jobs from leaving the state of Illinois as they hold us hostage, because other states are offering them tax incentives."
The proposal is part of a nationwide effort to phase out all tax incentive programs aimed at luring businesses to move across state lines, or to prevent them from moving. Similar legislation has already been introduced this year in New York, Florida, New Hampshire, Hawaii, West Virginia, Iowa and Maryland.
Dan Johnson, a lobbyist for the Coalition to Phase Out Corporate Tax Giveaways, said that so far, Missouri and Kansas are the only states that have formalized such an agreement. However, that deal to end what many people in the region were calling a modern-day "border war" was limited to six counties that make up the Kansas City metropolitan area, which straddles both sides of the state line. The deal does not apply statewide in either state.
Senate Bill 2502 and House Bill 4138 would enter Illinois into the Phase Out Corporate Giveaways Interstate Compact. That would involve an agreement not to use tax incentives or grants to lure a specific company away from any other compact member for the purposes of relocating a corporate headquarters, manufacturing facility, office space or other retail development.
That prohibition, however, would not apply to tax incentives that are available generally to all businesses such as workforce development grants. It also would not apply to company-specific incentives offered by local governments or incentives offered to companies already located in Illinois.
LIVE ANIMAL PRIZES AT FAIRS: It is a mainstay of fairs and carnivals around the country: sink a ping pong ball into a fish bowl and win the goldfish swimming inside.
But if a bill in the Illinois Senate becomes law, carnivals would no longer be allowed to award live animals – such as fish, reptiles and hermit crabs – as prizes.
Illinois' Humane Care for Animals Act already prohibits rabbits, ducklings and baby chicks as carnival prizes, but Senate Bill 2472 would expand the law's protections to all animals – including the goldfish that winners can take home in a plastic bag.
Sen. Suzy Glowiak Hilton, a Democrat from Western Springs, introduced the bill with backing from the Humane Society of the United States.
"This isn't just a 'goldfish bill,'" she said. "Carnivals across the country give out other animals as prizes, specifically iguanas and other exotic reptiles."
Her county, Cook, is one of at least three municipalities in Illinois that have banned live animals being used as prizes. The other two are Kane County and the city of St. Charles.
Illinois would join Iowa, Massachusetts, South Carolina and Vermont as states that outlaw all live animals as prizes, according to Fish Feel, an advocacy organization for the humane treatment of fish.
Glowiak Hilton's bill applies only to carnivals. She plans to add an amendment to expand it to fairs.
HARMON LEADERSHIP TEAM: New Illinois Senate President Don Harmon, D-Oak Park, announced his leadership team Tuesday, Jan. 28, on the first day of the 2020 legislative session.
Kimberly Lightford, D-Maywood, will remain the chamber's majority leader, while Bill Cunningham, D-Chicago, will become an assistant majority leader and president pro tempore — a position once held by Harmon under former President John Cullerton before he changed the caucus' leadership structure.
Sen. Laura Murphy, D-Des Plaines, will serve in another newly created position — that of deputy majority leader.
Sen. Linda Holmes, D-Aurora, previously a majority caucus whip, will ascend to assistant majority leader as well. She joins Sens. Dave Koehler, D-Peoria, Iris Martinez, D-Chicago, and Tony Munoz, D-Chicago, who all already held assistant majority leader positions and will retain them.
Sen. Mattie Hunter, D-Chicago, will remain majority caucus chair, and Jacqueline Collins, D-Chicago, will be the deputy majority conference chair, a newly created position. She was previously a majority caucus whip.
The three new majority caucus whips will be Omar Aquino, D-Chicago, Michael Hastings, D-Tinley Park, and Napoleon Harris, D-Harvey, all new to the position.
Noticeably absent from the list is Sen. Terry Link, D-Indian Creek, who was an assistant majority leader under Cullerton. Chicago newspapers have identified Link as the unnamed senator who cooperated with the FBI and wore a wire in conversations with indicted former Rep. Luis Arroyo. Link has denied the allegation and has not been charged with any wrongdoing.
DNA TESTING BACKLOG: When an Illinois Senate panel met last March to discuss the state's backlog of untested forensic evidence, there were more than 70 DNA samples in murder cases more than a year old awaiting action from Illinois State Police forensic investigators.
That number is down to 14, representatives of the Illinois State Police told the same Senate Public Health Committee on Tuesday, Jan. 28, but they noted the number is still too high and standard wait times for DNA processing are still too long.
"We know that there's a lot of DNA evidence that's not being analyzed, and as a result, we walk among murderers. We know we're walking among murderers," Sen. Patricia Van Pelt, D-Chicago, the committee's chair, said before testimony.
Robin Woolery, the assistant deputy director for ISP's forensic science department, said while turnaround on the oldest cases has "drastically improved," ISP is "still not where we want to be."
ISP Director Brendan Kelly said there are several challenges facing the agency, but around October, the completion of DNA tests began outpacing the number of tests coming in for the first time in years.
The average time for processing DNA evidence is about 215 days, or seven months, Kelly said, adding that the goal was to get to six months. That number shrank from 288 days in September.
He said progress in addressing the backlog has stemmed from implementing greater efficiencies through Lean Six Sigma training, which is used by organizations to ensure efficiency and consistency in processes.
KOBE BRYANT HELICOPTER CRASH: The luxury helicopter that crashed Sunday, Jan. 26, in California, killing all nine people on board including former NBA star Kobe Bryant, was once owned by the state of Illinois.
The Sikorsky S-76B helicopter was built in 1991, according to the Federal Aviation Administration's aircraft registry. The state of Illinois used it from 2007 to 2015, according to helicopter information database Helis.
Under the direction of former Gov. Bruce Rauner, the state sold the helicopter along with four other surplus aircraft in 2015 for $2.5 million. Rauner said selling the aircraft "also avoided an additional $1 million in inspections and repairs," according to an Associated Press story after the sales.
The winning bid for the helicopter was $515,161, placed by user "Jimbagge1," according to a listing on the state's online auction website, iBid. Both the aircraft and its two engines had just under 4,000 hours of airframe time when the copter was sold.
At the time of the crash, the registered owner of the helicopter was Island Express Holding Corp of Van Nuys, California, which registered it a month after it was won at auction.
INSULIN PRICE CAP: Democratic Gov. JB Pritzker signed a bill into law Friday, Jan. 24, capping the out-of-pocket cost of prescription insulin for many people in Illinois.
Senate Bill 667, sponsored by Sen. Andy Manar, a Bunker Hill Democrat, caps the cost at $100 for a 30-day supply, a significant reduction for many diabetes patients currently paying hundreds of dollars per month for the life-saving medication.
The law takes effect Jan. 1, 2021. Each year after that, insurers are allowed to raise the out-of-pocket cost by the rate of health care inflation.
"Diabetes affects people from all walks of life. It doesn't discriminate between those who can afford medication and unconscionable costs and those who cannot," Pritzker said during a bill-signing ceremony at a public health clinic in Springfield.
Megan Blair, a diabetes patient from Harristown, said she has frequently been forced to ration her insulin supply because she couldn't afford the $1,800 per month she was being charged.
"I've been in and out of the hospital, close to being in a diabetic coma more than once due to not taking my medication like I should – not because I wanted to, but because I had no choice but to ration the insulin I did have," she said.
Diabetes affects more than 30 million people in the United States, including an estimated 1.3 million in Illinois.
With the signing of SB 667, Illinois became only the third state to cap out-of-pocket insulin prices. The law applies to people who are covered by health plans subject to state regulation. That includes most kinds of private insurance, the state Medicaid plan and the state employees' health plan.
It does not, however, apply to self-insured plans, which many large companies with thousands of employees offer. Those plans are regulated under federal law.
Be the first to know
Get local news delivered to your inbox!