CHARLESTON — A former Charleston school substitute teacher said in court Thursday that he'll voluntarily return to Texas to face a child indecency case.
Adrian Rivas, 39, was arrested Feb. 9 outside Jefferson Elementary School when U.S. marshals served him with the fugitive from justice warrant.
The Houston Chronicle reported that in December 2016 a 14-year-old girl said he "touched her in inappropriate areas" while babysitting his children. When the Texas county's sheriff's deputies tried to contact Rivas about the incident in, they were told he no longer lived there, the Chronicle reported.
In court Thursday, Circuit Judge Brien O'Brien agreed with a request from Public Defender Anthony Ortega to modify Rivas' bond conditions to allow him to travel out of Illinois. Assistant State's Attorney Rob Scales didn't object to the bond modification but did request that Rivas be ordered to surrender his passport, which O'Brien allowed.
Rivas declined to comment on the case after he exited the courtroom Thursday. Rivas was jailed since his arrest until he posted bond on Wednesday.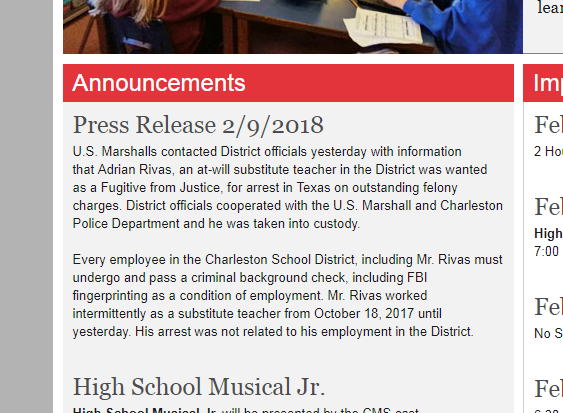 Charleston school Superintendent Todd Vilardo said there's "no indication" of any inappropriate conduct by Rivas while he was substitute teaching. Vilardo said the school district posted information on its website about Rivas' arrest after it took place. He said there was no text or email alert to parents on the day of the arrest because students were safe and district officials wanted to avoid the possibility of unneeded concern.
However, Megan Merrill, who has a child who attends Jefferson, said some parents were concerned about having to hear about the arrest from their children.
"As parents, it would have been good to hear it from the school," Merrill said, adding that would have helped parents to respond to the news.
She added that she thinks authorities "did everything else right" with how the arrest was handled.
Rivas had been a substitute teacher in the school district since Oct. 18, according to information the district released about his arrest last week. The Journal Gazette and Times-Courier, part of the Herald & Review News Service, on Thursday obtained his personnel records through the Freedom of Information Act.
Vilardo said Rivas went through the required employment background check "well before" the Texas warrant was issued in January. The school district provided a document Thursday indicating the background check did take place.
CHARLESTON — A substitute teacher was arrested at a Charleston elementary school by the U.S.…