DECATUR — For a few weeks last fall, Thomas Schneider knew he'd be able to sleep at night without any concern he would be awakened by a call about another emergency situation.
Yet nearly six months since Schneider retired from the Macon County Sheriff's Office after 29 years, he has returned to working 10 to 12 hours a day, six days a week, as interim deputy commander at the new Macon County Law Enforcement Training Center. Instead of fishing and travel, Schneider has gotten into educating the next wave of law enforcement officers.
"The thing is, my hobby was always law enforcement," he said. "If I stopped doing that, what would I do? I don't really have any other good hobbies."
It's a continuation of looking after others that has helped Schneider become of the most popular elected officials in recent county history, winning by a margin of more than 2 to 1 in 2010. Friends and colleagues joke that they can never have lunch or dinner with Schneider without at least one person coming up to give him a hug or to ask how the retirement life is treating him.
"Wherever we go, there's someone who wants to say hello to him," said Tad Williams, the commander of the training center and longtime friend of Schneider. "He's won the hearts and souls of the people here."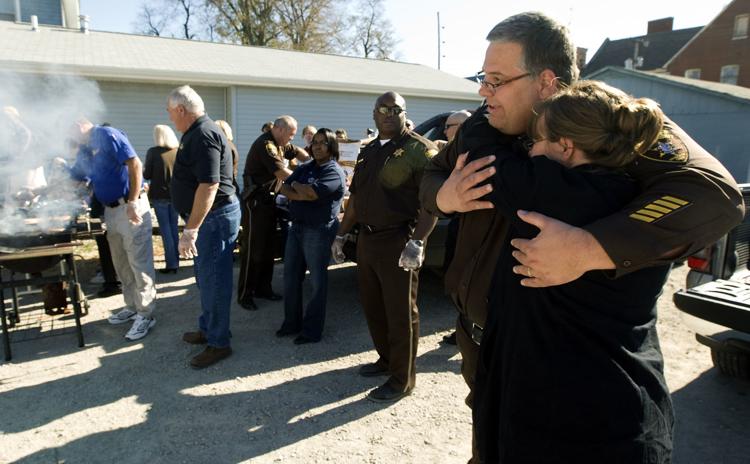 "Tom is just so giving and his retirement, I feel, was overshadowed because such a prominent person like Howard Buffett (became sheriff)," said Decatur City Manager Tim Gleason, who has developed a friendship with Schneider based on their shared law enforcement background.
Schneider, 50, has gone from overseeing an office of more than 160 employees to helping Williams and a full-time staff of fewer than 10 to get the training center, which opened last fall, off the ground. Instead of managing an office budget of $9 million, meeting with community groups and establishing office policy, Schneider now works with agencies that send their recruits, makes sure lesson plans and testing comply with state standards, sets schedules and handles other responsibilities to ensure the center is established as a premier learning facility.
One thing Schneider does not do is actually teach classes, yet he says the experience is still rewarding.
"To have the chance to start young recruits off in their careers is something that I consider to be a privilege," he said.
 The work weeks starts on Sunday, with recruits from every corner of the state coming into Decatur and checking into the facility, and ends on Friday evening with Williams and Schneider thanking the recruits for coming down and making sure the experience was worthwhile.
That leaves Schneider's lone day off as Saturday, which he spends with his wife, Amy, and their 180-pound English Mastiff named Romeo. With their only child, Alex, planning to move to Washington, D.C. with his wife, Schneider jokes that the "empty nesters" have a simple strategy for their day off together.
"We do whatever the wife wants," he said with a laugh.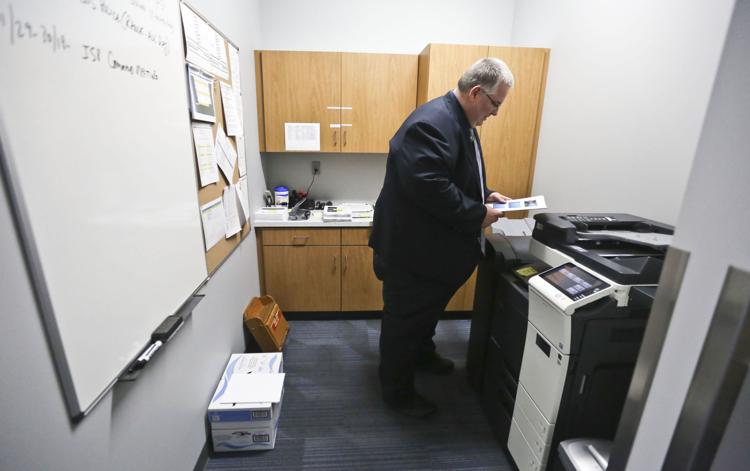 A career set on law enforcement
Going back to his youth in Pana, Schneider said he always wanted to be a police officer. Outside of a dalliance with becoming a history teacher and high school football coach during his time at Lake Land College in Mattoon, Schneider focused his attention on readying for a career in law enforcement.
In 1988, while a student at Southern Illinois University in Carbondale, Schneider received a call from his parents about a new opportunity to start that career back in Central Illinois, he said.
"So at this time, Mom and Dad said, 'Hey, in the paper there is an opening. They're building a new jail in Decatur, and it would be a great opportunity to get involved in law enforcement by starting off in corrections,'" Schneider said. "And I was like, 'You know, you're right.'"
So Schneider left college and joined the dozens of people lined up outside the jail to apply. During the interview process, he met H. Lee Holsapple, the Macon County sheriff from 1986 to 1998, and Schneider not only got the job but began to develop a friendship with Holsapple that would help guide the new officer through his career.
Even as a rookie, Schneider started to make an impression on his superiors.
"I was impressed with him right away because he was really outgoing, which was unusual for new guys. New guys usually keep to themselves," Dawson said. "I do remember meeting him for the first time just because he was so personable."
Schneider's combination of charisma and work ethic soon had him climbing the ranks of the sheriff's office, moving from corrections officer to being in charge of the correctional division, head of the courts division, detective, shift sergeant, captain and finally, chief deputy.
It was during Schneider's time as a detective when he first met Williams, then a trooper with the Illinois State Police. As the two worked several homicide cases together, Williams said he got to know Schneider on both a professional and personal level.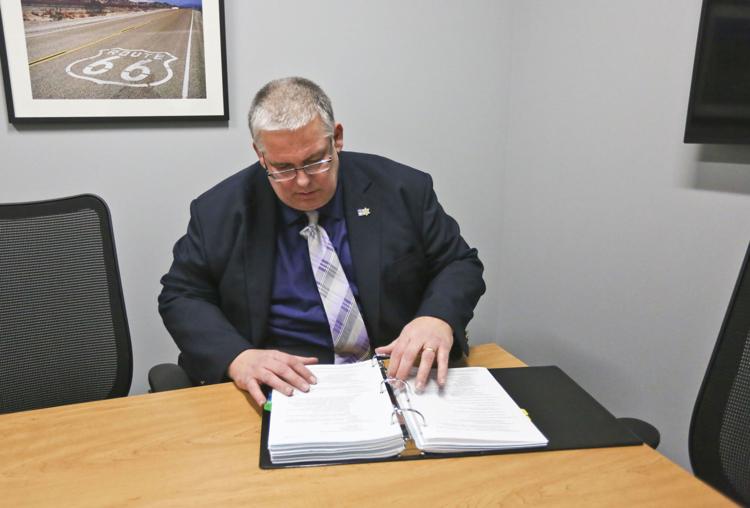 Schneider's ability to connect with people has become well known, but it was this time where Williams said he got to see up-close just how good Schneider was at working a case.
"He was a hell of a police officer, and a hell of an investigator," Williams said.
Though he had told Holsapple in his interview that he had aspirations to become sheriff, Schneider now says he did not start to seriously entertain the idea of becoming sheriff until he became lieutenant in the early 2000s. With his experience in different divisions, as well as with mentoring from Holsapple, Dawson, Sheriff Roger E. Walker Jr. and others in the office, Schneider said he realized he could put his experience to good use.
As Dawson began to contemplate his retirement, he said he could not think of a more perfect replacement than Schneider. Aside from the experience, Dawson said Schneider's ability to connect and empathize with community members, keep morale high with his officers and his conviction made Schneider the "perfect sheriff."
"(Schneider) believed in everything he was doing, and he did it," Dawson said. "If they all were like Tom, I don't think we would have the issues we see in law enforcement."
Clarity on retirement
Schneider said he had no intention of seeking re-election in this November's election.
After nearly 10 years as sheriff, Schneider said he decided last year to step down before the end of his term, which extends to Dec. 1.
Schneider initially cited his health and stress as factors in his decision, but he downplayed that when asked earlier this year. Instead, he said, hitting retirement age weighed more into the decision to step down.
"I think the most important thing to know is that all of these factors ... I knew that once I turned 50, that I could start working to get out of the law enforcement field and start that transition into another field that I would have opportunity to do," he said.
The appointment of Buffett as his successor drew enough attention that it seemed as though Schneider's retirement became nothing more than a footnote.
"I don't think anyone slighted Tom, it's just ... it was lost because Howard Buffett is such an international figure," Gleason said.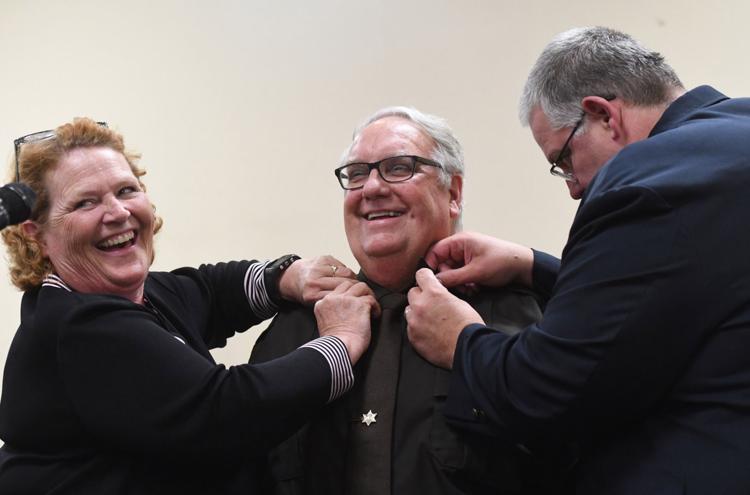 When asked about his retirement, Schneider stressed he has no hard feelings with anyone about announcing his retirement and subsequent appointment of Buffett. However, he did say he was "disappointed" that it seemed his entire career came down to one decision.
"It was not the way I wanted my career to end, on a note where 29 years of service was just forgotten," he said.
Since taking office, Buffett has continued to make headlines, donating millions of dollars to different parts of the sheriff's office. Mostly recently, Buffett has spent $1.3 million to upgrade parts of the Macon County Jail, in part because of consultant reports that found inadequate medical coverage for inmates. There have been at least two wrongful death lawsuits filed in connection with the jail since 2015, with Schneider named as a defendant in both cases. He has declined to comment on the pending litigation.
Buffett was appointed because three lieutenants in office are running for sheriff in this year's election. Lt. Antonio "Chubby" Brown and Lt. Jonathan Butts, both Democrats, will face off in the March 20 primary election. The winner of that contest will go against Lt. James Root, a Republican, in the general election on Nov. 6.
Second career
Like becoming sheriff, Schneider said a post-retirement career in academics was not something he originally planned.
The opportunity first came to mind when Schneider considered what he would do once he left office. After getting his degree while in office, he said the idea of education and working with young recruits intrigued him.
So when the opportunity to work at the training center came up, Schneider said he did not think twice.
The training center was first announced in fall 2016 after several years of discussion between local leaders. Funded by a $15 million donation from the Howard G. Buffett Foundation, the center is meant to enhance the region's public safety and make Decatur a destination for law enforcement agencies from across the state to send their recruits.
Schneider does not teach any specific classes at the center, with his focus more on the administrative side of establishing policies and setting the groundwork for what the new facility will entail going into the future.
He also acts as a sounding board, Buffett said. Even now, Buffett said he calls Schneider to talk about the office and get his advice or thoughts on policies or situations that occur in the office.
Even if they do not agree on the best course of action, Buffett said he has always valued Schneider's accessibility and willingness to consider different viewpoints.
"I'm a little biased, but Tom is one of the best human beings that I have ever met," Buffett said. "He's sensitive, he's a very well-rounded person. He always gives people a chance, he doesn't prejudge people."
Schneider currently has the "interim" tag at the training center, but said he would love for it to become his second career. As for what the future holds, Schneider said he plans to stick around until he's 60 years old before taking on a possible third career: grandpa.
"My son and daughter-in-law are planning to move out to the D.C. area, and if there are grandchildren involved, there is a strong possibility that we'll move to that area," Schneider said. "I'm blessed that I don't have to choose between two children, since I only have the one, so therefore I can follow the grandchildren wherever they are."
Sign up for our Crime & Courts newsletter
Get the latest in local public safety news with this weekly email.