Police seek 2 in stabbings at Chicago fireworks
Police say two teenage boys and a man suffered non-life-threatening injuries when they were stabbed after a group of young males flashed gang signs at Thursday night's fireworks show that draws thousands of people to the Lake Michigan shoreline each year.
Police say panic ensued when someone threw what's believed to be firecrackers, creating a stampede. Chicago Police spokesman Rocco Alito says 14 people were taken to hospitals with non-life-threatening injuries after being trampled during the rush of people fleeing the scene.
---
About 10:10 p.m. in the 600 block of East Grand Avenue, a fight broke out among a group of males after some of them flashed gang signs, police said. A 14-year-old boy was stabbed in the arm and rib, while another boy, 15, was stabbed in the armpit. They were both taken to Lurie Children's Hospital, where their conditions were stabilized.
A 30-year-old man who was not part of the brawl also ended up stabbed in the face. He did not remember who attacked him or how he ended up injured, police said.
Police said another boy, 16, who originally was believed by fire department paramedics to have been shot, actually suffered a puncture wound from an overturned table while running. He was taken to Northwestern Memorial Hospital and stabilized there. It was not immediately clear whether he was part of the original fight.
There was no evidence of shots fired or someone being shot, Chicago police Sgt. Rocco Alioto said to reporters at a press briefing. Police believe someone threw firecrackers at the pier and others yelled "gun" or "shots fired," spurring a "stampede" that injured 14 people. Their injuries are not life-threatening, Alioto said.
Police are looking for two male suspects in the stabbings. No arrests have been made.
Streams of pedestrians lined the street-level and underground sidewalks of River North for over an hour after the crowds at the pier dispersed. About the same time, more than a dozen ambulances were seen inching through traffic on Lake Shore Drive, where police squad cars closed off several exits. Two men scolded a driver on Ontario Street who wasn't pulling over to allow an ambulance through.
Earlier that night, crowds of visitors swarmed the waterfront restaurant Harry Caray's Tavern for at least 10 minutes to escape what they believed was an active shooter at the pier, according to two servers who work there.
Rachel Schar said she was collecting credit cards from a party table when she heard screaming, shoes rapidly pounding the pavement and shouts about a gun and people stabbed outside. After getting up from being tackled, she sprinted upstairs into an office that contained multiple security cameras streaming the pandemonium below her.
You have free articles remaining.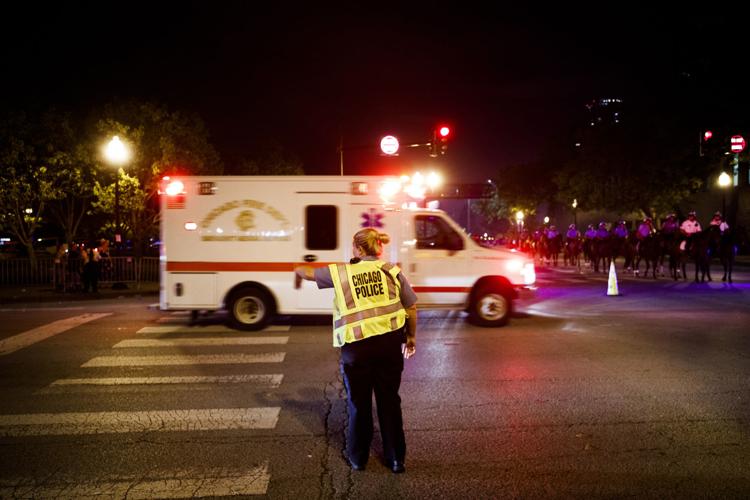 "It was pure chaos," said the 22-year-old. "I literally thought I was going to die."
Schar's friend and coworker, Ashley Calvillo, said that she was by the front of the restaurant when the shouts about an armed person on the loose erupted. Another server grabbed her and pulled her inside a closet, but the 21-year-old said she couldn't forget the young children crying and parents desperately searching for their lost children. She remembered the hostesses hiding under tables and that Schar was nowhere to be seen.
"I was worried for Rachel because she's one of my closest friends working tonight," Calvillo said. "The people were getting crazy, and I haven't seen Rachel. We're yelling through the restaurant, 'Where's Rachel? Where's Rachel?'"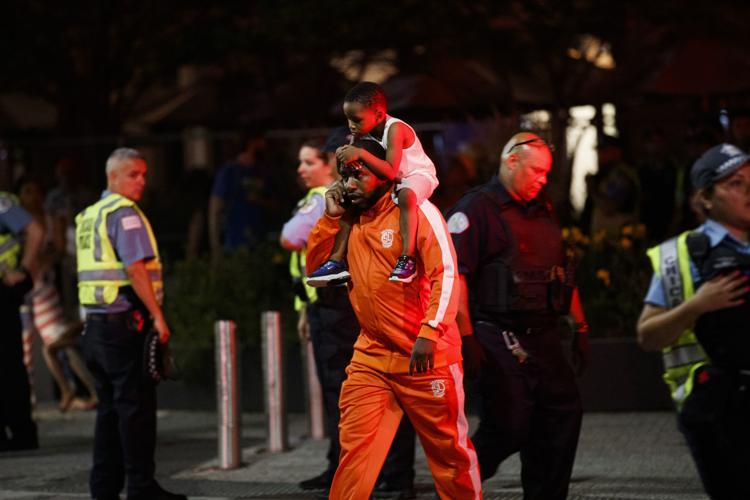 Calvillo said she ran out the closet, only to have a manager gather her and other workers inside the kitchen. In there, she saw guests trying to hide in the freezer and storage area, she said.
The two said they were reunited after someone went upstairs and told Schar the restaurant was safe from danger. Some workers tended to shell-shocked visitors who needed to rest by the dining area before going home.
Once the panic subsided, Calvillo said the inside of Harry Caray's was a jumble of toppled furniture and silverware. More than a dozen pairs of shoes in all sizes were abandoned on the ground. Some patrons even left their strollers in the mad rush to the exit.
"The aftermath is that the whole restaurant is wrecked," Calvillo said.
Late Thursday night, Schar and Calvillo waited for an Uber ride home a few blocks west of the pier, both still in their work uniforms.
Schar recalled how all day, security had searched every visitor's bag and conducted pat-downs. But the thought of a mass shooting targeting people watching the Fourth of July fireworks hadn't completely escaped her mind, even before the show began.
"I hate to say this, but honestly ever since mass shootings have been a common thing, I feel like I'm always looking around," Schar said. "Constantly, everywhere I go I feel like I need to know what my plan is if something did happen."
Part of Schar dreads going back to the pier, but she doesn't want her fears to stop her from showing up to work on Friday, she said. Once she gets home, she plans to text her mother, who went to sleep before the mayhem broke, that she's okay.
"She's going to watch the news and this is going to be the most frightening thing for her to hear," Schar said. "You don't think it's going to happen to you until it does."
— Alice Yin, Chicago Tribune 
---