DECATUR — Fighting coronavirus disease is still a battle, no matter where you are or what you do.
Jonathan Medler, 29, recently returned to work at HSHS St. Mary's Hospital in Decatur after treating coronavirus patients on the East Coast.
As a member of the Air Force Reserves, he was asked to use his experience and knowledge to assist in one of the hardest hit areas in the country.
Medler joined the Air Force in 2010, enlisting as an aircraft mechanic for six years. After three years in active duty, he wanted to change directions, switching to the Air Force Reserves.
He was no longer a full-time serviceman and was serving one weekend a month and an additional 15 days throughout the year. With the extra time at home, Medler attended Illinois State University, majoring in nursing. Now he is an officer, but his civilian job is in critical care nursing. As a reservist, he can be called to active duty anytime.
And the Air Force did just that.
Medler was not surprised. "My unit commander told us something might be coming down the pipeline in a week or two," he said before he left. "I said I'd be willing to go."
On a Wednesday morning in late April, Medler received his call. "And I was in St. Louis on Friday morning," he said. 
The local team was given little information before they landed in New Jersey. Medler knew he as well as the other members of the medical squadron would be working with coronavirus patients, including quite possibly in New York at the Javits Center's field hospital or to the hospital ship docked in the New York Harbor.
Other units making up the joint forces included Connecticut Army National Guard, Connecticut Air Guard and an active duty Navy unit from Jacksonville, Florida. About 250 service personnel made up day and night shifts tending to coronavirus patients in the area.
Medler worked more than five weeks treating patients in a 36-bed COVID-19 facility and a 24-bed alternate care site, for those with the virus who were unable to return home but didn't need in-depth hospital care.
Medler's job consisted of 12-hour night shifts, three days on, with one day off. During the five weeks, he said he lost about 10 pounds. "One week you worked probably 60 hours. The next week you worked about 72 hours," he said. "It was mentally and physically exhausting."
Throughout his time, Medler wore the necessary protective equipment, such as a face shield, N95 mask, gloves and a gown, often all at the same time.
During his days off, he slept. He would also communicate with his two small children back in Illinois, order food from a delivery service. "And I had my Xbox out there," he said. "That was kind of my way of dealing with a day off, some normalcy."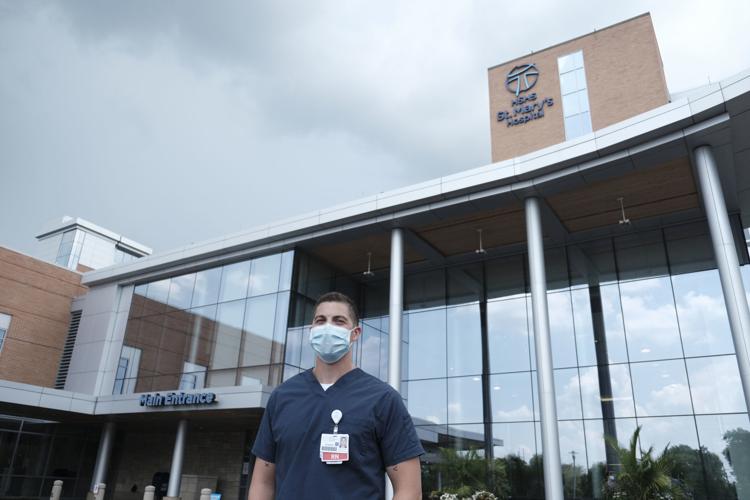 Medler returned home the last week in May where he was quarantined for two weeks. He was given a coronavirus test before he left Connecticut and another after his quarantine. "Then I took another week off before I came back to work," he said.
Returning to St. Mary's Hospital turned out to be stressful as well. As a nurse in the ICU unit, Medler worried about the local patients as well as his family. "If you cough once, you think, Oh my gosh, do I have COVID," he said.
Medler stays home as much as possible with an occasional visit to his local gym. He said he is fortunate to be able to have a supportive hospital.
Before he left, one of Medler's supervisors, ICU manager Sam Bishop, said she understood he might be deployed to the East Coast. "We knew that was his duty and his service," she said. "So we were prepared."
Because Decatur had not received a large amount of coronavirus patients, St. Mary's Hospital could spare a nurse. Bishop understood the experience would be beneficial for her employee as well. "That was important for him, to get to see new things and to get to experience this and to serve our country in a new way," she said.
Medler's supervisors believe the military chose the right person. "He is fabulous at adjusting," Bishop said. "He did not seem stressed."
The hospital staff consulted with Medler about his weeks working with coronavirus patients and other medical facilities. "The practice in a surge like that is so different here," Bishop said. "It is interesting to see what is really important in those times of need."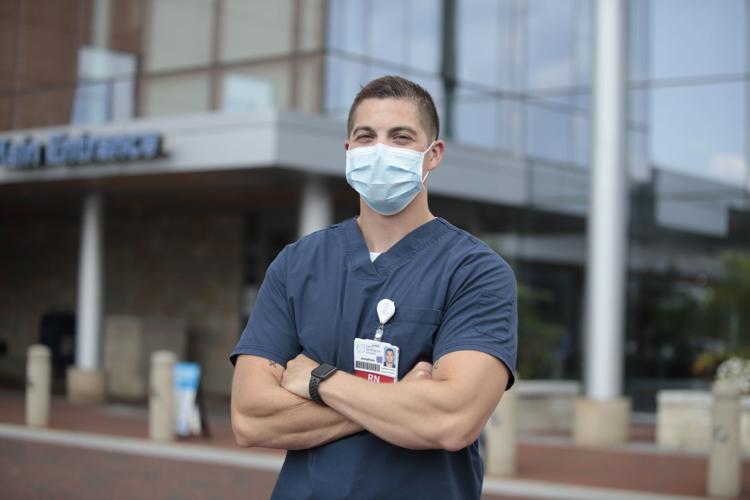 Decatur hospitals were prepared for the surge of coronavirus patients. "It never really happened the way we thought it would," Medler said. "Then I go out there, and they just got hit so hard."
The hospital understands Central Illinois could experience the same amount of serious patients. "That's what's scary," Medler said.
The ICU nurse encourages the public to use precautions, such as washing your hands often and staying home if you think you are sick. "Wear your face mask just to stop the spread as much as possible," Medler said.
Along with watching his patients suffer with the virus, another heartbreak was the isolation they experienced. Many patients died alone without their families. "I've seen the worst," he said. "I hope that doesn't happen here, but we can only plan for it."
The medical staff understands they can not make the public adhere to the precautionary advice. Medler wants people to study the scientific evidence. "Have an informed opinion," he said. "Try to do your research."
When he returned to work in Decatur, many of his co-workers asked him questions about the job and his experiences. "We kind of hounded him at first," Bishop said. "But we're just so thankful to have him back. He's been a great asset to our unit."
---
How we're doing in July: Decatur-area residents share pandemic stories
Contact Donnette Beckett at (217) 421-6983. Follow her on Twitter: @donnettebHR
Concerned about COVID-19?
Sign up now to get the most recent coronavirus headlines and other important local and national news sent to your email inbox daily.