DECATUR — Since 1983, nearly every license plate issued by the state of Illinois has been manufactured in Decatur.
And no, the work isn't done by inmates as it once was in this state, is still done in some other states and as is often depicted in popular media.
Instead, the plates are produced by Macon Resources, Inc., a Decatur social service agency that provides services to people with mental, physical and developmental disabilities.
The agency operates daycare and after-school care programs for children with disabilities and a wide range of services for adults with disabilities, including life skills training, vocational training, job placement and volunteerism, along with the operation of nine group homes.
Nearly 60% of the agency's workforce is made up of people with disabilities. And Illinois is one of two states not making license plates in a prison, said MRI chief operating officer Ryan Raleigh. Workers make at least $15 per hour, he said.
To mark both 40 years since receiving the state contract to produce license plates and National Developmental Disabilities Awareness Month, the company received a visit from the man in charge of drivers' services in the state: Illinois Secretary of State Alexi Giannoulias.
Giannoulias, joined by Decatur Mayor Julie Moore Wolfe; state Sen. Doris Turner, D-Springfield; and state Reps. Dan Caulkins, R-Decatur, and Sue Scherer, D-Decatur; toured MRI's license plate manufacturing plant.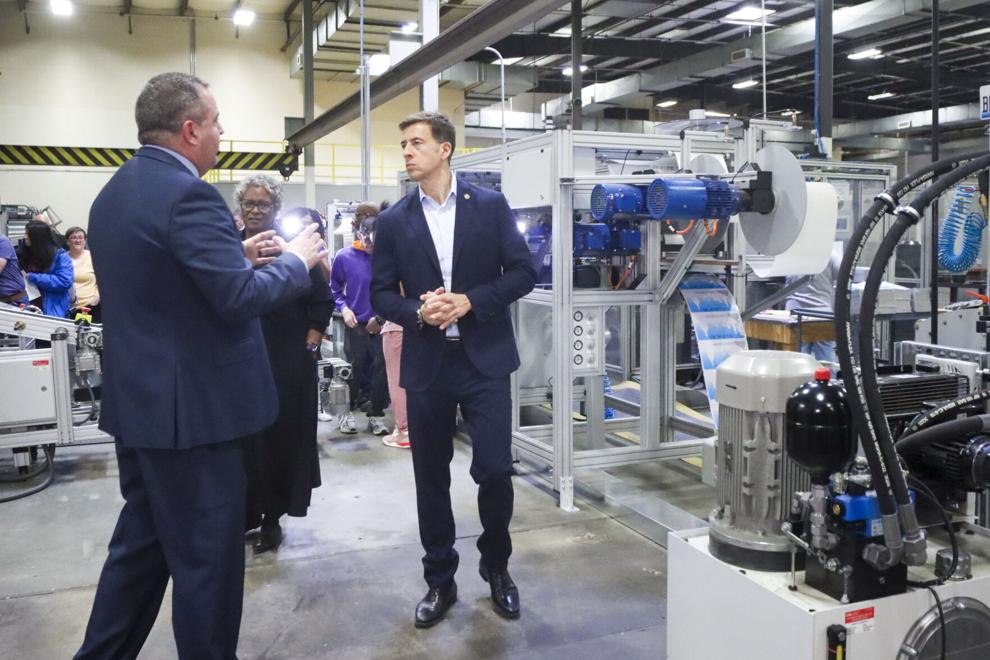 "This is one of the most inspirational things I've ever seen in my time in politics," Giannoulias said. "I wish everyone who lives in Illinois could come here and see the amazing work that MRI does. I think it's a testament to others helping others, but also providing jobs and opportunity and hope."
Giannoulias said he would like to use his platform "to promote this model across the country."
MRI employees walked Giannoulias and other dignitaries through the manufacturing process, which starts with the sheeting of the plate onto a big roll of aluminum, which is then stamped into a plate shape with holes in the corners.
The plate then passes through an embossing machine that raises the letters and numbers, which is followed with a roll coat process that paints those raised areas.
It then goes into an oven for 45 minutes to dry before being packaged and boxed. Next is labeling, where employees with intellectual disabilities have the opportunity to apply a sticker to the back.
"Every person that comes here gets an opportunity to touch a license plate," Raleigh said.
When the company first obtained the contract in 1983, about 600,000 plates were being produced each year. Now, the number is closer to 5.5 million.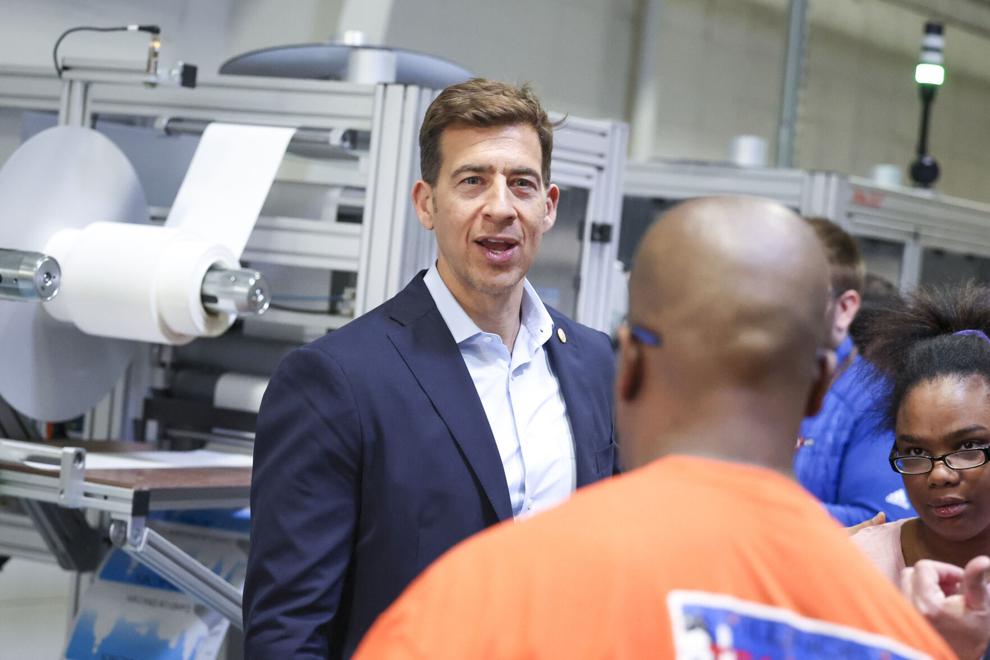 This quarter, Raleigh said, about 1.4 million plates have been ordered, which equates to about 24,000 plates per day.
And unlike the handful of plate varieties produced in the 1980s, MRI now manufactures 140 different designs, from the default blue-white plate featuring President Abraham Lincoln, the Chicago skyline and Illinois Capitol to several specialty plates featuring the state's professional sports teams, universities and other causes.
Cost of production varies based on plate type and length, but the average for a pair — the state requires front and back plates on nearly all licensed vehicles — is $3.59.
"We're so excited to have him here in the facility to see what we do," Raleigh said. "We're always amazed at what our people do from here — their abilities and how friendly they are and how they make you smile every day. And to have him come here and see, it was a great honor."
Giannoulias, the former state treasurer and onetime candidate for U.S. Senate, has been in office since January, when he succeeded longtime Secretary of State Jesse White.
In addition to ethics reform, Giannoulias has touted modernizing the sprawling office, which employs more than 4,000 people and touches the lives of nearly every Illinois resident through the issuing of driver's licenses and the registration of motor vehicles.
Giannoulias, speaking with reporters following his tour, said he supports the creation of digital driver's licenses and digital IDs. Legislation that would do this, sponsored by state Rep. Kam Buckner, D-Chicago, has been assigned to the House Transportation Committee.
"Ten years from now, maybe 15 years from now, every state in the country is going to be using digital IDs, digital driver's licenses," he said. "That's just the way things are going. We want to make sure we move Illinois up a little bit."
"I doubt that I will be in favor of that if law enforcement feels that's not the right thing to do," Giannoulias said. "So we want to do everything to make sure we protect our roads and you know, protect against crime. So most likely that will not happen."
Giannoulias said he's also supportive of a pilot program that allows people to use a driving simulator, rather than driving on the street, for road tests. He attributed 75% of delays at driver's facilities to employees being tied up with driving tests.
Other modernization efforts could include electronic car titles and e-notaries.
"So there's so much exciting technology that's taken place across the country," Giannoulias said. "And I think now with a new administration and a new focus, I think a lot of this is attainable."
Asked about how he felt after touring the facility, Giannoulias said "like crying."
"This is not just the very best of Illinois, this is the very best of humanity," Giannoulias said. "So I couldn't be more excited about this partnership."
"This is one of the most inspirational things I've ever seen in my time in politics. I wish everyone who lives in Illinois could come here and see the amazing work that MRI does." 

— Illinois Secretary of State Alexi Giannoulias