LINCOLN — A disabled Army veteran said he owes his life to his service dog, Bowie, a Labrador-border collie mix.
When Jim Champion was awoken one Saturday night by his newly found friend and service dog Bowie's bark, he hushed him and went back to sleep. But Bowie didn't stop barking. 
Champion's room filled with smoke. His family's home in Somonauk, about 150 miles north of Decatur, was on fire.
Bowie had just completed training five days earlier through the Helping Paws program at the Logan Correctional Center. The program allows incarcerated women to train service dogs for people with disabilities, which is in partnership with Peoria-based nonprofit group Paws Giving Independence.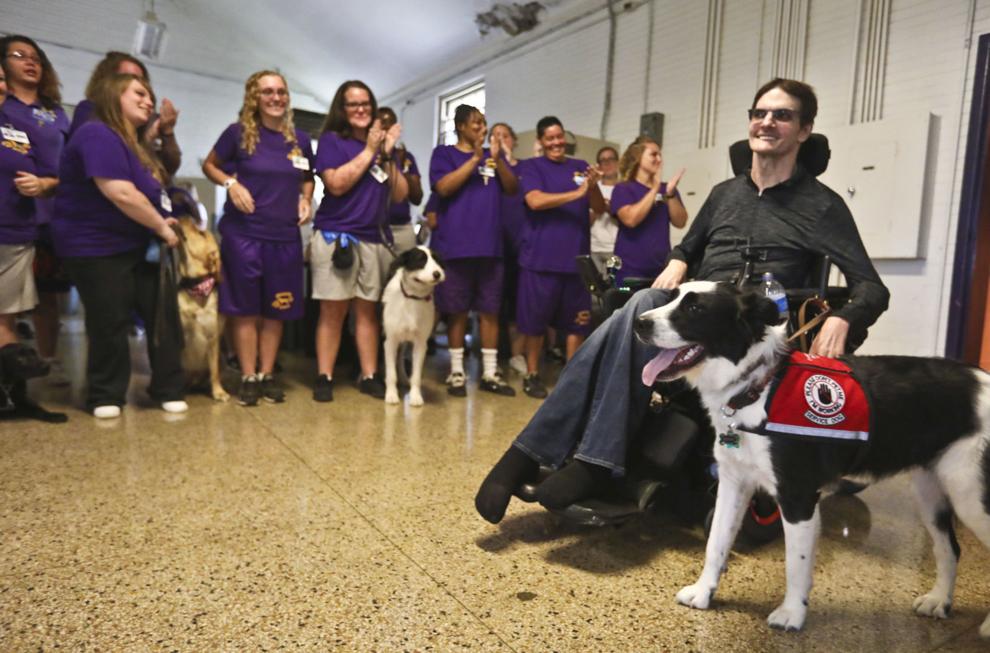 "First of all, thanks for saving my life," Champion said to the inmates involved in the Helping Paws program as he, his wife Sandy and Bowie entered the building at the prison Friday afternoon.
Champion said when he would go out in public, everyone would stare at him because he's just "a guy in a wheelchair." Now when he leaves his house, "Everybody is looking at the beautiful dog," Champion said.
The Champions met Dakota Wall, the woman who trained Bowie for just under a year, and helped save their lives and home. Wall wiped tears from her eyes as she spoke with Sandy Champion and met with the couple for the first time.
She said the offenders never get to meet the service dog recipients, and said "it feels wonderful" to meet Champion and his wife.
"I volunteered at shelters when I was a teenager, but I never even walked a dog on a leash until I came here," Wall said.
She has trained three dogs, all of which went to become certified service dogs, Brock Webb, Helping Paws program coordinator, said. Wall is currently working on training a fourth dog.
"She is a very gifted trainer, as most of the girls here are," he said. "Dakota is to be released in early 2022 and can have a great, solid future in this industry if she chooses."
"We had such an amazing bond," Wall said about her and Bowie.
After putting in 4,000 hours of training, Wall graduated from an apprenticeship program, where she became certified through the U.S. Department of Labor as a animal trainer. "I would love to do this later on." Wall said. 
The prison has 20 dogs and 55 offenders in the Helping Paws program currently. Nine dogs have graduated from the program this year and are living with their recipients, Webb said. The Helping Paws program started 20 years ago at the Dwight Correctional Center and moved to the Logan Correctional Center in 2013 when the female population moved to the facility.
Twenty of the inmates are primary trainers, while the other 35 are secondary trainers aspiring to become a primary trainer in the future, Webb said.
He said the unit works together with the dogs and attends daily groups, training procedures, re-entry-based education, cleaning details and more. About 50 percent of the dogs that go into the program graduate as a certified service dog. 
Michelle Yuen, co-director of Paws Giving Independence, said they have been working with Helping Paws at Logan Correctional Center for about eight years. Their organization provides dogs for the inmates to train and also checks in on their progress monthly.
The dogs are either rescue dogs or donated from breeders, Yuen said.
"It makes such a difference for both the dogs and the ladies," she said. The program shows the women they can make a difference in their community even while being in prison.
Webb said Helping Paws is one of the top recidivism-reducing programs in the state of Illinois. 
"(Jim) is the inspiration that keeps these girls doing what they do," he said.
Jim Champion said he is grateful Bowie has given him the confidence to not only do daily tasks, but also has given him mental and moral support.
"I sleep better at night knowing Bowie is watching for fires or anything else that might happen," he said.
Contact Kennedy Nolen at (217) 421-6985. Follow her on Twitter: @KNolenWrites