DECATUR — The Decatur Housing Authority may have to sacrifice a portion of proceeds to find buyers for eight modular homes the agency has struggled to fill for more than a year. It is the second time an outside vendor has been hired to market the near-westside houses, which have never had occupants.
Executive Director Jim Alpi said the nonprofit arm of the housing authority, called Decatur Pilot NFP, has an agreement with Decatur real estate company Brinkoetter & Associates to list the houses. Brinkoetter will get a 7 percent fee based on the final sale price. 
Because of the commission, the housing authority will see a lower monetary return than originally anticipated, but Alpi said it is worth it to sell the homes.
"Our cost will go up a little bit, and that is OK," Alpi said.
The side-by-side, three-bedroom houses in the the 1000 block of West Macon Street were funded through a $2 million Illinois Attorney General's Office grant intended to help low- and moderate-income people become homeowners. The Herald & Review in July 2017 obtained documents through the Freedom of Information Act that showed $1.7 million was spent on construction, or about $200,000 per house.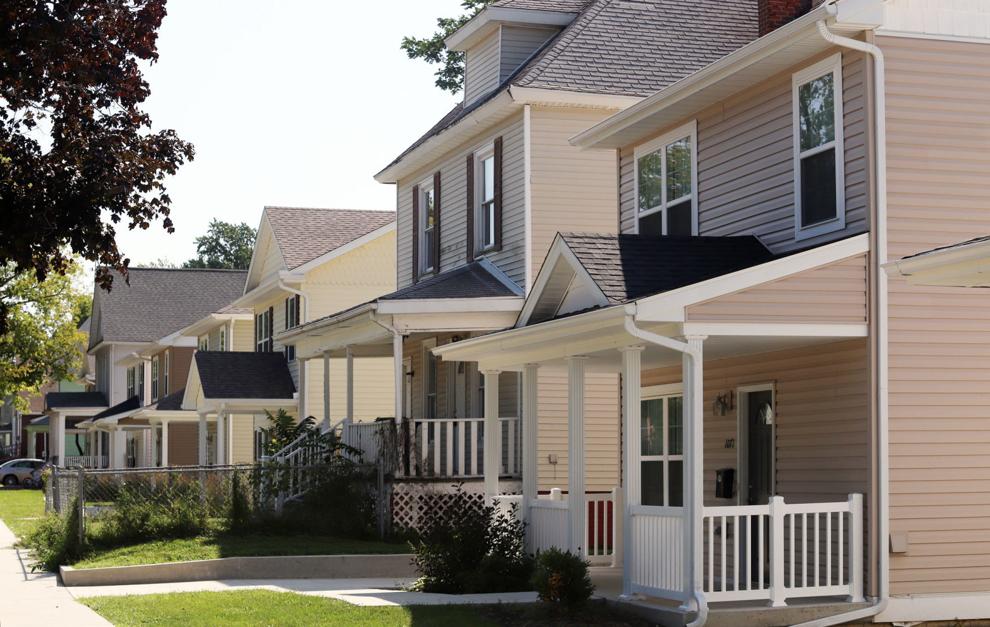 The majority of construction finished in November 2016, with exterior work wrapping up in May 2017.
The homes initially were to be sold based on an applicant's income, but local and state officials worried the discount would not provide enough money to cover building costs. Later, they decided to sell each for $80,000, but could not find qualified home buyers with sufficient credit or who met income guidelines.
Alpi last summer said that "some people were interested, but their financing did not go through."
In September 2017, part of a $25,000 marketing budget was used to hire a consultant, Courtney Boomer of the company Boomer Virtual, to market the houses online and on social media. Boomer at the time said the arrangement came about because she worked with Sharon Alpi, the founder of the Millikin University Center for Entrepreneurship, who also is Jim Alpi's wife. No bidding process was used.
Jim Alpi said Brinkoetter was brought in as the listing agent "because we haven't managed to sell them yet, and our attempts at direct marketing did not work, and so we decided to go with a professional." He said they checked with multiple real estate agents who had similar fee structures.
"It is a very traditional real estate listing contract," he said.
He said the real estate agent's commission may result in less money for future developments. The Housing Authority operates 478 public housing units in Decatur and provides 1,100 vouchers for subsidized housing. They also have an agreement with the Wabash Crossing development north of downtown. Part of the original plan for the Macon Street homes was that money would fund additional home construction.
Because the Brinkoetter agreement was through the Decatur Pilot organization, which acts the developer, it did not require approval from the housing authority board. Alpi declined to provide a copy of the agreement to the Herald & Review for this story. The newspaper filed a Freedom of Information Act to see the document.
Alpi also said he could not provide specifics on the number of interested parties since the agreement was reached in the spring. 
The houses as of Thursday were listed at $79,900 each. Seven have two stories and 2½ bathrooms, and the eighth is one story with two bathrooms. All have new appliances.
Real estate agent Carla Brinkoetter said typical homes in the price range sell within 120 to 180 days. She said the Macon Street properties are high quality and brand new — two major selling points despite the length of time on the market.
"After a house sits for a while, buyers are pretty smart, and they go, 'What is wrong with it?'" Brinkoetter said. "There is nothing wrong with them. They are new homes. They have never been lived in."
Their approach is that "we are getting out there on websites and social media where they weren't before," she said. 
She said one hurdle for buyers has been credit scores, which need to be above 635 to purchase the house. The housing authority ran into this issue with a few interested individuals who could not get approved for a loan.
Brinkoetter said there are local lenders who will assist, and credit scores can improve over time. Buyers also have to take a homeowner training program and have an income of $30,000 to $80,000 a year. The rules were part of the agreement with getting the original grant, awarded in 2013.
The money came through states settling with mortgage companies following the national foreclosure crisis. It required that money go to stabilizing housing and offering home ownership chances. The project was also seen as a way to revitalize this area of the near westside.
Brinkoetter said they're also interested in holding a community meeting to share information about the houses and homeownership, and they've reached out to churches and organizations.
"It is not so much that people are not aware of houses," Brinkoetter said. "It is getting them in a position to buy them where they meet the credit score criteria."
Contact Claire Hettinger at (217) 421-6985. Follow her on Twitter: @ClaireHettinger