SPRINGFIELD — U.S. House Speaker Nancy Pelosi rallied Illinois Democrats on Wednesday, Aug. 14, issuing a call for party unity and citing the state party's recent legislative successes as an inspiration for the national party to follow.
American values — especially the ones "centered on the kitchen table" — are what join them together under the party umbrella, she said in her keynote address at the annual Democratic County Chairs' Association brunch, which coincided with Governor's Day at the Illinois State Fair.
"I'm so thrilled to be here for many reasons — to pay my respects to all of you, to bring a message from our Democrats in the Congress — but also to catch the spark of Illinois, to catch the spark of the heartland of America, where our victory in 2020 will spring from," Pelosi, a Democrat from California, said before a crowd of more than 2,000 people.
Gov. J.B. Pritzker also fired up the crowd, rattling off a list of major accomplishments achieved during the 2019 legislative session that he said showed the rest of the country "what happens when Democrats get to work."
Those accomplishments include the passage of a law to raise the minimum wage to $15 hourly by 2025, criminal justice reforms, legalization of adult-use recreational marijuana, a proposed constitutional amendment to allow a graduated income tax, a $45 billion capital infrastructure plan and reproductive health legislation that enshrines access to abortion services as a fundamental right.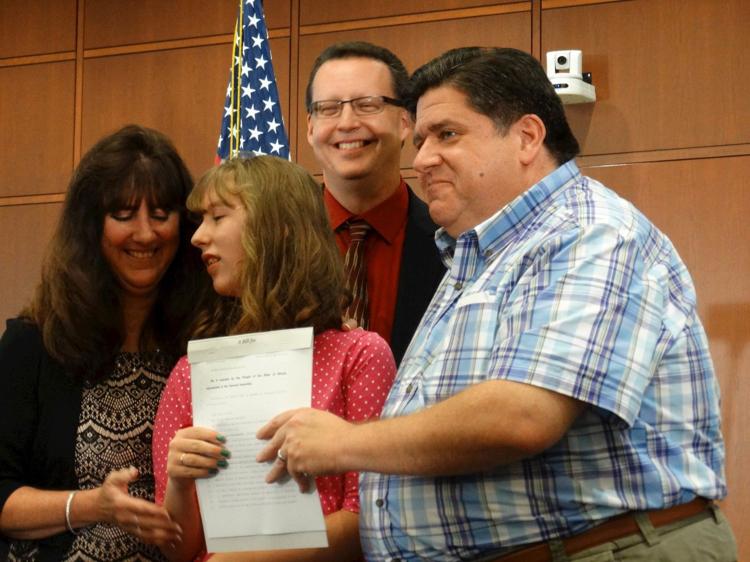 "Folks, the days of trying to shame Democrats for fighting for social and economic justice for working families, well those days are over," Pritzker said. "Right now, there is a battle being waged for the soul of our nation, and in the last eight months, Illinois has found its anthem."
The call for party unity, however, came against the backdrop of an increasingly visible rift within the Democratic caucus between the liberal and more moderate wings of the party, both nationally and within the Prairie State.
Pelosi, 79, has dealt with that in the U.S. House as a small group of young, liberal freshman women known as "the Squad" have openly criticized some of her management decisions.
Pelosi, however, tried to minimize the importance of that rift.
The legislative accomplishments of the Illinois General Assembly show that "a mainstream agenda can also be a progressive agenda," she said. "It has been proven in Illinois. Let's make that happen for the rest of the country."
REPUBLICAN DAY AT THE FAIR: One of the top Republican leaders in the U.S. House told the Illinois GOP Thursday, Aug. 15, that the state party can rebound, despite its devastating losses in the 2018 elections.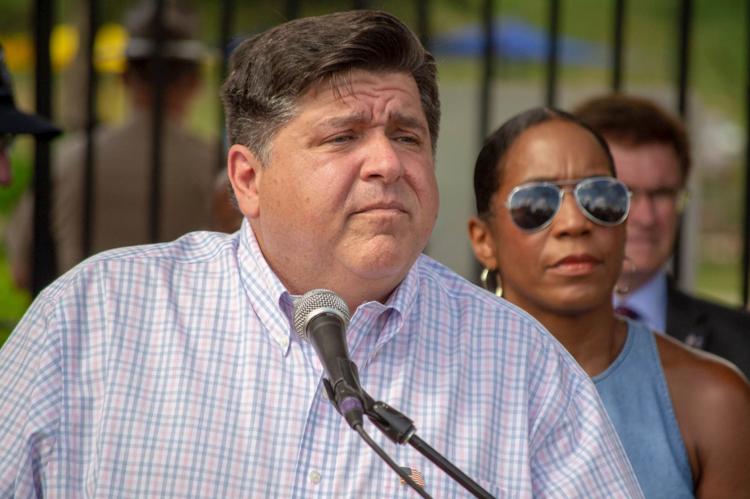 "It was a tough cycle for us in a lot of states, but Illinois was one of the ones where it was the toughest," House Minority Whip Steve Scalise, R-Louisiana, told the party faithful gathered at the Illinois State Fair. "And then you look at that and go, 'Is it ever going to get better again, can we ever take our state back?' You absolutely can take your state back, and you will take your state back by fighting the machine."
Scalise was the keynote speaker at the Republican Day picnic at the fair, where the theme of the day was "Fight the Machine," a reference to the Illinois Democratic Party. He noted that Louisiana politics was also once dominated by a Democratic machine, but Republicans have since wrested control of it.
"The ghost of Huey Long still walks the state capitol in Baton Rouge in many places, but we finally took it back," he said. "Today we have majorities in the House, in the Senate, and by the end of this year we will have every single statewide elected office as Republican. That's how far we've come. And in just a short period of time, you can do that too."
Scalise, 53, has served in Congress since 2008. Before that he served 12 years in the Louisiana House, followed by four months in the state Senate. But he was thrust into the national consciousness in June 2017 when he and three other people were shot and wounded by a gunman while practicing for an upcoming congressional softball game.
Also on the field at the time was Illinois Republican Rep. Rodney Davis, who introduced Scalise at Thursday's event.
The tone and the rhetoric of the GOP rally Thursday stood in stark contrast with that of Illinois Democrats on Wednesday, when Gov. J.B. Pritzker and U.S. House Speaker Nancy Pelosi, D-California, touted their accomplishments in the first legislative session since Democrats won back the governor's mansion and took super majorities in both the state House and Senate.
REPUBLICAN BREAKFAST: Leading Illinois Republicans acknowledged the stark political reality their party faces in the state at a joint breakfast of the state central committee and county chairmen's association Thursday, Aug. 15, but said the state's "aggressive progressive" swing to the left this year offers them an opportunity to rebound.
"We all know what happened in 2018, and I don't want to sugarcoat anything and tell you that it was such a great year because it wasn't," state Republican Party Chair Tim Schneider said in his opening remarks.
His party holds a superminority in each house of the Illinois General Assembly and no statewide elected positions, and it lost two congressional seats to Democrats in the "Blue Wave" election of 2018 which saw Democrats reclaim the U.S. House of Representatives.
"The northern half of the state didn't react very well to what was going on in the nation and we had a rough year," Schneider said. "… That's our current reality, but it doesn't and it won't be our future."
The meeting partially filled a small room at the Wyndham hotel in Springfield, and the vast majority of the state's 102 counties were not represented in a roll call which kicked of the event.
Those in attendance heard their leaders discuss the role of U.S. President Donald Trump and a graduated income tax ballot proposal in upcoming elections. In media interviews, those same leaders downplayed the sentiments of some in their party who have said Chicago and downstate Illinois should be separated into two states.
The unifying theme of the speakers was that the progressive tilt Illinois politicians have taken legislatively will force the pendulum of party politics back toward the right.
Senate Republican Leader Bill Brady, of Bloomington, said the Democrats' choice to invite Democratic U.S. House Speaker Nancy Pelosi to give the keynote address at their county chairs' association brunch Wednesday shows the party is "losing touch with independent and moderate voters."
"We will regain our position by reconnecting with independent and moderate voters who don't agree with the extreme nature and extreme policies of the Nancy Pelosis of the Democratic Party," Brady said.
GOVERNOR'S DAY AT THE FAIR: The state's elected constitutional officers – all of whom are Democrats – took to the Illinois State Fairgrounds on Wednesday, Aug. 14, for Gov. J.B. Pritzker's first Governor's Day Picnic.
The event followed a gathering of more than 2,000 Democrats, including U.S. House Speaker Nancy Pelosi, at a Springfield hotel earlier in the day.
While Pritzker said he invited Republicans in an effort to break tradition and make the Governor's Day event "bipartisan," none appeared with the governor or his fellow constitutional officers during their public remarks.
SPRINGFIELD — State Republicans leaders Thursday vowed the party will return from the debacle of the 2018 elections which saw Democrats grab a…
"Well they were sent invitations …," Pritzker said during a media interview after his public remarks. "A number of them said they were surprised when they opened up the invitation. … But look, … I've tried to bring back bipartisanship in this state. It's important to me that we all work together. We have too many challenges in the state for us to be divided and working against each other."
In his public remarks, Pritzker touted the success of the fair and said this year's grandstand ticket sales set an all-time record high.
He was followed by Secretary of State Jesse White, the 85-year-old who has held the post since 1999. White said he was asked if he would serve out the full four-year term he was just elected to or if he would step down halfway through.
"I used to jump out of airplanes. I did 35 jumps with the 101st Airborne Division," he said. "And when you jump out of an airplane, you never jump and stop halfway, it's all the way."
PUBLIC HEALTH: Gov. J.B. Pritzker signed a bill expanding insurance coverage for Illinoisans suffering from Lyme disease and discussed other health-related measures at a news conference in his State Capitol office Tuesday, Aug. 13.
The Democrat also touted a bill which requires insurers to cover the cost of medically necessary epinephrine shots for children, and once again said he was open to signing a "stronger" bill pertaining to the emissions of ethylene oxide, a known cancer-causing chemical, in Illinois.
House Bill 889, signed Tuesday, requires insurance companies to cover long-term antibiotic therapy, office visits, testing and treatment for tick-borne diseases such as Lyme disease. It takes effect immediately and opens the door for coverage of experimental drugs if they are federally approved.
Pritzker said late-stage Lyme disease treatments can cost thousands of dollars.
CHICAGO — President Donald Trump said Thursday he is still reviewing a possible commutation of disgraced former Democratic Gov. Rod Blagojevic…
"With this new legislation, Illinois is declaring that insurance can no longer put up barriers against those living with Lyme disease," he said.
Rep. Jonathan Carroll, a Northbrook Democrat, was the sponsor of the bill to expand epinephrine coverage to all persons 18 years of age and younger beginning Jan. 1, 2020.
"We are now on the forefront of food allergy safety in Illinois," he said.
Pritzker noted the cost of an epinephrine injection, known commonly by its brand name EpiPen, has risen 400 percent in recent years, now costing close to $700 without insurance, and the medication expires each year.
"To a child who cannot afford an EpiPen, one peanut, one bee sting, one exposure to latex can mean anaphylactic shock and potentially death," he said. "That's unconscionable."
STERIGENICS UPDATE: Gov. J.B. Pritzker on Tuesday, Aug. 13, responded to questions about ethylene oxide emissions, a public health issue that has made headlines in recent weeks because of a public fight to prevent Sterigenics, a medical supply sterilization company in Willowbrook, from being able to reopen.
Pritzker was asked during a news conference in Springfield about the potential of a special session regarding a bill to ban ethylene oxide emissions, and said he was looking for a stronger bill than one filed by Republican state Sen. John Curran, of Downers Grove.
"We're continuing to work toward it. You know, as I've said, I will sign the strongest legislation that they put forward. I know that Senator Curran has put something forward, but as has been discussed, that legislation has flaws in it that wouldn't work," Pritzker said.
The governor noted the bill sponsored by Curran refers to companies holding permits, which Sterigenics would no longer need and thus would not be affected.
"So we need to have a stronger piece of legislation. I have not heard from (House Republican) Leader (Jim) Durkin about his views on what the legislation should look like. But again, I think we're all open to a stronger version of the legislation that they already put forward. And that I signed."
You have free articles remaining.
AG DAY AT THE FAIR: In a classic duel of Pritzker vs. Pritzker, the first lady won.
Gov. J.B. Pritzker and First Lady M.K. Pritzker engaged in a bidding war at the Illinois State Fair on Tuesday, Aug. 13, with the governor's wife placing the winning bid of $75,000 for a grand champion steer named Lucius.
"I have to say, there's not a piece of that steer that doesn't entice me," the governor quipped with reporters after the sale. He later explained that much of the meat would be donated to the Central Illinois Food Bank.
Lucius, a 1,300-pound steer, was the prize animal of 13-year-old Cole Caldwell, of Elmwood. He had told fair officials earlier that whatever money he made from the sale would go toward his college education and future livestock projects. Still, he said afterwards, he was pleasantly surprised at how much Lucius fetched.
"I was surprised," he said after the sale. "It's a little bit of bragging rights for me. My sister won three years ago, and hers sold for less than mine did."
The Governor's Sale of Champions, held in the recently-renovated Coliseum building on the fairgrounds, was the highlight of Agriculture Day at the State Fair. In addition to the grand champion livestock, bidders at the auction also competed for grand champion cheeses, meats and other commodities, some of which garnered large amounts of money.
Blocks of grand champion medium cheddar cheese and Colby jack cheese, for example, went for $600 each, while a package of grand champion beef jerky went for $475, and gallon of the Best of Show dairy goat doe's milk sold for $1,500.
DURBIN AT THE FAIR: Dick Durbin was at the Illinois State Fair Tuesday, Aug. 13, to talk about agriculture. It was Ag Day, after all.
Instead, the state's senior U.S. senator spent a significant amount of his time with the press discussing state politics and policy. Durbin specifically addressed questions about members of his Democratic Party who made recent headlines.
State Sen. Tom Cullerton, from Villa Park, was indicted by a grand jury earlier this month on federal charges of embezzling funds from a labor union. He will be arraigned Wednesday.
Former colleagues of House Speaker Michael Madigan were subjects of FBI raids. The scope of that investigation is unclear.
And former Gov. Rod Blagojevich is serving time in a federal prison in Colorado. He is back in the news after comments made by U.S. President Donald Trump about a possible commutation.
"Listen, neither political party has a monopoly when it comes to virtue or moral turpitude," Durbin said. "It is human nature and the weakness of human nature that leads to Democrats, Republicans and those not in public office to commit crimes. We should be intolerant of it, speak out against it, and work together on a bipartisan basis to avoid it."
The senator addressed Trump's continued consideration of forgiving Blagojevich's 14-year prison sentence, which he received in part for his efforts to sell the U.S. Senate seat vacated by Barack Obama when he became president.
Durbin told reporters he thought the judgement Blagojevich received was "excessive" and "does not really match up with the crimes that he committed."
"You know, what he did was wrong," Durbin said. "He was arrested, prosecuted, convicted obviously, incarcerated, disgraced and separated from his family for seven-plus years."
PREVAILING WAGE: With a $45 billion, six-year capital infrastructure plan becoming law earlier this year, Illinois Comptroller Susana Mendoza signed an executive order Tuesday, Aug. 13, aimed at refocusing enforcement of state prevailing wage laws for construction projects receiving state money.
"When I took office in 2016, we made sure to let folks know that … our goal is to continue to enforce this executive act. What we're doing now is just reaffirming it and updating it and getting the word out as we embark on a $45 billion capital plan that this is state law, people need to be aware of it, they need to abide by it."
Prevailing wage is the rate of compensation determined by the government that must be paid to workers for projects involving state government funding.
At a news conference in her office Tuesday, Mendoza warned of halted checks for any contractor if it comes to her attention workers are not receiving the prevailing wage.
Mendoza said anyone believing a company is in violation of the act could notify her office.
"They would notify us, we would look into that alongside the Department of Labor, and we have the potential to stop payments, further vouchers going out, further warrants, essentially, being sent out until that corrective action is taken," she said.
TOWNSHIPS CONSOLIDATION: Gov. J.B. Pritzker signed a law giving voters in one Illinois county an option to more easily dissolve township governments. It is an initiative of two state lawmakers to ease residents' property taxes by reducing levels of government.
Barrington Hills Representative David McSweeney said it is the first step to providing that choice to voters throughout the state. Consolidation must first work well in McHenry County, the sixth most populous county in Illinois, before the experiment can expand.
"We need to show that it works, but in the future I plan to use this as a way to promote other types of consolidation — we need to look at school districts, park districts, municipalities," McSweeney, the law's House sponsor, said. "I am going to continue to focus on this."
There are more than 8,500 local government units in Illinois, according to the comptroller's website — 1,428 of those are townships. These are essentially the closest level of government to residents, required to provide general assistance to the poor, administer property assessments and maintain roads.
Citizens already had the ability to dissolve their township, but the new statute cuts in half the threshold for a grassroots petition to get on a ballot. A township board could also propose a proposition. In McHenry County, a township's operations, property and employees would transfer to the county government if it is dissolved.
The law additionally has a provision that property taxes used to cover services handled by the township would drop by at least 10 percent. Additionally, all money linked to a consolidated township must be used to benefit the geographic area of that eliminated level of government.
It takes effect immediately.
DEATH PENALTY: A Republican state lawmaker is calling for the resurrection of the death penalty in Illinois after two mass shootings in the U.S. and recent gun violence in Chicago.
Barrington Hills Rep. David McSweeney said he will either sponsor or co-sponsor some version of a measure overturning the permanent abolishment former Gov. Pat Quinn placed on capital punishment eight years ago. Former Gov. George Ryan had placed a moratorium on the death penalty in 2000.
At the time, Quinn said Illinois should not have a system in place that might result in the erroneous execution of citizens. McSweeney said "eliminating the death penalty was a terrible mistake."
"It has been a complete failure," he said.
Mass shootings in El Paso, Texas, and Dayton, Ohio, on Aug. 3-4 killed 31 people. In Chicago last weekend, four people were killed and 43 injured in gun-related violence, according to the Chicago Sun-Times.
"Texas officials are pursuing the death penalty against the coward racist who targeted Mexican Americans in El Paso. We should have that tool in the state of Illinois," McSweeney said. "The time to act is now, because the death penalty is a deterrent that we need to protect our citizens. No one can argue the state of Illinois is a model for how to fight crime."
In part, Quinn's argument for signing legislation making Illinois the 16th state to abolish capital punishment was the lack of advancement in DNA testing, McSweeney said. But DNA technology has progressed "light years" beyond its stage in 2011, he added, to be the "key to ensuring there are no wrongful convictions."
"I want to make sure there are safeguards," he said.
MEDICAL MARIJUANA: Democratic Gov. J.B. Pritzker celebrated a pair of new laws Monday, Aug. 12, that expand the state's medical marijuana program, including one that gives students more options for taking the drug at school.
One of the bills expands a 2018 law known as "Ashley's Law," which authorizes schools to allow parents, guardians or other caregivers to administer cannabis-infused products to a student who is authorized to use medical marijuana.
The law is named after Ashley Surin, a Schaumburg student who uses marijuana-based products to manage a seizure disorder she developed at age 3 while undergoing chemotherapy to treat cancer she had had since age 2. She won the right to use marijuana-infused products at school in a federal court battle that was decided in January 2018.
"We're so proud of her, and we're so happy this program is continuing and expanding because it's like a miracle that our daughter is doing so well, and I can't wait to see what she does next," Ashley's mother, Maureen Surin, said during the ceremony in Springfield.
Since enactment of the first medical marijuana law in Illinois in 2013, Pritzker noted, more than 80,000 patients across the state have received authority to use marijuana to treat certain medical conditions.
Under Senate Bill 455, which takes effect Jan. 1, 2020, schools will be required to allow a school nurse or administrator to administer cannabis-infused products to a student who is a registered qualifying patient. It also allows students to self-administer the medication, under the direct supervision of a nurse or school administrator, and it expands a student's access to the drug to include before- and after-school activities.
Pritzker also noted the signing of Senate Bill 2023, which he actually signed Friday, expanding and making permanent the medical cannabis pilot program, which was scheduled to sunset next year.
Among other things, it adds 11 conditions for which a person may use medical cannabis, including autism, chronic pain, migraines, osteoarthritis and anorexia nervosa. It also allows qualifying veterans access to medical marijuana as part of an Opioid Alternative Pilot Program.
CROP REPORT: This year's Illinois corn crop could be as much as 17 percent smaller than last year's crop, while soybean production could fall as much as 21 percent, the U.S. Department of Agriculture said Monday, Aug. 12.
Those numbers were part of a highly-anticipated report in which the USDA revised its most recent crop production estimates in light of this year's unusually wet planting season that delayed or prevented many farmers from getting crops into the ground, followed by a severe heat wave in July that affected the development of those crops.
As a result, USDA lowered its estimate of total acres planted for both major crops this year, as well as the per-acre yield for each crop.
Nationally, USDA projected that corn production would fall 14 percent this year, while soybean production is expected to drop 19 percent.
As bad as those numbers are, however, Illinois Department of Agriculture Director John Sullivan said they were not as bad as many farmers and traders had expected.
"All in all, I think that most farmers are surprised at what these numbers came out at. They expected them to be much lower," Sullivan said.
Sullivan said what surprised many people in Illinois is that, despite this year's weather conditions, USDA did not significantly lower its estimate on corn production, the single largest cash crop in Illinois.