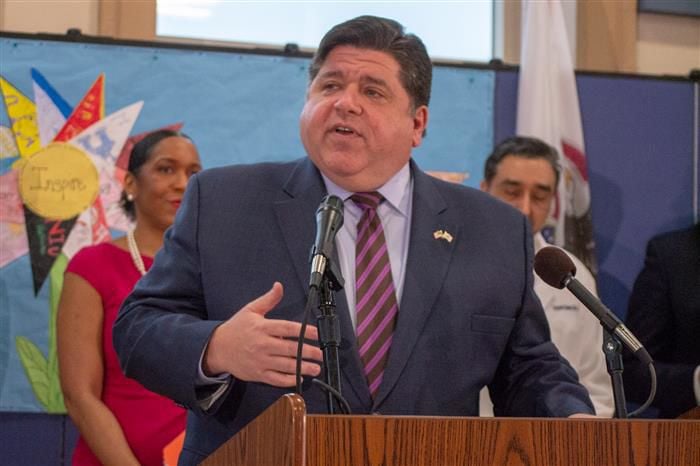 SPRINGFIELD – Illinois Supreme Court Justice Robert Thomas, a former placekicker with the Chicago Bears, will retire from his seat on the bench effective Feb. 29.
In a news release Monday, Feb. 10, Thomas said "the Lord has truly blessed me" with family — his wife, three kids and soon-to-be nine grandchildren; a former college and professional football career; and the "tremendous honor and privilege of serving as chief justice."
"While I will miss the collegial atmosphere with my colleagues on the court, I am ready to return to the practice of law and help clients achieve justice," he said.
He plans to join the Chicago-based Power Rogers law firm, which successfully represented him in a defamation suit against the Kane County Chronicle in 2006.
First elected to the high court in November 2000, and voted chief five years later, he was instrumental in opening its activities by allowing the online publication of video and audio from oral arguments. Thomas also supervised a mandatory continuing education program for Illinois lawyers and judges and established the court's Commission on Professionalism.
Thomas is the first Supreme Court leader from DuPage County. In remarks after ascending to the role, according to a news release, he promised to "[serve] the cause of justice, to [walk] humbly, and to never [lose] sight of the tremendous privilege that it is to wear the judicial robe, and to serve the people of this state."
"Justice Thomas was the chief when I joined the court and he cultivated a welcoming and professional environment," Chief Justice Anne Burke said in a news release. "His great sense of humor made a challenging job more enjoyable for everyone."
He wrote numerous influential opinions while on the bench — ones that confirmed former Gov. George Ryan's commutation of Illinois' death row inmates' sentences was constitutional; that Ryan, due to his federal felony convications, was not allowed to collect his two state pensions; and that former Chicago Mayor Rahm Emanuel was eligible to run for that office.
Thomas' football career included 10 years with the Chicago Bears and stints with the Detroit Lions, San Diego Chargers and New York Giants. He kicked collegiately at the University of Notre Dame.
Thomas is the third justice to retire in two years, following Charles Freeman in June 2018 and Lloyd Karmeier in November 2019.
The Supreme Court filled the vacancy that will be left by Thomas' retirement by a vote of the justices. They appointed Appellate Justice Michael Burke, who is not related to Chief Justice Burke and will serve from March 1 to Dec. 5, 2022, to that seat.
According to the state's Constitution, Burke will serve beyond the conclusion of Thomas' term to the next judicial election because there is less than 60 days before the March 17 primary.
A swearing-in date has not yet been determined, a court spokesperson said.
CRIMINAL JUSTICE REFORM: Criminal justice reform is high on Democratic Gov. JB Pritzker's agenda this year, but a legislative committee hearing Thursday, Feb. 13, in Chicago showed that reform advocates and the law enforcement community have widely differing views on the issue.
In January, Pritzker said ending cash bail and mandatory minimum sentences would be among his top priorities during the 2020 session, and those two subjects were the focus of Thursday's hearings.
There are more than 38,000 people being held in Illinois state prisons, according to Department of Corrections data. Of those, more than half are black, even though African-Americans make up only about 13 percent of the state's population. Many thousands more people are held in local jails while they await trial, often because they can't afford to post their bail.
"We know that over-incarceration based on poverty means that thousands remain in jail because of the lack of access to money, not because a judge has made a determination they are ineligible for release," said Sharone Mitchell of the Illinois Justice Project. "We know that there's a massive transfer of dollars from communities that can barely take the hit. And we know the vast majority of people who are paying these bonds are not the folks that have been accused of crimes, but women. In Cook County it's very much black women, mothers, sisters, and partners that are taking the financial hit of paying these bonds."
Thursday's hearing, however, came on the same day the Chicago Tribune published a story calling into question the city of Chicago's own bail reform initiative that began in 2017. Under that program, which was ordered by Cook County Chief Judge Timothy Evans, judges in that circuit are not allowed to set bail amounts so high that a defendant can't afford to pay it.
Evans released a report in May suggesting there had been no increase in violent crime since that order went into effect and that only a "very small fraction" of people charged with violent crimes committed new crimes after they were released. But an analysis by the Tribune uncovered flaws in both the data and the analysis used in that report, and the article said there was evidence that many more crimes were committed by defendants while out on bail.
Also in 2017, the General Assembly passed a statewide bail reform law that provides for a presumption that most people charged with nonviolent crimes, known as "Category B" offenses, could be released on conditions that do not require cash bonds. It also provides that cash bonds can be required for more serious charges, "Category A" offenses, but that a person could not be held solely for an inability to pay that bond.
DuPage County State's Attorney Robert Berlin testified that since that law went into effect, his county has seen an overall increase of 53 percent in defendants failing to appear for their court dates.
Thursday's hearing included members of two Senate committees and one House committee that will deal with criminal justice reform issues this session. Sen. Elgie Sims, a Chicago Democrat who chairs the Criminal Law Committee, said it was the first in a series of hearings that will be held throughout the state.
REDISTRICTING PUSH: A bipartisan coalition of state lawmakers and advocacy groups announced an effort in both chambers Thursday, Feb. 13, to overhaul the way Illinois' legislative districts are drawn.
Legislators from Chicago, its suburbs and downstate are backing a state constitutional amendment — twin measures in the Senate and House — shifting district mapmaking power from politicians to a 17-person commission whose members would be representative of state demographics.
In three news events across Illinois on Thursday, backers of the plan said the measure they call the "Fair Maps Amendment," more than any of the other redistricting reform proposals, is "comprehensive," "equitable, transparent, representative, and provides meaningful participation."
The amendment is backed by the same group that attempted to reform the redistricting process in the past three elections, CHANGE Illinois — the Coalition for Honest and New Government Ethics.
"As a sprawling federal corruption investigation continues, we should start to end corruption by ending gerrymandering where it begins when maps are drawn," Madeleine Doubek, the group's executive director, said. "Politicians picking their voters clearly is the epitome of a conflict of interest."
Hawthorn Woods Republican Sen. Dan McConchie, who spoke at a news conference in Chicago, said "this is the place we need to start" to "root out corruption" in Illinois.
The current process favors the General Assembly's majority party, said Sen. Melinda Bush, a majority party Grayslake Democrat and lead sponsor in her chamber.
Currently, the Legislature is responsible for drawing Illinois' legislative and congressional maps, with a party holding both chambers – like the Democrats currently do – having outsized control. Maps are drawn after the U.S. Census every decade, and the Illinois Constitution requires districts to be "compact, contiguous and substantially equal in population."
Under the coalition's proposal, 17 commission members would be appointed by the Illinois Supreme Court — seven registered Democrats, seven registered Republicans and three with different or no party affiliation. Each congressional district can have only one commissioner.
Members of the public would be able to comment on any commission proposal, and could submit their own district maps. The commission would have to look at all submissions.
Doubek said this proposal is a revised version of an amendment submitted by CHANGE Illinois over the past two years, and "does a lot to improve equity, transparency and accountability."
Both chambers of the Legislature need to approve a constitutional amendment by a three-fifths majority before it can go to voters. That effectively sets the deadline as Sunday, May 3, because six months must pass before an amendment can appear on the general election ballot.
TECHNOLOGY INNOVATION NETWORK: Gov. JB Pritzker on Wednesday, Feb. 12, touted statewide benefits he said will result from a $500 million state investment in 15 hubs of a University of Illinois-led public-private research institute network.
Pritzker, a Democrat, announced at a Chicago news conference on the site of one of the future developments that the state would release the funding, which was originally approved under former Republican Gov. Bruce Rauner and reauthorized in last year's state operating budget.
The money is for the planning and construction of the Discovery Partners Institute — a public-private research and development and workforce development hub led by the UI — and 14 other hubs of a statewide program.
"Today's announcement is so exciting. It will fast-track construction planning and we hope to break ground for DPI in a few months," said UI President Timothy Killeen.
The DPI campus will receive $230 million of the $500 million state investment and will be located in Chicago's South Loop in a development area known as The 78, so named because the real estate developer, Related Midwest, has plans to make it the city's 78th neighborhood.
Pritzker said through another UI-led program — the Illinois Innovation Network, or IIN — the investment's economic impact will be felt statewide. The IIN is a network of DPI and another 14 regional hubs which will receive portions of the other $270 million in state funding.
Those hubs include partnerships with all of the state's public universities, which will each create specific programs and facilities that fall in line with the IIN's and DPI's innovation, workforce development and economic growth goals. The stated goal of the program is to train the state's workforce for in-demand technology jobs.
Pritzker said making Illinois a hub for technological innovation will make it a more desirable place for students specializing in technological fields to start their careers after college graduation.
EDUCATION SURVEY: Most adults in Illinois give the state's public school system only a so-so grade, but they give slightly higher marks for their own local schools.
That's according to a new survey commissioned by the Illinois Education Association, the state's largest teachers union. The survey, called the State of Education Report, also found broad public support for increasing funding for K-12 education and raising educator salaries.
"High-quality public education remains a high priority, and while there is no consensus on how to fix schools, funding and quality teachers are seen as a key," IEA President Kathi Griffin said during a news conference Tuesday, Feb. 11.
The survey of 1,000 adults in Illinois was conducted Nov. 13-21 by Normington-Petts & Associates, a Democratic polling firm, and We Ask America, a Republican-leaning firm. The survey had a margin of error of plus or minus 3.1 percentage points.
When asked to give the state's public school system a letter grade, only 2 percent of respondents gave it an A, while 20 percent gave it a B, both down slightly from a similar survey conducted last year. Forty-one percent gave the state a C, while 31 percent gave it a D or F.
Opinions were slightly more positive when respondents were asked about the schools in their own local community: 16 percent gave an A to their local schools and 37 percent gave them a B. Forty-three percent gave their local schools a C or lower.
Griffin said the survey revealed no clear consensus about how to improve the state's school system, although 59 percent said having high-quality public schools should be a "top priority." The only other issue that ranked higher in the survey was cleaning up corruption in state government. Reducing crime, balancing the state budget and lowering taxes all ranked lower.
CORONAVIRUS TESTING: The Illinois Department of Public Health now has the ability to test for the 2019 novel coronavirus in-state, meaning shorter wait times for test results for people showing symptoms of the virus and meeting certain criteria.
IDPH said in a news release Tuesday, Feb. 11, that Illinois is the first state to be able to do the testing without shipping specimens out of state, and results are typically available within 24 hours.
"The ability to do this testing will mean we will be able to detect any new cases of novel coronavirus earlier and prevent any possible spread," IDPH Assistant Director Evonda Thomas-Smith said in the news release. "We understand there is concern about this new virus, which is why having test results back quickly can help reduce some of those concerns."
While the World Health Organization has declared the coronavirus a global health emergency, the U.S. Centers for Disease Control and Prevention says the risk to the U.S. public at large "remains low at this time."
The CDC began shipping test kits to select qualified U.S. and international laboratories last week, and IDPH is working to bring testing online in its Springfield and Carbondale labs.
In Illinois, two people have tested positive for novel coronavirus. The first was a woman who had recently traveled to Wuhan, China, which is at the center of the outbreak. The second was her husband, who contracted the virus after close contact with her. Authorities said at the time the transmission of the virus from wife to husband was "not totally unexpected."
Both patients were released from the hospital to home isolation last week "under the guidance of the Centers for Disease Control and Prevention and the Illinois Department of Public Health," according to the Chicago Sun-Times.
Another 44 tests for the virus in Illinois residents have come back negative, according to IDPH. Another three tests of "persons under investigation" are pending.
ETO EMISSIONS: Illinois' top lawyer has asked the U.S. Environmental Protection Agency to enact more rigorous ethylene oxide emissions standards in the wake of public pressure on the General Assembly to consider stricter regulations.
More than 70 lawsuits have been filed against Sterigenics, a medical supply sterilization company in suburban Willowbrook, claiming exposure to the gas caused serious health problems. That company closed its doors in Illinois last year after facing intense public backlash.
Attorney General Kwame Raoul and 10 other attorneys general sent a letter to EPA Administrator Andrew Wheeler asking the agency to not only adopt regulations that "adequately protect public health and the environment from the well-documented risks posed" by the gas, but also to work with the U.S. Food and Drug Administration to research alternative sterilization methods and "end the over-reliance" on ethylene oxide.
The dangers of its emissions from such wholesale sterilization facilities as Sterigenics "may have been significantly underestimated for years," according to the letter.
"As an EPA investigation into one company in Willowbrook, Illinois shows, these facilities are very likely under-reporting actual emissions and so obscuring the true extent of the hazard posed by their operations to workers and residents in neighboring communities," the attorneys general wrote. "And there are similar facilities that may pose a similar risk in many of the undersigned states."
Those include Delaware, Iowa, Maryland, Massachusetts, Michigan, Minnesota, New Jersey, New York, Rhode Island and Vermont.
TRADE WAR AID: Illinois U.S. Sen. Dick Durbin is accusing the U.S. Department of Agriculture of playing favorites with trade war aid payments by giving more money to southern cotton farmers who were less affected by the trade war than Illinois soybean farmers.
"USDA has overcompensated southern cotton growers, whose market losses are small and whose prices have gone up, with more aid on a county-by-county basis than Illinois' soybean farmers," Durbin said in a statement Monday, Feb. 10.
Durbin, a Democrat who sits on the Senate agriculture committee, made the accusation after the USDA last week distributed the third and final round of aid payments to farmers affected by the ongoing trade war with China.
The $14.5 billion of payments came from an aid package called the Market Facilitation Program, which aimed to cushion the blow of international trade disputes on farm income.
"Under President Trump, farmers last year received 40 percent of their income from the government," Durbin said, referring to the $33 billion of trade aid, disaster assistance and Farm Bill subsidies that have kept farmers afloat.
A report published by Democrats on the agriculture committee, which analyzed the first round of payments, showed that southern cotton farmers received more money per acre than Midwest soybean farmers who were harder hit.
The five states that received the most aid per acre were heavy cotton producers Georgia, Mississippi, Alabama, Tennessee and Arkansas. Illinois, America's largest soybean producer, ranked sixth.
"While Senator Durbin may point to higher per acre rates in some portions of the Southeast," said a USDA spokesperson, "it's important to remember that Illinois farmers received more from the Market Facilitation Program at nearly $1.45 billion than all farmers in the top four cotton producing states in the Southeast."
Get Government & Politics updates in your inbox!
Stay up-to-date on the latest in local and national government and political topics with our newsletter.