SPRINGFIELD — Democratic Gov. J.B. Pritzker on Friday, May 17, briefed lawmakers on a proposed capital improvements plan that calls for spending $41.5 billion on transportation, education, public health and other infrastructure projects over six years, funded by a host of new or increased taxes and fees.
The proposal, which officials say represents only a "preliminary draft" of what a final capital bill could look like, was shared with legislative leaders early Friday. A copy was obtained by Capitol News Illinois.
"As a result of working group sessions with lawmakers on both sides of the aisle from both chambers of the General Assembly, the administration is working on a preliminary draft of a comprehensive capital plan that will put 540,000 Illinoisans back to work and finally fix our crumbling infrastructure," Pritzker's press secretary, Jordan Abudayyeh, said in a statement after several news organizations had obtained the document. "The administration looks forward to continuing to engaging in productive conversations before the proposal is finalized."
The program, which the administration is branding as "Rebuild Illinois," would combine $17.8 billion in new bonds with $10 billion in federal funding; $7 billion in current, ongoing state revenues; and $6.6 billion in local government revenues and private sources of funding.
The bulk of the spending — about $28.6 billion, or 69 percent — would be earmarked for transportation projects, including roads and bridges, mass transit, rail and aviation.
Among the major projects listed in the draft plan are $1 billion to improve a portion of Interstate 80 in Will County; $135.4 million to reconstruct the interchange between Interstate 55 and Interstate 72 south of Springfield; and $61.2 million for improvements to a stretch of U.S. Highway 40 that runs through Effingham.
The draft also calls for $5.9 billion, or 14 percent of the total, in spending on education buildings, including $2.4 billion for college and university campuses and $3.5 billion for preK-12 schools.
The rest of the funding would go toward improving state facilities, environmental conservation projects, broadband deployment, health care and human services projects such as construction of affordable housing, and economic and community development projects.
To pay for the state's share of those ventures, Pritzker has suggested raising nearly $1.8 billion per year in new or higher taxes and fees. The largest of those would be doubling the state's motor fuels tax from 19 cents to 34 cents per gallon, a smaller increase than has been suggested in other proposals. That would generate an estimated $560 million.
Others include raising registration fees for both traditional and electric vehicles; doubling the tax on real estate transfers of nonresidential property from 50 cents to $1 for each $500 in market value; imposing a new tax of $1 per ride on ride-sharing services such as Uber and Lyft; imposing a new 7 percent tax on cable, satellite and streaming services; raising the state's liquor gallonage tax; adding a new tax on parking garage fees; removing the sales tax exemption on the value of traded-in property; and dedicating a portion of a proposed video gambling terminal tax increase to the capital plan.
GRADUATED INCOME TAX: With only two weeks remaining in the 2019 regular session, Democrats in the Illinois House say they are close to securing the 71 votes needed to pass one of Gov. J.B. Pritzker's top priorities, a constitutional amendment to overhaul the state's income tax system.
"I think we are rapidly closing in on 71 and I'm confident the governor will, with the personal meetings he's having with members, get us over the hump," Rep. Robert Martwick, a Chicago Democrat and the lead sponsor of the measure in the House, said Thursday, May 16.
The proposed amendment, which cleared the Senate on May 1, would allow the General Assembly to replace the state's "flat" income tax system, where all tax filers pay the same rate, regardless of their income, with a multi-bracket "graduated" tax that would impose higher rates on higher levels of income.
But the amendment has languished in the House Revenue and Finance Committee while Democratic leaders have struggled to secure the three-fifths majority, 71 votes, needed to place the issue on the November 2020 ballot. In that election, it would need support from either three-fifths of those voting on the question or a majority of all people voting in the election in order to take effect.
Pritzker has said he believes a graduated tax is the only way to solve the state's long-term structural budget deficit without making draconian cuts in funding for public services. Opponents, however, argue that such a system would make it easier in the future for lawmakers to raise taxes on selected groups of people.
In addition to the amendment, the Senate also passed a bill May 1 spelling out what the new tax rates would be if the amendment is approved.
Rep. Michael Zalewski, a Riverside Democrat who chairs the Revenue and Finance Committee, also said he's hopeful Pritzker can secure the votes needed in the House.
"I think the governor has had some productive conversations with members in the last week," he said.
Zalewski's committee is scheduled to meet Monday afternoon, May 20, and some observers believe the amendment could come up for a vote then, sending it to the full House for a vote.
If the measure is to pass the House, supporters will have to secure the votes entirely from within the 73-member Democratic caucus because House Republicans have said they are unanimously against it.
HOUSE GOP MEMO: Illinois House Republican leadership will brief their members Monday, May 20, on a balanced budget proposal which they say the governor's office won't listen to, according to an internal caucus memo obtained by Capitol News Illinois on Friday, May 16.
"While Governor Pritzker has been occupied hosting cocktail parties, the House Republican Caucus budget team has been working diligently to ensure we are on sound footing offering a budget plan that doesn't rely on additional tax increases on Illinois families and small businesses," Deputy Republican Leader Tom Demmer, of Dixon, said in the memo.
Jordan Abudayyeh, a spokeswoman for Democratic Gov. J.B. Pritzker, however, said the governor remains in contact with Republican leadership.
"The legislative leaders of both parties are in regular contact with the governor himself and staff. As negotiations continue on a variety of issues, the governor is happy to meet with leaders in the format they prefer," she said.
On Thursday, Demmer said bipartisan House working groups which include representatives of the governor's office have been meeting throughout the legislative session to identify cuts of 6 to 10 percent across state agencies—cuts that Demmer said are largely no longer needed due to increased revenue estimates.
The last meeting between the governor and all four legislative leaders, however, occurred on April 11.
The memo carries the same tone taken by the House GOP in a pair of news conferences in which they claimed greater-than-expected April revenues allow for a balanced budget that is not reliant on new taxes.
That unexpected April revenue totaled $1.5 billion and led government financial forecasters to up their fiscal year 2020 revenue estimate by $800 million.
The House GOP said the added revenue estimates, coupled with new revenue streams from Pritzker-backed proposals, will eliminate the prospect of "draconian cuts," the idea of which they believe Democrats are using to sell tax increases such as a graduated income tax to the public.
TEACHER TESTING: A test required for teacher licensing that many argue has contributed to the state's teacher shortage might soon be suspended.
The Illinois Senate on Thursday, May 16, passed and sent to Gov. J.B. Pritzker House Bill 423, which would put what is known as the "test of basic skills" on hold until July 1, 2025, while state officials try to determine whether that will help relieve the state's teacher shortage.
The bill also calls on the Illinois State Board of Education to re-evaluate the method it uses to score another mandatory test that prospective teachers must pass, one that measures their mastery of the content area in which they want to teach.
Those tests are among three tests that people applying for teaching licenses in Illinois must pass. They also must pass a test covering their content area and a test covering teaching practices and standards, known as the edTPA.
A separate bill, House Bill 256, by Chicago Democratic Rep. Will Guzzardi, would drastically overhaul that exam as well by removing a component requiring prospective Illinois teachers to videotape themselves in an actual classroom setting. That bill also passed the House in April but so far has not been assigned to a Senate committee.
Those tests were the subject of extensive hearings in the Illinois House where Rep. Sue Scherer, a Decatur Democrat and chief sponsor of the bill, questioned their value and effectiveness. She and others have also suggested that they deter many people from trying to enter the teaching profession and that they have a disproportionate impact on people of color, contributing to the state's teacher shortage.
"We are at a crisis level in the teacher shortage," Scherer said on the House floor during debate over the bill. "It's affecting basically every region in every area across the state, which some people are unaware of. Many classrooms are sitting there without a qualified teacher. I know of a school district that right now has 50 open classrooms without a qualified teacher."
The bill suspending the basic skills test until 2015 passed the House in April, 85-25. It passed the Senate on Thursday, 55-0.
MARIJUANA LEGALIZATION: Some provisions that advocates for recreational marijuana legalization have said are the most important facets of their bill faced the stiffest questions at a legislative hearing Wednesday, May 15.
"Throughout all of the work we've been doing, there's been three real themes that have arisen on why we should be doing this," said state Sen. Heather Steans, Senate Bill 7's sponsor. "We want public safety, particularly for our kids; we want social justice; and we want, by getting our policy right, additional revenue for the state."
But, at an Illinois Senate Executive Committee hearing, Steans, D-Chicago, and fellow legalization supporters faced questions about expungement measures in the current bill, public health effects of legalization and normalization of marijuana, and where the revenues resulting from legalization will be distributed.
Deputy Gov. Christian Mitchell said Gov. J.B. Pritzker's office is willing to negotiate the expungement matter as lawmakers questioned the process laid out in the current bill.
State Sen. Dale Righter, a Mattoon Republican, questioned why the expungement provision applies to people who faced charges for possessing up to 500 grams of marijuana when the current legislation allows for possession of up to only 30 grams.
Mitchell said that amount was chosen because companies would be manufacturing that much cannabis with intent to deliver while some were sitting in jail for the same offense.
"I think the idea here is that those who are convicted of these offenses should not suffer the lifelong consequences of having this criminal record," he said.
Republican Sen. Jason Barickman, of Bloomington, said he was interested in coming to an agreement on cannabis legalization. But he said he preferred an expungement process that is initiated by a blanket pardon by the governor, rather than passed by the Legislature with the onus on the Illinois State Police to identify individuals eligible for expungement.
Steans said revenue resulting from legalization is expected to reach $500 million annually when the program is fully matured, but fiscal year 2020 revenue estimates would be closer to $56 million – far less than the $170 million in Pritzker's January budget proposal. In FY 2021, estimates are for about $140 million.
Several opponents testified against legalization, pointing to public health consequences such as increases in driving under the influence and normalization leading to increased use. Some said legalization will send the message to youth that marijuana use is OK.
ABORTION BILLS: Democratic lawmakers demanded their colleagues take action on a controversial, sweeping reproductive health care bill at a rally Wednesday, May 15, just outside the Statehouse.
Their call for the Reproductive Health Act to get a committee hearing comes amid recent action by other states to restrict access to abortion procedures.
The act, proposed in the House by Rep. Kelly Cassidy, from Chicago, and in the Senate by Sen. Melinda Bush, from Grayslake, would repeal Illinois' abortion law and replace it with what backers and detractors agree would be the most liberal reproductive health care legislation in the country.
Democratic Gov. J.B. Pritzker has vowed to "make Illinois the most progressive state in the nation for access to reproductive health care," seemingly indicating he would sign the bill if it arrived on his desk.
But after its introduction in February, both versions have sat in legislative limbo.
"Since that day, each week has brought a new horror, a new reason why this is so much more important," Cassidy said. "I woke up this morning to yet more news of how close we are to losing our right to self-determination, our right to access true reproductive health care."
She was referencing a law signed Wednesday by Alabama's governor effectively banning abortion in the state. Others, including Georgia, Kentucky, Mississippi and Ohio have passed other restrictive laws this year.
Some of those states aim to get their laws before the U.S. Supreme Court in hopes of overturning Roe v. Wade, the landmark 1973 case that legalized abortion nationwide.
Sara Hutchinson Ratcliffe, vice president of Catholics for Choice, called those bills "onerous and cruel." The group supports the Reproductive Health Act.
Cassidy and Bush were joined by about 20 legislators from both chambers of the General Assembly in urging their colleagues to codify the protections enshrined in the act, given the current political climate. Behind the group were about 60 women dressed as Handmaids, characters from Margaret Atwood's dystopian novel.
CAPITAL BILL: A new report says subpar roads in Illinois are costing drivers $1,300 to $2,600 in repair, safety and congestion costs annually, and that number will increase if the state does not take action on an infrastructure bill this legislative session.
Unveiling the report Wednesday, May 15, at the Capitol, representatives of the Illinois Chamber of Commerce joined one Democrat and two Republican lawmakers who said they are ready to take the lead on an infrastructure bill, and all sources of revenue – including hikes to the motor fuel tax and vehicle registration fees – are on the table.
"You can't build 21st century infrastructure with 1990s money. There isn't enough efficiency, there isn't enough reform, you just can't do it," said Republican Rep. Margo McDermed, of Mokena. "We still need to look at the fact that our buying power has plummeted because cars are much more efficient and we don't get as much money in, number one. And number two, inflation. We haven't raised that (gas tax) number since 1990."
McDermed joined the two other lawmakers, Sen. Martin Sandoval (D-Chicago) and Don DeWitte (R-St. Charles), in saying the independent report by national transportation research group, TRIP, demonstrates the cost of inaction on an infrastructure bill.
"The real question we have to ask is, 'What is the cost if we do nothing?'" DeWitte said. "[The report] is more evidence that the longer we wait, not only do things get worse, but the more expensive it becomes."
The report estimates drivers in Illinois face $18.3 billion in annual vehicle costs as a result of rough roads, traffic crashes, and lost time and wasted fuel caused by congestion.
In Springfield, that boils down to about $1,300 per person annually. In the Chicago area, it amounts to about $2,600 each year.
Sandoval, who chairs the Senate committee that has been touring the state to hear from local officials about infrastructure needs, is sponsoring legislation to raise the state's gas tax by up to 25 cents while hiking vehicle registration fees. He said his proposal, which would raise $2.4 billion in revenue, is a launching point for discussions on a capital bill.
DCFS REFORMS: Democratic Gov. J.B. Pritzker vowed Wednesday, May 15, to carry out all of the recommendations in a new, independent report that calls for sweeping reforms at the Illinois Department of Children and Family Services to prevent future deaths of children who have been in foster care or other child welfare programs.
The report by Chapin Hall, a child and family welfare policy research institute at the University of Chicago, focused on what are known as "Intact Family Services," which are intended to address cases of child abuse or neglect without removing those children from their homes.
In most cases, those services are provided by outside agencies that contract with DCFS, although the agency does keep direct control of certain "high-risk" cases. Over the past several months, there have been a number of high-profile deaths of children whose families had previously received those services.
The report cited a number of "systemic influences" within DCFS that have prevented the agency from operating those programs effectively. Those include "structural" issues in the way in which teams and individuals are organized and held accountable; "procedural" issues involving how cases are managed and how work flows in business processes; and "cultural" issues involving commonly held beliefs among people who work in the system.
"These challenges are the result of many years of misguided decisions, underdeveloped program rollouts and unacceptable funding cuts," Pritzker said at a Statehouse news conference. "There is nowhere in the Illinois government that has been more hollowed out than DCFS. And there is nowhere in state government where those cuts have done more damage."
The report noted the rate of child deaths from maltreatment is actually slightly lower than the national rate – 2.19 per 100,000 children in Illinois, versus 2.36 per 100,000 children nationally. It also noted that while the actual number of child maltreatment-related deaths each year has been declining, the actual incidence of child abuse and neglect has been growing.
In his budget proposal, Pritzker has asked lawmakers for an additional $75 million for DCFS and authority to hire an additional 126 case workers.
But the report calls for additional reforms within the agency, such as working with courts and prosecutors to refine the criteria used for removing children from their homes, refining protocols for closing Intact Family Services cases, and improving the quality of supervision within the agency to provide more clear lines of authority and supervision.
"The recommendations provided by Chapin Hall amount to an overhaul of Intact Family Services," Pritzker said. "I am committed to carrying out that overhaul as quickly and effectively as possible."
HEALTH CARE SERVICES: Illinois falls short in providing the funding and worker compensation to keep the health care services industry stable, advocates representing various organizations from around the state said this week.
Of the state's 102 counties, 85 are designated as "health professional shortage areas," Sara Howe, CEO for the Illinois Association for Behavioral Health, said during a House Appropriations-Human Service Committee meeting Thursday, May 16, at the Capitol.
Howe said Illinois is a "detox desert" with limited facilities, a national ranking of fifth for adult binge drinking, and hospitalization rates for adults with serious mental disorders that are 1.5 times higher than the national average.
While requests for substance abuse and mental health services have increased, organizations that provide them have been underfunded for at least a decade, she added.
"At the same time, the rates for mental health and substance use disorders have remained stagnant with only sporadic, inconsistent and negligible increases that have not kept pace with the cost of providing quality, evidenced-based services," Howe said.
Rep. Robyn Gabel, a Democrat from Evanston, sponsored HB 2717 to increase by 10 percent the funding for community-based substance abuse center grants available through the Department of Human Services (to $9.2 million) and for certified community mental health centers (to $19.3 million).
Howe said those appropriations would be "a down payment to reverse the damage we've seen," but the actual amount needed to bring funding back in pace with cost is most likely higher.
Several organizations that provide services for the elderly and children hold a common position on funding: They need more money simply to maintain the services provided.
Sister Catherine Ryan, on behalf of Maryville Academy as well as Ann and Robert H. Lurie Children's Hospital, and Dr. Peter Smith, medical director of Almost Home Kids, gave testimony about services provided to children with complex needs and representing "stressed" populations. Most receive insurance through the state.
The reimbursement for service through insurance amounts to $683 a day, Ryan said, when the actual cost of services is $950. House Bill 2714, also sponsored by Gabel, would allow alternative, transitional facilities like the ones Ryan and Smith represent to receive a reimbursement of $950.
TOBACCO TAX: A Democratic state lawmaker on Thursday, May 16, called Senate President John Cullerton's proposal to raise Illinois' usage tax on tobacco products "too unreasonable" at a time when the General Assembly is considering a slew of other tax hikes.
Cullerton announced last week he wants to increase the state's tax on a pack of cigarettes by $1, to $2.98. That is about triple the 32 cents Democratic Gov. J.B. Pritzker introduced in his budget proposal.
The Senate president's initiative would also include a 64 percent bump on the wholesale price of other tobacco products, including cigars, chewing tobacco and snuff.
But Rep. Thaddeus Jones, from Calumet City, said that plan would turn Illinois into a "job creator" for surrounding states.
"I appreciate President Cullerton for his advocacy, but this is the wrong way to go. We've gone through several phases of taxing cigarettes that now is driving businesses and driving people away from Illinois and driving them to border states, and we've got to stop it," Jones said. "It's not having the effect that the president wants. It's not stopping people from smoking. What it's doing is making people in my community who can least afford it, who are on a fixed income, choose to go to Indiana to make sure they get cigarettes."
His constituents are already travelling to Indiana to get gas and groceries, he said. Some purchase tobacco products there as well.
Cullerton has not officially filed legislation to raise the tax on cigarettes and other tobacco products, but is expected to do so next week.
DISSOLVING TOWNSHIPS: The Senate has sent to Democratic Gov. J.B. Pritzker a bill that would allow voters in McHenry County dissolve townships there.
The Senate on Thursday, May 16, voted 44-3 to approve House Bill 348, which House sponsor Rep. David McSweeney, R-Barrington Hills, said is aimed at lowering residents' property taxes by eliminating some of the county's 17 townships.
If the consolidation process goes well in the sixth most populous county in the state, McSweeney wants to expand the initiative to the rest of Illinois.
"If we want to permanently lower property taxes in Illinois, we have to do something to shrink the number of units of local government we have," he said in a statement. "This bill is not a requirement. It is permissive. It puts the decision in the hands of the voters, and that is the way it should be."
The bill lowers the threshold for a citizen-initiated petition to get the option on a ballot, and provides for a township board to submit a proposition to voters.
It was carried by Sen. Terry Link, a Democrat from Vernon Hills.
"I thank leader Link for his hard work in getting this bill passed in the Senate," McSweeney said. "This is a bipartisan effort to help lower the property tax burden for residents, and I certainly appreciate his leadership in getting the bill passed."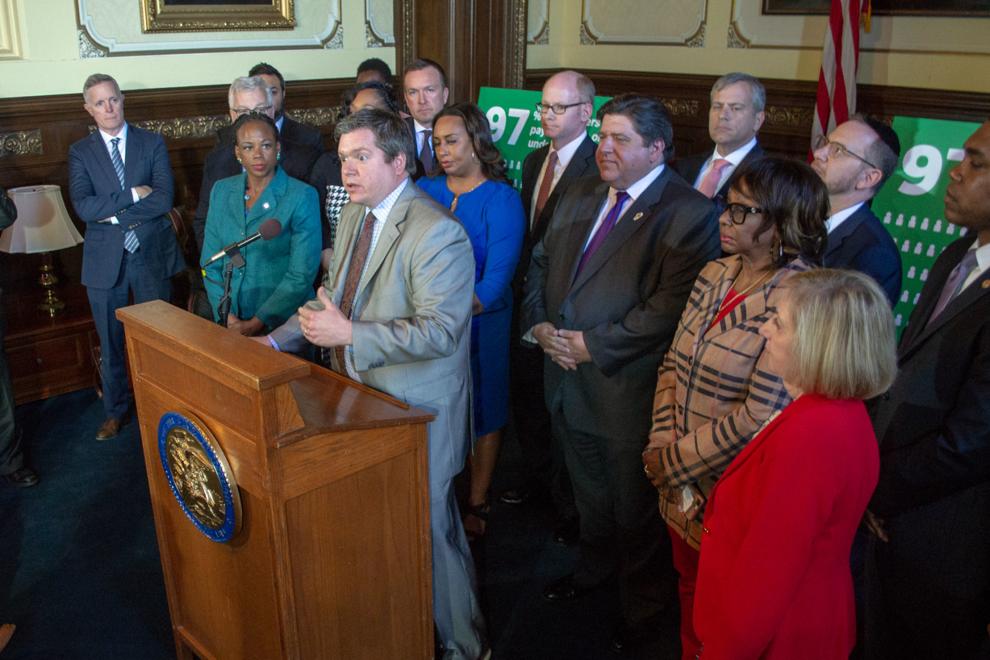 SNAP DECISION: The Illinois Senate on Friday, May 17, passed with a 48-1 vote a bill that would allow those who are elderly, disabled or homeless to use their Supplemental Nutrition Assistance Program benefits to purchase meals from restaurants.
House Bill 3343, sponsored by Rep. Sonya M. Harper, D- Chicago, goes to Gov. J.B. Pritzker for his signature. The House passed the bill March 29.
Known as the Restaurants Meal Program, the elderly and a spouse, disabled persons and those who are homeless have the option to purchase prepared meals with SNAP benefits. Those populations were selected because of the difficulties they may have when preparing meals.
PRIVATE DETENTION CENTERS: A bill that would ban for-profit immigrant detention centers in Illinois is now on its way to Gov. J.B. Pritzker.
The Illinois Senate voted 34-to-14 on Thursday, May 16, to pass House Bill 2020. It previously passed the House on April 10 by a vote of 85-to-26.
The bill would prohibit the state or any local unit of government from entering into any agreement to detain people in privately-owned facilities. It also prohibits them from spending any money to subsidize or defray the costs of developing or operating one.
It would take effect immediately if signed by Pritzker.
The bill was introduced in response to a proposal to build a private federal detention center in the village of Dwight, about 80 miles southwest of Chicago.
According to published reports, Dwight's village board had voted in March to annex and rezone a parcel of land where Virginia-based Immigration Centers of America planned to build and operate a detention center on contract with U.S. Immigration and Customs Enforcement.
Illinois has prohibited the development of private prisons since 2012. The new legislation would expand that law to include private detention centers. However, it would not apply to state work release centers or juvenile residential facilities that provide care and treatment by nonprofit contractors.
GOP BUDGET PROPOSAL: Illinois House Republicans called a news conference Thursday, May 16, to unveil a "fiscal year 2020 balanced budget proposal" in the form of a one-page document detailing $2.6 billion more in revenue than House working groups had previously planned for.
"The important part here is we're not presenting a plan and saying 'take it or leave it,'" Deputy Minority Leader Tom Demmer, R-Dixon, said. "We're saying there are new dollars that are on the table, that individual members have not yet been given the chance to weigh out. We believe their priorities should be heard."
Demmer said House working groups have been negotiating a balanced budget without new revenue that would be achieved by cuts of 6 percent to 10 percent from fiscal year 2019 expenditures across agencies.
But many of those cuts will not be needed, he said, because of increased fiscal year 2020 revenue estimates by the Commission on Government Forecasting and Accountability and the Governor's Office of Management and Budget, as well as a handful of other new revenue streams Republicans stand ready to support.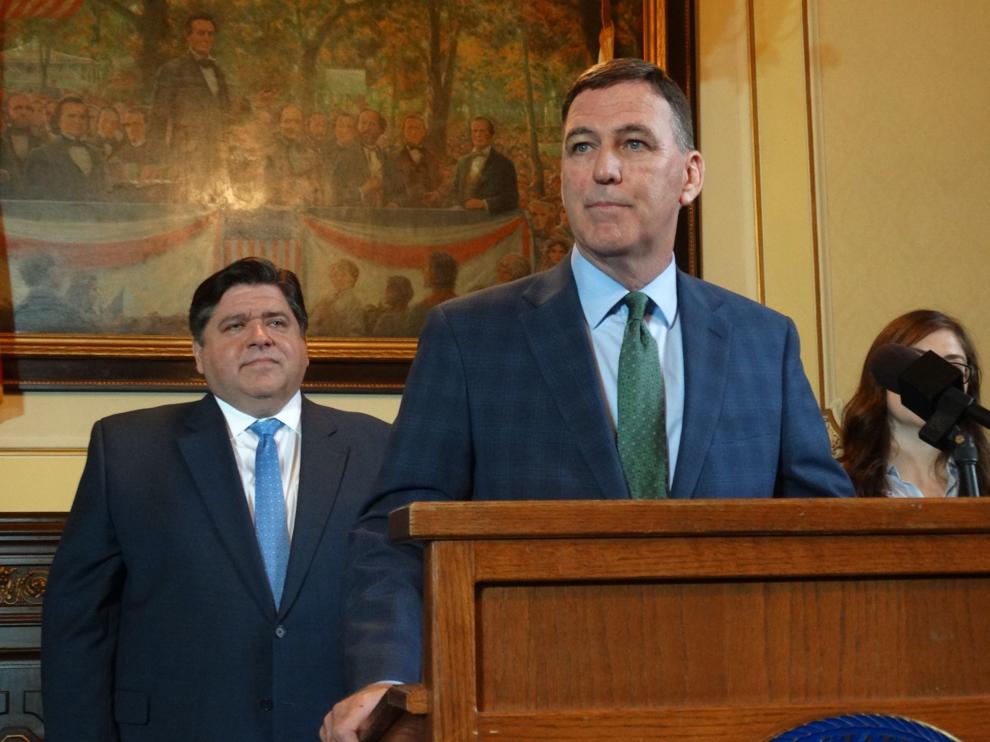 "These numbers do not come out of a Republican think tank. This comes from the governor's own agency," House Republican Leader Jim Durkin, of Western Springs, said at the news conference.
Demmer said the increased estimates include $845 million for fiscal year 2020 in added income tax ($800 million) and sales tax ($45 million) revenue without any increased taxes. These estimates were increased by COGFA and GOMB based on an unexpected $1.5 billion April revenue windfall, and they allowed Gov. J.B. Pritzker to scrap an unpopular proposal to decrease the state's mandated payment to its pension fund for FY2020.
Another $1.4 billion depends on revenue proposals backed by Pritzker. That includes slightly more than $1 billion in general revenue funding that would be freed up by a tax on Medicaid managed care organizations.
Demmer said MCO tax money will go to a special "Health Care Provider Relief Fund," where it will be matched by federal funds. This will allow General Revenue Funds previously used for Medicaid expenditures to remain in the GRF to be used for other budgeting purposes while the same level of Medicaid spending is maintained.
"Without changing the dollars that are being paid for Medicaid, it reduces your general revenue fund liability," Demmer said in a follow-up interview.
The Republicans also account for $212 million in added revenue from legalized sports gambling, using the estimates of another Pritzker proposal.
ROCKFORD CASINO: Rockford Mayor Tom McNamara said lawmakers have to move quickly before the city's chances to build a casino are "virtually eliminated" by a northern rival.
Just 15 minutes away in Beloit, Wisconsin, the Ho-Chunk Nation tribe awaits federal approval from the Bureau of Indian Affairs to build a casino there, the Beloit Daily News has reported.
Some estimates say that project could employ up to 5,000 people and generate more than $5 million in annual revenue for the local government.
If that casino is built before Rockford has a chance to build one, "Illinois residents would bypass our community and our state and take their dollars to Wisconsin," McNamara said Thursday, May 16.
But it's unclear if Illinois lawmakers will pass a "gambling expansion" bill in time for the end of the legislative session on May 31.
No language for such a bill has been filed, but it would likely be similar to ones that were proposed in prior years but failed to pass, which would have created six more state casino licenses. Illinois currently has 10 casinos.
"We have talked and talked and talked about casino expansion, literally since before I could drive," McNamara told House lawmakers in a hearing on gambling expansion earlier this month. "You hold all the power, we need you to take action."
COMMUNITY HOMES: DeKalb County resident Tony Stahl said he waited five years for the state to put his disabled daughter, Allison, in the selection process that would allow her to live in her own home in a community. It took an extra three years before that home was found, he said.
After that eight-year wait, Allison is living and paying rent with two roommates in Sycamore, where she also works at WalMart, ushers at a church, and dances at a studio.
Only the community home, rather than a state institution, could "fully address her personal care, medical, and community living needs," her father said.
Nearly 300 other advocates and people with disabilities came to the Capitol on Thursday, May 16, to say something similar.
"By segregating people, by limiting access to services and supports necessary for participation, Illinois' communities are missing out on the benefits and contributions of people with disabilities," said Meg Cooch, executive director of The Arc of Illinois, a Chicago-based advocacy group.
Cooch said Illinois is second only to Texas in the number of disabled persons it puts into institutions, and that the average annual cost to house someone there – $280,000 – does not compare to the $34,000 average yearly cost to help them live in communities instead.
Cooch and representatives from the Going Home Coalition held a news conference to urge lawmakers to provide more funding for community-based living for people with disabilities. Among other things, they argued that the $107 million that Gov. J.B. Pritzker proposed to give to the Department of Human Services to help the agency comply with the new minimum wage law is not enough.
CHILDHOOD TRAUMA: Wednesday, May 15, state lawmakers marked the first Trauma-Informed Awareness Day by speaking about the importance of addressing adverse childhood experiences, or ACEs, that people carry with them through life.
"We have research that shows trauma impacts the brains of our children," said state Rep. Karina Villa, D-West Chicago. "But the great news is with trauma-informed care, we can teach resiliency and we can make a difference in the future of our students."
ACEs can range from physical, emotional or sexual abuse as a child to domestic violence in the home. They can also be experiences with racism or involvement with the foster care system.
They impact physical and mental health, and can lead to poor health as an adult. A person who has experienced eight or more ACEs is expected to live 20 fewer years than someone who has had none, the CDC study showed.
SPRINGFIELD — Democratic Gov. J.B. Pritzker on Friday briefed lawmakers on a proposed capital improvements plan that calls for spending $41.5 …
During a Wednesday news conference at the Capitol, Villa joined Sen. Julie Morrison (D-Deerfield), Illinois Attorney General Kwame Raoul, Department of Human Services head Grace Hou, and Mikva Youth mental health representatives in discussing legislative attempts to help children with trauma.
Senate Resolution 99, sponsored by Morrison and adopted March 21, aims to shift how short- and long-term trauma events are approached from a health care aspect.
Trauma-informed awareness is something Raoul said he's advocated for in the past, but with a focus on criminal justice.
When Raoul worked as a Cook County prosecutor, he said it was common for someone who had originally come to his office as a victim to later be there for crimes they had committed.
He acknowledged that it didn't need to happen.
"Had we appropriately invested in trauma-informed services, we would have interrupted that minor respondent from having come back into the building as somebody who committed a crime," Raoul said.
SCHOOL INFRASTRUCTURE: A group of K-12 education representatives on Tuesday, May 14, added to the chorus of calls for a statewide capital infrastructure bill that goes beyond road and bridge projects.
At a Capitol press event, the group detailed infrastructure needs at school districts across the state, appearing in front of poster boards with images of outdated and dilapidated Illinois school facilities. They did not, however, give any suggestions as to how the revenue for capital infrastructure projects could be raised.
"I think our role is to show that the need exists across the state pretty widespread, and then show the most effective and efficient ways that we could use the money to enhance educational opportunities," said Brent Clark, executive director of the Illinois Association of School Administrators. "I think our big job is to rely on the General Assembly to determine the revenues to fund a capital bill."
In a budget proposal packet distributed by Gov. J.B. Pritzker in January, K-12 deferred maintenance needs were estimated at $9.3 billion. The state has not passed a capital projects bill since 2009.
Superintendents at the news conference detailed 100-year-old buildings, excessive use of mobile classrooms and crumbling facilities that schools don't have the funding to correct.
The General Assembly is discussing an infrastructure funding bill which would increase motor fuel taxes and state licensing fees, but the $2.4 billion in estimated revenue generated in that proposal could be used only for roads and bridges due to a "lock box" amendment passed in 2016.
Funding for vertical infrastructure would have to come from other sources. State Rep. Will Davis, a Homewood Democrat, said discussions for revenue are ongoing, although he did not give specifics as to where money would come from.
"What these folks behind me (superintendents and education representatives) also have to do is advocate, not just for the project itself, because I'm sure that our legislators will support the project," Davis said. "They also have to encourage their legislators to be open-minded when it comes to the revenue side of this as well because it is going to take some tough votes to get us to where we need to go."
HALTING HIV'S SPREAD: Gov. J.B. Pritzker and several public health advocates outlined an ambitious plan Tuesday, May 14, to halt the spread of HIV in Illinois by 2030.
Speaking at a Statehouse news conference, Pritzker unveiled a multi-pronged strategy called "Getting to Zero" that calls for expanding access to antiviral drugs for people already infected with the virus, and preventive medication – known as pre-exposure prophylaxis, or "PrEP" – for people who are at high risk of contracting the disease
"While this virus' most horrifying and unsparing days may be behind us, we know that the disease rages on," Pritzker said.
"Over the last few years, we've seen HIV prevention funding dry up," he added. "HIV testing rates have gone down, and HIV prevention and treatment agencies have laid off staff. I have always said that health care is a right, and not a privilege. All Illinoisans deserve access to that right, and that includes those who are living with or vulnerable to HIV."
The Getting to Zero plan is a collaborative project involving the Illinois Department of Public Health, the Chicago Department of Public Health, outgoing Chicago Mayor Rahm Emanuel's office and the AIDS Foundation of Chicago.
It calls for increasing investments over the next five years to expand the HIV health care and public health workforce, increase access to PrEP and use data to target resources to the most at-risk communities. It also aims to increase funding for treatment of other conditions that often accompany HIV infection and AIDS, including mental health services, substance abuse treatment, and screening and treatment of other sexually-transmitted diseases.
"This plan paves the path towards the day when there will be zero transmissions of HIV in the state of Illinois and every person living with HIV will thrive," said John Peller, president and CEO of the Chicago AIDS Foundation.
GAMBLING AT WRIGLEY?: Sports betting could take place at the home of the White Sox, Bears, Bulls and Cubs depending on which details emerge in a final bill to legalize the practice in Illinois.
Rep. Michael Zalewski (D-Riverside) has championed this year's effort to bring sports wagering to the state, and several different plans for doing so have been filed in recent months.
Three of those plans would allow betting operators to set up wagering sites at or within five blocks of Guaranteed Rate Field, Soldier Field, United Center and Wrigley Field, with the approval of the teams that play there.
One of those plans would make betting operators pay a .25 percent royalty fee to the sports leagues, while also requiring the use of official league data.
But that plan, filed as the third amendment to Zalewski's House Bill 3308, has not been discussed in legislative hearings on the matter since the first batch of sports betting plans were released in mid-March.
Meanwhile, the other two plans that also allow betting at pro facilities were released more recently, and do not include royalty fees to the leagues.
On Monday, Iowa became the 10th in a growing list of states to legalize sports betting since a U.S. Supreme Court ruling last year allowed the practice.
As Illinois lawmakers are still struggling to accommodate the various interests – including casinos, race tracks, online or mobile operators, professional leagues and more – Zalewski did not give a definite timeline for when a final sports betting bill might emerge for a vote on the House floor.
"I'd say I'd like a vote as soon as we can get enough support," he said.
CRITICAL INFRASTRUCTURE: Opponents of legislation that would create tougher penalties for intentional damage to critical infrastructure say the bill would actually infringe on an individual's right to protest at those facilities and against the companies that operate them.
Representatives of more than 50 groups statewide said during a news conference Tuesday morning, May 14, at the Capitol that House Bill 1633 provides protections to "big industry" that could harm the environment and intimidate potential protesters.
The bill, approved by the House last month, would cover intentional damage to equipment in a critical infrastructure facility. Those facilities would include oil pipelines, nuclear power plants, pumping stations, gas processing plants, military bases, more than 9,900 miles of railroad tracks in Illinois and other facilities.
"We're here to urge state senators and Gov.[ J.B.]Pritzker to stand up against this bill and look at it for what it is," said Kylah Johnston, a spokesperson with The People's Lobby. "An attempt by conservatives and fossil fuel industry to … raise new charges against black and brown communities that are already disproportionately affected by pollution and criminal justice."
Elizabeth Kosuth, a leader with Illinois People's Action, said the bill should be called the "protect big energy from the people bill," and that it's nothing more than an attempt by energy industries and their ally, American Legislative Exchange Council, to deter people from protesting against the industries and their impacts on the environment.
"A healthy environment won't just happen because we wish it," Kosuth said. "As with all social movements, we must push, organize, and yes, even protest."
Mark Denzler, president and CEO of the Illinois Manufacturers' Association, said the bill isn't an attempt to stifle the voices of anyone who wants to protest.
"They can protest," Denzler said. "We're looking at the individual who's committing more enhanced crime by knowingly damaging infrastructure."