"I had absolutely no knowledge that this regrettable exchange between one of my 1,200 guests and a third-party vendor even took place," the Chicago Democrat said in a statement. "Those individuals involved exhibited extremely poor judgment."
Sandoval issued a statement to the TV station over the weekend. "The incident that took place is unacceptable," Sandoval said, according to WCIA. "I don't condone violence toward the president or anyone else. I apologize that something like this happened at my event."
The person wearing the Trump mask was from Harvey-based Party District Entertainment, which has provided entertainment at previous Sandoval fundraisers. Sandoval's campaign fund has paid the company $7,700 since 2017. The company provides costumed characters, DJs and other services for parties and events. The "gun" in the photos was a novelty beverage dispenser.
"This offensive use of a beverage dispenser was in no way part of any scheduled program," Sandoval said in his Monday statement. "I had no knowledge of it and neither did my staff. I want to again express my deepest regret that this unfortunate incident took place at (an) event in my name."
A man named Jose, who declined to give his last name, answered a call at the number listed for Party District Entertainment. The company has used the Trump mask at previous events, and it has not caused controversy, said Jose, who said he was the one in the Trump mask, though he didn't recall the beverage gun being pointed at him.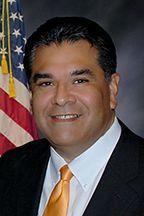 You have free articles remaining.
After being sent one of the photos, he wrote in a text message: "We have no control on what guests do. In this case I guess the questions should be for this guy (in the photo) which we do not know about."
Democratic Gov. J.B. Pritzker issued a statement Saturday condemning the pictures and also addressed the issue Monday at an unrelated news conference.
"In this moment especially, political civility is important," Pritzker said Monday. "And we also live in a moment when we've seen gun violence proliferate. I think it was important for me to speak out about it; it was important for Sen. Sandoval, as he did, to speak out about it. It's inappropriate to point even a fake gun at any individual, especially at this moment."
BIPARTISAN BACKLASH: Illinois State Senator Martin Sandoval is apologizing after an attendee at his fundraiser mocked assassinating President Trump with a toy gun. pic.twitter.com/fL4D6DFtNh

— Fox & Friends First (@FoxFriendsFirst) August 19, 2019
The state's Democratic Party also criticized the images, and made reference to recent mass shootings in Texas and Gilroy, California.
"The tragedies in El Paso and Gilroy have demonstrated how hate-filled political rhetoric can fuel violence," spokeswoman Maura Possley said. "These images are unacceptable and dangerous. The place to make our voices heard against Trump is at the ballot box.
Illinois Republican Party Chairman Tim Schneider called Sandoval's apology "too little, too late," in a statement issued Monday.
"Dangerous imagery like this will be condemned and seen as inappropriate by people of sound mind; however, a mentally unstable individual who wants to harm President Trump might find them as an inspiration," Schneider said. "It's inexcusable for an elected official to allow the promotion of violence in any way. If the individual pictured is a staffer or volunteer, they should be terminated immediately."
The story also drew the attention of presidential adviser Kellyanne Conway, who tweeted, "Every Democrat should be asked if they support or disavow this."