With the exception of a few precincts reporting technical problems, the polls have closed in Illinois and the waiting on results has begun.
Turnout has been reported high across the state Tuesday as Republican Gov. Bruce Rauner vied for a second term against Democrat J.B. Pritzker. Also on the gubernatorial ballot was Libertarian Grayson "Kash" Jackson and Conservative Party candidate and GOP state Sen. Sam McCann.
Also getting a lot of attention were four congressional districts Democrats targeted that could help the party win House control. Democrats also look to increase their majorities in the Statehouse.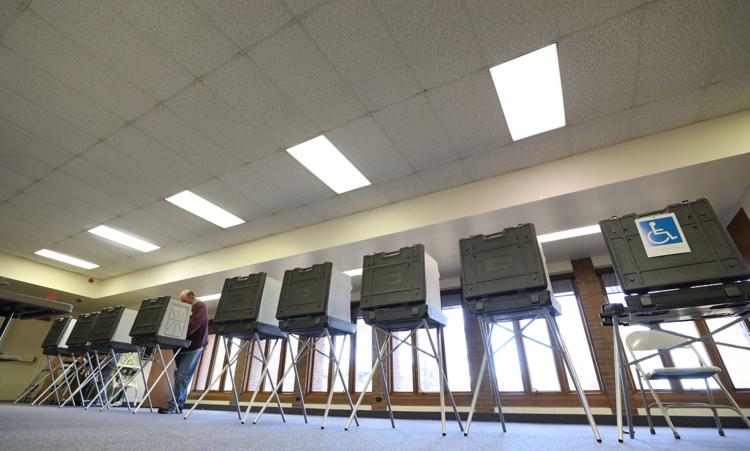 Enthusiasm during the campaign was high, as Democrats pushed back against President Donald Trump and his policies and Republicans tried to hold on to some power in the left-leaning state. Election officials said last week that mail and early voting numbers had surpassed the 2014 total.
Voting steady at Hickory Point Township location 
The polls have closed, and the voters have had their say, as clerks throughout the state begin tabulating the results of Tuesday's midterm elections. Check herald-review.com for updates throughout the night.
At Holy Cross Lutheran Church, which hosts three Hickory Point Township precincts, voting was steady as the polls prepared to close at 7 p.m.
Sheila Rosnes, 55, said she went Republican all the way. She believes the party wants to help with medication and assistance. "The Democrats want to cut some of that out," she said.
Her nephew, Cameron Dennison, 30, voted Libertarian. He said the party's views of less government interference. "They are more ruled by the people," he said. "They have more regulations than both Republican and Democrat would like to do."
Janella Selvy, 21, voted Democrat, because she likes what they are doing fighting for healthcare. However, she was drawn to the polls because she understands it is important for the future and because of those who came before her. "It is a right from my ancestor who fought really hard for us to come out and vote," she said. "That is one of my rights."
Nancy Lynch said party lines are not important. The candidates had to prove they were worthy of her vote, she said. "The ones I voted on were based on how they served in the past," she said. "Most were incumbents."
Sangamon County: 'Pretty heavy turnout'
All Sangamon County polling places opened on time Tuesday morning, and a steady flow of voters were casting ballots, according to County Clerk Don Gray.
"Everywhere I've been it's active," Gray said in late morning. "Nothing that's overwhelming, but it's steady, a great pace."
Election Day voting began at 6 a.m. and runs until 7 p.m.
Gray said that there were five tabulation machines -- of the 95 deployed for the election at Sangamon County's 81 polling places -- that were not properly receiving ballots. He said those machines were quickly replaced, and in the interim, voters were placing their paper ballots into an "emergency slot" where they would be held until the polls close at 7. Then, election judges at the precinct involved will run those ballots through the working tabulator machine, Gray said.
Such tabulation problems are not unusual, he said, and his office has dozens of extra machines in reserve. The locations where replacement machines were sent in Springfield were St. Agnes Hall, First Church of the Brethren and Lincoln Land Community College. Elsewhere, they went to Holy Cross Church in Auburn and St. Joseph's Catholic Church in Chatham.
Meanwhile, Gray said extra voting booths were being sent to at least three locations -- St. Agnes Hall, Knights of Columbus No. 364 and Gardner Township Hall.
"We certainly had long lines," Gray said. "People were anxious to get at it, and because of that, it would help to have a few more resources." He said he expected the heavy morning turnout to "surface again after work."
Even those "long lines" meant waits counted in minutes, Gray said, but he hopes to avoid any inconvenience for voters.
"We don't want people waiting," Gray said. "We want people to, once they've received their ballot, to get in the booth and make their decisions."
Gray said that as of the close of business Monday, there had been 19,057 people who voted early in person or whose filled-out mailed ballots had been received at the county election office. The breakdown was 12,208 who voted at the Sangamon County Complex and 6,849 mailed ballots that had been received.
Those numbers, Gray said, represent 14 percent of the county's registered voters. He said the numbers were dramatically higher than during a similar midterm and gubernatorial election in 2014, and were just under the number of early votes in the 2016 presidential election, when the similar number was slightly more than 22,000.
Gray was interviewed at Christ the King Parish Center, where voting was going on for two precincts. He was delivering bags of snacks for judges and registrars. His children, Noah, 14, and Gianna, 10, helped him prepare them.
Countywide, there 900 election judges and 160 registrars at the 81 polling locations, Gray said.
Gray, a Republican, is among people on the ballot, but is unopposed for a new term.
— Bernard Schoenburg, The State Journal-Register
Decatur students see voting up close
Wayne Dunning brought his sixth grade class from French Academy to the voting booth. "They are going to do a little exit polling," he said.
About 20 students waited in the lobby of the Macon County Office Building as voters exited the polling place. While they waited, Dunning questioned them on current candidates, including representatives, senators and their districts.
Their teacher gave the students a hands-on lesson by visiting the polls. "We were working on the civil rights and the bill of rights," Dunning said. "For the last week we've been working on the election."
The class learned about the races and the differences between Democrats and Republicans. Dunning also wanted his students to learn the importance of voting. Although the children were not allowed in the voting area, they have viewed ballots online and what to expect during the process.
The students asked voters who they voted for, what party they voted for, and why they voted that way. "And they asked 'do you like the present administration or would you like change'," Dunning said.
Braeden Apholone, 11, learned asking voters their opinions is not easy. "Some people keep it to themselves," he said.
To learn more about the process, the students had the opportunity to run an election. Alexandria Rice, 11, and Makhylan Jackson, 12, ran for president of the class. The second place winner would be vice president. The class selected the two students; however, Alexandria made the choice. "She let me be it," Makhylan said.
Dunning took this opportunity to use their election as a positive example. "It is compromise," he said. "This is a lesson our adult folks need to learn."
Alexandria saw the excitement in Makhylan during the voting. "He wanted it more than me. I didn't want it as bad as he did," she said. "To me he seemed like he would be a better president then me.
Makhylan has an agenda. "To make the class be good," he said. "I make them settle down when Mr. Dunning is out of the room and continue doing their work."
Alexandria has her role as well. "When he is absent or can not do his job, then I will come in and do it for him," she said.
Modest line at DISC around 2 pm. Poll worker said turnout was pretty good. A social worker I talked to said she was also driving around making sure there was no funny stuff going on at polling places and she said she hadn't gotten wind of anything on Decatur. #2018Midterms #twill pic.twitter.com/3cFSF3XbT9

— Tom Lisi (@tommylisi) November 6, 2018
Dunning teaches his students how important the election is to their future. "This is the one day in which everybody is totally equal," he said.
After the class left the Macon County Building, they visited the Republican and Democrat party headquarters.
Early voting may affect Election Day turnout in Macon County
Although there was a continuous line of voters at the Decatur Indoor Sports Center through the morning, turnout was not as high as some might have hoped.
You have free articles remaining.
Poll watchers Stephanie Bates and Jody Fronk said by 11 a.m. they had seen about 40 people an hour, counting both parties.
"That's not a lot," said Fronk, who was working on behalf of the Republican Party. She acknowledged that turnout is typically lower during midterm elections.
"But this is an important midterm," she said. "So we expect better than average, just because the stakes are so high."
Bates, who was watching the polls on behalf of the Democratic Party, credited early voting opportunities for the lack of crowds today. "They have so many different ways, so you don't have to get out into this mess," she said.
"You can vote downtown, mail-in votes," Fronk said. "There are lots of ways to vote."
Among those who did make it to the DISC on Tuesday were Heather Jump, 29, and her husband. The couple brought two of their children with them. "It is important to get your vote out there," Jump said.
Jump came to the polls to study her options in the judges elections. She said it is important to instill voting into her children, something she said was a belief throughout her childhood. "I always thought it was important," she said.
At Johns Hill Senior Center, election judge Una Mae Taylor said she'd seen a steady stream of voters.
"Usually with the governor election, it is similar to the presidential election," she said.
Taylor believes much of the community took advantage of early voting. "Now you can go downtown and vote," she said. "That makes a difference."
Kelly Niendick's, 41, cast her vote at the Johns Hill Senior Citizen Center. She was drawn to the polls to vote for the governor and other lawmakers. "I'm hoping we can get a governor that will fix Illinois," she said.
She is worried about the state's taxes and schools.
"I think we need a better health care plan here in Illinois," Niendick said. "And our jobs, too. A lot of our jobs are leaving Illinois."
As usual, my polling place (IBEW) is express service, in and out in seconds. Now it's your turn. #vote2018

— Tim Cain (@timcainhr) November 6, 2018
Taxes, budget on Illinois voters' minds
Illinois' yearslong budget stalemate and higher taxes are among the issues on voters' minds as they made their pick for the state's next governor.
Republican Gov. Bruce Rauner is trying for a second term against Democrat J.B. Pritzker, Libertarian Grayson "Kash" Jackson and Conservative Party candidate and GOP state Sen. Sam McCann.
Dan Bitner of Springfield cast his early ballot on Monday for Pritzker. He says, "After four years, Rauner hasn't gotten much of anything done." Bitner thinks Pritzker, a billionaire businessman, is the better choice to straighten out Illinois' financial problems.
Chris Hansen of Elburn voted for Rauner because he fears Pritzker's solutions will mean higher taxes. The 34-year-old parts manager at a Harley Davidson dealer says "I can't afford any more taxes."
At Richland Community College, a steady stream of voters
DECATUR — Election Day is underway, with hundreds turning out around the city as of 10 a.m. Many voters have said they felt a greater need to cast ballots Tuesday than they have in past elections.
Norm Sarver was at the Shilling Community Education Center at Richland Community College. He said he was encouraged by President Donald Trump's agenda to keep the Republican Party in power.
"Do I want a socialistic government? Hell no," he said.
Sarver, of Oakley, said he was voting for whoever as long as "they're the Big R, for Republican. That's what brought me out."
Elizabeth Brooks was voting early Tuesday morning at the Shilling Community Education Center as well. She said she always casts her vote.
DECATUR — It's almost over. After what felt to many like a never-ending campaign season, voters today will choose the next governor of Illinoi…
"I believe that my ancestors paved the way" to vote, she said. "There was a time many years ago when a person, a female and a person of color could not vote."
Another inspiration for Brooks is that her grandfather, a person of color, would walk for miles to a polling place only to be turned away even though he had the right to vote.
"So I just can't not vote," she said. "I believe that if you are passionate about any issues in government or politics you can't complain if you don't even exercise your right to vote."
Dale Pope was standing at Mound Road and North Main Street in a bright yellow shirt doing last-minute campaigning for Macon County sheriff candidate Tony "Chubby" Brown. Two other men were with him waving signs for passing cars.
"We've sided with Tony because he is good for the community, which is why we are supporting to the last minute," he said. "He is just a great leader."
It's #ElectionDay! Find your local polling place by texting "where" to 977-79 and get out there to make your voice heard! Nothing is more American than voting your conscience, so let's make it happen today! 🇺🇸 pic.twitter.com/aKsb5CDVuU

— heraldandreview (@heraldandreview) November 6, 2018
Brown, a Democrat, is running against GOP candidate Jim Root. 
Cars were honking and waving as they passed the group. They estimated that 300 cars or more had honked while driving by.
"It gets people excited about voting people have been honking, waving and giving thumbs up,"
The group was hoping to round up last-minute voters and get Brown's name out there.
"Brown brings everyone together we have a diverse campaign, it is not a one demographic," Pope said. "Tony is across the spectrum, elderly people, young people, black, white, he encompasses everyone so to me the choice is clear."
Polls open across Illinois
Polls are now open in Illinois where Democrats are looking to return to dominance in Illinois.
They hope to win the governor's office and all other statewide seats and flip up to four Republican-held congressional districts.
Republican Gov. Bruce Rauner is trying for a second term against billionaire J.B. Pritzker, while Democratic state Sen. Kwame Raoul and GOP attorney Erika Harold are vying for an open attorney general seat.
The four congressional districts Democrats are targeting could help the party win House control. Democrats also look to increase their majorities in the Statehouse.
Enthusiasm has been high, as Democrats push back against President Donald Trump and his policies and Republicans try to hold on to some power in the left-leaning state. Election officials said last week that mail and early voting numbers had already surpassed the 2014 total.
---
Here are 4 things to know about Election Day in Illinois