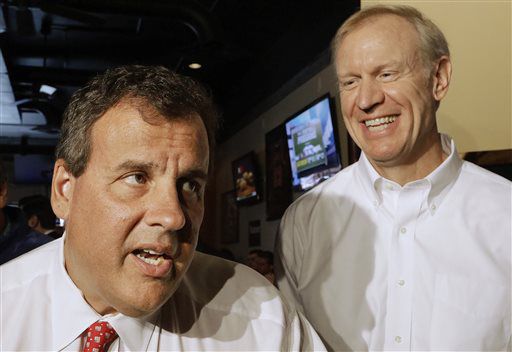 SPRINGFIELD – For the third time in less than two months, New Jersey's chief executive was in Illinois trying to put a fellow Republican in the governor's mansion.
Chris Christie, the chairman of the Republican Governors Association and a potential candidate for president in 2016, was the featured guest Wednesday at two closed-door fundraisers in the capital city for political newcomer Bruce Rauner.
He later made an appearance with the Winnetka businessman at a popular watering hole just blocks away from the Illinois statehouse, where Rauner continued his attacks on Gov. Pat Quinn over a hiring scandal at the Illinois Department of Transportation.
Rauner said Quinn should direct his staff and agencies to cease communication with former Quinn chief of staff Jack Lavin, a registered lobbyist whom the governor said earlier was involved in the scheme to ensure politically connected people got state jobs.
"I'm calling on Gov. Quinn today to pass out an edict for his administration not to speak to Jack Lavin or anybody in any department in the government under Pat Quinn not to speak to Jack Lavin," Rauner said. "He's part of the corruption in Springfield."
Christie said Rauner's comments show he's ready to be governor.
"He speaks his mind. He tells people exactly the way he would handle things if confronted with similar circumstances, and he makes sure he's holding Gov. Quinn to account," Christie said. "Those are things that are all laudable qualities of a potential governor."
Rauner did not release fundraising totals from the two events, but the Republican Governors Association has already funneled about $4 million toward the wealthy political newcomer's attempt to knock Quinn out of office.
Quinn supporters made light of Christie's own problems back home, including a dust-up over the politically motivated closure of some traffic lanes on a busy bridge last year.
Senate President John Cullerton, D-Chicago, for example, offered to drive Christie around during his visit "in hopes of avoiding any partisan traffic jams like the ones Christie's top aides created back in the Garden State a year ago."
Along with Christie, Rauner is banking on another Republican with potential presidential aspirations to generate cash for his bid.
Next week, former Florida Gov. Jeb Bush is heading to Chicago for a fundraiser on behalf of Rauner.