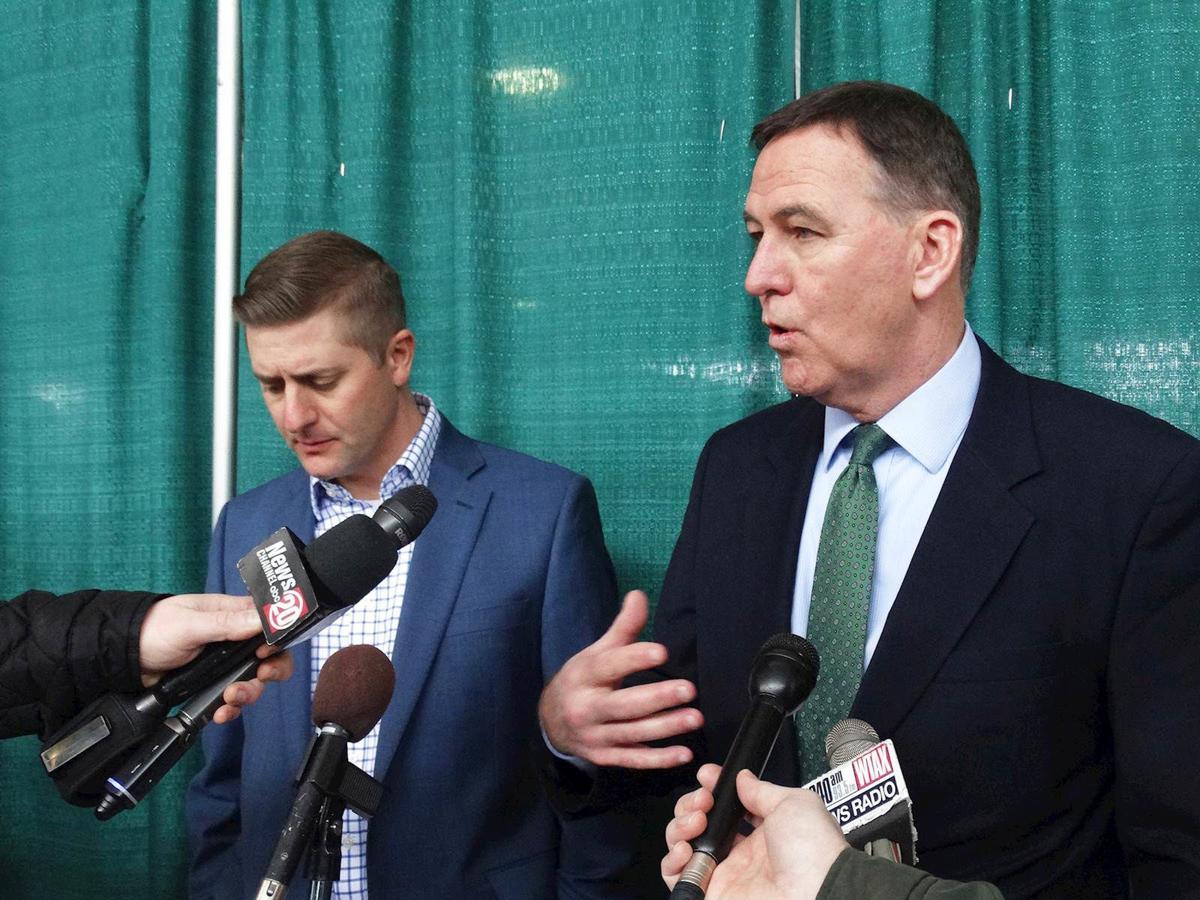 CHICAGO — Gov. J.B. Pritzker's top agriculture official resigned this weekend after the administration learned he had knowledge of a July 2012 email in which a powerful lobbyist and close confidant of Illinois House Speaker Michael Madigan sought leniency for a state worker who he said had "kept his mouth shut" about "the rape in Champaign."
Pritzker was "disturbed" that John Sullivan, a former longtime state senator from Rushville in western Illinois, "became aware of the existence of the July 31, 2012, email contemporaneously, and did not handle it appropriately, including not alerting the inspector general or other authorities," Pritzker spokeswoman Emily Bittner said in a statement Monday. The governor's office asked for Sullivan's resignation, which he gave, Pritzker's office said.
Sullivan, who did not seek reelection in 2016 and joined the Pritzker administration last year, did not respond immediately to a request for comment.
The email in question, first reported last week by WBEZ, was sent by Mike McClain, a former lobbyist for ComEd and a close adviser to Madigan, to two officials in the administration of then-Gov. Pat Quinn. McClain sought leniency for Forrest Ashby, a longtime state worker who was facing a disciplinary hearing.
The Chicago Tribune reported Saturday that investigators are examining whether the "rape in Champaign" remark referred to a man who sexually assaulted a young girl after being released early from prison.
A source told the Tribune investigators are looking at the case of Scott Wayne Thompson, who is being held at a state facility for sex crime offenders in Rushville. Thompson received early release from prison in May 2010 and then was charged with and convicted of sex abuse in February 2011, records show.
When Thompson went to the Rushville facility, Asbhy was working there as a hospital manager, according to McClain's email to state officials.
"Director Sullivan had a long and productive public service career as a state senator, and the governor is grateful for his willingness to serve in the administration. Director Sullivan put together an outstanding team at the Department of Agriculture, and as a result, the department's work thrived," Pritzker spokeswoman Emily Bittner said in the statement.
In a statement first reported by WBEZ, the former ag director said the inquiry from Pritzker's general counsel led him to a "review of my own personal emails from that same period of time."
"My search discovered a forwarded copy of McClain's July 31, 2012, email reported by WBEZ. I shared this information with Governor Pritzker's general counsel," he said in the statement.
You have free articles remaining.
Sullivan said summer 2012 "was a stressful time" as he was in the middle of a re-election campaign and preparing for cancer surgery in Baltimore.
"I was already well aware of McClain's efforts to keep me informed of his advocacy on behalf of Ashby, and l simply did not read the entire forwarded email," he said.
"Had I read the email thoroughly, my reaction would have been disgust and I would have immediately notified proper authorities. Nevertheless, the email was in my inbox and not reading the entire email led to my failure to immediately respond as I would have.
"Bottom line, I accept responsibility for what was truly an unintentional oversight and the subsequent inaction."
Sullivan served as majority caucus whip under former Senate President Emil Jones Jr. and as assistant majority leader during the presidency of John Cullerton, whose successor is scheduled to be chosen this Sunday.
Pritzker's office said the information relayed by Sullivan was forwarded to investigators.
"The governor's general counsel has shared all of the information she learned from Director Sullivan with the Office of the Executive Inspector General and offered to share this information with all law enforcement agencies looking into this situation. The administration will continue to assist in the ongoing investigation," Bittner said.
Jeremy Flynn, who served as Sullivan's chief of staff, was appointed by Pritzker on Monday afternoon as his former boss's interim successor.
Capitol News Illinois contributed to this report. 
---
15 new Illinois laws for 2020