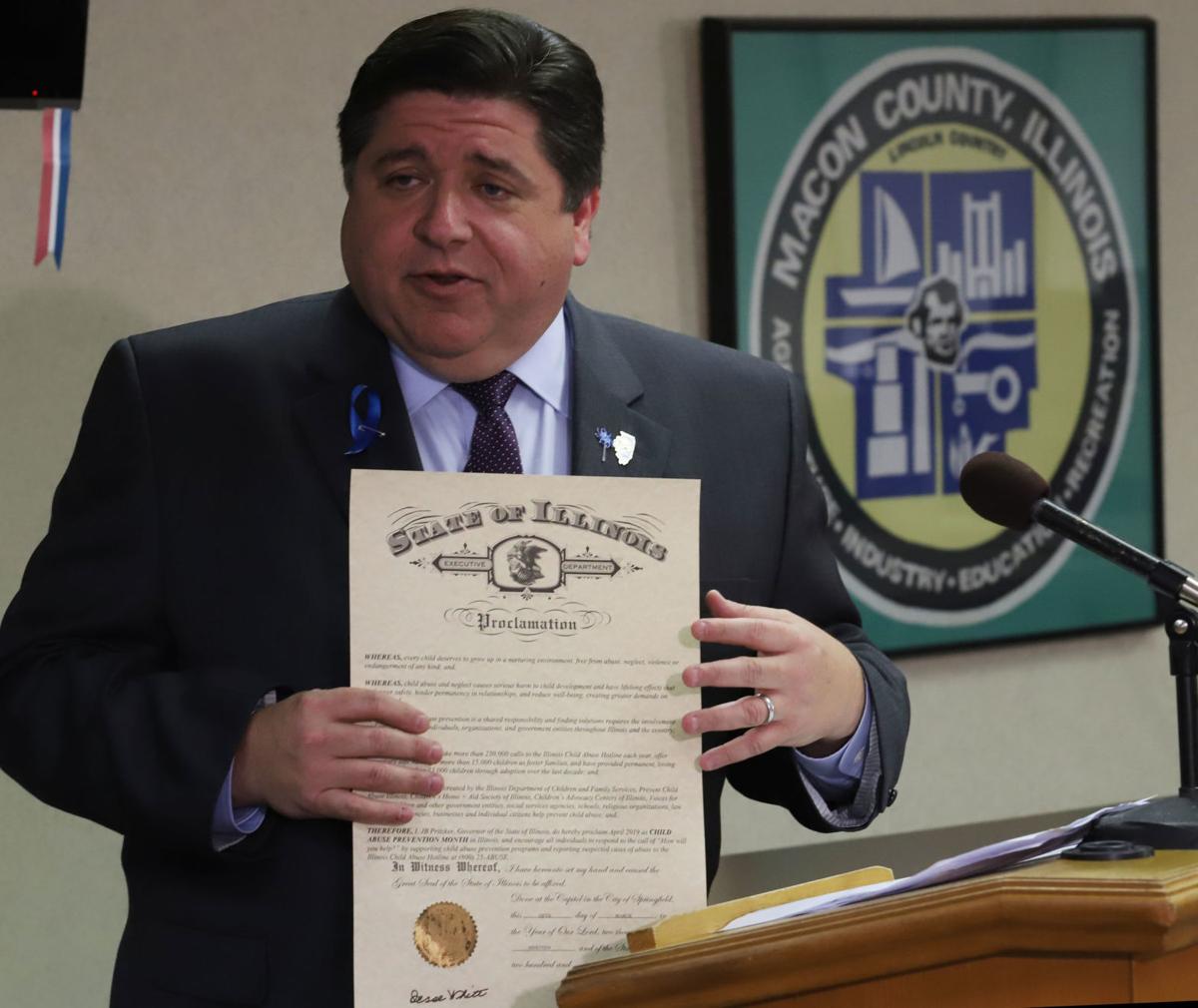 SPRINGFIELD — Illinois Gov. J.B. Pritzker on Wednesday said he is committed to overhauling the state's troubled child welfare agency, vowing to allocate more resources to fix systemic problems cited in a new report that criticized some of the department's policies for keeping families together after abuse and neglect allegations come to light.
Pritzker ordered the report earlier this year after several highly publicized deaths of children who had been involved with the Department of Child and Family Services, including 2-year-old Ta'Naja Barnes, who authorities say died of starvation and neglect in a Decatur home. 
Prtizker said Wednesday that reforming the department is among his administration's highest priorities. He spoke during a news conference in Springfield, standing next to DCFS Acting Director Marc Smith.
"I am committed to carrying out that overhaul as quickly and effectively as possible and ensuring that Marc has the necessary resources and support to do that work," said Pritzker, who wore a blue ribbon on his suit in honor of National Foster Care Month. "Much of the work is already underway, and some will be completed over the next several weeks."
Pritzker's remarks followed the release of the report that found systemic, structural and cultural problems with a major component of the department's work, a division that handles "intact family services." Those services are provided to families, mostly by private agencies contracting with the department, when concerns about children's well-being has emerged but the circumstances are not deemed severe enough to trigger a removal from parental custody.
The governor said the department will implement all of the reforms suggested by Chapin Hall, a child welfare think tank based at the University of Chicago that put out the report.
"This agency and the children under its care were neglected for years," Pritzker said. "That changes right now. There is nothing more important to me as governor than protecting our state's most vulnerable people, especially our children."
New reforms 
Pritzker and Smith announced two reforms that are aimed at improving the quality of work at DCFS.
First, the department has begun conducting an "urgent" review of more than 1,100 open cases that involve young children, Pritzker said. The review will be handled by "some of DCFS' most senior staff," and will focus on reviewing whether key safety measures were followed, according to a news release that described the action. It was started last week, a DCFS spokesman said.
In addition, DCFS is creating an eight-person team to immediately review child deaths that occur during an open investigation or when the family has an extensive history with the department. The team will quickly develop recommendations for best practices and missed opportunities that will be shared with staff, according to the news release.
"Under my administration, we will change the direction of DCFS," Pritzker said in a statement. "There is nothing more important to me as governor than getting this right."
Pritzker and Smith both acknowledged that that systemic problems facing the department will take time to address in full. A report released last week by the state auditor general's office pointed to chronically high caseloads and inadequate staffing levels.
Intact family services
Pritzker ordered the Chapin Hall report on March 27, the same day he appointed Smith as acting director of DCFS, which has seen a revolving door of leaders over the past decade. The announcement followed several highly publicized deaths of children whose families had received intact family services, including that of 17-month-old Semaj Crosby, who was found dead under a couch in her dilapidated Joliet-area home in the midst of an open case. In Chicago, 2-year-old Ja'hir Gibbons was fatally beaten on March 18, two days after a caseworker visited and reported the boy and his older brother were safe.
You have free articles remaining.
In Decatur, Ta'Naja died Feb. 11. According to a DCFS timeline, a hotline call alleging neglect was made in 2017, and she was placed in foster care twice. Two additional accusations were not substantiated by DCFS, the agency said. 
DCFS contracted with Webster-Cantrell Hall in Decatur to provide foster-care services to Ta'Naja and her younger half-brother. The agency has referred all requests for comment to DCFS.
Nearly all intact family services — or about 85 percent — are provided by community-based organizations that have contracts with DCFS. The caseworkers are only supposed to have 10 open cases at a time, the report said. When possible, the department retains the highest-risk cases to address in-house.
The organizations who provide these services told researchers they sometimes feel like their hands are tied. They raised the concern that some of the cases they receive are "too complex, too severe or too longstanding" for them to handle but that it's difficult to decline a case or question the appropriateness of such referrals, said Dana Weiner, a lead researcher of the six-week study. The caseworkers also reported that they didn't believe judges, prosecutors or department investigators would support more intensive interventions if they petitioned for it.
The Chapin Hall report identified 41 child deaths due to neglect or abuse that were investigated by the agency's inspector general between 2014 and 2018. In six of those cases, the fatality occurred while there was an open intact family services case.
The report did not include a review of the circumstances that led to the death last month of 5-year-old Andrew "AJ" Freund of Crystal Lake. His parents have been charged with fatally beating him after a long history of contact with DCFS, which had placed him in foster care for a time.
The Chapin Hall report did look at three recent deaths of children whose families had received intact family services. It does not name the victims in those cases, but does offer details about one in which a DCFS investigator saw a child's torso that was "covered in welts." But the investigator did not substantiate the allegations of abuse because "hospital staff could no longer locate the welts the investigator had already seen," the report states. The report did not say how long it took the investigator to obtain a medical evaluation. Because the abuse was not substantiated, the child stayed with the family, and the case was never brought to court for possible removal of the child.
Low foster care rate
DCFS in Illinois has the lowest foster care entry rate in the country, according to the report. That was achieved by a number of strategies starting in the late 1990s aimed at keeping children with families that reduced the number of kids in foster care from more than 50,000 to about 15,000 today, Weiner said.
Intact family services is one way DCFS has kept the number of children in foster care down. In 2012, the department privatized intact services as it faced budget cuts. But the agency did not implement performance or financial incentives to ensure the quality of services being delivered, the report said.
After privatization, the department saw a surge of deaths in homes that were receiving intact family services from the contract agencies, many of which are nonprofits, the Chicago Tribune reported in 2017. The newspaper found that 15 children had died between 2012 and 2016 as their families were given intact services compared with only one such child death under the program from 2007 through 2011.
Weiner said another troubling conclusion from the new report was that service providers often have to close cases, without a procedure for notifying the department, if parents are not cooperative. In those situations, caseworkers can call the child abuse hotline to file a report, but there's no guarantee the department will follow up.
That situation arose in August 2018 when 10 children, ranging in age from 3 months to 16 years, were left alone in a Chicago apartment without working smoke detectors and killed in an early-morning fire. The mother of six of the children had been investigated by DCFS 22 times for abuse or neglect and declined intact family services in 2014, according to a memo from the inspector general's office. Over the years, the mother had been investigated for providing inadequate supervision, poor school attendance by the children and possible criminal activity. All of the reports were unfounded.
"Intact family services is meant to meet the needs of potentially the highest risk group of children and families," Weiner said. "When one of those families is referred for intact family services and can't be engaged, the idea that then there could potentially be no further contact with that family ... is alarming and needs to be addressed by the department."
The report offered nine recommendations to improve intact services, some of which could be implemented immediately while others dealt with longer-term solutions. Among the recommendations, the report said the department should clarify expectations for caseworkers, increase oversight of the program, and work with the courts and state's attorneys' offices to better establish criteria for the removal of children.
The Herald & Review contributed to this story.