---
---
LIVE UPDATES: Pritzker inauguration ceremonies in Springfield 
---
Pritzker says change depends on working together
SPRINGFIELD, Ill. — The Latest on the inauguration of Democrat J.B. Pritzker as governor of Illinois:
Gov. J.B. Pritzker says his administration will take climate change seriously.
The Democrat announced in his inaugural address Monday that he will make Illinois a member of the U.S. Climate Alliance. It upholds the goals of the Paris Climate Accord. Former Democratic President Barack Obama entered the U.S. in the Paris accord in 2016 but GOP successor President Donald Trump withdrew.
The other goals Pritzker laid out were well known. He pledged an effort to change the state Constitution and allow a progressive income-tax system that forces the wealthy to pay a greater percentage.
He promised a capital construction plan to modernize travel and reduce commutes and says he will propose a gradual increase in the minimum wage to $15.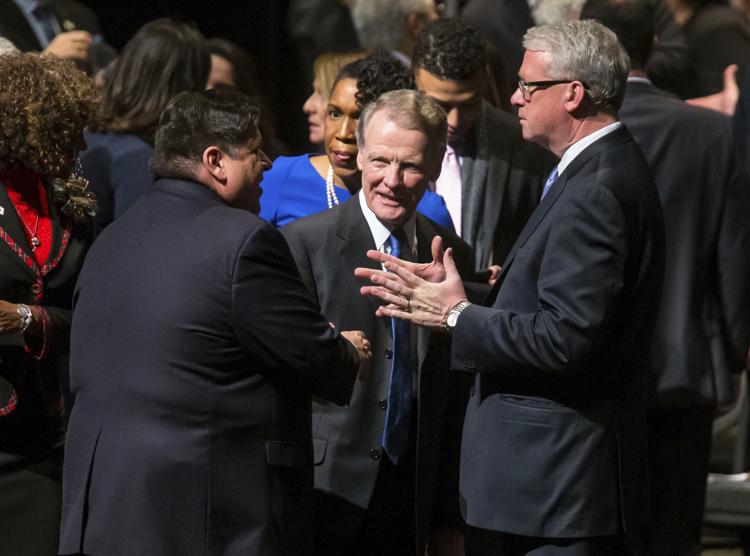 Gov. J.B. Pritzker says the history of Illinois is "a story of leaps forward and occasional stumbles back" but that change depends on "what we can do together."
The Democrat took swipes at his predecessor in his inaugural address Monday. He says not everything in the state is "broken" and that state government is not the enemy. These were mantras repeated by former Republican Gov. Bruce Rauner.
Pritzker defeated Rauner in November. Rauner clashed with Democrats over his insistence on making government more business-friendly, leading to a two-year budget stalemate and billions of dollars in debt.
Democrat J.B. Pritzker has been sworn in as the 43rd governor of Illinois.
Pritzker took the oath Monday at the downtown Springfield convention center. The billionaire heir to the Hyatt hotel chain defeated first-term Republican Gov. Bruce Rauner in November.
Pritzker has pledged to revise the state income tax structure to make wealthy taxpayers pay a greater share. He will likely move quickly in the just-begun session of the General Assembly to legalize the recreational use of marijuana and to put together a long-desired capital construction plan to fix roads, bridges and schools.
Democrats comprise the entire statewide slate. Incoming Lt. Gov. Julianna Stratton and Attorney General Kwame Raoul (KWAH'-may rah-OOL') also were to be inaugurated, along with Secretary of State Jesse White, Comptroller Susana Mendoza and Treasurer Michael Frerichs (FRAYR'-ikz).
Illinois welcomes its 43rd governor as Democrat J.B. Pritzker is inaugurated in Springfield.
Pritzker takes the reins from Gov. Bruce Rauner on Monday. Pritzker defeated the first-term Republican in November.
First Presbyterian Church hosts an interfaith service. Abraham Lincoln's family belonged to the congregation. The current church is home to the pew the Lincolns bought for $50.
Pritzker takes the oath of office during a morning ceremony at Bank of Springfield Center. Pritzker's running mate Juliana Stratton will be sworn in as lieutenant governor.
Democrats comprise the entire statewide slate. Incoming Attorney General Kwame Raoul (KWAH'-may rah-OOL') will be inaugurated and Secretary of State Jesse White, Comptroller Susana Mendoza and Treasurer Michael Frerichs (FRAYR'-ikz) will be sworn in to new terms.
---
Gov.-elect J.B. Pritzker says 'Democrats stand together' as party takes total power in Illinois, and all the problems
Total control of the House, Senate and Governor's Mansion, though, doesn't always mean smooth sailing for a political party.
Democrats controlled the legislature when Pat Quinn was governor. He couldn't win approval for his key income tax proposal during his last year in office and lost his bid for a second full term. Before that, a Democratic House impeached Rod Blagojevich and a Democratic Senate voted him out of office.
"You can talk to Donald Trump about that as well," Chris Mooney, a University of Illinois Chicago political scientist, said of the Republican-controlled Congress the president had for his first two years in office. "Now he's complaining about Democrats and the border wall. Well, he had everybody on board a few minutes ago, and he couldn't get it done then."
Pritzker's upcoming inauguration has given hope to Democrats that they can push forward their priorities after four years under Republican Gov. Bruce Rauner marked by a historic budget impasse and fights with organized labor that went all the way to the U.S. Supreme Court. In an interview days before taking office, the billionaire Hyatt hotels heir suggested Democrats would be unified on big issues he campaigned on and that he would make an effort to work with the GOP.
"We won in a big way, not just in my race, but across the state, on those very issues," he said. "So I believe the Democrats stand together on most of those issues."
But Pritzker also faces big challenges. Illinois has a $7.4 billion pile of unpaid bills. Rebuilding roads and bridges will cost money. Payments for state worker and teacher retirements keep going up. He'll have to negotiate a new contract with the state's largest employee union, which endorsed him, after it remained at an impasse with Rauner for years.
And that's not to mention unexpected challenges any governor faces, such as natural disasters and changing political winds.
Addressing some of those issues could mean some unpopular decisions, and keeping Democrats at the Capitol united and voting in the same direction might not always be easy.
Some of Pritzker's big plans are sure to invite at least some controversy. Raising the minimum wage will upset the business community. Legalizing marijuana and sports betting will invite criticism of relying on vice taxes. Fixing roads and bridges could hit people in the wallet if gas taxes rise to pay for it.
And his hope to change the state's income tax structure to a federal-style graduated system will invite a war with Republicans that could last until the idea hits the ballot no earlier than 2020.
"I want to work with Republicans to make sure that their voices are heard," Pritzker said. "Look, are we going to disagree on some things? Of course we are. But I like to say that good ideas can come from anywhere.
"The values that we fight for are really common values that everybody shares," he said. "So that's one of the reasons that, despite the fact that we have supermajorities in the House and Senate, we have to have Republican voices at the table."
Pritzker doesn't have much time to settle in. His first budget proposal is due next month.
"Here's the good news for J.B. Pritzker: After a 22-month campaign, he was elected governor of Illinois in November," Democratic political consultant David Axelrod said when introducing Pritzker on his podcast last week. "And here's the bad news: He was elected governor of Illinois in November, and there are a boatload of problems he's gonna face."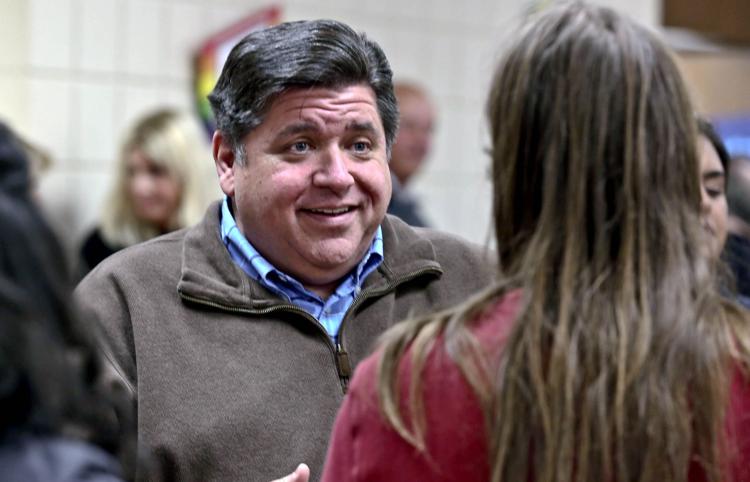 Quick start
Pritzker's inauguration festivities start with service projects Sunday and a meet-and-greet at Springfield's Old State Capitol. His Monday swearing-in will be a pomp-filled event where other statewide officers will take the oath, too, including Lt. Gov. Julianna Stratton and Chicago mayoral candidate and Illinois Comptroller Susana Mendoza.
A fancy party will follow that night. Democrats in the Illinois General Assembly, though, already have been trying to give Pritzker a head start.
For starters, Senate President John Cullerton held onto gun control legislation lawmakers approved months ago, keeping the paperwork off Rauner's desk because he had threatened a veto. Instead, that bill to give the state more oversight of gun dealers could be among the first bills that Pritzker gets to sign, letting the governor take an early victory lap.
It's a similar story for legislation that allows Illinois to sell the Thompson Center, the state's headquarters in the Loop. Rauner craved the opportunity to sell the building and even built the sale price into budget proposals. Lawmakers approved the bill in May, but Cullerton never sent it to Rauner.
Now, it, too, could end up on Pritzker's desk. The governor-elect didn't say whether he'd sign that bill, but he did indicate his support for selling the building.
"I think that the Thompson Center is something that we should be selling, but not just in theory," he said.
It was wonderful to start inauguration day at the Springfield Interfaith Church Service! People of all faiths and backgrounds came together this morning to seek God's guidance and strength in solving Illinois' challenges. #twill pic.twitter.com/YZirzFWZvI

— Illinois Comptroller (@ILComptroller) January 14, 2019
He said Rauner didn't work with Mayor Rahm Emanuel to cut a deal.
"There are things you have to work out with the city of Chicago," Pritzker said. "The current governor, unwilling to work with the mayor of the city of Chicago to try and work those things out. I'm not unwilling, and I think we need to look hard at making sure that if we do it that we get the right terms so that we can go out … to the market and sell."
Last week, the House and Senate voted to allow Pritzker to pay his agency heads 15 percent more than Rauner was allowed to, a request by the Democrat in hopes of attracting people to the jobs. Days later, the governor-elect announced he will use his own money to bolster his top government aides' salaries.
Lawmakers also approved a bill allowing Pritzker to oust members of the Illinois Tollway board.
House Republican leader Jim Durkin got on board as a show of "good faith."
It might be in Republicans' best interest to play ball with Pritzker on some issues in order to have influence on the outcomes of other big matters. If they don't, they might miss out. Democrats' big majorities in the House and Senate mean they can do almost anything they want without Republican votes.
"I'm going to give this administration the benefit of the doubt until I'm proven otherwise," Durkin said in an interview from his Capitol office. "But as of right now, the communications and meetings that I've had with this administration have been positive. I can say that there are issues that we'll probably never support, and they know that as well."
Pritzker has been announcing the top members of his administration in batches since November. His chief of staff will be his campaign manager, Anne Caprara. Former state Comptroller Dan Hynes, former state Rep. Christian Mitchell and Chicago Park District Board Chairman Jesse Ruiz will be deputy governors. Pritzker's agency heads include former Republican state Rep. David Harris at the Department of Revenue.
And on Thursday, he promised to shift some of his immense wealth into a blind trust to avoid conflicts of interest, but it's unclear whether he will be able to fully wall off his fortune from his official duties as Illinois governor.
Democratic factions
Democrats have 74 lawmakers in the Illinois House to Republicans' 44. In the Senate, Democrats have a 40-19 advantage.
But not all Democrats are the same. November's blue wave midterm election swept Democrats to victory in suburban Chicago districts long held by Republicans — places where GOP losses would have been unthinkable in previous years.
Those Democrats from more conservative districts might be a little more skittish about racking up voting records supporting a litany of progressive issues or a tax hike or two that might threaten to hit their constituents hard. Pritzker might have to work harder to win their votes, and the millions of dollars he spent helping Democrats in November might help convince them he'll be in their corner if they go along.
It might not matter in the end if they don't. Democrats have so many votes in Springfield now that they can afford to shed some and still pass bills to Pritzker. Still, having more lawmakers means party leaders like Pritzker and House Speaker Michael Madigan also have more people to keep track of, and those lawmakers could form powerful factions inside the party.
"Factional politics are much harder to understand, even if you're in the middle of it. Who's on what side?" Mooney said. "Think about the voters. It's tough for the voters. They don't know: What kind of Democrat are you? A Madigan Democrat? Are you a radical Democrat? Are you a conservative Democrat?"
Some small cracks already are showing. State Rep. Marty Moylan, a Des Plaines Democrat, says he won't vote to legalize marijuana. And Democratic state Rep. Anne Stava-Murray of Naperville didn't vote for Madigan for speaker.
Still, Madigan has shown an ability to control legislation in Springfield during his national record tenure as House speaker. On the last day of the 100th Illinois House, Madigan adjourned by saying lawmakers of both parties deserved credit for standing up to Rauner to end the budget impasse.
"We all know that over the last four years, why, all of us as members of the legislature have been involved in an epic struggle with the executive department," Madigan said. "What happened, happened."
Tough choices
The story of state government for years has been its troubled finances, and Pritzker's proposed solutions so far have been short on specifics.
He wants to move the state to a graduated income tax, a system that taxes people at higher rates the more money they make. But he's steadfastly declined to say what those income tax rates should be, saying they need to be negotiated with the legislature.
Legal marijuana and sports betting could bring in some more money, but both issues are complicated with a lot of details to sort out. Asked when Illinoisans will be able to buy legal weed or bet on Chicago Bears games, he pointed to lawmakers' predictions that marijuana could be available by 2020, but he gave no such prediction about gambling expansion.
Pritzker is scheduled to deliver a budget to lawmakers Feb. 20, six days before the Chicago municipal election that's likely to steal some of the political attention away from the new governor's opening months in office. Asked if he plans to deliver big proposals in his first budget or instead make modest changes in his first year, Pritzker said he's "not going small."
He said his administration will have to balance short-, medium- and long-term goals.
"But you do all those things at once," he said. "You begin those things at the same time."
Mooney says that now that he's in office, Pritzker might have to learn to tell some people "no" if he wants to dig Illinois out of a financial hole. Transitioning from campaign speeches to policy particulars is a change all new governors have to make, he said.
"Up to that point, all they'd have to say is pleasant things. Warm, fuzzy things," Mooney said. "And then, when in office, you have to make choices."
---
GALLERY: J.B. Pritzker