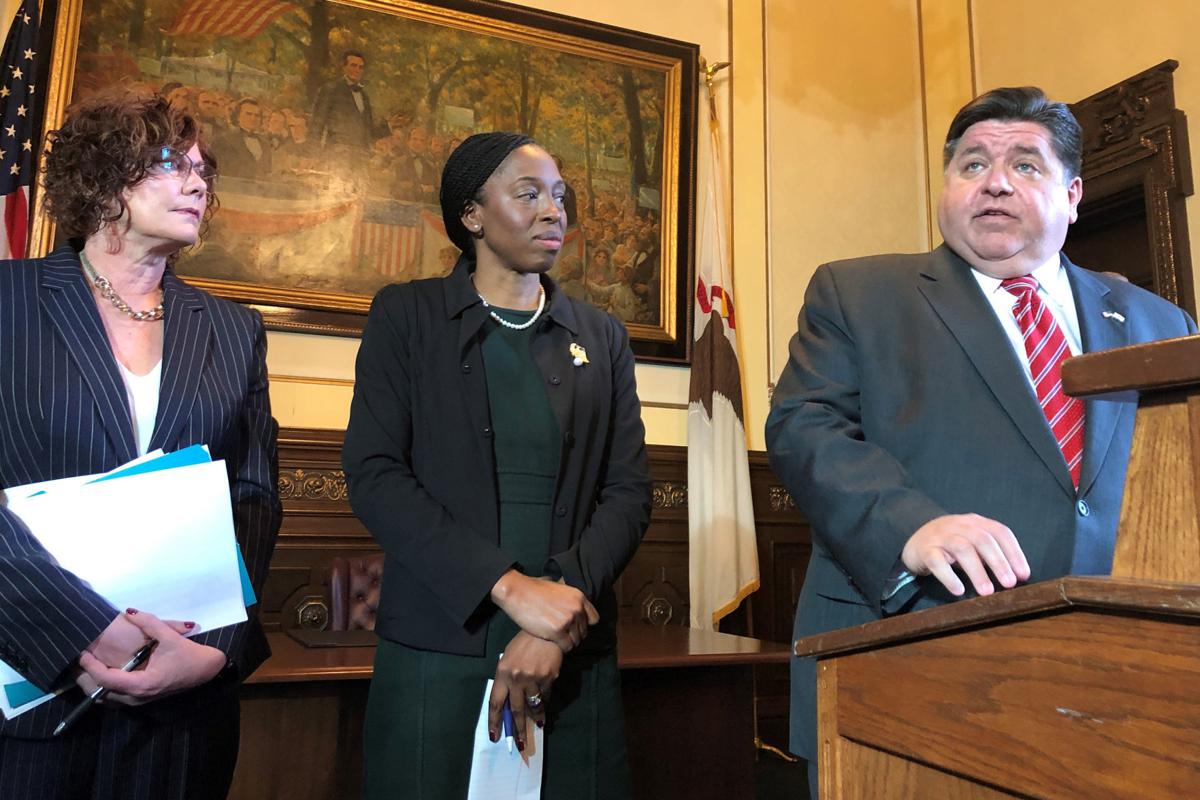 Gov. J.B. Pritzker and state leaders are announcing financial help for Illinois residents and business affected by the coronavirus outbreak. 
Measures include extension of the income tax filing deadline from April 15 to July 15 and several new programs that he said would provide more than $90 million in financial relief to small businesses across the state.
Health officials also announced 330 new cases of COVID-19 statewide in the daily press briefing. 
There are also three additional deaths, bringing the total number of deaths to 19. The deaths are a Kane County man in his 90s, a Cook County man in his 60s, and a Will County woman in her 50s.
Douglas, Marshall and Morgan counties are now reporting cases. Currently, the state is reporting a total of 1,865 cases in 35 counties. The state has 102 counties. 
Two correctional officers and one man incarcerated at Stateville Correctional Center have tested positive as well as a contractual worker at Sheridan Correctional Center, officials said. The two Stateville correctional officers are recovering at home and the individual who is incarcerated is isolated and recovering in the hospital. Those who have been identified as being potentially exposed are being quarantined and the facility is on a 14-day lockdown.
After consulting with IDPH, the Department of Corrections determined staff and men incarcerated at the Sheridan facility were at low to medium risk for potential exposure. The facility also was placed on a 14-day lockdown.
Among the measures Pritzker announced:
The Illinois Small Business Emergency Loan Fund: This $60 million fund will support low interest loans of up to $50,000 for small businesses in every industry outside of Chicago. 
Businesses with fewer than 50 employees and less than $3 million in revenue in 2019 will be eligible to apply. Successful applicants will owe nothing for six months and will then begin making fixed payments at 3% interest for the remainder of a five-year loan term.
Applications will be available on DCEO's website by Friday, March 27.
Downstate Small Business Stabilizing Program: This $20 million program supports small businesses in suburban and rural counties across Illinois, providing grants of up to $25,000 to small businesses in communities served by DCEO's Office of Community Development, the governor said. These grants will offer businesses of up to 50 employees the opportunity to partner with their local governments to obtain grants of up to $25,000 in working capital. The program redeploys Community Development Block Grant funds to support local small businesses. 
Applications will be available on DCEO's website by Friday, March 27. The grants will be offered on a rolling basis.
Hospitality Emergency Grant Program: The new $14 million grant program aims to help small hospitality businesses make ends meet, providing up to $25,000 to eligible bars and restaurants and up to $50,000 for eligible hotels.
These grants are available to support working capital – like payroll and rent – job training and technology to support shifts in operations, like increased pick-up and delivery.
Bars and restaurants that generated between $500,000 and $1 million in revenue in 2019 are eligible for up to $25,000, and bars and restaurants that generated less than $500,000 in revenue in 2019 are eligible for up to $10,000, the governor said. Hotels that generated less than $8 million in revenue in 2019 are eligible for up to $50,000. The program repurposes job training and tourism promotion funds to provide this emergency grant assistance. 
Applications are available today on DCEO's website and are due by April 1 at 5 p.m. All valid, eligible applications received within the five-day window will be entered into a lottery, and grant winners will be notified on April 4.
Contact Allison Petty at (217) 421-6986. Follow her on Twitter: @allison0512
Concerned about COVID-19?
Sign up now to get the most recent coronavirus headlines and other important local and national news sent to your email inbox daily.