BLOOMINGTON — Two men were killed and nine people injured late Wednesday when a semitrailer truck heading the wrong way on Interstate 74 collided head-on with a school bus carrying a Normal West basketball team.
State police said the semi driver and an adult male bus passenger died of injuries suffered in the crash that was reported at 8:32 p.m. at mile marker 137 on westbound I-74. That is about 2 miles east of the Main Street exit on Bloomington's south side.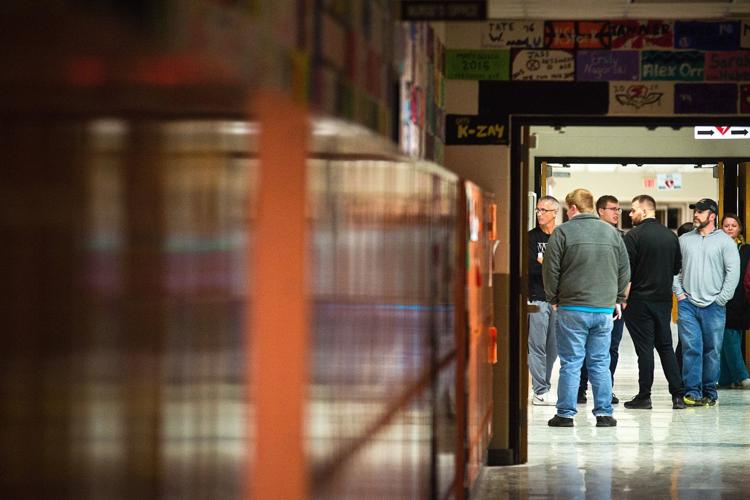 "Unit 5 is devastated to share that Normal West volunteer Charlie Crabtree, age 72, died as a result of the bus crash tonight," McLean County Unit 5 officials posted on their Facebook page. "Please keep the Crabtree family and the entire Normal West Community in your thoughts."
State police identified Crabtree but did not release the name of the semi driver, a 34-year-old Iowa man, pending notification of family. State police also said eight girls on the bus and a male bus passenger also were taken to hospitals with injuries that were not life-threatening.
The junior varsity girls' basketball team was returning from a game at Champaign Central, Stan Lewis, Normal West athletic director, told The Pantagraph shortly after the crash.
"Whenever you hear there's a bus accident, your stomach stops, and you just hope everyone is OK," said Unit 5 spokeswoman Dayna Brown of how administrators reacted when they first heard about the incident. "That wasn't the case tonight. We never want that to be the story we have to tell."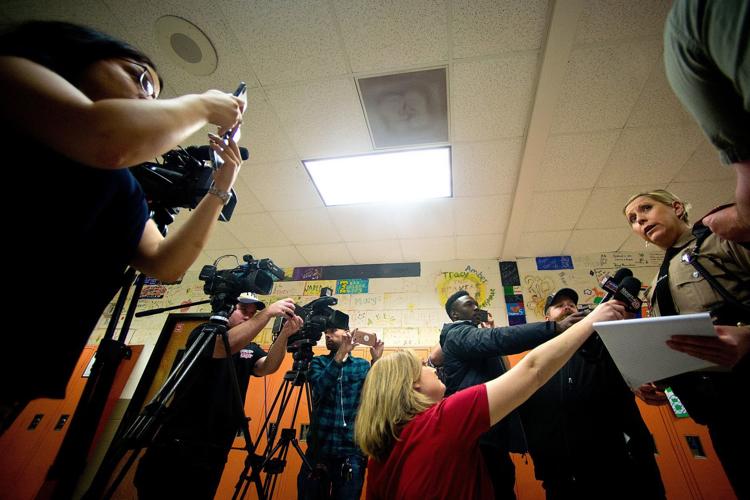 Brown was at Normal West, where counselors were on hand to offer comfort and support to the dozens of parents, relatives and others who had gathered to await news. As word of the crash spread on social media, Unit 5 directed parents and friends to go to the school to wait for news.
"People care about each other in this school and this community, and I think they just wanted to be together during this horrible tragedy. ... We can't thank this community enough for their support," said Brown of those who gathered at Normal West. "We will be sure that everyone is supported in anything they need tomorrow."
Brown said Normal West will be open as usual Thursday, but counselors will be on hand.
"It's our freshman team, but we only have a handful of freshmen who aren't also up on the varsity," Lewis told The Pantagraph. "There were some JV players who went with them."
Three adults — a coach and both drivers — were flown from the scene by medical transport helicopter to OSF HealthCare Saint Francis Medical Center, Peoria, state police said Wednesday night. Police later listed the semi driver as deceased.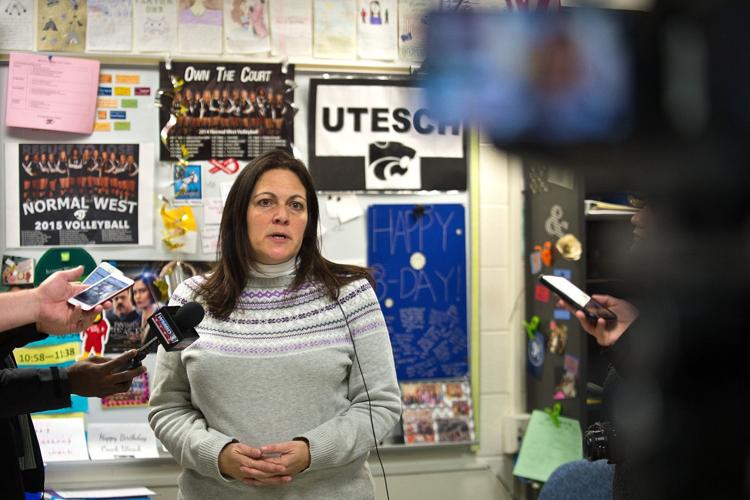 "I'm heading to Peoria because I know one of our coaches is being airlifted there," Lewis said. "I think the kids were being treated at Bloomington-Normal hospitals."
OSF HealthCare St. Joseph Medical Center listed four people in good condition late Wednesday night. Advocate BroMenn Medical Center in Normal confirmed receiving people from the crash, but did not confirm their number or conditions.
State police said the semi was eastbound in the westbound lanes when the crash occurred. Initial reports indicated police had received calls warning of the wrong-way truck shortly before the crash.
"Currently the crash remains an open and ongoing investigation," Master Sgt. Ryan Cape said via email shortly after the crash, adding that multiple investigators from state police, the Illinois Department of Transportation and other agencies were called to the scene.
All westbound traffic was diverted off I-74 at the Downs exit and onto U.S. 150 and back onto I-74 via Main Street. State police estimated the highway would reopen within a few hours.
Hundreds of comments poured into Unit 5's Facebook page, offering prayers and support to those involved in the crash.
McLean County sheriff's police confirmed they and police from Downs and LeRoy were assisting state police at the scene.