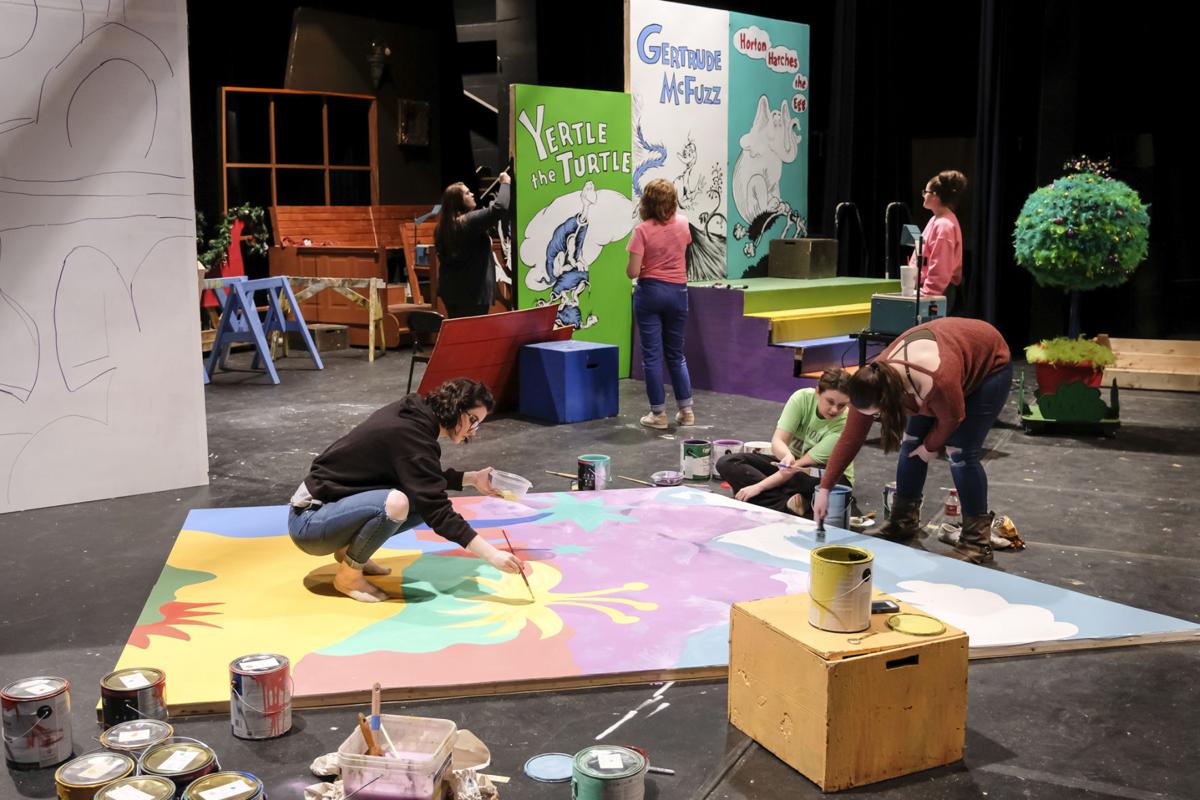 HARRISBURG — A Southern Illinois community banded together to make sure that theater students had the opportunity to perform at a state theater fest in Bloomington this week, even after their show's props were stolen. 
Harrisburg High School music teacher Hannah Drake was at a holiday tournament when she received a call from Principal Scott Dewar saying Harrisburg Police Chief David Morris wanted to talk to her about the high school's band trailer, which had been stolen.
The police had found the trailer, and Morris wanted to know what was in it.
"My immediate reaction was everything for Theatre Fest was in that trailer," Drake said. 
Harrisburg, a city of roughly 9,000 people, is about 175 miles south of Decatur. The high school was set to perform this year's musical, "Seussical the Musical," during the Illinois High School Theatre Festival, which runs from Jan. 11 through 13 at Illinois State University.
The set, which includes large backdrop pieces resembling several Dr. Seuss books and the pages from a Seuss book, were in the band trailer, along with other props, like fish and large clovers. Morris said the trailer contained about $10,000 to $15,000 in handmade props. It was found empty in Pope County.
"I didn't know it was stolen until it was found," Drake said.
Drake began calling parents of students in the production, and trying to figure out what to do. At first, the task of recreating the set seemed monumental — almost too much to accomplish in time for Theatre Fest. But, how could they not let the kids perform?
"They were awarded or invited to perform," Superintendent Michael Gauch said. "Most schools only are asked to do a piece of their play. We were asked to do our entire play."
"It's really a big honor. Not everyone is chosen to perform. While we are up there, we get to take classes on theater," Harrisburg High School senior Chloe Thomas said.
"It's also a big honor because not everyone gets to go," senior Carter Reed said.
As quickly as word spread about the missing props, people began to volunteer to help rebuild the set. One of Drake's first calls was to Allan Kimball at Southeastern Illinois College, who offered to do "whatever was needed" to help recreate the set.
People donated money at Barnes Lumber in Harrisburg. Ladies dropped off cookies for the workers and students.
Help came not only from Harrisburg, but also from other schools and towns. Another school bringing a piece to Theatre Fest offered to help transport the set or build a piece and bring it. Carterville High School had a piece that could be used.
Jan. 2 was set as a work day at the SIC theater. By 6 or 6:30 p.m., 80 percent of the set was rebuilt and being painted.
"It's just another example of what is great about Southern Illinois. While we have our differences from time to time, we all come together in times like these," Gauch said. "Nobody in this community was going to let our kids not participate in this event."