WATCH: Trump visits Granite City to talk trade policy
President Donald Trump touched down at St. Louis Lambert International Airport Thursday afternoon en route to U.S. Steel's Granite City Works, where he lauded a positive impact from the tariffs he imposed on imported steel.
Greeting him were Missouri Gov. Mike Parson, on the job for just under two months after the resignation of Gov. Eric Greitens, and newly appointed Lieutenant Governor Mike Kehoe.
Flanked by his daughter, Ivanka Trump, the president took a brief tour of the Granite City steel plant, humming again after the restart of a steel-making blast furnace following Trump's tariff announcement in February. For decades the economic engine of the Metro East suburb, the factory is in the process of restarting its second blast furnace, which is expected to be online by October and bring the worker count there back to some 1,500 people.
"Thanks to our tariffs, idle factories throughout our nations are roaring back to life," Trump told an enthusiastic crowd of supporters in Illinois.
Echoing his refrain that other countries have taken advantage of American wealth and workers, Trump said that before his election the United States was "the big, dumb piggy bank" that "everybody was robbing."
"We have the worst trade deals ever made in history. But now, they're becoming good again. We are here today because America never surrenders," he said.
In a speech that strayed from steel making to touch on North Korea, Russia, "fake news," the upcoming release of gross domestic product estimates and agriculture, Trump pledged that he would continue to support the steel industry for national security reasons.
"This is steel and we're watching this one closely, and it's going up, Dave, only up," he told U.S. Steel CEO David Burritt, who joined the president on stage during his speech.
But not all steelworkers were excited by the president's visit. Steelworker Mike Dickinson was among a group protesting Trump on Thursday.
"I would be in support of tariffs. But I can't be in support of Trump because all the other issues kind of outweigh the tariffs," he said, citing the president's environmental policies and his nominations to the U.S. Supreme Court.
Trump also was joined at the plant by Rep. Mike Bost, R-Ill., whose district includes the Granite City Works and has expressed support for the steel tariffs. He is facing a spirited challenge for his Congressional seat from Democratic St. Clair County State's Attorney Brendan Kelly. Also joining Trump was Rep. John Shimkus, R-Ill., and Rep. Rodney Davis, R-Ill, whose districts encompass some of the Metro East. Both are also facing November challengers.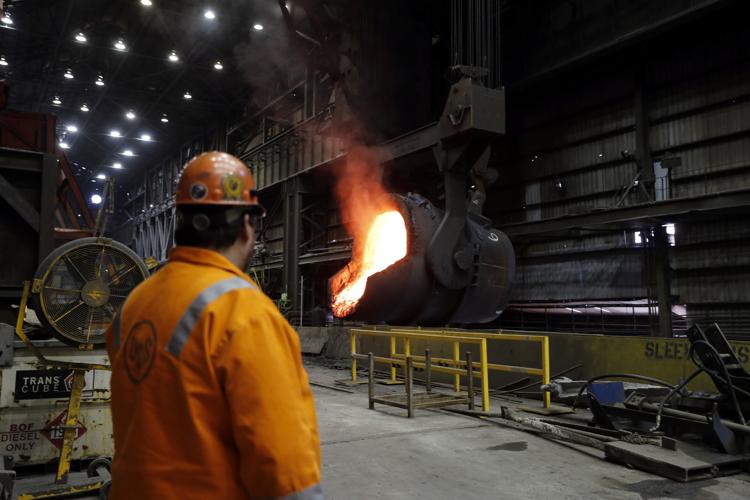 Absent was Illinois Gov. Bruce Rauner, a Republican who has largely distanced himself from the Trump administration during his first term as chief executive. He said he had already traveled to Granite City just a week ago, where he vetoed legislation that would have required the city's mayor be named to a local flood control agency.
U.S. Steel idled Granite City Works in December 2015 in the face of low steel prices and plummeting demand from customers in the domestic shale drilling business. Worker counts dipped as low as 100 people at the plant that a few years ago employed roughly 2,000. Activity at the plant had picked back up by 2017, with some 700 to 800 people using other facilities to finish raw steel made elsewhere.
But it was President Trump's tariffs that Pittsburgh-based U.S. Steel said helped it decide to again start making raw steel at the sprawling factory seven miles northeast of downtown St. Louis.
But while Trump seeks to highlight a success story from his use of tariffs to reshape the country's trade relationships with both allies like Europe and Canada and competitors like China, Midwest farmers only a few dozen miles away are increasingly anxious about losing access to markets for their soybeans, corn, pork and other products. U.S. farmers have been one of the larger beneficiaries of the free trade policies that defined the world order over the last 30 years, but retaliatory duties from enormous markets like China have put their crops at a disadvantage to foreign competitors. Commodity prices had already been declining in recent years, squeezing farm income.
Signaling a desire to calm those fears a few months before midterm elections where farm state Republicans need to retain seats to maintain the party's hold on Congress, the Trump administration this week launched a $12 billion commodity price support plan. Farm groups responded tepidly.
"For farmers who will be renegotiating their line of credit for the coming year, it's welcome news but no substitute for the ability to sell what we produce overseas freely," Missouri Farm Bureau President Blake Hurst, who farms corn and soy in northwest Missouri, told the Post-Dispatch Wednesday. "It certainly implies these trade disputes will be going on for several months if not years, and that's not good news for American agriculture. Farmers need to see some progress with our ongoing disputes with the rest of the world."
Some of that progress appeared just a few hours later Wednesday, when Trump, standing alongside European Commission President Jean-Claude Juncker in the Rose Garden, announced they had agreed to hold off on any new tariffs and work to resolve disputes on Trump's steel and aluminum tariffs. Juncker also said the EU would import more American soybeans.
But many observers in Europe considered the moves as symbolic as the EU does not impose tariffs on soybean imports, limiting the impact on the futures market. Still, soy futures firmed up Thursday morning, with Chicago Board of Trade November soybean futures rising 3-1/4 cents at $8.79 a bushel.
But overall, prices have declined on worries over trade disputes. Hurst said Chinese importers are turning to Brazil and Argentina for soybean imports and offering less to American exporters to make up for the retaliatory tariffs their country placed on American soy.
"There isn't a single commodity that Missouri farmers produce that hasn't gone down in the last 90 days and isn't selling for less than the cost of production," Hurst said.
Packed house waiting for President Trump to speak to steelworkers at U.S. Steel who are now back to work in Granite City. pic.twitter.com/CvV5uTrs6k

— US Rep Rodney Davis (@RodneyDavis) July 26, 2018