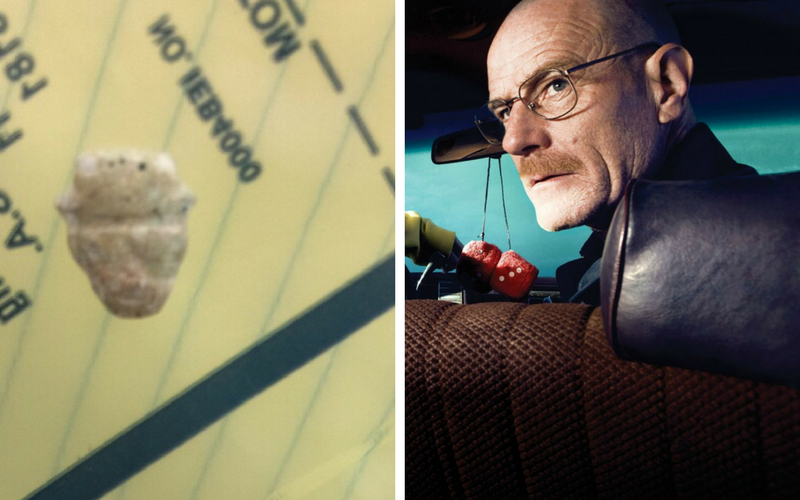 DECATUR – Police say Central Illinois criminal life is now imitating art after the discovery of ecstasy pills shaped like the face of Walter White, the lead character played by actor Bryan Cranston in the television series "Breaking Bad."
The Macon County Sheriff's Office says it found two of the pills during a traffic stop just outside Decatur on Jan. 28.
Sworn statements from Deputy A. S. Higar described searching a 21-year-old male suspect: "I ... located three pills that appeared to have been homemade due to their rough appearance and which were wadded up in a dollar bill," said Higar.
"One of the pills was round and tested positive for ecstasy. The two other pills were in the shape of Walter White. The (suspect) tried telling me that the pills were actually 'Sweet Tarts.'"
Walter White is the terminally ill high school chemistry teacher who solves his cash flow problems by cooking up high-grade methamphetamine. He also goes by the street name "Heisenberg," and a search of internet news sites reveals that's another name for the street drugs that take the form of pills shaped like the White character's face. And they've been showing up in police drug raids as far away as Great Britain.
"Now, I've seen pills in odd shapes before," Macon County Sheriff Thomas Schneider said. "But pills shaped like Walter White? Absolutely, that's a first for me."
Schneider said the pills remind him in texture and color of the "Flintstone" multivitamins sold for children. But why shape an illegal narcotic to look like a fictional crime boss? The highly acclaimed TV show achieved a huge audience, and Schneider said real-life dealers of illegal drugs want to tap into that sense of cool success.
"I have seen drugs shaped like cartoon characters, even Mickey Mouse, and these drugs are given these different forms to make them more intriguing and appealing," the sheriff said.
The 21-year-old suspect pulled over by the deputy isn't facing a very appealing future, however. Alerted by an allegedly strong cannabis smell, Higar said he searched the suspect and also found 1 gram of cannabis, and he then persuaded the suspect to extract a 6-gram bag of cannabis hidden in "the crotch area" of his underwear.
The suspect was jailed, and later made bail, on preliminary charges of drug possession and obstructing justice after allegedly handing over false identification. Sworn statements said he was also wanted on an outstanding warrant for a charge of unlawful restraint.
Be the first to know
Get local news delivered to your inbox!