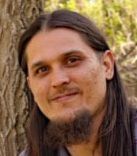 DECATUR — Alfie Borero, 32, of Springfield, died at 12:50 a.m. on Wednesday, November 27, 2019, at Memorial Medical Center.
Alfie was born April 30, 1987, in San Bernardino, CA, the son of Alfred A. and Teresa Matthews Borero. He married Katie Johnson on October 9, 2009, and they later divorced. He then married Jannea Turley on October 13, 2017 during Fright Fest at Six Flags. Alfie attended Lincoln Land Community College and Ivy Tech Community College. He was employed as an installer for US Marble and Granite for over ten years and previously at Dixie Chopper for a time. Alfie played on a Roller Derby team called the Capital City Hooligans and his Roller Derby name was Slay Wyatt 909. He also did a lot of traveling with the team. Alfie enjoyed BMX riding for many years, playing video games, wrestling with his children, listening to music, and loved candy.
You have free articles remaining.
He was preceded in death by his mother, Teresa Borero; maternal grandmother, Linda Groves; and paternal grandmother, Jeanette Sabol.
He is survived by his wife, Jannea of Springfield; his children, Blake, Kai, and Dahlia Borero, all of Springfield; father, Al (wife, Tresa) Borero of Decatur; grandparents, Chuck Groves of Springfield, Larry Sabol of WA, and Charles (wife, Carol) Matthews of Springfield; siblings, Larry (husband, Blake Rodgers) Borero of Euless, TX and David (wife, Nychole) Borero of San Bernardino, CA; half-brother, Javier (wife, Jennifer) Cochran of Spokane, WA; step-sisters, Ashley Roof and Koren Buchen, both of Decatur; many nephews and nieces to include Natalie and Demi Borero; and many aunts, uncles, and cousins.
Visitation: Family will receive friends from 4:00 – 7:00 p.m. on Thursday, December 5, 2019, at Butler Funeral Home-Springfield, 900 S. 6th St., Springfield. Funeral Ceremony: 10:00 a.m. on Friday, December 6, 2019, at Butler Funeral Home-Springfield. Burial will follow at Hall Cemetery in Blue Mound. Memorial contributions may be made to the Alfie Borero Memorial Fund for his children at any Heartland Credit Union location. Please visit butlerfuneralhomes.com to offer your condolences.