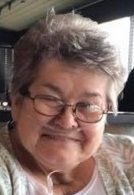 DECATUR — Kathleen S. Nyberg, 70, of Decatur, passed away Saturday, November 30, 2019.
Kathleen was born October 7, 1949, in Springfield, IL, the daughter of Walter and Dorothy (White) Childers.
You have free articles remaining.
She was preceded in death by her parents; grandson, Richie; and 16 siblings.
Survivors include her children: Tina Nyberg of Decatur, Denise (Jose) Burns of NE, Love (Faron) Young of Decatur, Rudy (Ella) Nyberg of Decatur, and Vianna (Steve) Nyberg of Tower Hill; 14 grandchildren and 16 great grandchildren with one on the way; numerous nieces, nephews, other relatives and friends.
In honor of Kathleen's wishes, cremation services will be provided by Graceland/Fairlawn Crematory. The family will host a visitation Saturday, December 7, 2019, from 10 am until the service time of 11 am at Salem Baptist Church, Decatur. Moran & Goebel Funeral Home and Cremation Services is in charge of the arrangements. Memories and condolences may be shared at www.moranandgoebel.com.