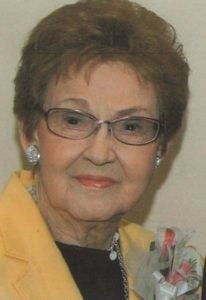 DECATUR — Shirley Ann Clesson, 97, of Decatur, passed away Friday, August 9, 2019 at her residence surrounded by her family.
Shirley was born June 9, 1922, the daughter of Earl and Josephine (Wence) Milton. She married Gloyd Clesson on September 16, 1939 in Bloomington, Illinois. He preceded her in death.
Surviving are her daughter, Ronica (Gordon) Schrishuhn of Decatur; her grandchildren, Tomas (Andrea) Schrishuhn, Terri (Karen) Schrishuhn, Jill Meadows, Amanda (Gary) George, Gabrielle and Abigail George, Donald Clesson, Mitchell Clesson, Grant Clesson, MacKenzie (Adam) Bozarth; her great-grandchildren, Torie Schrishuhn, Kyle Schrishuhn, Jessica (Kenny) Thompson, Kylee Meadows, M. Blaine Meadows, and Abram Bozarth; and a daughter-in-law, Susan (Marc) Neimroff.
You have free articles remaining.
She was also preceded in death by her parents; a son, Donald, one brother, and one sister.
Shirley was a member of the Northwest Christian Church for many years. She worked as a representative for Avon for 37 years retiring in 2013. She enjoyed gardening, pets, and feeding birds.
The family would like to thank DMH Hospice staff for their care and compassion to Shirley.
Memorial services to celebrate the life of Shirley Clesson will be 11 a.m. Saturday, August 17, 2019, at Graceland/Fairlawn Funeral Home. Visitation will be from 10 a.m. to 11 a.m. Saturday before the service at the funeral home. Graveside services will be held at Macon County Memorial Park. Memorial contributions may be made to Macon County Animal Shelter. The family of Shirley Clesson is being served by Graceland/Fairlawn Funeral Home, 2091 N. Oakland Ave. Decatur, IL. Please view the complete online obituary, send condolences, and share memories at www.gracelandfairlawn.com.