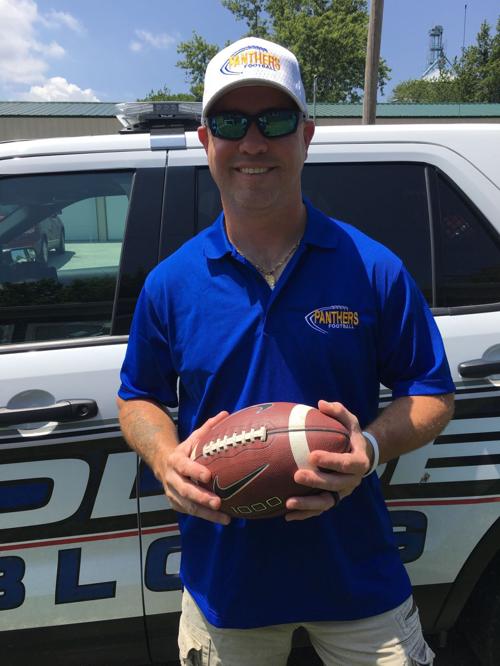 OBLONG – His players call him 'Coach.'
He's also known as 'Chief.'
Chad Pusey, Oblong's chief of police for the last 16 years, will soon patrol the sidelines on Friday nights after becoming the high school's football coach in May.
He recently orchestrated a two-week camp and so far he's loving every bit of it.
"We just finished our camp and it's been great," Pusey said. "I'm real excited. They've all been real receptive and no complaints."
It's a job that suits Pusey well.
It compliments his law enforcement profession, connecting with kids and motivating them for the future, and he's always had a passion for football – so much that he took the reins as a volunteer.
Pusey couldn't have accepted the additional income as a school board member, but said he would've declined it anyways.
"I love the game of football and I love working with kids," Pusey said. "It's about them. This is what it's all about."
Although he was last part of the JFL about six years ago, Pusey has the experience to show for it.
He was immersed in the game at an early age and played fullback and linebacker at Jay County High School in Portland, Ind. He eventually coached junior high for about five years before arriving in Oblong where he volunteered for the JFL.
"It's helped me out a lot," Pusey said of his background. "I know a lot about football anyways, so everything has helped building up to this."
Former coach Travis Reider revered Pusey's resume and actually tried to recruit him on his staff before resigning to be closer with his family this past school year.
"The kids are in great hands," said Reider, who spent six years at the helm with two playoff berths. "Chad's a very good coach and knows the game of football very well. I expect a lot of good things from him.
"He's absolutely a tremendous guy, too. Not only does he know the game of football, he's a great person and the kids will learn a ton from him. He can bring a lot to the table and I think he will do outstanding as head football coach."
There's still a learning curve for Pusey, but Reider is still lingering around the program to help with the transition.
Pusey even described Reider, who will still teach and coach track this school year, as his backbone during the process.
"I told him anytime he needs me, give me a call," Reider said. "But Chad's done a lot of it and he knows the game of football. There hasn't been a whole lot of questions. There's a good group of kids coming back and I think they're going to do well."
Pusey is relishing the experience, especially with kids who have a higher maturity level and a stronger grasp of the game.
"Obviously the JFL level was not as competitive," Pusey said. "Now you're teaching beyond that. I like it."
Time is never an issue, either.
He has a small crew of officers that can hold down the fort while he's away. 
What if something urgent comes up?
"They know where I'm at," he said.
It's made it a cinch implementing his own system, which is a stark contrast from Reider's.
Pusey, who is married and has six kids of his own, is opting for a more smashmouth offense.
When he first introduced it to the team earlier this month, they had it down pat.
"They like it a lot because we don't have a whole lot of plays like they've had in the past," Pusey said. "It's easier for them to catch on and get the plays down and everything."
It's similar to what Pusey played up near Fort Wayne, Ind.
In fact, some of those plays were forwarded down to him from his former junior high coach, Mike Smith.
"I reached out to my junior high coach when I took this position and asked him, 'Do you still have some of the plays in your back pocket?,'" Pusey said. "He said, 'Nah, I don't know what I did with them.' It was a week later and I got a package in the mail with some plays.
"He was loving it that I'm coaching high school. He's pretty proud of that. He said, 'I'd never guess you would call for some plays one day.' That made me feel good. He obviously had a big impact on me when I played."
Pusey inherits a small program, which retains about the same numbers as last year (almost 30) and finished 5-5.
Except, he will have to break in plenty of new starters. That includes fullback Jayce Fielder who's moving from the offensive line, and last year's backups Ethan Kuilan at tailback and Logan Richards at quarterback.
He will additionally work with a new coaching staff: volunteer assistants Bart Goodwin and Jon Goff.
But Pusey is only concerned about his players' effort for now and his ultimate aim is to return to the playoffs and advance to the second round.
"It keeps getting closer and closer," Pusey said of the fall season, "and I just keep getting more nervous and excited."