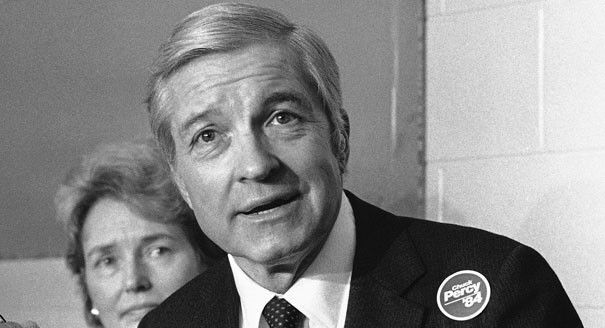 (This is submitted by staff members of Charles Harting "Chuck" Percy, Republican Illinois U.S. Senator from 1966 to 1985.)
It's hard to recognize President Trump as a Republican. He lacks the leadership skills that Republicans since Abraham Lincoln have offered the nation.
As members of Chuck Percy's staff during his 18 years of service in the U.S. Senate, we had a front row seat on Republican leadership. Senator Percy brought his corporate experience into government just as has President Trump. But from there, the similarities between the two men come to a full stop.
Senator Percy's leadership of the Bell & Howell Corporation honed his natural instinct for collaboration and he brought to the U.S. Senate respect for the mutual benefits of cooperation. In the international arena, he understood the value of friends and allies and the danger of adversaries in a highly competitive world. On domestic issues, he insisted on a balanced perspective, calling himself fervently moderate. He respected professionalism. He ended the practice of nominating federal judges from a pool of candidates generated by the Chicago political machine and searched, with the help of the professional bar association and other experts, for nominees to the federal bench. He liked to advise us, "When you think you are leading, look behind and see if anybody is following."
His Republican friends in the Senate, Jacob Javits from New York, Mac Mathias from Maryland, Dick Lugar from neighboring Indiana, and others were likewise giants in their states and contributed to the building and continual improvement of a federal government with a professional civil service. They attracted the best and brightest young people from Illinois and all their states to public service. They were problem solvers, provoking animated discussions in hearings, integrating expert opinions into their own policy analyses, and seeking the perfect but finding the possible, moved debates toward resolution on the floor of the Senate.
President Trump has demonstrated flawed leadership on so many fronts. Internationally, he has pulled out of agreements and treaties that were negotiated for the mutual benefit of the signatories and he has withdrawn from international organizations that the United States used to lead. He has said NATO is obsolete and has indicated privately that he would like to pull out of it. NATO has served our nation well since the end of the World War II.
On the domestic front, he has weakened our federal government. He has denigrated our public health agencies at a time of pandemic illness. He has maligned the motives of our military. He has attacked the FBI, the intelligence services, and the Federal Reserve. He has his sights set on the U.S. Postal Service.
He approaches domestic unrest as a competition, turning a tin ear to grievances that deserve a hearing. He has taken the traditional differences in policies and philosophies of our two major political parties to new heights, calling people names and essentially declaring partisan war. He has belittled governors who are trying their best to provide leadership in their own states, thereby diminishing hopes for nationwide state-federal cooperation to prevent fault lines from turning into crevasses in these trying times. He has not resolved problems, he has contributed to them.
We would respectfully ask the President to look behind him and see who is following. It won't be us. We know Joe Biden, who served on Senate committees with Senator Percy for years. He is a decent man. The party should use the upcoming four years like a professional sports team after a bad season. We need to regain our balance, recruit new leaders and inspire our constituents as we organize for a winning season next time.
Percy staff signatories: Ken Ackerman, Barbara Allem, Joseph G. Block, Colonel Broadus Bailey Jr., Robert G. Bell, Cal Fentriss, Alexis Jasper, Alison Kothe, Keith Leslie, Mary Locke, Barbara Lowe, Howard S. Marks, Valli McDougle, Alison Rosenberg, Hannah Sistare, David Sloan, Diana Smith, Stuart Statler, Marcia L. Summers
Catch the latest in Opinion
Get opinion pieces, letters and editorials sent directly to your inbox weekly!