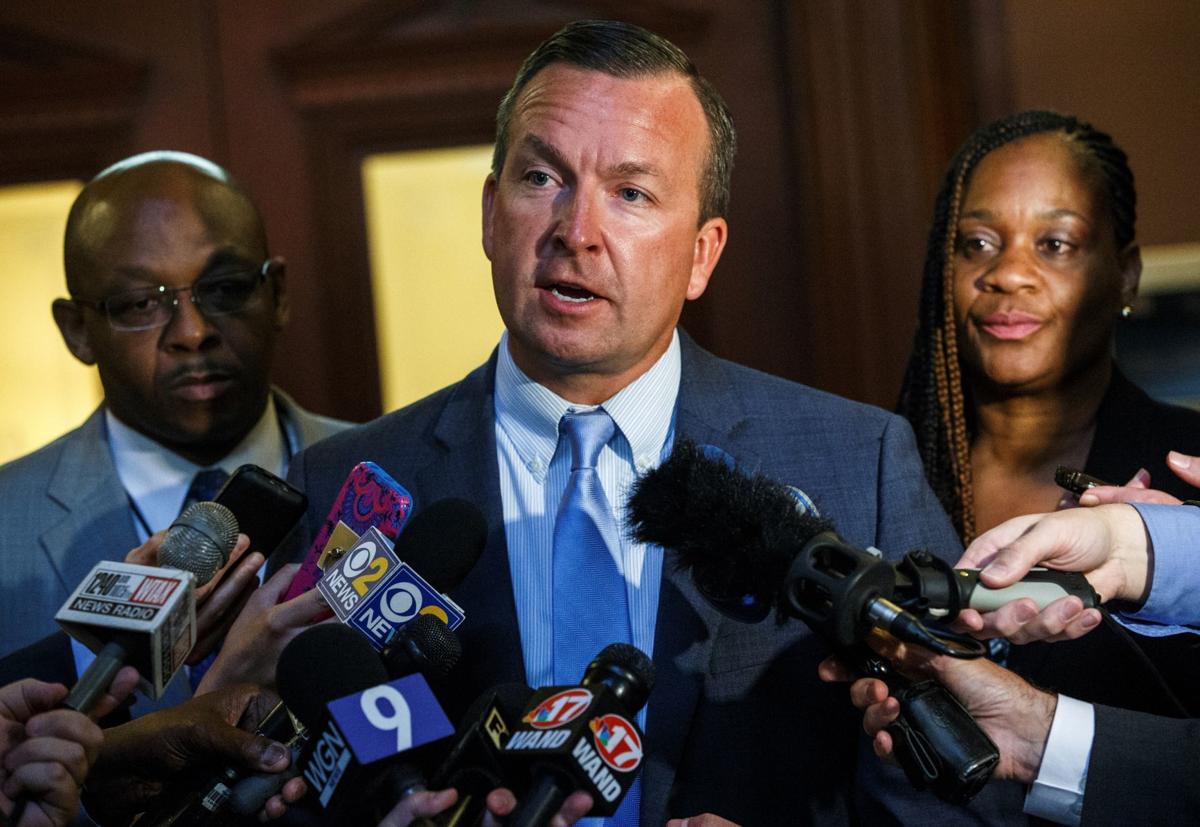 There is exaggeration in calling state Sen. Andy Manar the savior of Illinois education. But he nonetheless deserves credit for his work at navigating the minefield that is Illinois politics and helping engineer the passage of a school funding formula.
That's the key reason we're endorsing the Democrat incumbent for another term as state senator for the 48th District.
Manar led a bipartisan effort toward the first overhaul of the education funding formula in the state since the 1990s. He was also key in passing a bill to provide Illinois schools with high-speed broadband internet and measures to combat Illinois' shortage of substitute teachers.
"Bipartisan" is the key word in Manar's accomplishments. He deservedly boasts of his willingness to literally going across the aisle, taking his seat among Republican senators on their "side" of the Senate floor. His ongoing willingness to work with the opposing party is a rare breath of fresh air on the state political scene.
We have been consistent on this editorial page talking about what our state needs in order to regain prosperity: Pension reform, workers' comp…
Manar's GOP opponent, Seth McMillan, is running for the right reasons, and has a bright future. He's been alarmed to see people moving out of Illinois. He decries the Senate's nature of ignoring downstate, and he's shown a willingness to work hard. Those are all valid issues.
But Manar also offers those things. He's established himself as one of downstate's significant and respected legislators. Bipartisanship is always a popular buzzword in campaigns. Manar has already shown a willingness and ability to execute the concept in Springfield.
Manar acknowledges the school funding bill is just a place to start, and he's correctly bristled at the bill being called a "Chicago bailout." Property taxes and infrastructure – the latter being an issue that hasn't been addressed by the state for almost a decade – remain on Illinois' "must" list, and he has clear concepts on how to begin solving those issues, and the experience to help make those solutions happen.
This has been a tense race, and strong language has been used on social media.
In our view, Manar is the right choice to continue the momentum. He says what he will do and will do what he says.
For those reasons, we consider Manar the best choice for the 48th District.
Catch the latest in Opinion
Get opinion pieces, letters and editorials sent directly to your inbox weekly!