Unfortunately, broken systems often become a priority when something bad happens.
In the case of Ta'Naja Barnes, the broken system proved fatal.
The 2-year-old died of starvation and neglect in a Decatur home on Feb. 11. The death horrified those who read about it, and that horror was addressed Tuesday in a Springfield meeting in front of the Illinois House of Representative Adoption and Child Welfare Committee.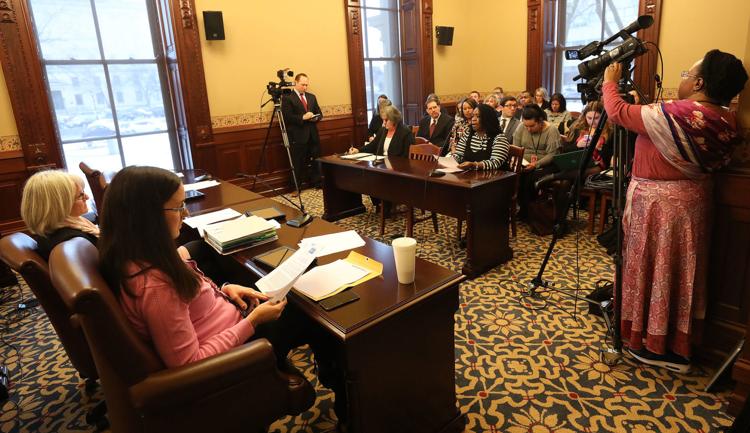 What those attending the meeting heard was a system that clearly didn't do right on behalf of a 2-year-old. According to the timeline provided by the Illinois Department of Children and Family Services begins in Dec. 23, 2017, with a hotline call alleging neglect. In the ensuing 11 months, Ta'Naja was placed in foster care twice and two additional accusations were not substantiated by DCFS.
Representatives from Decatur organization Baby TALK, whose mission statement says they "nurture healthy parent-child relationships during the critical early years," called DFCS on Nov. 6. Baby TALK was, as it is legally required to do, reported concerns about Ta'Naja and her 1-year-old brother. DCFS said allegations did not fit criteria to pursue further investigation.
The following timeline was provided by the Illinois Department of Child and Family Services.
Rep. Sue Scherer, D-Decatur, called for the hearing. She spoke for all of us after hearing about the November report.
"I struggle with that," she said. "To me if they look at a (computer) screen and see all those alerts, and the child is not going to the doctor and getting their shots or anything, I just can't believe that there's just nowhere to turn, so they just forget about it."
Rep. Sara Feigenholtz, D-Chicago, is the chairwoman of the Adoption and Child Welfare Committee. She pointed to a troubled, underfunded history at the DCFS. The organization has seen eight different directors since 2003 and is hampered by outdated technology, short-staffing and workloads.
"We need a budget to reflect a true care for these, our children," she said. "We're committed to fixing this system because the kids in this state deserve it."
The reasoning DCFS used in the case of Ta'Naja Barnes will come under extensive scrutiny in coming months. Until those answers come, we're thankful for the hearing. The hearing is just the opening words of the story. We don't look forward to more details, but we're glad they'll be provided.
The funding issue, the one no one really wants to talk about, will soon become a part of the conversation as well. From child care to mental health to assistance for addicts, a huge bill is past due. The causalities of being unwilling to face it, let alone consider funding it, will continue piling up in very human terms.
If we're unable to defend the defenseless, we cannot call ourselves a proper society.